Feature
MLB Roster Previews For All 30 Teams
Full breakdowns of every starting lineup, starting rotation, bench and bullpen in baseball, through written previews on all 30 MLB teams.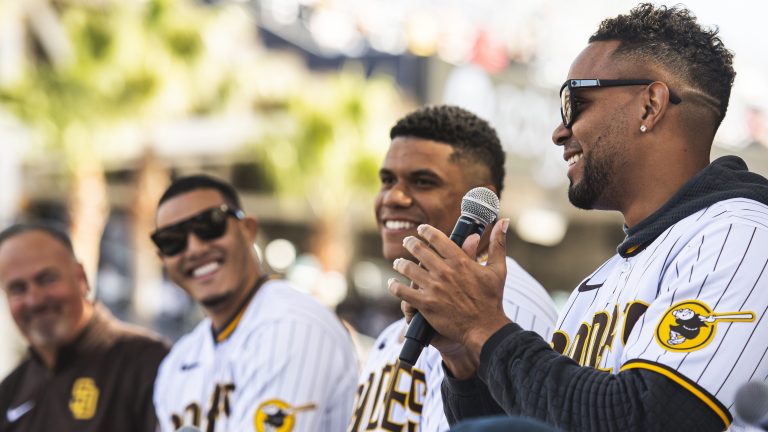 We are officially one week away from Opening Day, where 30 teams in Major League Baseball will embark on a 162-game journey through the 2023 MLB season.
Baseball is on fire right now after what we got to see play out at the World Baseball Classic over the last few weeks. So many storylines that get to carry over into a fresh season. Shohei Ohtani essentially cemented his mythical status as the game's greatest player, grabbing the thrown from his teammate Mike Trout by blowing 100 MPH fastballs by him with authority.
So many of the game's brightest stars competed on the World stage, with more eyes tuned into baseball across the globe than ever before. Stars grew brighter for players like Ohtani and Trea Turner, meanwhile stars were born like Jose Quijada with his massive celebrations for Venezuela or Angels starter Patrick Sandoval keeping Japan off the board in the first four innings of the Semifinal.
Players around the league got the chance to make a name for themself and now they all return to their teams with more fanfare than ever before.
Last year, the Houston Astros won the World Series in dominant fashion, cementing their status as a budding dynasty. Meanwhile the Philadelphia Phillies proved that any team who makes the dance has a chance, bashing their way through giant competitors on their path to winning an NL pennant.
If you look around Major League Baseball ahead of 2023, what you won't find is many teams that don't think they have a chance this year. Take the American League East for example. The Yankees, Blue Jays and Rays all return coming off making a postseason berth in 2022, feeling very confident they will all return this season. Even with three contenders atop the division, the Orioles and Red Sox are two teams clearly entering the season with the hopes of pushing for a Wild Card spot.
There is just a handful of teams that enter with no playoff expectations from their fanbase, as this is the time of year for optimism. With a clean slate of a 0-0 record, every baseball fan can dream right now of the perfect scenario that leads their team to the promise land.
Every team has a story to tell in 2023. Whether it be the top prospects ready to make an impact, or the big free agent signings that will take the team over the top.
Over the past month, we have been writing season previews for each team, breaking down every starting lineup, starting rotation, bench and bullpen throughout the game. Whether you want to read up on your own team, or scout out the others in your division, we have them all linked below.
AL East Previews
Written By: Peter Appel
The Yankees revamped their team around reigning MVP Aaron Judge this offseason, in hopes of finally making back to the World Series in 2023.
Written By: Tyson Shushkewich
The Toronto Blue Jays have a pretty deep roster heading into 2023, looking to improve upon their Wild Card exit from last season.
Written By: Leo Morgenstern
The Tampa Bay Rays are running it back this year, hoping for healthier seasons from stars Wander Franco, Tyler Glasnow, and Brandon Lowe.
Written By: Harrison Bruns
The Baltimore Orioles arrived earlier than expected last year, going from the doldrums to over .500. Could they take another leap in 2023?
Written By: Matt Marasco
After a tumultuous offseason, the Red Sox are ready to put the noise behind them and make a push for a surprising playoff run in 2023.
AL Central Previews
Written By: Spencer Tracy
The Cleveland Guardians surprised everyone in 2022, with multiple young stars fueling a playoff run. Now expectations are high entering 2023.
Written By: Elijah Evans
Coming off a disappointing season where nothing seemed to go right for the White Sox, this team will look to put it all together in 2023.
Written By: Harrison Bruns
Can the Minnesota Twins improve upon a disappointing 2022 season and win the AL Central for the first time since 2020?
Written By: Clay Snowden
Coming into this season, the Tigers need former top prospects Spencer Torkelson and Riley Greene to establish themselves for 2023 to be a success.
Written By: Leo Morgenstern
The Kansas City Royals aren't playing for October, but they have an exciting crop of young players to keep an eye on this season.
AL West Previews
Written By: Tomas Romo
The reigning World Series champs will be without Jose Altuve to start the season, but still open 2023 as the clear favorites to win it all.
Written By: Lyle Goldstein
Featuring both one of the game's best rotations and top young players in Julio Rodriguez, the Mariners are primed to make a run in 2023.
Written By: Clay Snowden
The Los Angeles Angels made plenty of moves this winter, but did they do enough to compete in the AL West and end their playoff drought?
Written By: Lyle Goldstein
With a brand-new rotation headlined by two-time Cy Young Jacob deGrom, the Texas Rangers hope to take the leap into contention in 2023.
Written By: Clay Snowden
A team squarely entrenched in a rebuild, the 2023 season is another chance to find a few future building blocks for the Oakland Athletics.
NL East Previews
Written By: Leo Morgenstern
With full seasons from Ozzie Albies, Spencer Strider, and Michael Harris II, the Braves could be even more dangerous in 2023.
Written By: Ryan Finkelstein
The New York Mets enter the 2023 with a star-studded roster and lofty expectations, as owner Steve Cohen continues to go all-in to win now.
Written By: Leo Morgenstern
How can the Phillies follow up a pennant-winning season? By signing a new superstar and shooting for the World Series.
Written By: Aram Leighton
While they may not have spent like the top of their division, the Marlins were active this offseason in hopes of being competitive in 2023
Written By: Spencer Tracy
With one of the weakest rosters in baseball, the Washington Nationals are squarely in a rebuild and could lose over 100 games again in 2023.
NL Central Previews
Written By: Zach Worden
After winning an NL Central crown, the Cardinals return with most of their core intact, ready to compete with the best of the best.
Written By: Joey Peterson
The Milwaukee Brewers enter 2023 with an intriguing mix of All-Star caliber talent and exciting prospects as they look to recapture a division title and make a run deep into October.
Written By: Clay Snowden
The Chicago Cubs added a new face of the franchise in Dansby Swanson, but need a lot to break right around him to contend in the NL Central.
Written By: Leo Morgenstern
The Pirates have added several solid veterans to complement their burgeoning young core, making for a better team than they've had in years.
Written By: Clay Snowden
The Cincinnati Reds are still far from contention, but the debut of top prospects like Elly De La Cruz gives fans something root for in 2023.
NL West Previews
Written By: Lyle Goldstein
The Dodgers are still an excellent team, but they're not quite staring down at their division rivals like they used to.
Written By: Javier Reyes
The San Diego Padres are legitimate World Series contenders, filled with a lineup of multiple MVP candidates and a bustling payroll.
Written By: Ethan Budowsky
The San Francisco Giants have improved for 2023, but will it be enough for them to contend in the National League West?
Written By: Harrison Bruns
While they likely won't be competing for a playoff spot this season, the Diamondbacks are young, exciting, and building for 2024.
Written By: Renee Dechert
They may not be very competitive this season, but the Colorado Rockies will always be an interesting ballclub.