Analysis
Los Angeles Dodgers 2023 Season Preview
The Dodgers are still an excellent team, but they're not quite staring down at their division rivals like they used to.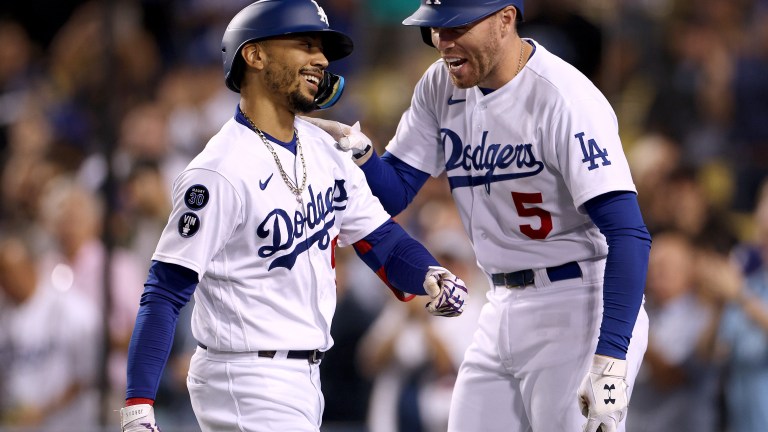 For a decade now, the Dodgers' roster-building has been the gold standard model across baseball. Sparing no expense to splash on marquee free agents. Puffing out their chest, unapologetically unafraid to shell out blue-chip prospects for established top-line big league talent. Regularly pumping out top-five farm systems year after year, composed of both brand-name talent from MLB drafts and international classes, as well as diamonds in the rough found at pit stops along their route.
As a result, the franchise has encountered just two losing seasons since the turn of the century. Since 2013, they have totaled 90 or more wins every year (sans 2020), three 100-win seasons, nine NL West titles in their last ten tries (only falling a game short to the Giants in 2021 after winning 106 games), three World Series trips, and one title.
But 2023 feels a little bit different around Chavez Ravine. Trea Turner is wearing pinstripes in Philly. Justin Turner is playing in Mookie Betts' old stomping grounds. Cody Bellinger (who, to be fair, had a rough last couple of seasons) now holds residence in the Windy City. Two starting pitchers left for the AL West: Tyler Anderson (Angels) and Andrew Heaney (Rangers). That's on top of losing Max Scherzer, who said farewell after the 2021 season. Walker Buehler, at best, will return from Tommy John surgery in time for the end of the regular season. Gavin Lux is lost for the year.
On top of that, L.A. didn't make an astounding splash this winter via trade or free agency. That's something they've usually done in the last several trips around the sun. Instead, they are opting to go with what they have in-house.
Don't get the narrative twisted: this team should still be good. They might be very good. But they're not quite staring down at the rest of the league; gone is the David vs. Goliath dynamic they created for themselves over the last few seasons.
Projected Lineup
C – Will Smith
1B – Freddie Freeman
2B – Miguel Vargas
SS – Miguel Rojas
3B – Max Muncy
LF – Chris Taylor
CF – Trayce Thompson
RF – Mookie Betts
DH – J.D. Martinez
Will Smith may be the best offensive catcher in the game. Last season, he tossed up an .807 OPS along with a 127 WRC+, and those were career lows. He was second at the position in home runs in 2022 and has accrued 8.5 FanGraphs Wins Above Replacement over the last two years.
His ability to put the ball in play also separates him from a lot of backstops. He struck out less than 17% of the time last year, and over the previous three seasons, his average strikeout rate has been below 20%. His bat is his best tool, but that's not a knock on his defense. He has totaled 12 DRS over his last pair of campaigns, displaying the ability to make a major impact on both sides of the ball.
Freddie Freeman seemingly (and reportedly) never wanted to leave Atlanta. But for a handful of different reasons, he ended up doing so. How did he adjust to his new digs? Only by having the best season of his potential Hall of Fame career. Both his WAR (7.1) and wRC+ (157) were the best marks he has ever corralled. He was named to his sixth All-Star Game, right in his home ballpark, and finished fourth in NL MVP voting.
The Braves and Freeman opting to go their separate ways has been an absolute lifesaver for the Dodgers. Say he had signed a new contract in Atlanta, then what for L.A.? It's near impossible to map out a hypothetical alternate reality, and maybe it would have been Andrew Friedman that went out and traded for Matt Olson rather than Alex Anthopolous. But if Freeman weren't wearing Dodgers blue these days, this lineup would all of a sudden get vastly thinner once you consider the numerous departures over the last couple of offseasons.
The Dodgers are placing a lot of expectations on Miguel Vargas. A top-40 prospect in the game (no. 3 in the Dodgers system) with elite bat-to-ball skills, an advanced approach, and the ability to hit to all fields combined with proficient power (40 home runs over his last two years in the minor leagues), Vargas possesses the tools to make an impact right away in 2023.
That being said, he played 18 big league games in 2022 and only put up a 25 OPS+. His first stint shouldn't hold too much weight, as 50 plate appearances is such a minuscule sample size to even attempt to judge a player. But it doesn't change the fact that the Dodgers are asking an unproven infielder to regularly contribute right away for a perennial World Series contender.
To complete the Miguel middle infield tandem, Miguel Rojas was brought over in a trade from the Marlins. Rojas is a defense-first shortstop who seldom punches out, but his offensive ceiling has been limited throughout his career, aside from a red-hot 40 games in 2020. Defensively, Rojas has tallied 20 DRS in the last two seasons and in 2022 ranked in the 98th percentile in OAA.
With Lux set to miss the entire season due to a torn ACL suffered this spring, Rojas will assume the majority of the innings at short, and the hope is he can put up league-average offensive numbers.
Max Muncy is the perfect example of a player who the Dodgers essentially picked up off of the street and turned to gold. After being released by the A's in early 2017, Muncy signed a minor league contract with the Dodgers. Fast forward to 2023, and he's made two All-Star Games, hit 139 home runs in a Dodgers uniform, and has finished top-15 in MVP voting three times.
The 2022 campaign was a down year for Muncy, considering the standard he's now set for himself in the city of Angels. He had been a near 5-WAR player in each of his first three full seasons with the Dodgers, posting a wRC+ of 130 or better every year. But in 2022, he slashed .196/.329/.384 with a 2.4 fWAR and a 106 wRC+. That is still an above-average season, and the fact Muncy is more efficient than pretty much anybody in the league not named Juan Soto at drawing walks (15.9% walk rate in 2022) helps his offensive game. But he has much more in the tank than what he showed last year.
Chris Taylor had a down year offensively after signing his four-year, $60 million deal last winter. He struck out an alarming 35.2% of the time, had an OPS of just .677 and a wRC+ of 93. His offensive output was his lowest by far since 2017, when he first began to resurrect his career in Los Angeles.
The 2023 season will reveal whether last season was a one-off or the beginning of a downward trend for Taylor. Still, his versatility is valuable, and he will likely see time all around the outfield and infield as he usually does. Last season Taylor totaled 3 OAA, with second base proving to be his best position defensively. When Taylor moves around, expect veteran lefty David Peralta to see some time in left field.
Trayce Thompson is fresh off a World Baseball Classic stint with Great Britain and ready to build on a 2022 season that was a very pleasant surprise for the Dodgers. After Thompson played six big league games with the Padres last year, he spent a very brief stint in the Tigers org before the Dodgers brought him back to L.A., where he spent 2016 and 2017.
Thompson belted 13 home runs in 74 games, good for a .960 OPS and a whopping 145 OPS+. He absolutely crushed right-handed pitching, hitting .308 with a 1.010 OPS while managing to play above-average defense, too (3 OAA). Now, he will look to sustain it for a full year.
Don't be surprised to see James Outman find his way into the mix in the outfield as well. The Dodgers' no. 10 prospect played four games last year but was absolutely on fire during his cup of coffee (6-for-13, 1.409 OPS). He has turned some heads this spring, hitting .295 with two home runs and a .930 OPS.
In a year where reliability will be especially important for the Dodgers, they won't have to think twice when looking out towards right field. Year after year, Mookie Betts continues to solidify himself as one of the game's elites. In the last seven years, he has managed to collect six Silver Sluggers, six Gold Gloves, and six top-ten MVP finishes, taking the hardware home in 2018. Plain and simple, there isn't much in his game that he doesn't exceed at.
Barring an extenuating circumstance, that production won't be changing anytime soon. Expect to see Betts' name written toward the top of the lineup on a daily basis as he defies his 5'9 frame to display his rare combination of power, speed, defense, arm strength and advanced plate discipline.
J.D. Martinez was the closest to a marquee bat that L.A. signed heading into 2023. He is 35 years old and on the back end of his career, but that isn't stopping him from putting up respectable offensive numbers.
Last year, Martinez hit .274 with 16 home runs, a .790 OPS and a 117 OPS+. Excluding 2020, his OPS and OPS+ numbers were his lowest in nearly a decade, since 2013.
But it was more Martinez's second half that brought him down, as he put up just a .702 OPS in that time. He was still an All-Star last year, and on the season as a whole, he was crushing southpaws. He walloped his way to a .998 OPS against lefties in 2022.
If Martinez is 17% above league average at the plate as a 35-year-old, Dave Roberts will take that right to the bank. But the Dodgers may have the ability to get a little bit more than that out of him when all is said and done.
Starting Rotation Options
Clayton Kershaw
Julio Urías
Tony Gonsolin
Dustin May
Noah Syndergaard
Ryan Pepiot
Michael Grove
Andre Jackson
Aging doesn't seem to faze Clayton Kershaw. Sure, he has battled some injuries over the last couple of seasons and his innings totals have dropped. But when on the field, the future Hall of Famer continues to pitch like an All-Star. Finishing with a 2.28 ERA, 2.57 FIP and a 0.94 WHIP last season, the southpaw also got the nod to start the All-Star Game at Dodger Stadium.
Kershaw has taken multiple one-year contracts in a row during free agency to return to the Dodgers. The "Kershaw to the Rangers" speculations have been tossed back and forth to no end over the last couple of years, but the longtime Dodger doesn't seem to have much flaming desire to run back to his home state. The one-year deals seem to be more of an indicator that he wants to eventually retire on his own terms and not be held down by a contract. And when that day arrives, he will more than likely have worn just one jersey for his entire playing career. But for now, he is on the field and going about his business as usual, which is dicing up opposing hitters.
While he doesn't hold the nostalgia of Kershaw, Julio Urías is now objectively the ace of this squad. Finishing top-seven in the last two Cy Young races, Urías has posted a sub-three ERA in his last two seasons, including an NL-best 2.16 mark in 2022. He also sat atop the NL in ERA+ at 194. His second-half ERA of 1.26 over 13 starts was especially ridiculous.
Urías has three offerings in his arsenal, with his fastball and slurve doing the majority of the damage against hitters with Baseball Savant Run Values (RV) of -16 and -12, respectively.
Another Dodgers hidden gem, Tony Gonsolin had never eclipsed 60 innings in a season before last year. The former ninth-round pick out of St. Mary's put that narrative in the rearview mirror quickly, dazzling over the course of 2022. Adding yet another checkmark in the Dodgers column for All-Star arms, Gonsolin put up a 2.14 ERA, 0.87 WHIP and a 196 ERA+ (although he didn't throw enough innings to qualify for the league leaderboards).
Gonsolin will likely start 2023 on the IL due to an ankle injury he suffered this spring. The injury shouldn't be long-term, but while he is recovering, options such as Ryan Pepiot, Michael Grove and Andre Jackson are candidates to fill Gonsolin's shoes.
Gonsolin's split-finger changeup is deadly. Opponents hit just .113 against it last season, and it had an eye-catching -16 RV. He will mix in an above-average slider, along with a fastball and curveball.
A full season of Dustin May could be a significant difference-maker for a team that is in much need of healthy starters. Much like Gonsolin before last year, May has never spun more than 60 innings in a season. He missed nearly all of 2021 and 2022 due to Tommy John surgery. When he was first called up in 2019, he was primarily used out of the bullpen.
With five pitches headlined by an electric fastball that can regularly touch triple digits, the 25-year-old May still has the ceiling of a top-end starter. But health and pitch command will be the bright-shining keys to fully unlocking that potential in 2023.
Once upon a time, Noah Syndergaard was one of the most exciting young starters in the game, with a top-ten Cy Young finish next to his name at just 23 years old. But he hasn't looked like the same guy over the last few seasons, much of which has been due to injury.
The Dodgers signed Syndergaard to a one-year deal with the hope that they can drench him in water from their pitching fountain of rejuvenation, much like they've done with Anderson, Heaney and others over the years.
Syndergaard put up a 3.94 ERA between the Angels and Phillies a season ago, and he actually limited his free passes quite well (86th percentile in BB%). But he lacked swing-and-miss stuff (11th percentile in K% and Whiff%) and got hit fairly hard throughout the year.
With five pitches in his repertoire, including a sinker that graded as an above-average pitch in 2022, the Dodgers feel that Syndergaard's skillset is more than enough to work with. They hope he can contribute to an already-talented roster.
Bullpen Options
Evan Phillips
Brusdar Graterol
Alex Vesia
Caleb Ferguson
Yency Almonte
Phil Bickford
Shelby Miller
Jimmy Nelson
Alex Reyes
Daniel Hudson
Boy oh boy, did Evan Phillips come out of nowhere. Not that it's uncommon practice for relievers these days, and Phillips was only in his age-27 season last year, but it was such a sudden explosion. Phillips had tossed just 67.1 innings in his first four years in the majors, but he never really stuck anywhere between his stints in Atlanta, Baltimore and Tampa.
He threw 10.1 innings for the Dodgers in 2021, the team gave him another shot, and the return on investment was more than anyone could have expected.
Phillips was one of the best relievers in the game. A 1.14 ERA, 1.94 FIP and 0.76 WHIP should say enough, but if you're still not sold, he ranked in the 98th percentile of the league in xBA, xSLG and xERA, 94th percentile in Strikeout Rate and 92nd percentile in Barrel%. Phillips threw four different pitches, which isn't the norm for relievers in today's day and age. But he managed to post negative RV with all of them.
And the capper? His ERA+ was (wait for it): 367. Yes, you're reading that right. I'm sure because I had to quadruple-check that number and then check another three times. He was 267% better than league average as a reliever last year. That's near uncharted territory. And absolutely mind-boggling.
Alex Vesia also thrived in the Dodgers bullpen last year. With a sky-high 34.8% strikeout rate, a heavy fastball and deception from the left side, he put up a 2.15 ERA and a 2.12 FIP in his second season in Los Angeles. Vesia was high-powered dynamite against lefties last year, as left-handed bats put up a measly .348 OPS against him.
His ERA+ for the year was 195, which is incredible. But I'm still trying to recover from the disbelief of feasting my eyes on Phillips' ERA+, so maybe I can't give Vesia the proper credit he deserves.
Brusdar Graterol is yet another fire-breathing, high-octane reliever that the Dodgers will lean on heavily. After some ups and some downs through his first three years, Graterol had a lot click in 2022. His WHIP fell under 1.00, his walk rate dropped several ticks from 2021, and his FIP was a career-low 2.95.
Graterol flashes four pitches of his own, including a sinker that gets over 100 miles per hour. He really honed that last season, which led to much-improved game results.
Prospects Who Could Contribute in 2023
Bobby Miller (RHP) – Miller, much like a handful of these Dodgers arms, has an overpowering fastball. Grading out as his best pitch, his four-seam gets up to 101 mph while usually sitting 97-99 mph. But here's the catch: he also has a two-seam fastball that reaches 100 mph, not to mention his above-average changeup and slider, with a curveball in the mix as well.
Rated as the Dodgers' no. 2 prospect, Miller's ERA ballooned a little bit last year, sitting at 4.25. But truthfully, that isn't all that much of a concern with the stuff he possesses. He has the ceiling to be a Walker Buehler clone. If he's not big-league-ready this minute, he's not too far off. And he will likely get the call at some point in 2023.
Gavin Stone (RHP) – Stone has thrown four scoreless appearances so far in big league spring training, tossing 6.2 innings with an astounding 14 strikeouts. And that is on top of his absolutely phenomenal 2022 campaign, in which he finished the year with a 1.48 ERA across three levels of the minors.
Stone has three pitches, with a changeup that features heavy fade leading the charge. He also has a fastball and slider. He throws a lot of strikes and gets up to 98 mph on his heater. At just 175 lbs, he is not an imposing figure on the mound, but if the Dodgers' no. 4 prospect continues to get outs at the rate he did last year, he may warrant a big league promotion sooner than later.
Michael Busch (2B/OF) – With the position player depth feeling slightly thin for the Dodgers in 2023, Busch may very well get his opportunity. He has a quality plate approach, draws a lot of walks, can hit for real power and has positional versatility.
Busch slashed .274/.365/.516 with 32 home runs between Double-A Tulsa and Triple-A Oklahoma City last year and has continued to get better every season. If the Dodgers need some help at second base, corner outfield, or even first base in a pinch, their no. 6 prospect should be first in line.
Outlook
The floor for the Dodgers is still reasonably lofty. At the very worst, expect this team to snag one of the last NL Wild Card spots and make some noise in October. If this is the case, there will be some division winner that cringes when they look up at the playoff bracket on their TV and see "Los Angeles" next to their own city.
But don't put it past the Dodgers to take the NL West again. After all, despite the numerous player exits this offseason, they still won 111 games in 2022. Betts and Freeman aren't going anywhere. Their starting pitchers still combine to make up a top-ten rotation, even without Buehler. And every year, someone from the Dodgers always breaks out and surprises everyone. We will have to wait and see who that player is in 2023.
On paper, they may not be the juggernaut Dodgers of the last few years. But they are very far from a slouch and are not to be taken lightly.