Analysis
Chicago White Sox Season Preview
Coming off a disappointing season where nothing seemed to go right for the White Sox, this team will look to put it all together in 2023.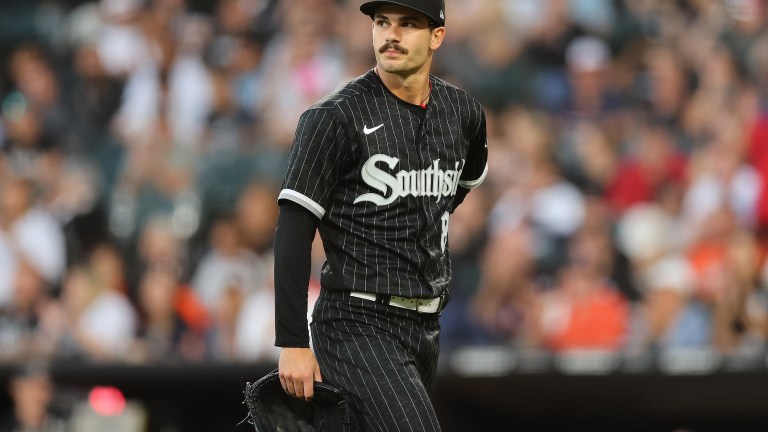 Arguably the most disappointing team of the 2022 season enters what feels like a make-or-break season. The White Sox dealt with all sorts of issues last season as they sputtered from being considered a World Series contender to not making the playoffs and finishing with a record of 82-82 on the year.
The first thing on the agenda for Chicago is leaving 2022 in the past and moving forward with a new energy and coaching staff. New manager Pedro Grifol has sounded impressive thus far and is preaching discipline and fundamentals, which the team lacked at many times last year.
The big addition of the winter was outfielder Andrew Benintendi, who will help solidify left field for a team that struggled defensively all year in the corner outfield spots. A few other moves were made, but the majority of improvement will need to come internally as many players failed to produce the way they were expected to last season. This team has just as much talent and possibly more than they did when they won 93 games in 2021, but they've got to come together.
Projected Starting Lineup
1. Tim Anderson – SS
2. Luis Robert Jr. – CF
3. Andrew Benintendi – LF
4. Eloy Jiménez – DH
5. Andrew Vaughn – 1B
6. Yasmani Grandal – C
7. Yoán Moncada – 3B
8. Oscar Colas – RF
9. Elvis Andrus – 2B
The White Sox were towards the top in the league last season in hits but failed to generate much power at all as they regularly lacked the ability to bring runs in and deliver in situations. They also lost longtime leader Jose Abreu this winter in free agency. The biggest factor for this group though is still health.
This core of offensive players has simply not been able to stay on the field at the same time. They have plenty of talent to produce at a top-10 level but it hasn't come together.
There was clear energy missing last season as Tim Anderson struggled for his standards and missed a lot of time with injury. He's been one of the best contact hitters in baseball as he's hit over .300 in the last four seasons and the White Sox will look to him to set the table for the rest of the offense.
While many have new signee Andrew Benintendi slotted into the two-hole, Pedro Grifol seems to like him at the three spot in the order. He's been hitting there consistently throughout the spring and seems like he may hit there this season. This would set up Luis Robert Jr. (yes, he changed his name this winter to include the Jr.) to hit in the two-hole.
Whichever order they slot into, this outfield duo can be really strong. Robert has some of the best tools in the game and was clearly playing through a wrist injury last year that hampered his production. He showed in 2021 the type of hitter he has the potential to become, when he put up .945 OPS. He just needs to stay on the field and continue working on his plate approach.
Benintendi was brought in as a stabilizing factor who brings some consistency to this group. He's a steady hitter and fielder that can be expected to produce all year in left field.
The positional situation with the outfield and first base was a mess last year and while losing Abreu hurts, it allows Jiménez to fully take the designated hitter role. He's another guy that hasn't been able to stay on the field, but has immense offensive potential that he can now focus on without the risk and worry of playing the field every day. He put up a 144 wRC+ last season and there are essentially no questions about his ability to produce if he can stay healthy.
The other player that benefits from the positional shifting without Abreu is the new first baseman, Andrew Vaughn. He's an ultra-talented hitter that has continued to grow and could be in line for a huge season while playing his natural position. He led the team with 17 home runs and had a .288 average before the last month of the season when his body was likely worn down due to playing the outfield all year.
The two hitters that had the most disappointing seasons at the plate in 2022 slot into the next two spots. Grandal was possibly the best hitter on the White Sox in an anomaly of a season in 2021, where his average hovered around .200 all year but finished with 158 wRC+.
That dropped all the way to 68 in by far the worst year of his career in 2022. This could've been in part due to a knee injury that he seemed to be rushed back from last year. Grandal may be past his prime, but he looks much healthier this spring and seems likely to be better than the career-worst version of himself from last year.
Moncada has had a strange career trajectory up to this point as he looked like one of the top young hitters in the game in his second season in 2019 but hasn't been able to keep it going. He is coming off a down year where he only hit .212 and was a non-factor on offense. He's been a top-half-of-the-order hitter but may slide down this season as he works to get back to his peak form.
The No. 2 prospect in the White Sox system is not necessarily projected to start by everyone, but he is by me. Oscar Colas has done nothing but impress in Spring Training and he's coming off a season in the minors where put together .314/.371/.524 slash line across three levels. He has limited experience in Triple-A but given that he's 24 years old and has experience playing professionally in Cuba, he's ready to help this team.
The last addition made right before Spring Training was bringing back Elvis Andrus to start at second base. He's an experienced veteran and will provide a steady force at the bottom of the lineup. He was one of the best hitters in the lineup last year after he joined the team midseason and is the type of player that helps the energy of any team.
Projected Bench
Leury Garcia, Seby Zavala, Gavin Sheets, Hanser Alberto or Romy Gonzalez
The White Sox have been depleted by injuries as much as anyone over the past few years, so having reliable bench options is immensely important. Leury Garcia is coming off one of his worst seasons but plays all over the field and will look to return to his key utility role.
Seby Zavala is nothing special with the bat but showed that he can a quality defensive backstop last season and that will be needed behind Grandal. He has some pop and the ability to hit the ball hard, but his strikeout rate will need to improve for him to become a useful hitter.
The role of a big bat off the bench is likely to be filled by Gavin Sheets. While there's a chance he could start in right field if Colas is deemed not ready, Sheets is likely best suited by a bench bat role. He has big pop and the lefty can come through when needed, but his defense in lackluster and he does strikeout too often as well.
The last spot is sort of a toss-up as the manager Pedro Grifol seems to like the promise of Romy Gonzalez, but experienced veteran Hanser Alberto has been excellent in Spring Training. Alberto has been around for a while and could provide the clubhouse with a team-first leader. While Gonzalez wasn't great last year, but is a versatile defender and is much younger as a utility option than either Garcia or Alberto.
Projected Starting Rotation
1. Dylan Cease
2. Lance Lynn
3. Lucas Giolito
4. Michael Kopech
5. Mike Clevinger
6. Davis Martin
The White Sox rotation will be headed by five of the same pitchers as last year's group with the lone change being the addition of Mike Clevinger, who replaces Johnny Cueto. This rotation failed to meet expectations last year as Lynn, Giolito, and Kopech took steps back from 2021. Cueto quickly became the second-best arm for the majority of the season but the rest of this group will need to improve in 2023.
On the bright side, Dylan Cease developed into one of the best pitchers in the league as he was able to utilize his elite stuff and put together an incredible season en route to finishing second in the AL Cy Young voting. Cease is the clear ace of this staff as he continues to grow and while slight regression may occur, he's becoming one of the best strikeout artists in baseball.
Even while being one of the best in the game and pitching to a 2.20 ERA with 227 strikeouts, Cease led MLB in walks allowed and still has significant control problems at times. The biggest difference was his ability to work around the trouble and continually allow minimal hard contact. He's the clear ace of this group now and will try to continue improving his command in order to become one of the best for a long time.
The well-traveled veteran of the group is Lance Lynn, who was hurt at the beginning of last season. He returned and didn't look like himself over his first handful of starts in the season. While June and July weighed heavily on his season metrics, he looked better much down the stretch.
He pitched to a strong 2.43 ERA over his last 12 starts of the season and will look to carry that over into this next season. Lynn is a crafty pitcher that primarily uses three fastball variations and while he isn't an overwhelming arm like Cease, he figures to be an innings eater that produces quality middle-of-the-rotation numbers.
Lucas Giolito was the leader of the rotation from 2019-2021 and developed into a steady arm that the White Sox could rely upon with his elite changeup and consistent location. Everything went off the rails for Giolito in 2022 as his ERA spiked all the way to 4.90 and his K% dropped well below where it used to be in previous seasons. The changeup had a run value of 7 in 2022 after being one of the best in the league at -11 the year prior as he wasn't able to locate it nearly as well.
He has the ability to bounce back but will need to command his changeup/fastball combination much better than last year in order to limit hard contact. He's playing for a contract after this season and the White Sox pitching will be improved drastically by even league-average numbers from Giolito this year.
The highest ceiling among the non-Cease rotation members definitely belongs to Michael Kopech. He was a top-end prospect that made his way over to Chicago in the Chris Sale trade. Kopech dealt with many arm issues and off-field restrictions but put things thing together as a swingman in 2021.
He transitioned to a full-time starter in 2022 and showed promise but will look to deliver a fully healthy season and display his talent to the fullest this season. If he's able to work in the zone more frequently, he can be a long-term leader of this group alongside Cease.
Clevinger was the lone add to the rotation this winter and he'll round the group with the young Davis Martin providing depth as he did last year as well. Clevinger is coming off a few shaky seasons mixed in with surgery in 2021. He flashed elite stuff with Cleveland in 2018 and 2019 as he finished with a 2.90 ERA across those two seasons and the White Sox will need him to bounce back in order to fill the shoes of Cueto's outstanding season.
Martin showed promise in his starts in place of injured pitchers last year. While he won't start in the rotation, he'll definitely be needed for starts throughout the year as he continues to develop.
This rotation is one of the most volatile in the league but the best outcome is an excellent rotation as all five of these arms have shown the ability to be, at the very least, quality mid-rotation starters. The health and offseason adjustments made will be crucial to the success of this group and team.
Projected Bullpen
1. Liam Hendriks*
2. Kendall Graveman
3. Reynaldo López
4. Aaron Bummer
5. Joe Kelly
6. Garrett Crochet*
7. Jake Diekman
8. Jimmy Lambert
9. José Ruiz
10. Nick Avila
11. Tanner Banks
*Both will begin the season on the IL as Hendriks is undergoing treatment for Non-Hodgkin's Lymphoma and Crochet works his way back from Tommy John Surgery
The bullpen for Chicago will start the season significantly depleted as possibly the two highest upside arms will not start the season with the team. The focus for Liam Hendriks is his recovery as he's currently in his third round of treatment. It will be a huge boost for this team if and when he returns, but that simply isn't the priority right now.
A first-round pick in 2020, Crochet broke out as of the top bullpen pieces on the team and has ample room to grow. I saw him throw a bullpen in Arizona and he looks very solid as he aims for a May return.
Reynaldo López broke out fully as a reliever last year and might be the top option in the bullpen while Hendriks is out. His command was elite as he barely walked anyone and missed bats at a high rate leading to a 0.95 WHIP last season.
The veteran trio of Kendall Graveman, Joe Kelly, and Jake Diekman have plenty of experience and will bolster the bullpen and pitch in high-leverage for the time being. Graveman is likely to work the end of games with López for now after he put together a strong first season with the team last year as he pitched to 3.18 ERA and was one of the few consistently available arms.
Kelly has been a bullpen ace many times in his career and will look to get back to that level after an injury-plagued season in which he underperformed when on the field.
The early relief innings will be led by the likes of Jimmy Lambert, José Ruiz, Nick Avila, and Tanner Banks. Lambert was once a starter but flashed the ability to be a consistent relief option last year. Ruiz has done well in lower-leverage situations and figures to be utilized in that role once again.
Prospects Who Could Help in 2023
The White Sox system has been one of the lowest-ranked in the last few years since they graduated the majority of their current team that highlighted a loaded system five years ago. While they aren't stacked with prospects yet, the farm is starting to grow as numerous players have slowly emerged.
Sean Burke (SP): The White Sox have a clear five-man group leading the rotation with Davis Martin set to be the primary spot starter. However, many of these pitchers have dealt with injuries before and the seventh man would likely be right-hander Sean Burke. He's a top-10 prospect in the system and has shown the ability to miss bats frequently. He dominated in High-A but got roughed up more at the higher levels due to a lack of consistent command. He struck out an impressive 137 batters but will need to fine-tune his location to make an impact this year.
Lenyn Sosa (2B): The breakout star in the minor leagues of 2022 seemingly had a chance to make the roster prior to the Elvis Andrus signing. However, Sosa will likely begin the year in Triple-A. The view on Sosa has been skewed negatively due to his poor performance in the handful of games he got with the White Sox. However, he put up a .880 OPS with 23 home runs between the two highest levels of the minors. Sosa has an aggressive approach at the plate that needs some work but has a potentially useful bat that can generate power at a high level for a likely second baseman.
Gregory Santos (RP): The White acquired Santos this winter as he's got an electric profile of stuff that could translate well. He just moved to the bullpen in 2021, where his stuff plays with a fastball that gets over 100 MPH and sharp slider. Command has been his issue and he'll look to refine that in Triple-A in order to make an impact with the White Sox.
Franklin German (RP): Another recent acquisition of the White Sox was one of the best relief arms in the minor leagues last season. The White Sox brought in German from Boston as a possible useful bullpen piece in the near future. He had a 2.72 ERA last year in upper minor leagues and will have a slight chance to make the roster. He's likely one of the first depth arms that could be called upon if any injuries occur.