Analysis
2023 Season Preview: Miami Marlins
While they may not have spent like the top of their division, the Marlins were active this offseason in hopes of being competitive in 2023.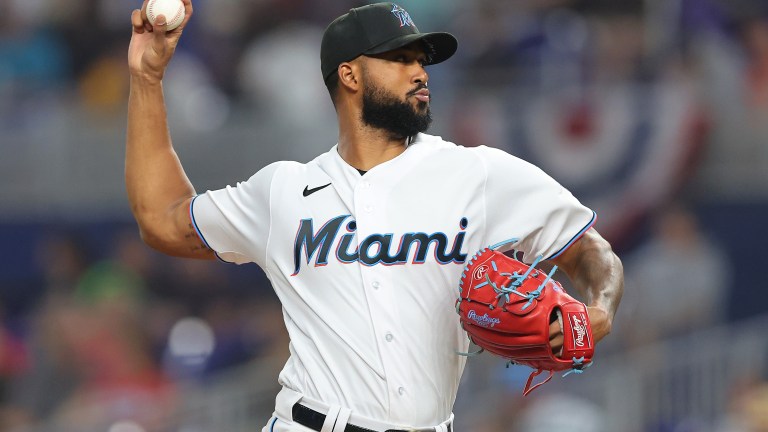 There's no way around it, 2022 left a lot to be desired with the Miami Marlins. Even with modest expectations, the team limped to a 69-93 record, finishing fourth in the National League East. A combination of injuries to All-Star Jazz Chisholm and underwhelming performances from new additions Avisail Garcia and Jorge Soler had the Marlins scrambling. A sophomore slump from Rookie of the Year runner-up Trevor Rogers and a razor-thin bullpen didn't help either.
The Marlins may be overlooked in the NL East landscape, but General Manager Kim Ng was active this offseason looking to upgrade a lineup that ranked 25th in wRC+, 27th in OBP and 28th in runs scored. Ng also made a couple under-the-radar pickups in an effort to shore up a bullpen that ranked in the bottom third of the league in virtually every pitching category.
2023 Projected Opening Day Lineup
| | |
| --- | --- |
| PROJECTED OPENING DAY LINEUP | PROJECTED BENCH |
| 1. Luis Arraez – 2B | Nick Fortes – C |
| 2. Jazz Chisholm Jr. – CF | Bryan De La Cruz – OF |
| 3. Jorge Soler – DH | Yuli Gurriel – INF |
| 4. Garrett Cooper – 1B | Jon Berti – INF |
| 5. Jean Segura – 3B | |
| 6. Avisaíl Garcia – RF | |
| 7. Jesus Sanchez – LF | |
| 8. Jacob Stallings – C | |
| 9. Joey Wendle – SS | |
Defensive Questions
The prioritization of offense, perhaps at the expense of defense, is clear though the iterations of Marlins lineups we have seen this spring training. Moving All-Star second baseman Jazz Chisholm to center field despite the fact that the 25-year-old has never stepped foot outside of the infield dirt is signing up for an adventure.
While they are not presumed liabilities defensively, Jean Segura and Joey Wendle are not playing in their natural spots on the left side of the infield and a right side which features the newly-acquired Luis Arraez at second base and Garrett Cooper at first base should leave a bit to be desired in the range department.
Compromising infield defense in the name of scoring runs is an understandable approach from the Marlins. After all, you need to score runs to win ball games and the Marlins didn't do enough of either last season.
The acquisition of Luis Arraez was a focus on adding the best bat possible rather than looking for a specific position of need. Another second base/first base type was probably the last thing the Marlins needed, but a hitter who produced a 131 wRC+ last year and won a batting title is something the team needed in the worst way. Arraez instantly becomes the team's most proven hitter and a complement to the exciting Chisholm at the top of the order.
Jon Berti will likely be an important bench piece for this team as the safety blanket all over the field. Both Chisholm and Wendle dealt with injuries last season and are taking on every day roles at a more demanding position. MLB's 2022 stolen base leader could fill in at shortstop, second and center field, allowing the Marlins to rotate through the DH role.
Though the defense may be iffy, new manager Skip Schumacher does have the ability to mix and match his lineups thanks to the versatility of his position players. Wendle, Segura and Arraez can all play multiple spots in the infield with Berti available to plug in at short and even Chisholm in an emergency. Schumacher has also said that he would like to move Gurriel around the infield a little bit as well.
An Upgraded Offense
The offense should without a doubt be better, but the price to pay will be interesting to monitor. With shift limitations in place for the 2023 season, range is of more importance to defenses. This new-looked infield should be put to the test as the Marlins pitching staff finished fourth baseball in ground ball rate last year and should be right around the top again this year.
Offensively, Arraez and Chisholm should lead the way at the top of the order with the team desperately hoping for a bounce back from Garcia and Soler. Soler was a more competitive hitter last year, but battled injuries that limited him to 72 games. There's relative optimism within the Marlins organization that Soler will bounce back in the second year of his three-year, $36 million contract. Garcia was one of the worst qualified hitters in Major League Baseball last year (.582 OPS) and put simply, he cannot be worse in the second year of his four-year, $53 million contract.
Though Segura may not light it up offensively, he provides some much-needed steadiness to a lineup that had only one hitter with at least 400 plate appearances finish with a wRC+ above 100 (Garrett Cooper). Segura has a .281/.344/.417 slash line over his last three seasons (107 wRC+).
The other corner outfield spot will likely go to the hot hand during the season between Jesus Sanchez and Bryan De La Cruz. It seems as though Sanchez will see the bulk of the at bats in the beginning of the year with De La Cruz grabbing at-bats vs left-handed pitching.
Once a highly-regarded prospect with big time power potential, Sanchez was disappointing last season while De La Cruz finished 2022 with a torrid September. This should be an interesting battle for playing time to monitor as the season goes on.
Jacob Stallings and Garrett Cooper should see the bulk of the playing time at catcher and first base, but the struggles of Stallings last year could open the door for Nick Fortes behind the dish and Yuli Gurriel presents a necessary insurance policy to the oft-injured Cooper.
Craig Mish of the Miami Herald reported that the team plans to pick one Yuli Gurriel and Jose Iglesias–both of which were signed to minor league deals–but it seems as though Gurriel has the edge on winning the job.
Projected Rotation
| | |
| --- | --- |
| PROJECTED STARTING FIVE | ROTATION DEPTH |
| 1. Sandy Alcantara – RHP | Braxton Garrett (LHP) |
| 2. Jesus Luzardo (LHP) | Eury Perez (RHP) |
| 3. Trevor Rogers (LHP) | Daniel Castano (LHP) |
| 4. Edward Cabrera (RHP) | Jake Eder (LHP)* |
| 5. Johnny Cueto (RHP) | Sixto Sanchez (RHP)* |
It's no secret that the rotation is the Marlins biggest strength. Reigning National League Cy Young winner Sandy Alcantara is flanked by a trio of high-upside arms in Luzardo, Rogers and Cabrera with a Cueto to anchor the back-end. The team's pitching talent is exciting enough for Ng to feel as though she could move a proven starter like Pablo Lopez for offense, but that also pushes all of the chips forward on the youngsters.
For Luzardo and Cabrera, it's all about health. The two talented, young arms how proven that their stuff can play at the highest level, especially Luzardo. The southpaw punched out 30% of batters last season, while finishing the year with four-straight starts of six innings pitched and two earned runs or less. He also struck out 35 and walked just five in that stretch.
Cabrera has some room to improve in the command department, but showed flashes of brilliance last year thanks to an upper 90s fastball and cheat code changeup in the low 90s.
The X-factor for this rotation may be Rogers. The former first rounder dominated his way to a runner-up Rookie of the Year finish in 2021 before taking a full step back last season. His ERA doubled from 2.64 to 5.47 as the tall lefty battled command issues and fluctuations in his velocity. Aside from one blowup outing this spring, Rogers has looked solid, which bodes well for the Marlins rotation.
Finally, there's the veteran Cueto who defied underlying metrics the last two seasons and simply got outs. The 37-year-old parlayed a 3.35 ERA over nearly 160 innings with the White Sox last season into a one-year, $8.5 million deal with the Marlins. If Cueto can give the Marlins anything close to what he did last year, this rotation could be among the top 10 in baseball.
There's plenty of variance with this group. If the talented young trio reaches close to their ceilings, this could be one of the better rotations in baseball, but if Cabrera and Luzardo continue to deal with arm flareups, a strength can become average pretty quickly.
Garrett provides much-needed depth as the team's alternate rotation option. Spring Training has not been too kind to the 25-year-old, but he looked like he belonged in his 17 MLB starts last season, in which he pitched to a 3.58 ERA while striking out 24% of batters.
It appeared as though the Marlins were giving top prospect Eury Perez an opportunity to win a rotation job this spring, but the gifted teenager understandably showed his youth, struggling with his fastball command against MLB hitters. Perez is an advanced young pitcher with a frontline arsenal, he should debut at some point this season, but it was clear that he needs a bit more seasoning in the upper-minors.
Bullpen
| | |
| --- | --- |
| ROJECTED BULLPEN | BULLPEN DEPTH |
| Dylan Floro – RHP | Andrew Nardi – LHP (40-Man) |
| Tanner Scott – LHP | Sean Reynolds – RHP (40-Man) |
| A.J. Puk – LHP | George Soriano – RHP (40-Man) |
| Matt Barnes – RHP | Eli Villalobos – RHP (40-Man) |
| JT Chargois – RHP | Josh Simpson – LHP (40-Man) |
| Steven Okert – LHP | Nic Enright – RHP (40-Man)* |
| Tommy Nance – RHP | Anthony Maldonado – RHP |
| Huascar Brazoban – RHP | |
Rather than signing one of the many arms available in a surprisingly expensive relief market this offseason, Kim Ng went the trade route, acquiring A.J. Puk, JT Chargois and Matt Barnes, all in separate deals. While proven high-leverage help would have been a nice addition to a bullpen that ranked towards the bottom of the league in most pitching categories, the Marlins bullpen should be improved this season.
Once one of the most highly-regarded pitching prospects in baseball, Puk has been derailed by a litany of arm injuries. The 27-year-old made the move to the bullpen last season and was able to stay on the field. He tossed 66 1/3 innings for the A's in relief, pitching to a 3.12 ERA and 27% strikeout rate. With continued success, the 6-foot-7 southpaw could become one of the Marlins high-leverage arms.
Barnes was acquired from the Red Sox in a swap of relievers that sent lefty Richard Bleier out of town. Though Barnes has been inconsistent throughout his career, he has plenty of experience in high-leverage, with 47 career saves.
Floro has quietly been an extremely reliable reliever for the Fish since they acquired him from the Dodgers in 2021. Over the last two seasons, Floro has pitched to a 2.91 ERA while picking up 25 saves. He will likely be the team's closer to start the season, despite not fitting the traditional swing and miss mold.
The hard-throwing Scott took over closer duties when Floro missed some time and seemed to be in over his head a bit. He picked up 20 saves on 27 tries, but is better served in a setup or middle-relief role.
Rule 5 pickup Nic Enright was slated to take on plenty of responsibility in the Marlins bullpen, though the 26-year-old is unfortunately battling Hodgkin's Lymphoma. We wish him well.
There's a strong stable of relievers knocking on the door for the Marlins with Nardi, Reynolds, Soriano, Villalobos and Simpson all posting strong numbers in the upper minors. All of which are on the 40-man roster already.
Team Outlook
There's plenty of variance with a team that is moving its most-talented position player to a spot he has never played before and several others outside of their natural position. There's even more variance when you have a rotation of multiple massive upside arms who have historically struggled to stay on the field.
But variance implies that there is a higher upside scenario and that is something that the Marlins have not been able to say for several years. Just about everything has to go right for this team to win 80 games, but with the rotation talent that the Marlins have and an improved lineup, there is at least a chance.
The doomsday scenario is that the Marlins defense is one of the worst in baseball, the rotation does not stay healthy and the upgrades to the offense cannot offset the difference. Having Garrett and one of the best pitching prospects in baseball in Perez a step away, helps hedge some of the injury concerns in the rotation.
Not counting 2020's 60-game sprint, this should be the most competitive Marlins team since Stanton, Yelich and Ozuna shared an outfield in 2017 which is undoubtedly a positive for the Marlins.
It may be a low bar to hope that the Marlins can play meaningful games beyond the trade deadline, but the fact of the matter is, they haven't done that in some time. Marlins fans should enjoy watching this team as much as any group in the last six years.