Analysis
Cincinnati Reds 2023 Season Preview
The Cincinnati Reds are still far from contention, but the debut of top prospects like Elly De La Cruz gives fans something root for in 2023.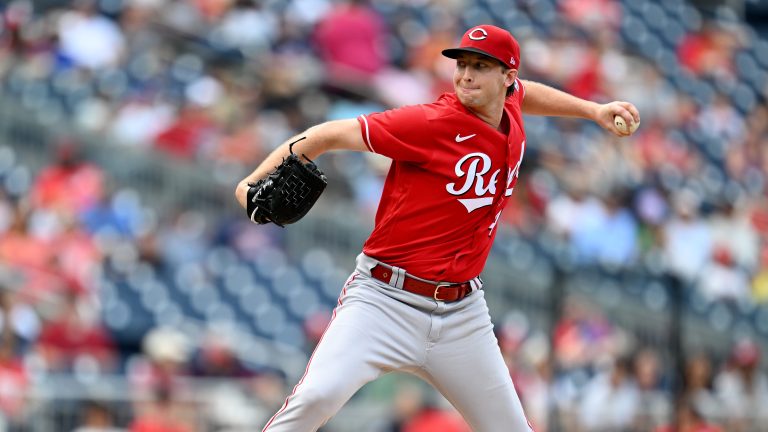 Another winter has come and gone with minimal buzz around the Cincinnati Reds. While the roster reconstruction is still a work in progress, 2023 should be more exciting that 2022. Several names that have floated through minor league discussion boards and prospect guru's tweets will finally take the field. Bona fide, homegrown talent will not constantly be in trade discussion. Past their prime players will not fill half the lineup. Cincinnati might not have a playoff caliber team, but we will see our first glance of the new wave and nucleus going forward.
This summer's storylines should revolve around how young players are developing, and not which veteran will bring back what return. Maybe that will make the losses hurt less? A man can hope.
Projected Lineup
Tyler Stephenson – C
Joey Votto – 1B
Jonathan India – 2B
Spencer Steer – 3B
Kevin Newman – SS
TJ Friedl – LF
Nick Senzel – CF
Jake Fraley – RF
Wil Myers – DH
*Not a projected Opening Day Lineup. My best guess at a healthy, early season lineup.*
I know what you are thinking, yes this lineup will change often throughout the year. Joey Votto and Nick Senzel are battling injuries, Myers will see a lot of time in the outfield, and Newman very well could be a bench player or off the roster entirely. Ideally, prospects play well enough to claim several spots by the middle of the summer.
Behind the plate, Tyler Stephenson is back and healthy after a few different injuries limited him to only 50 games last season. In that small sample size, Stephenson posed a .319/.372/.482 slash line, showing his bat in good enough to be discussed with the best at his position. Manager David Bell mentioned Stephenson will see time at first and DH to help keep him fresh. The Reds added two veteran catchers in Luke Maile and Curt Casali leading me to believe carrying three catchers is likely.
While unorthodox, if moving Stephenson around helps keep his bat in the lineup, no one will have any complaints. For Stephenson to take the next step in his development he will have to tap into more power. Stephenson is more of a line-drive hitter but turning a few into home runs could do wonders for the Reds run production. Reaching the 20 home run mark does not seem impossible.
The infield will be a hot topic throughout the season. Joey Votto is likely in his last season in Cincinnati and his eventual replacement is still unclear. There's no question that Votto is working meticulously to get healthy and produce at a high level. If this is his last season, a statue will soon be erected to remember his importance and greatness in a Reds uniform.
Jonathan India went from Rookie of the Year in 2021 to an injury-ridden disappointing 2022. For now, you can write his name at second in ink. With the amount of infield talent coming up, India will have to show he can be closer to the 2021 version of himself. I do not think his 2022 numbers are the new norm.
Shortstop will once again be another position fans will keep a close eye on. Kevin Newman, acquired via trade from Pittsburgh, is a veteran placeholder until a prospect takes his spot. Jose Barrero is still around, but after another miserable season his chances as an everyday player are dwindling.
In 48 games last season, Barrero struck out 43% of the time while batting only .152 with little power. Chances are running out with Matt McLain and Elly De La Cruz knocking at the door.
The Reds finally moved on from Mike Moustakas clearing room at third for Spencer Steer. Acquired in the Tyler Mahle deal at last year's deadline, Steer brings an advanced approach at the plate with a good eye for the zone and flashed a bit of power in Triple-A. Steer earned 108 at-bats with Cincinnati last season without much success. With more time on task and everyday at-bats he could develop into an everyday, high floor player. His ability to play around the diamond would make him a plus utility player, if nothing else.
How the outfield will play out is going to be crapshoot. Jake Fraley and Wil Myers will get a lot of run, and rightfully so. Myers, signed to a one-year deal in free agency, brings the most experience to the room with enough pop to breach 20 home runs. Fraley established himself in 2022 after returning from a long injury posting 12 home runs, a 10% walk rate, and 121 wRC+ in only 68 games.
The other corner spot, and center, will be battles in spring training. Friedl has an inside track to starting after slashing .267/.354/.533 with eight home runs in 36 games in the second half. More likely than not Friedl will end up as a fourth outfielder, but for now he'll get the opportunity to start. Stuart Fairchild, Nick Solak, and Chad Pinder all have a fair shot of being on the Opening Day roster as well. Pinder and Solak bring defensive versatility, which could give them the inside track to earning a roster spot.
Center field has been a hole in the Reds lineup for years. Often injured Nick Senzel is, well, injured to start Spring training, leaving an open competition for a starting role. When healthy, Senzel has not played well enough to be given a role, making the competition even more interesting. This should be the year the Reds make a final decision on Senzel.
The easy fix would be moving Friedl to center. However, Mike Siani and Will Benson are doing everything they can to make that decision a difficult one. Siani stole 52 bags in the minors last year and brings above-average defense. The question comes down to just how good the bat can be. Benson is looking the part early. A recent addition from the Guardians, Benson and his 6'5″ frame have impressed so far. Power, speed, and a great eye for the zone might just have him as the leader to take the job.
Projected Rotation
Nick Lodolo
Hunter Greene
Graham Ashcraft
Luke Weaver
Luis Cessa
Unlike the lineup, Cincinnati's rotation is a bit more straight forward. The top-three were all rookies last year and will look to build off strong seasons. Nick Lodolo had arguably the most success of the three, posting a 3.66 ERA and 3.90 FIP in 103.1 innings.
The lefty used excellent movement and a combination of curveball/fastball to force whiffs, grading out in the 81st percentile in whiff percentage. Greene catches the eyes of fans with a fastball over 100 miles per hour, but after an up-and-down season, consistency is the main focus.
At times he's unhittable, while other times the contact is loud. There's no doubt in my mind he will continue to develop and learn to use his secondary pitches to help make his fastball more effective. He's far from a finished product.
Ashcraft was the lesser known of the three coming into 2022. In 19 starts he posted a 4.89 ERA and 4.21 FIP to go along with a 54.5% groundball rate. Ashcraft will not strike out a lot of batters as he relies on pitch movement to force soft contact and groundballs. His ceiling is much lower than the first two but still looks the part of at least a No. 4 starter.
The fourth and fifth spots in the rotation are up for grabs. I think Luke Weaver is your four after signing a one-year deal, adding a much-needed veteran into the mix. He has one season of over 60 innings under his belt after injuries have limited him for years. The results have been mixed and it is reasonable to think he can post a 4.50-5.00 ERA and provide some veteran support. Luis Cessa moved from the bullpen to the rotation late in 2022. He's…fine. A return to the bullpen is also an option I expect the fifth spot to be revolving door.
Justin Dunn is once again injured removing him from the conversation for the time being. Vladimir Gutierrez had Tommy John making a 2023 return uncertain. Connor Overton saw some action in Cincinnati in 2022 and performed well posting a 2.73 ERA in 33 innings. He does not strike anyone out (3.82 K/9) and has a limited ceiling. Likely will be organizational depth and an injury replacement.
Projected Bullpen Options
Alexis Diaz
Lucas Sims
Buck Farmer
Ian Gibaut
Reiver Sanmartin
Daniel Norris
Alex Young
Fernando Cruz
Ricky Karcher
Joel Kuhnel
I limited myself to 10 names, but more could easily be added. Alexis Diaz made a statement in his rookie season putting up a 1.84 ERA and 83 strikeouts in 63.2 innings. We all know how up and down bullpen arms can be, but Diaz has the stuff to be a legit high-leverage pitcher. A 95+ mph fastball paired with 86 mph slider lead to whiffs left and right.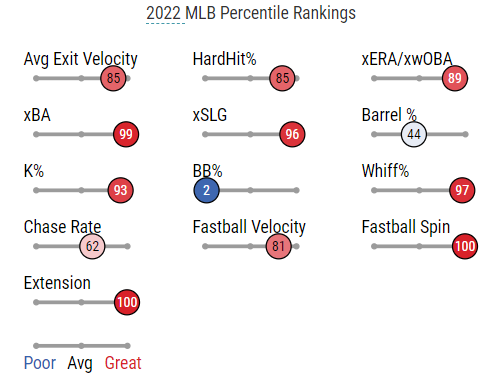 Lucas Sims and Buck Farmer have years of experience under the belts. Sims has been the better pitcher overall and Farmer has several productive years including 2022. Both will get late inning opportunities and play a large role in the Reds bullpen.
After those three, there's a mixture of veterans and younger options with mixed success. Ian Gibaut is a darling of the pitching data community and posted a 3.03 FIP in his first season with the Reds. I think he's another lock for Opening Day. Cincinnati needs someone to step up and fill the role of a reliable lefty out of the bullpen. Alex Young and Daniel Norris bring some experience, but neither fetched a Major League deal, having to settle for an invite to Spring Training. Sanmartin struggled in 2021 and the jury is still out on him. A unique arm angle and enough stuff to have a chance.
Ricky Karcher and Fernando Cruz fall into the unknown, non-zero chance category. Cruz debuted in 2022 at 32 years old and was excellent in 14.2 innings. He was drafted in 2007, the year Cincinnati selected Devin Mesoraco, Todd Frazier, and Kyle Lotzkar with their first three selections. Tampa Bay was still called the Devil Rays. I am not saying it can't happen, but 33 year-old rookies rarely find legit success.
Karcher has a similar story to many bullpen arms. High strikeouts, high walks. He enters spring training looking to earn a job and will battle players like Joel Kuhnel for one of the last bullpen spots. Karcher has all three options and can be assigned to the minors as depth.
Prospects Who Can Help in 2023
The Reds have been collecting prospects through the draft and recent trades for a couple of years now. Finally, many names that circulate prospect list and twitter discussions will likely debut in 2023. How soon is still to be determined, but here are a few names to keep an eye one.
Elly De La Cruz (SS) – The No. 4 prospect in baseball, Elly has displayed a combination of power and speed that has Reds fans thinking they have a superstar in the waiting, and they might be right. At 20 years old, Elly hit 28 home runs and stole 47 bags across two levels in 2022. The tools and numbers are absurd, and the strikeouts are high. Most likely he'll start in the minors and continue to develop. Already on the 40-man roster, I expect him to get some at-bats in Cincinnati in the second part of the season.
Matt McLain (SS/2B) – The 2021 first-round pick posted impressive numbers in 31 games in his first year. In 2022, the .232 average was a bit disappointing but his 15.5% walk rate stood out. His advance eye for the zone and ability to barrel up baseballs have him on path for an early debut. Another player who can provide some speed with good enough power to stick. Look for McLain to be one of the first call-ups in 2023.
Christian Encarnacion-Strand (3B/1B/DH) – Acquired in the Tyler Mahle trade with Minnesota, "CES" has done nothing but hit since turning pro. In fact, he's already in some elite company.
These are the players since 2010 (min. 600 PA) to have a higher minor league wRC+ than CES. I'm not sure if he'll be able to post an average around .300 like he has in the minors, but the power will play. Trending towards first or DH at this point, positions the Reds need to fill for the future.
Brandon Williamson (SP) – Cincinnati has an open competition for the last two spots in the rotation. Luke Weaver has one all but locked down, and the last spot is wide open. Williamson, acquired in the Winker/Suarez deal with Seattle, was a bit underwhelming in 2022. An ERA and FIP over four with a significant drop in his strikeout rate. At almost 25 years old, it's time to give him a chance to sink or swim.
If he does not make the team out of spring, some time in the minors will not be the worst thing. There's no doubt he will get big league starts, and probably the most of any minor league option.
Levi Stoudt (SP/RP) – Another player acquired from Seattle, Stoudt will also be in consideration for rotation innings. Whether or not he stays a starter is still in question. I could see him taking over the Jeff Hoffman role. Long reliver, spot starter, versatile and valuable arm. I do not think his ceiling is as high as other prospect arms in the organization, but he's in line to be promoted at some point.
Allan Cerda (OF) – Cerda has the tools and athletic ability to play at the highest level. Through the lower levels of the minors, Cerda has displayed eye-catching power, a walk rate above 10%, and plus defense in all three outfield spots. So what's the catch? Well, the swing and miss has been a problem, striking out at or above 30%. Even with the swing-and-miss, I think there's more than a 50% chance he gets a shot this season.