Analysis
Shohei Ohtani is Becoming the Best Hitter in Baseball
Shohei Ohtani is MLB's undisputed best player, but with his recent hot streak, he could soon be considered baseball's best hitter as well.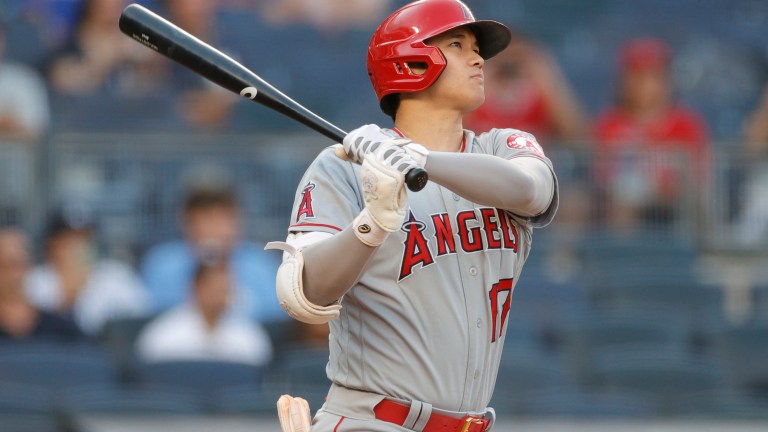 If there ever was debate about who the best player in baseball is, those have long been settled when it comes to Shohei Ohtani. The two-way nature of Ohtani makes him the default for Most Valuable Player every season, because no one can possible provide the value that he does atop the rotation AND in the middle of the lineup.
At this point, the fun talking about Shohei Ohtani instead falls in separating the two different players within. Shohei Ohtani the hitter and Shohei Ohtani the pitcher and trying to watch his path to becoming the best in baseball at either, if not both, positions.
In 2021, Ohtani hit 46 bombs and had the fifth-highest wRC+ in the MLB (151). He also pitched to a 3.18 ERA over 130 1/3 inning pitched and had a 3.0 fWAR (30th-best in MLB) as a pitcher. He was a top-five hitter in the game and a top-30 starting pitcher.
In 2022, Ohtani pitched to a sparkling 2.33 ERA (9th-best in MLB) in over 166 innings pitched, with 11.87 strikeouts per nine (4th). Based on fWAR, Ohtani was the sixth-best pitcher in all of baseball, with his 5.6 fWAR being just a point behind NL Cy Young Sandy Alcantra (5.7 fWAR) and five points behind AL Cy Young, Justin Verlander (6.1).
Meanwhile, he hit 34 home runs and posted a 142 wRC+ as the Angels designated hitter. For Ohtani the hitter, this represented a step back, but not enough of one to create any real concern. He was on the fringe of being a top-five pitcher in all of baseball and was a top-20 hitter in the game still.
Coming into this season, it was fair to wonder if this was finally the year Ohtani would reach the mountaintop at either position and grab the clear-cut title for being either the top pitcher or top hitter in the game. If not both.
Based on what we saw last year, it would have seemed that Ohtani would have a better shot to be considered the game's best pitcher, as all the stats were trending in that direction.
Ohtani has been great on the mound this year, but he hasn't quite established his dominance yet in the same fashion we saw in the second half of 2022. The 28-year-old is pitching to a 3.29 ERA across 14 starts and 82 innings pitched. His walks are up from 2.39 BB/9 last year to 3.84 in 2023.
There is every chance he could get hot down the stretch again and win his first Cy Young, but that is far from guaranteed at this point of the season. MVP on the other hand is all but in the bag, especially with Aaron Judge on the IL with an injured toe.
Judge isn't grabbing the MVP title from him, yet he still doesn't have to cede his crown from being considered the league's best hitter if he returns to pre-injury form this season. That is of course unless Shohei Ohtani doesn't just grab that crown outright himself.
For those of you who may not be aware, Ohtani is on an absolute heater right now, where he has hit 12 home runs and has 19 extra-base hits over his last 19 games played.
Since May 30th, Ohtani is hitting .403/.500/1.014, with a 1.514 OPS and a 295 wRC+. He is now leading MLB in home runs with 24 and 58 RBIs in his first 72 games played. The man is on pace for 53 home runs and 127 runs batted in, and if he stays locked in like this, there is every chance he could make the push for 60.
Among qualified hitters, Ohtani is leading Major League Baseball with his 173 wRC+, while also pacing the league in wOBA (.423) and ISO (.332) as well. The big caveat in that sentence though was the QUALIFIED hitters part.
Aaron Judge still exists and would be tearing the cover off the ball if not for the concrete fence at Dodgers Stadium that crushed his big toe.
If we expand the parameters to a minimum of 150 plate appearances, instead of just qualified hitters, Ohtani actually comes in third for wRC+, with both Aaron Judge (188) and Corey Seager (187) instead leading the pack.
Prior to his injury, Judge was still the consensus best hitter in the game, as he hit .291/.404/.674, with 19 home runs in his first 49 games played before hitting the IL. Judge is going on a full calendar year of being the best hitter in the sport and likely won't fully cede that this season.
Still, in his absence, Ohtani has jumped front and center as the best hitter in the game and there is every chance that he has figured out hitting to the point that he never gives it back.
Ohtani has lowered his K rate this season to 21.4%, which would be the best mark of his career by far. Right now, Ohtani is seeing the ball better than ever before, with a walk rate of 17% and a strikeout rate of 18.2% across his last 19 games played.
There will obviously be some regression to the mean, but if Ohtani can simply maintain his current 21.4% strikeout rate, along with his 11.8% walk rate, he is going to consistently find himself in hitter's counts where he can do damage. And with some of the best raw power in the game, that is often going to lead to positive results.
The perfect example of this is his most recent home run against Zack Greinke.
While the former Cy Young doesn't have nearly the kind of stuff he once did, Greinke is one of the most intelligent pitchers in the game. Look at the pitch map of this at-bat to see that he wanted absolutely no part of Shohei Ohtani.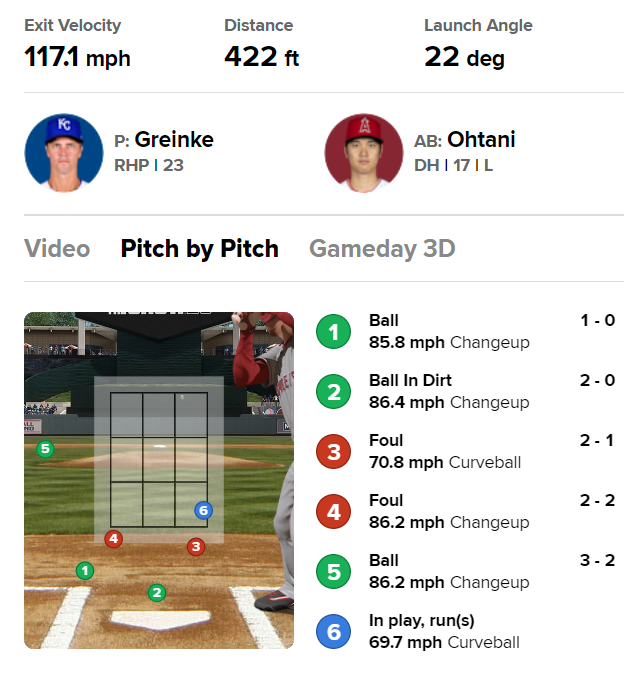 Greinke nibbles with two change-ups down and out of the zone to start, knowing that Ohtani has only a .545 slugging percentage this year against off-speed pitches. You might say, wow that's a pretty good slugging percentage, but when you compare it to his .675 SLG against fastballs and .636 SLG against breaking balls, you really are picking your poison.
The hope for Greinke is that he will get Ohtai so excited to swing out of shoes and tee-off, that he will gift him a strike. No cigar.
Greinke needs to throw a strike so he goes to his curveball, throwing it close enough to the zone where Ohtani will swing, but still low enough to try to keep it in the yard. He gets a foul ball. Strike one. Greinke then goes back to the change-up, gets another foul to bring the count even. 2-2.
Unfortunately for Greinke, he wastes his fifth pitch, taking the count full where he has to finally throw him something in the zone. The 39-year-old knows that the one thing he has in his back pocket is that he is pitching at Kauffman Stadium, a ballpark where home runs are known to die.
Greinke goes with his best option. A slow 70 MPH curveball down, where Ohtani will have to square the baseball up perfectly to drive it with enough force to leave the yard. He gets the pitch dotted at the bottom of the zone, but it breaks too far inside right in Ohtani's vicious bat path.
I want you to watch the video of that home run again and notice how quickly Greinke literally nods as soon as he hears the sound of the baseball off Ohtani's bat. Most of the time anything hit to center field has a chance of staying in the ballpark at Kauffman, but Greinke knew immediately.
With the way he is swinging the bat, this looks very similar to his first MVP season, where he won the MVP largely due to the work he did with the bat, hitting 46 home runs. Maybe this is the season for Ohtani to win MVP by hitting 60 home runs, while proving he is the best hitter in baseball.
Who knows, maybe next season is the year Ohtani wins his first career Cy Young and asserts himself as the best pitcher in the game. The crazy part is both can happen in any given season, including this one. At some point in his illustrious career, I imagine that will be the case. Lucky for us as baseball fans, we get to sit back and watch it happen.