Analysis
Pittsburgh Pirates 2023 Season Preview
The Pirates have added several solid veterans to complement their burgeoning young core, making for a better team than they've had in years.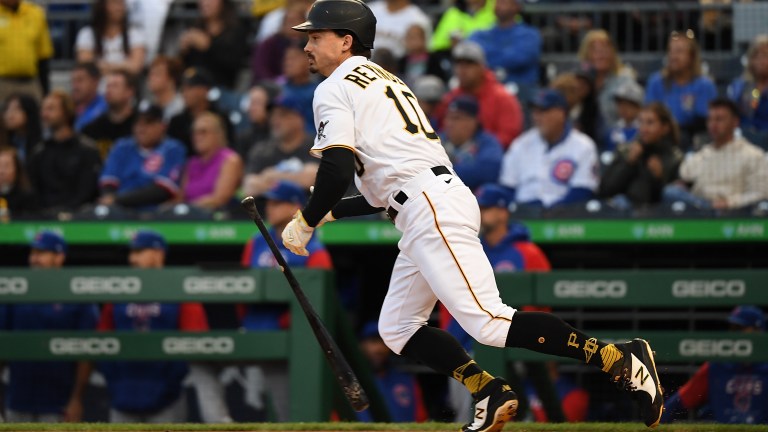 I'm excited to watch the Pirates this year, I really am.
It's been a long while since Pirates fans had much to look forward to. The Bucs finished fifth in the NL Central for three years running from 2019 to 2021, and they only managed to finish fourth last season on a technicality – the Pirates and Reds tied for last place with matching 62-100 records.
This year, finally, things are starting to look up. Are the Pirates going to win a lot of games? Probably not. But can they improve upon their .369 winning percentage from the past three years? Yes, they absolutely can. In fact, I don't think it's that far off to predict a 12-win improvement over their 62-100 record from last season. That doesn't make the Pirates a playoff team, but it will make for much more enjoyable baseball in Pittsburgh. Let's take a closer look.
Projected Starting Lineup
PROJECTED LINEUP
1. Oneil Cruz – SS
2. Bryan Reynolds – LF
3. Ke'Bryan Hayes – 3B
4. Andrew McCutchen – RF
5. Ji-Man Choi – 1B
6. Carlos Santana – DH
7. Jack Suwinski – CF
8. Rodolfo Castro – 2B
9. Austin Hedges – C
In my other team previews, I've divided the rosters by position group: catcher, infield, outfield, etc. For this one, I want to try something different. I'm going to go through the projected starting lineup one by one and explain why I'm looking forward to watching each of these players in the upcoming season.
The Young Studs
Oneil Cruz: This one is a freebie. The 6'7″ shortstop is an incredible talent; he hits farther, runs faster, and throws harder than just about anyone. He has the skills to be an All-Star, and if he can address some of his weaknesses, the sky is the limit.
Bryan Reynolds: Reynolds is an all-around talent, and he's been the best player in Pittsburgh for the past four years. He's also been the subject of trade rumors for just as long (at least it seems that way). The 28-year-old All-Star will continue to generate headlines this season, but we'll have to wait and see what those headlines will be.
Ke'Bryan Hayes: Hayes has yet to live up to his phenomenal rookie season, in which he accumulated 1.9 fWAR in just 24 games. He has consistently been one of the best defensive players in the game, but his bat has been a liability. The 2023 season will be an important test for Hayes: will he figure things out at the plate, or is it time to move him way down in the batting order?
The Veteran Reinforcements
Andrew McCutchen: This one's another freebie. I mean, come on, it's Cutch's return to PNC Park. Whatever he does this season, it's going to be better because he's doing it with the Pirates.
Ji-Man Choi: Choi was a fan-favorite player in Tampa Bay, and he'll get the chance to endear himself to a new fanbase in Pittsburgh. After the Pirates struggled to find a first baseman in 2022, it's nice that they've found such a reliable player to fill that hole.
Carlos Santana: Santana is the third member of the veteran trio the Pirates brought in to bolster the lineup. He's nearly 37 years old, but he can still do what he does best: draw walks and hit double-digit home runs. I really like the combination of bright young faces and grizzled vets in the middle of this batting order.
Gloves to Watch
Jack Suwinski: Suwinski has edged out the incumbent Bryan Reynolds in center field after playing strong defense in his rookie season. It will be interesting to see if Suwinski can hold onto the role and continue to grow as the season goes on. He was primarily a corner outfielder in the minors, and his glove was thought to be his weakest tool. FanGraphs called Suwinski a future DH last offseason, giving his fielding the lowest possible future value grade. Now, all of a sudden, he has the chance to be an everyday center fielder. It's a tremendous opportunity for the 24-year-old – can he make the most of it?
Rodolfo Castro: No offense to Rodolfo Castro, but what I like most at second base is the depth. I'm not particularly confident in any of Pittsburgh's options at the keystone, but if one guy fails, they have two more (Ji Hwan Bae and Tucupita Marcano) to try instead. Each should be a solid defender with some offensive upside.
Austin Hedges: There was a time when Hedges was arguably the best defensive catcher in baseball. He's still an excellent athlete behind the plate, and he's good at every aspect of the job. Reliable and durable catchers are a luxury in this day and age.
Projected Bench
Tyler Heineman (C), Connor Joe (OF/1B), Ji Hwan Bae (UTIL), Travis Swaggerty (OF)
Tyler Heineman or Kevin Plawecki, take your pick. Neither is on the 40-man roster as of yet, but the Pirates will need one of them to be the backup catcher on Opening Day. It could be either one, but I'm leaning toward Heineman. He played good defense last year and is more familiar with the pitching staff.
Connor Joe was another one of Ben Cherington's acquisitions this offseason. The Pirates need a righty bench bat, and Joe is the man for the job. He'll see most of his playing time as a platoon partner for the lefties Suwinski and Choi.
The Pirates need one of Bae or Marcano on the bench, but they don't need both, and neither one has impressed this spring. I think Bae has the edge. The final bench spot is also up for grabs, but I think it goes to the 25-year-old Travis Swaggerty while the 23-year-old Canaan Smith-Njigba gets a little more time at Triple-A.
Projected Rotation
Projected Starting five
Rotation Depth
1. Mitch Keller
Johan Oviedo
2. Roansy Contreras
Luis Ortiz
3. Rich Hill
Mike Burrows
4. JT Brubaker
Quinn Priester
5. Vince Velasquez
Remember how I said I liked the combination of veterans and youngsters in the lineup? That's got nothing on the rotation. Roansy Contreras is young enough to be Rich Hill's son; when Hill was first drafted, Conteras had yet to be born.
Contreras and Mitch Keller are former top-100 prospects. Each took a big step forward last season and could do so again in 2023. Neither is an ace, but they both look like solid, mid-rotation arms who can give the Pirates a genuine chance to win every time they take the mound. JT Brubaker also took a step forward last year, and he looks like he can be a capable back-of-the-rotation starter.
Vince Velasquez isn't going to drum up much excitement, but he can eat innings better than a minor-league arm, and he's easily moveable if one of the younger arms on the depth chart excels at Triple-A.
Projected Bullpen
| | |
| --- | --- |
| Projected bullpen | DEPTH |
| David Bednar | Jarlín García* |
| Wil Crowe | Robert Stephenson* |
| Duane Underwood Jr. | Yohan Ramirez |
| Chase De Jong | Colin Selby |
| Colin Holderman | Johan Oviedo |
| Jose Hernandez | Luis Ortiz |
| Yerry De Los Santos | |
| Dauri Moreta | |
*Injured
David Bednar is a stud, and I'm really hoping the Pirates keep him around. A top-notch closer is a luxury few rebuilding teams have, so Bednar is a major reason why the Pirates are more interesting than your typical losing ballclub.
Jarlín García is dealing with a nerve issue in his throwing arm, and it's unclear when he'll return. He was Cherington's big bullpen addition this winter; his absence will be felt. Pittsburgh's next-best left-handed option is Jose Hernandez, a former Dodgers prospect who has never pitched above Double-A.
Wil Crowe wasn't amazing last year, but he did show genuine improvement in his first full season out of the bullpen. He threw 76 innings, which was great, but he also let the team down in several high-leverage spots. That needs to change if he's going to be a late-inning reliever going forward.
Top Prospects To Keep an Eye On
Endy Rodriguez (C), Henry Davis (C), Quinn Priester (SP), Mike Burrows (SP), Luis Ortiz (SP/RP), Liover Peguero (SS), Nick Gonzales (2B)
The final thing that makes me so excited about this Pirates team is the sheer number of top prospects who could make their big league debuts. Seven of our top ten Pirates prospects have a legitimate shot to contribute in the majors this season.
There's a very good chance Endy Rodriguez will be the starting catcher at some point this year. He was terrific last season as he jumped from High-A to Double-A to Triple-A, excelling every step of the way. He's only 22, and the Pirates have no reason to rush him, but he can only punish Triple-A pitching for so long before he needs a new challenge. Henry Davis is behind Rodriguez developmentally, but he's a little older, and he could earn a call-up with a strong performance in the minor leagues.
Quinn Priester finished his 2022 season on a high note. He could use a bit more seasoning at Triple-A, so he won't be the first name called in case of injury, but don't be surprised if he's starting in Pittsburgh down the stretch. Mike Burrows is a year older than Priester and spent half of his 2022 campaign at Triple-A. He doesn't have as high of a ceiling, but he's more likely to earn a call-up in the first half of the season.
Luis Ortiz and Liover Peguero each had a brief taste of the big leagues last season, but neither is ready to stick there full-time. Peguero was called up last summer out of necessity, but his bat isn't quite ready for big league pitching. Ortiz is closer, but his upside is so high that the Pirates really shouldn't rush him.
Nick Gonzales already looks like he's going to be a successful MLB hitter, but he just needs more time. He's only played 154 games in his professional career. Still, he could earn a call-up sooner than expected if the Pirates need another infielder or a right-handed bat.