Analysis
2023 Season Preview: Arizona Diamondbacks
While they likely won't be competing for a playoff spot this season, the Diamondbacks are young, exciting, and building for 2024.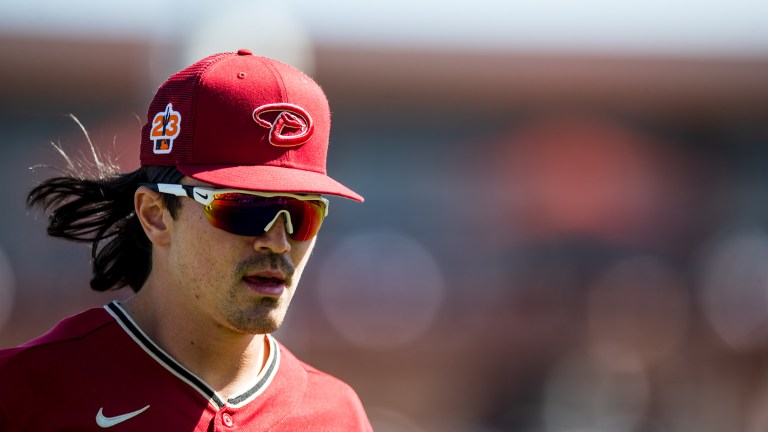 The Arizona Diamondbacks wrapped up the 2022 season well outside of the playoff picture with a record of 74-88. However, the Diamondbacks received promising performances from their young talent and veterans alike, while also adding more via a blockbuster trade this offseason.
This has set up the Diamondbacks to be one of the more intriguing teams to follow in 2023.
Arizona found themselves in the headlines twice this offseason for big moves. The first move was trading catcher and outfielder Dalton Varsho to the Blue Jays for top catching prospect Gabriel Moreno. The second big move made by the Diamondbacks was to sign rookie outfielder Corbin Carroll to an eight-year extension worth $111 million. These moves were accompanied with trading for outfielder Kyle Lewis and signing veteran third baseman Evan Longoria.
This season, the Diamondbacks look to build up their younger players with the hopes of building a playoff contender for 2024. They should be one of the more exciting teams to watch on a daily basis.
Projected 2023 Opening Day Lineup
| | |
| --- | --- |
| Projected Lineup | Projected Bench |
| 1. Corbin Carroll – LF | 1. Jose Herrera – C |
| 2. Ketel Marte – 2B | 2. Evan Longoria – 3B/1B |
| 3. Jake McCarthy – RF | 3. Geraldo Perdomo – INF |
| 4. Christian Walker – 1B | 4. Kyle Lewis – OF |
| 5. Josh Rojas – 3B | 5. Carson Kelly – C* |
| 6. Lourdes Gurriel Jr. – DH | |
| 7. Alek Thomas – CF | |
| 8. Nick Ahmed – SS | |
| 9. Gabriel Moreno – C | |
Starting Season on the Injured List*
Catcher
In perhaps the biggest headline of the offseason for the Diamondbacks, they were able to obtain one of the top catching prospects in baseball from the Blue Jays in Gabriel Moreno. The 23-year-old, made his debut last year but only played in 25 games.
Due to an unfortunate injury to veteran Carson Kelly, Moreno will be the starting catcher on Opening Day. Moreno's calling card is his ability to hit for a high average and he has some juice in the bat, we will be seeing a lot of him early this year.
Jose Herrera looks to be the back up to start the year due to the Kelly's injury. Herrera made his debut last season and did not play well in his 47 games. He hit .189/.250/.207 and has also not been hitting well this spring. Expect to see Herrera in the lineup only as much as absolutely necessary.
If not for fracturing his forearm, Kelly likely would have opened the season as the starting catcher, but they would have only been delaying the inevitable. Moreno is the future at this position for the Diamondbacks, but Kelly represents a really good second option, who could become one of the top backups in the league when healthy.
Corner Infield
Josh Rojas is less than a spectacular third baseman. but he will provide the team with some stability. He is not Jose Ramirez or Manny Machado but Rojas has posted an OPS+ above 100 in each of his last two seasons. You are not going to get a ton of juice with the bat as he only hit nine home runs last year but he has 30 doubles and 10 home runs in the tank. Rojas also had one of the lowest chase rates in the league last year and excels at getting on base with a .349 OBP in 2022. He also stole 23 bags while only being caught twice. He isn't flashy but Rojas will get the job done.
While Rojas lacks power, Christian Walker has enough for the both of them. Walker hit 36 home runs last year and regularly hits the ball hard. If you combine that with a strikeout rate under 20% and walk rate over 10%, you have one of the more underrated power bats in baseball. He also is one of the best defensive first basemen in the league.
While first base is not the most important position defensively, it will certainly be welcome. Walker is the heart of this lineup and is going to have to provide some juice in the cleanup spot.
Middle Infield
Manning second base is veteran Ketel Marte. Throughout his entire career, Marte has hit the ball as hard as just about anyone. While we will probably never see 32 home runs from Marte ever again, hopefully he can improve on a lack luster 2022. If he can get the batting average back closer to his career mark of .279 and hit 15 to 20 home runs, that production will be welcome in the two spot of the lineup.
Shortstop is a weak spot for the Diamondbacks heading into 2023. With an ETA of 2024, we are unlikely to see top prospect Jordan Lawlar until next year and so for this season Nick Ahmed will be the shortstop. Ahmed is less than spectacular with the bat with a career OPS of just .672 but he will provide excellent defense. In 2021, his last full season, Ahmed logged 19 OAA, which will help make up for the bad bat.
Outfield
The Diamondbacks will have one of the youngest starting outfield groups in 2023 but they are certainly an exciting group to watch. While none of them have yet to log a year of MLB service time, this could be one of the best outfield units in a couple of years.
In right field is Jake McCarthy, who finished fourth in NL Rookie of the Year voting last year and put up solid numbers at the plate. He hit .283/.342/.427, but did lack some power, only hitting eight home runs. Despite the solid slash line, there is some room to worry about the bat because he out-performed almost all of the advanced metrics. If the bat regresses a little this year, you still have an average defender who is one of the fastest players in baseball and a great base stealer.
The Diamondbacks are set to have one of the best defensive outfielders in Alek Thomas in center field this year. The defense is his best attribute, as a rookie last year he accrued 7 OAA. He is also in the 95th percentile for sprint speed, making him one of the fastest players in baseball.
The bat however leaves a lot to be desired. Outside of a solid max exit velocity, he did not rank well in any other offensive metric last year. The Diamondbacks are going to need Thomas to improve at the plate this year.
Just Baseball's top prospect, NL ROY favorite, and $111 million dollar man Corbin Carroll is the opening day left fielder for the Diamondbacks. Carroll looks like he is going to be a superstar in this league. Last year in 32 games, Carroll hit nine doubles, two triples, and four home runs. He is going to be one of the fastest players in baseball and could certainly have a 20/20 season as a rookie while playing great defense.
DH/Bench
Lourdes Gurriel Jr. was acquired in the deal that sent Dalton Varsho to Toronto and will most likely get most of the reps at DH this season. With a career OPS of .797, Gurriel is a good hitter and will provide some consistency in a young and volatile lineup.
Evan Longoria is past his prime but with such a young team, the veteran leadership will be welcome. He will be able to spell Rojas and Walker when they need days off. Geraldo Perdomo will also provide some depth in the infield. He is not a good hitter but can provide above-average defense in the infield.
Kyle Lewis slots in as an extra outfielder. He is two years removed from winning the AL Rookie of the Year award, but has only played 54 games since. Lewis was a solid acquisition and if he can get back to being close to what he was in 2020, he will be a great bench outfielder.
Starting Rotation
2023 Projected Rotation
1. Zac Gallen – RHP
2. Merrill Kelly – RHP
3. Madison Bumgarner – LHP
4. Zach Davies – RHP
5. Ryne Nelson – RHP
Top of the Rotation
The top of the rotation for the Diamondbacks looks like it can be really good this year. With Zac Gallen as the ace and Merrill Kelly right behind him, this creates a solid one-two punch at the top of the rotation.
Last season in 184 innings pitched, Gallen had an ERA of just 2.54. He coupled that with 192 strikeouts and looks like he should be one of the best pitchers in baseball. He has a great fastball that he pairs with a curveball, throwing those pitches 48% and 22% of the time respectively. Those pitches also combined for a -30 run value.
Do not be surprised if Gallen makes a run at the NL Cy Young award this season.
With a career ERA under 4.00 Merrill Kelly will be a solid No. 2 starter this year for the Diamondbacks. Kelly had the best year of his career last year with a 3.37 ERA and over 200 innings pitched. With Kelly being 34 years old as the season starts, it is encouraging see that his velocity went up last year compared to 2021, showing that he still has some juice left in the tank.
Bottom of the Rotation
While the top of the rotation should be solid or maybe even great for Arizona, the bottom leaves a lot to be desired.
Madison Bumgarner is a shell of his former self. His velocity is down with his fastball sitting in the low 90s and players are absolutely teeing off on him. The two pitches that he throws the most are his fastball and his cutter which he throws 36% and 33% of the time respectively. On those two pitches, batters hit over .300 with 19 home runs and 44 doubles last year. Do not expect a lot from Bumgarner this season.
Zach Davies is not going to be as bad as Madison Bumgarner this year. After a rough 2021 with the Cubs, Davies was able to bounce back a little in 2022. A 4.09 ERA in 134 innings pitched is solid and hopefully Davies can come close to replicating that. He throws his sinker and change up a combined 87% of the time, which is a bit alarming, but the change-up is excellent and will help mitigate some of the issues that having only two pitches can cause.
Ryne Nelson could be the bright spot in the back of the rotation. After struggling mightily in Triple-A last year, Nelson dazzled in his handful of major league starts at the end of the year. The 5.82 ERA in Triple-A Reno is certainly concerning but if he can reel that in, the 25-year-old can secure a spot in the rotation for the foreseeable future.
Bullpen
2023 Projected Bullpen
1. Kevin Ginkle – RHP
2. Andrew Chafin – LHP
3. Miguel Castro – RHP
4. Scott McGough – RHP
5. Joe Mantiply – LHP
6. Cole Sulser – RHP
7. Ryan Hendrix – RHP
8. Drey Jameson – RHP
This bullpen for the Diamondbacks is not going to blow anyone away but they should be solid as a unit. Do not expect them to carry the back-end of this rotation, but they should not be a reason this team is losing games.
Andrew Chafin and Joe Mantiply should be the best two arms in the bullpen for the Diamondbacks. They both had very similar seasons in 2022, Chafin had a 2.83 ERA in 57 innings with 67 strikeouts. Mantiply posted a 2.85 ERA in 60 innings with 61 strikeouts. This lefty duo will continue to give players fits in 2023.
An interesting add for the Diamondbacks this offseason was right-handed pitcher Scott McGough. McGough struggled to make it in the majors for years before going overseas in 2019 to play in Japan, where he has played very well. In his last two seasons he has posted an ERA under 3.00 and 10 strikeouts per nine innings. This feels like a very low-risk, high-reward signing that could pay off.
Drey Jameson is the 10th ranked prospect for the Diamondbacks heading into this year. He is a starter by trade but could find himself in the bullpen come Opening Day. Similar to Ryne Nelson, Jameson struggled in the minors last year before coming up and making four starts in the majors to end the year.
In those four starts Jameson posted a 1.48 ERA and showed that he can hang in the bigs. Jameson could serve as the sixth starter in this rotation, while also making some appearances out of the bullpen.
Prospects to Keep an Eye On
Outside of the handful of prospects that are going to crack the Opening Day roster, here are three prospects to keep an eye on during 2023 for the Diamondbacks.
Jordan Lawlar – SS – (Double-A)
Jordan Lawlar is not going to see serious time in the majors this year. With that being said he will more than likely come up in September to get some reps before becoming the starting shortstop in 2024. Last year as a 19 year old, Lawlar climbed from the Complex all the way to Double-A by the end of the season.
Across those four levels Lawlar dazzled by hitting .303/.401/.509 with 16 home runs and 39 stolen bases. Lawlar is already showing flashes of being able to be a 20 home run and 40 stolen base type of player. Reminder, he will be just 21 years old at the start of the 2024 season.
Druw Jones – OF – (CPX)
Druw Jones will not crack the big league roster for some time. With that being said, if you are a Diamondbacks fan you should still keep an eye on him. Jones was the No. 2 overall pick last year and has as much potential as anyone. Jones could climb the ranks quickly and it will be interesting to see where he finishes the season.
Brandon Pfaadt – RHP – (Triple-A)
With the back of the Diamondbacks rotation being as weak as it is, Pfaadt is a candidate to come up and replace one of those guys in the back-end.
Pfaadt looked solid between Double and Triple-A last year, posting a 3.83 ERA in 167 innings and struck out 11.7 per nine innings. This is a guy, who with a couple of solid starts in Triple-A, could be knocking on the door very soon.