Analysis
Texas Rangers 2023 Season Preview
With a brand-new rotation headlined by two-time Cy Young Jacob deGrom, the Texas Rangers hope to take the leap into contention in 2023.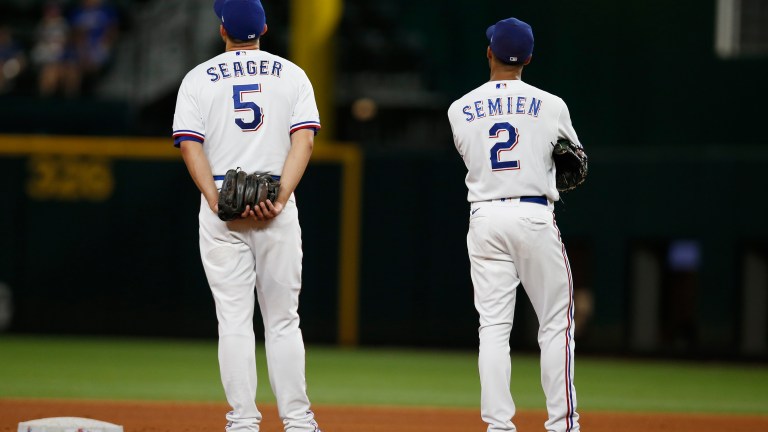 "The Bat Flip Heard Around the World" still looms over Globe Life Field and the Texas Rangers organization, as they have yet to recover from the Jose Bautista curse left on them in October of 2015. The Rangers got swept by the Blue Jays 3-0 the very next year in the 2016 ALDS and from there it continuously went downhill. Texas has not strung together a winning season in six tries since then and have not reached 70 wins since 2019, collecting just 68 wins last year.
But under the new leadership of legendary manager Bruce Bochy, some data to back up that they were a little bit unlucky last year (Pythagorean record was 77-85) and now back-to-back big-spending offseasons costing them three quarters of a billion dollars, the Rangers have as much buzz surrounding the team entering 2023 as they've had in some time now.
Entering 2022 it was all about impact bats, as the Rangers landed Corey Seager and Marcus Semien. This winter it was all about the rotation. Stealing the majority of the limelight was superstar right-hander Jacob deGrom signing a five-year, $185 million deal, but they also inked contracts with veteran starters in Nathan Eovaldi (two years, $34 million) and Andrew Heaney (two years, $25 million), along with Martin Perez accepting the team's $19.7 million qualifying offer.
Projected Lineup
Jonah Heim – C
Nathaniel Lowe – 1B
Marcus Semien – 2B
Corey Seager – SS
Josh Jung – 3B
Robbie Grossman – LF
Bubba Thompson – CF
Adolis Garcia – RF
Mitch Garver – DH
Jonah Heim and Mitch Garver will again share the catching duties, with Heim slated to be the primary backstop. Heim had his best season to date in 2022. He is about a league-average bat (99 WRC+ in 2022) but draws his walks (9.1% Walk Rate) and is incredibly valuable behind the plate, serving as a fantastic pitch framer and a plus defender, totaling eight Defensive Runs Saved last year.
Garver, who will likely serve as the team's first choice at DH when not catching, is more of an offense-first catcher and had a resurgent 2021 (although a limited sample size) before being traded to Texas last off-season. But he was underwhelming in 2022, where he hit just .207 with 10 home runs and a .702 OPS.
Garver will always be chasing his explosive 2019 campaign (31 home runs, .995 OPS, 155 WRC+ in 93 games). But what has been the issue of his entire career is health. Garver hasn't played over 70 games in a season since 2019 and has played over 100 games just once in his career (2017).
Nathaniel Lowe took the biggest jump of anybody on the roster last year. A productive bat with the Rays before being traded, Lowe propelled himself into a Silver Slugger Award winner. He put up a .302/.358/.492/.851 slash line, swatted 27 home runs and helped provide some much-needed protection for the middle of the order. His defense is to be desired at first base, but the way he is swinging the bat these days outweighs his play in the field.
Marcus Semien certainly had some Rangers fans on edge after signing his massive contract when he hit just one long ball in the first two months, struggling mightily out of the gate. He posted an OPS of an alarming .443 in April and just .619 in May. But once the summer rolled around, he returned to the Semien of old. His on-base clip was still a tad low (.312) but he slugged .465 and played elite level defense at second base (eight OAA, ranking in the 94th percentile in MLB). He will be expected to at least repeat if not build on that in 2023.
Corey Seager received the third All-Star nod of his career in 2022, and by the accounts of an average big leaguer, his season was still a success. Defensively he tied the best season of his career with four OAA, starting 151 games at shortstop. He also hit a career-high 33 home runs.
Still, based on the high standards he had set for himself (along with the $325 million contract), Seager didn't thrive quite as much in terms of who he's been as a player so far in career.
While he was red hot in July and August, the rest of Seager's year at the plate was more pedestrian. The 28-year-old posted a 117 WRC+, the third-lowest mark of his career, and much different than 2020 and 2021, where he put up a 149 and 146 WRC+ respectively.
Seager should be due for some positive regression, as his peripherals show that he was the recipient of some pretty bad luck (95th percentile in xBA, 96th percentile in xWOBA, 97th percentile in xSLG). Seager's career batting average on balls put in play (BABIP) is .317, as he finished each season in Los Angeles with a BABIP over .300. Last year, His BABIP was .242.
More likely than not, some of that luck will turn back his way in 2023 and result in a better overall season at the plate.
Josh Jung, drafted eighth overall by the Rangers in 2019, was a top 100 prospect throughout his time in the minors and got his first taste of the big leagues in September and October of 2022, appearing in 26 games. His debut may have been much earlier had he not suffered a stress fracture in his left foot in 2021 and a torn labrum in his left shoulder that kept him out until July in 2022.
Jung will finally get his opportunity to shine this year as the Rangers everyday third baseman. His strikeouts will have to reduce long-term, as he was punching out over 38% of the time in his month stint in the majors. But he has always been known for his above-average approach at the dish, quick bat speed and serious power potential. His development in his first full big-league season will be something to monitor.
Moving to the outfield, two of the three spots feel a little bit thin. Robbie Grossman had two of the best seasons of his career in a shortened 2020 with the A's and a full season in 2021 with the Tigers. But he had his career-worst year in 2022 (slashed .209/.310/.311/.622) and is entering his age-33 season. The Rangers may have to ask a lot out of the veteran lefty if they are to have a potent offensive unit.
Bubba Thompson, much like Jung, is also a former first round pick who debuted late last season, getting the call-up in August and appearing in 55 games. He strung together 45 hits in that time (.265 average) but didn't have much power to show for with just six extra-base hits, along with about league-average defense.
Leody Taveras, another former top 100 prospect, has put on the Rangers uniform in three separate seasons now, but has yet to find his footing either. He is also currently dealing with a left oblique strain and may not be ready to go for Opening Day.
Adolis Garcia is their lone outfield staple and has been for the last two seasons. He strikes out a decent amount (although he cut it down from 31.2% in 2021 to 27.9% in 2022) and won't draw a ton of walks, but will absolutely hit his home runs, swipe bags and play clean defense with his aggressive, all-out playstyle. He has belted 58 round trippers in his first two full seasons in the major leagues.
Rotation Options
Jacob deGrom, Martin Perez, Jon Gray, Nathan Eovaldi, Andrew Heaney, Jake Odorizzi, Glenn Otto, Dane Dunning
When it comes to the play of Jacob deGrom, how much more can you say? The guy is the best pitcher on the planet when he's healthy. In 2021, he was on pace to have one of the greatest seasons any pitcher has ever had… until the injuries hit. And that is the overarching question mark.
Entering his age-35 season, deGrom battled several injuries his final two years in Queens, including a forearm issue in 2021 and a shoulder injury that kept him out for the first four months in 2022. He is healthy now (despite an early Spring Training scare), but can he maintain it for the majority of 2023?
Martin Perez had a career-year in 2022 that included an All-Star appearance, a 2.89 ERA and a 3.8 fWAR. And he did so by limiting a lot of hard contact (92nd percentile in barrel rate). But nothing else from his year was frankly all that special.
Perez's WHIP of 1.25 was a little high, he didn't get a ton of swing and miss, and he had never been close to a similar year at any other point in his career. Maybe his ability to induce a lot of ground balls will carry over, but oftentimes a season like this for pitchers can be a one-off. Keep your eye on Perez's 2023, because he is an X-factor for this pitching staff.
Gray, Eovaldi and Heaney are effective mid-to-back-end rotation starters. Gray was serviceable although not dominant in his first year with the Rangers after signing his four-year, $56 million deal (3.96 ERA), while Heaney by the numbers had his best season with the Dodgers last year (3.10 ERA), but only threw 72.2 innings in 14 starts (16 appearances). The good news is there is also some real depth among the starters with Jake Odorizzi now on the books in addition to the return of Glen Otto and Dunning who combined to make 56 starts in 2022.
Bullpen Options
Jose Leclerc, Brock Burke, Jonathan Hernandez, John King, Taylor Hearn, Spencer Howard, Cole Ragans, Joe Barlow, Will Smith, Josh Sborz
Jose Leclerc and Brock Burke are stalwarts at the back-end of that bullpen. Both had sub-three ERA's, with Burke quietly having one of the best seasons of any reliever in the game (1.97 ERA, and a 200 ERA+, which is 100% above league average). He did a fantastic job of limiting hard contact with both his fastball and slider grading as well above-average pitches.
Joe Barlow, who led the team in saves in 2022, ultimately didn't have the year he had in 2021 and just wasn't as deceptive (3.86 ERA, 4.86 FIP) but was still often looked to and leaned on last season.
Jonathan Hernandez is another name that isn't quite household, yet he has put up sub-three ERA's in the last two seasons he has pitched (2.90 ERA in 2020 and a 2.97 ERA in 2022). That being said, he is another guy who had a high FIP (3.97) and surrendered a lot of baserunners (1.41 WHIP), suggesting that his ERA holding serve in 2023 is no sure thing.
They did lose some arms from that stable. Matt Moore, who was lights out last year (1.95 ERA), is now with the Angels. Matt Bush was sharp in the first half of last season, and was traded to the Brewers at last year's deadline.
Prospects Who Could Contribute In 2023
Josh Jung (3B) – Jung is still technically a prospect, and the top one in the Rangers system. The team is relying on some of his power rounding into form in 2023 to help an offense that is looking to stretch out its lineup.
Owen White (RHP) – White had a little bit more than a cup of coffee in Double-A last year, making four starts while putting up a 2.49 ERA in that time after spending the majority of the year in High-A Hickory. He is now firing on all cylinders after needing Tommy John surgery in 2019 and suffering a broken hand in 2021. White throws a strong fastball and slider, with his heater reaching as high as 98 MPH. He will need a bulk of innings in Double-A in 2023 to continue his development before the Rangers consider calling him up, especially with all of the rotational depth the Rangers already have.
Jack Leiter (RHP) – Okay, this one is a firm maybe. Drafted No. 2 overall out of Vanderbilt in 2021, Leiter has the tools to be an ace, highlighted by the potential of an elite level fastball. He spent all of 2022 in Double-A Frisco, although it was far from a memorable season.
Leiter got knocked around all year in the Texas League, finishing with a 5.54 ERA and a 1.55 WHIP. He will likely start 2023 back in Frisco, and while a player is only one call away from the big leagues in Double-A, especially one with the upside that Leiter has, he will have to show some significant improvement over a prolonged stretch of starts to earn the call-up. Again, the surplus of starters in the majors will also play a factor, and barring a bunch of injuries at the major league level, he will also have to battle with White for the right to a pathway to the show.
Justin Foscue (2B/3B) – Foscue had a very stellar season in Double-A in 2022, hitting .288 with 47 extra-base hits, including 15 home runs, an .850 OPS and a 116 WRC+. He has some real bat speed and strength in his game, which translates well at the plate. However, if he debuts in 2023, he will likely have to get adjusted to a corner outfield spot with the logjam in the Rangers infield.
Outlook
The pendulum swing of the Rangers may stretch further than any other team in the American League. On one hand, they made some real noise in free agency and will now roll out a fierce rotation if everything goes right, with a legitimate ace as the anchor. They have four real impact bats in their lineup, a couple of dependable relievers and were the victim of some bad luck last year.
The other way to look at it is after the quartet of Semien, Seager, Lowe and Garcia there are holes throughout the rest of the lineup and they are depending on a ton of significantly unproven players. They are absolutely banking on deGrom staying healthy along with Perez replicating his 2022, and there still feels like there's some real uncertainty throughout a lot of that bullpen.
This team could secure one of the final AL Wild Card spots or they could be as disappointing as earning another top 10 draft pick in 2024. Only time will tell which it will be.