Analysis
Cleveland Guardians 2023 Season Preview
The Cleveland Guardians surprised everyone in 2022, with multiple young stars fueling a playoff run. Now expectations are high entering 2023.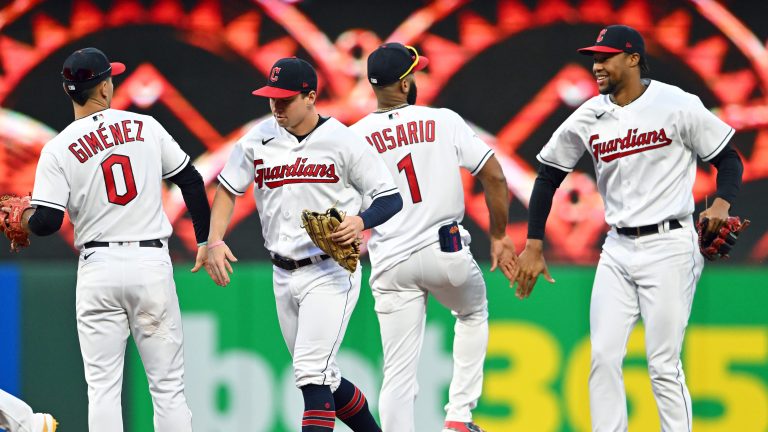 Stealing the AL Central title from the preseason favorites, the Chicago White Sox, the Cleveland Guardians made an unexpected run in the playoffs last year but fell short after running into the powerhouse New York Yankees.
The Guardian's recipe for success was all thanks to major leap years from infielder Andres Gimenez, pitcher Triston McKenzie and outfielders Oscar Gonzalez, and Steven Kwan. Gimenez produced a team-leading 140 wRC+ with Kwan and Gonzalez not too far behind the young slugger. Kwan was shot out of a cannon to begin the season as fans waited for his return to earth. Instead, he finished the year just shy of a .300 AVG and displayed his above-average defensive ability earning himself a Gold Glove, along with three other teammates, and an AL Rookie of the Year nominee.
Despite exceeding 2022 season expectations, the Guardians needed more to deepen their future postseason runs. General Manager, Mike Chernoff accomplished that by bringing in former Tampa Bay Rays catcher Mike Zunino as well as All-Star switch-hitting first baseman Josh Bell. Bell finished with 17 homers last season and 49 XBH, both would have been second on the team last year providing power to the offense which the Guardians lacked.
Projected Starting Lineup
| | |
| --- | --- |
| Starting Lineup | Bench |
| 1. Steven Kwan – LF | 1. Gabriel Arias – IF |
| 2. Amed Rosario – SS | 2. Tyler Freeman – IF |
| 3. José Ramirez – 3B | 3. Bryan Lavastida – C |
| 4. Josh Bell – 1B | 4. George Valera – OF |
| 5. Josh Naylor – DH | |
| 6. Andres Gimenez – 2B | |
| 7. Oscar Gonzalez – RF | |
| 8. Mike Zunino – C | |
| 9. Myles Straw – CF | |
Catcher
After disappointing fans at the All-Star break and not going after a superstar catcher, the Guardians picked up Mike Zunino this offseason. Despite only playing in 36 games last year due to injury, resulting in hitting just five home runs and a .148/.195/.304 split, Zunino looks healthy and back to his normal self this spring. The Guardians are betting on signing the 2021 Mike Zunino, who had career-highs in home runs (33), wRC+ (134), and slugging (.559).
Although Zunino's average doesn't pop off the stat sheet being a career .200 hitter, the Guardians lineup will survive finishing sixth in team batting average. Since the only Guardians with 20+ home runs last year were Jose Ramirez and Josh Naylor, Zunino will fit in well, especially as a mentor for future Guardians catcher Bo Naylor, who is projected to join the club later in the year.
Bryan Lavastida saw some innings last year however his role should be taken by Naylor once Chernoff believes his time is right.
Infield
We already covered the new addition of Josh Bell, who will help the Guardians with the long ball as well as Gimenez who developed into a star second baseman for Cleveland. On the left side of the infield is the other piece they received from the Francisco Lindor trade back in 2021, Amed Rosario.
Rosario finished the season hitting .283 with 11 home runs and 71 RBI. Although his defense is below average, leading the club in errors last year with 14, Rosario's bat and sneaky speed are enough to stay in the lineup.
The captain of the team is found at the hot corner in Jose Ramirez who inked a seven-year $141 million dollar extension early last season. Despite all the young talent that emerged, Ramirez will still be expected to continue his dominance after finishing sixth in wRC+ and third in WAR among third baseman last year. Him and Bell are no doubt the veteran presence this young team needs, especially with Ramirez's postseason exposure during the 2016 World Series run.
Outfield
After trading for Myles Straw back in 2021, his sole purpose has been defense and speed which becomes more prominent with bigger bases this season. Straw contributes most with his glove, earning himself a Gold Glove award, however, offseason buzz that Straw focused on his bat could pay off big, potentially strengthening the bottom of the lineup. Kwan presented consistency with his amazing batters eye and high contact rate, while always finding himself on ESPN's top 10 highlights making remarkable defensive plays in the outfield.
Oscar Gonzalez, who has made a name for himself in Cleveland with his famous SpongeBob SquarePants theme song walk-up music, quickly became a fan favorite.
His walk-off solo bomb over the towering left field wall at Progressive Field sent the Guardians to the Divisional Round after a 15-inning game against the Rays, only growing his fame in the city. Although his defense isn't as remarkable as Kwan or Straw, his bat will do just fine in Cleveland hitting .296 with 11 home runs and 43 RBI in 362 at-bats last year. Cleveland should expect Gonzalez to circle the bases more than 11 times next year, with more at-bats coming his way.
Last we have Josh Naylor spend some time at first base and right field due to his hose of an arm. There is every chance that Naylor pushes Bell to the DH position, but the two will split those duties as well as playing time at first base. Naylor will be needed in the biggest moments after collecting 36 of his 79 RBI with two outs, only behind Jose Ramirez and Andres Gimenez.
Bench
Providing some depth in the infield, Gabriel Arias is a project in the Guardians' deep farm system. Arias struggled to hit the breaking ball last year, whiffing on nearly 50% of them. He will need to present some improvement if he wishes to see innings in a young and very talented infield.
George Valera may not get the nob off the bat being the Guardians' No. 6 prospect, however, high expectations to become a future corner outfielder alongside Kwan would go a long way with his power off the bench.
Projected Rotation
1. Shane Bieber – RHP
2. Triston McKenzie – RHP
3. Cal Quantrill – RHP
4. Aaron Civale – RHP
5. Zac Plesac – RHP
6. Connor Pilkington – LHP
7. Cody Morris – RHP
The Good
One of the top pitchers in the game Shane Bieber is the definition of an ace posting a 2.88 ERA in 200 innings and striking out 198, the second-highest of his career. The key for Bieber is if he can stay healthy only pitching over 115 innings in two of his five seasons with the Guardians however when he's on, he is on, placing third in quality starts this past season with 24.
The theme of the Guardians has been their young stars shining bright throughout the year and you can add Triston McKenzie to that list. Coming off his best year by a landslide posting a 2.96 ERA, the promising 25-year-old behind Bieber is a duo no lineup wants to see.
The six-foot-five youngster mixes a fastball, slider, and changeup combo with plus command resulting in three games with 12+ strikeouts.
For the Guardians to continue their dominance on the mound, they'll need Just Baseball's Peter Appel's best friend Cal Quantrill to match a fantastic season where he set season-highs in strikeouts and quality starts. Unlike McKenzie and Bieber, Quantrill will give you a quality five to six innings before handing the ball over to the bullpen, only reaching the seventh inning a quarter of his starts.
The Bad
Ranked sixth in starting pitching ERA last year, the main concerns were on the offensive side. However, the success of their pitching came consistently from Bieber, McKenzie, and Quantrill while the bottom half struggled with consistency. Both Aaron Civale and Zach Plesac finished with ERAs over four, Plesac's second-straight year with an ERA over four.
Hopefully rookie Cody Morris, who made five starts and two appearances out of the pen, can help the back half of the Guardians rotation.
Civale doesn't seem to feel comfortable with his pitch arsenal as each of his five-pitch selections has drastic changes in usage each season. His cutter was used 9% more, while his slider decreased by 8%. What does this mean?
For someone who started just one more game in 2021 than in 2022, Civale threw 27 fewer innings, which is concerning. However, Civale showed promise in his last four outings of last season reaching at least five innings and allowing two or fewer earned runs. A more consistent Civale would not go unnoticed and would give the Guardians a deeper rotation making them more likely to come out on top in the Central.
Despite his athleticism which has made appearances on ESPN a few times, Plesac has struggled the last two years posting a 4.67 2021 ERA and a 4.31 2022 ERA. Either Plesac or Civale will need to make adjustments this year with the No. 1 and 2 prospects Gavin Williams and Daniel Espino itching to make their big league debuts this season. In spite of his struggles over the last two years, the Guardians see something in the 28-year-old, avoiding his arbitration with a one-year extension.
Morris may be leaned on early to help assist with any struggles from Civale or Plesac, despite making just seven appearances last year. The biggest concern is his walk rate giving out 12 free passes in just 20.2 IP. If he can continue striking batters out, sitting down 23 last year, Morris could see more action at least out of the bullpen.
Bullpen
1. Emmanuel Clase – RHP
2. Trevor Stephan – RHP
3. James Karinchak – RHP
4. Nick Sandlin – RHP
5. Eli Morgan – RHP
6. Sam Hentges – LHP
7. Enyel De Los Santos – RHP
8. Cody Morris – RHP
9. Connor Pilkington – LHP
10. Touki Toussaint – RHP
Every baseball fan knows there's nothing more frustrating than leading the majority of the game and only needing three outs to seal a victory just for a bad bullpen to blow it. Guardians fans can't relate to Emmanuel Clase taking the bump in the ninth inning.
Clase's 1.36 ERA in 77 appearances is just the beginning, striking out 77 and only walking 10. A wicked fastball with cutter movement averages 99 MPH and is paired with a sweeping slider clocked at 92 MPH. That just doesn't sound legal. Clase isn't the only reliever to thank for the Guardian's fifth-best bullpen ERA last season.
Sam Hentges, James Karinchak, and Nick Sandlin all had sub 2.50 ERAs. Trevor Stephan led the bullpen in strikeouts with 82 and just 18 walks, making him a terrific eighth-inning arm. The key to a great bullpen has been a solid seven, eighth, and ninth-inning arms. We've seen this with the 2014 Royals and in 2015 with the Yankees. With Clase being one of the best closers in the game, and either Stephan, Karinchak, Hentges, or Sandlin mirroring their dominance last season, Cleveland has a shot at a special nine-out punch to opponents.
The biggest concern in this bullpen is who closes out games if Clase isn't available. Clase had 42 saves in 46 opportunities, while the rest of the bullpen had just nine in 23 opportunities. Not to take away from how talented of a reliever one may be, but the job of a closer is a different responsibility that takes the stuff and the confidence of a guy like Emmanuel Clase.
Help from the Farm
Here's a look at some Minor league players who could help the Guardians deep into their 2023 season.
Daniel Espino – RHP
The No. 2 prospect for the Guardians could see some time late in the season to help out a struggling bottom half of the rotation as mentioned earlier. The 24th overall pick in the 2019 draft brings the heat with his fastball touching mid to high 90s paired with a disgusting slider hitting mid-80s and a downward curveball. His development through the minors, especially working on his command, gives Guardians fans hope that not only will he contribute but improve his skills while in the big leagues.
Gavin Williams – RHP
With a six-foot-six, 255-pound monster frame, Gavin Williams flirts with triple digits but still buzzes the high 90s late into games. Williams, like Espino, could help the Guardians with the back half of their rotation potentially later in the season. He's developed not only two breaking pitches since being drafted 23rd overall in 2021, but he's also improved his control, displaying his quick improvement throughout the minors.
George Valera – OF
More of a slugger than a pure hitter, Valera's power would serve great use for a team who struggled to hit the ball out of the ballpark, which in baseball today, is a big problem. However, with Valera's power comes a defect. His high bat speed gives him the potential to slug 30 homers but results in a 25% strikeout rate in four years in the minors. It's easy to overlook Valera's decent arm, average fielding, and high strikeout rate with his tremendous power and exit velocity upside.
Bo Naylor – C
Clocking in as the No. 3 prospect for the Guardians, however, Bo Naylor could be a number one or two guy in a less deep farm system due to his raw power. He made a quick appearance last season in October to get a taste of the big leagues. Naylor's struggles were concerning in 2021 however in 2022 he made major improvements with his swing resulting in his call-up last October.
Brayan Rocchio – IF
A speedy switch-hitting middle infielder who puts the ball in play and can provide some bench depth alongside Gabriel Arias. Rocchio isn't going to drop your jaw with power but definitely a leadoff-type hitter spraying the ball to all fields while disciplining himself to attack balls in the zone. His skill-set fits really well with what the Guardians are doing right now and could provide some serious help if either Rosario or Gimenez sees time on the injured list.