Analysis
Philadelphia Phillies 2023 Season Preview
How can the Phillies follow up a pennant-winning season? By signing a new superstar and shooting for the World Series.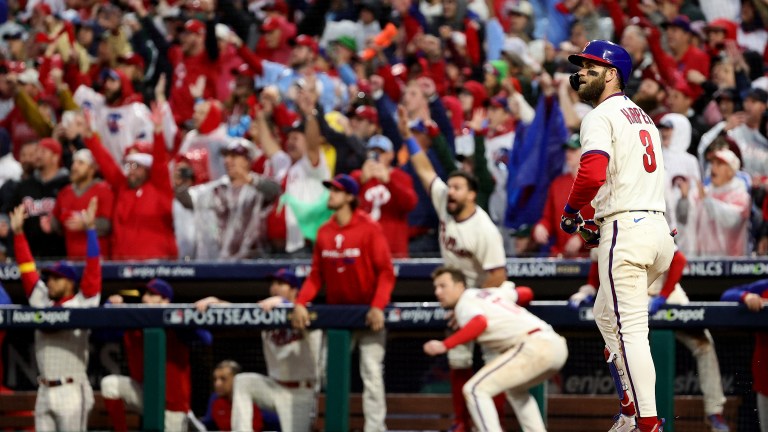 The verb "succeed" has two meanings:
To turn out well; to attain a desired result
To come after; to take the place of
The Philadelphia Phillies succeeded beyond what anyone could have expected in 2022. Not only did they end their playoff drought, earning a postseason berth for the first time since 2011, but they just kept winning, advancing all the way to the World Series.
Now, the Phillies must figure out what comes next.
On the one hand, anything other than a World Series victory would seem like a disappointment for the reigning NL champs. On the other hand, the 2022 Phillies won only 87 games, third-most in the NL East, and just barely snuck into the playoffs. Surely the 2023 season would be a success if they could win 90-plus games and challenge for the division crown?
The definition of success, like so many things in this world, is nuanced and multi-faceted. As it turns out, so is the Phillies' roster. Let's take a look.
Projected Starting Lineup
| | |
| --- | --- |
| PROJECTED LINEUP VS. RHP | PROJECTED LINEUP VS. LHP |
| 1. Trea Turner – SS | 1. Trea Turner – SS |
| 2. Kyle Schwarber – LF | 2. Kyle Schwarber – LF |
| 3. J.T. Realmuto – C | 3. J.T. Realmuto – C |
| 4. Rhys Hoskins – 1B | 4. Rhys Hoskins – 1B |
| 5. Darick Hall – DH | 5. Nick Castellanos – RF |
| 6. Nick Castellanos – LF | 6. Alex Bohm – 3B |
| 7. Bryson Stott – 2B | 7. Bryson Stott – 2B |
| 8. Alec Bohm – 3B | 8. Josh Harrison – DH |
| 9. Brandon Marsh – CF | 9. Brandon Marsh – CF |
From the trade deadline through the end of the 2022 season, the Phillies ranked ninth in runs scored and seventh in wRC+. I expect their offense will be in a similar place this season. On the bright side, they've upgraded from Jean Segura (105 wRC+ last season) to Trea Turner (128 wRC+). That's a major improvement. The bad news is that two-time MVP Bryce Harper is going to miss significant time, and his bat is all but impossible to replace. The Phillies will trot out a platoon of Darick Hall and Josh Harrison at designated hitter, which cancels out the upgrade that Turner provides.
Thus, if the Phillies' offense is going to be better than it was last season, Harper needs to return as soon as possible – and he needs to be back at full strength.
So when will Harper return? It's too soon to say. Some reports have said the All-Star break; others have suggested he could return by the end of May. For what it's worth, the Phillies have yet to place him on the 60-day IL. That could mean they're hoping he returns in fewer than 60 days, but they could also just be waiting until they need the extra roster spot.
With a healthy Harper in the middle of the order, the Phillies have one of the top three lineups in the National League. Turner, Schwarber, Harper, Hoskins, and Realmuto will make for a lethal combination, and this offense will terrify opposing pitchers down the stretch and into October. Turner is an all-around stud, Schwarber is the reigning NL home run king, Hoskins is an underrated slugger, and Realmuto is the best catcher in baseball. Oh, and Bryce Harper? He's Bryce freakin' Harper.
Unfortunately, the Phillies' offense also has plenty of question marks. First things first: will Nick Castellanos bounce back? Even if he's never a Silver Slugger again, it would make a big difference if he could hit more like he did in the second half (107 wRC+) than the first (88 wRC+).
The other questions surround Bryson Stott, Alec Bohm, and Brandon Marsh. The Phillies are counting on these three young hitters to take a step forward in 2023. If they all do, Philadelphia will have one of the deepest lineups in baseball. If they don't, the bottom three spots in the order could be a serious liability. Each of these guys has potential – it's why the Phillies like them so much – but not one has proven to be an above-average hitter at the MLB level.
Projected Bench
Garrett Stubbs (C), Edmundo Sosa (UTIL), Josh Harrison (IF), Jake Cave (OF)
Garrett Stubbs won't get much playing time; that's what happens when you're the backup to the most durable catcher in the game. Still, he'll do good work when he's called upon, and he'll spend the rest of his time drumming up team spirit on the bench.
Edmundo Sosa turned out to be a huge pickup for the Phillies at last year's trade deadline. He's an elite defender and a fantastic baserunner, and he has enough pop in his bat to go on an offensive tear every now and then. Sosa was especially valuable in the postseason as a pinch runner and late-inning defensive replacement. He could earn himself even more playing time this season as the backup center fielder. He hasn't played the position before, but he's looked surprisingly comfortable out there this spring.
Josh Harrison is another lock to make the bench. The Phillies signed him to a $2 million contract earlier this winter, and they could use a guy with his versatility and veteran experience. The final spot on the bench is still very much up for grabs, but Jake Cave is doing everything he can to land the job. He has a ridiculous 1.352 OPS this spring, and the Phillies could use another left-handed hitter on the roster.
Position Player Depth
Scott Kingery, Kody Clemens, Dalton Guthrie, Rafael Marchan
Kingery is in a unique situation wherein he can be added and subtracted from the 40-man roster as much as the Phillies please. His contract guarantees him $8.25 million this season, which means no team will claim him on waivers if he is DFA'd. His contract status, in addition to his positional flexibility, means he's likely to see time with the big league club eventually.
Clemens came over from the Tigers in the Gregory Soto trade. He's a competent but uninspiring utility player, and the Phillies have some more intriguing options ahead of him.
Guthrie seems to have fallen out of favor after a poor showing this spring. He's behind several names on the outfield depth chart, but he's on the 40-man and can hold his own in center.
Marchan is the third catcher on the 40-man, and he'll be up if Realmuto or Stubbs is hurt. His stock has fallen, but he's still an interesting trade chip at Dave Dombrowski's disposal.
Projected Rotation
Starting five
Rotation Depth
1a. Aaron Nola
1. Andrew Painter*
1b. Zack Wheeler
2. Cristopher Sánchez*
3. Ranger Suárez
3. Michael Plassmeyer
4. Taijuan Walker
4. Griff McGarry
5. Bailey Falter
5. Mick Abel
*Injured
This is a good rotation. Aaron Nola is finally beginning to get the attention he deserves, but I still consider him underrated. He's one of the most talented and durable pitchers in the game, and the 2022 season may have been his very best yet.
Zack Wheeler is the co-ace of this rotation. He's every bit as talented as Nola but not quite as durable. He struggled with some nagging injuries last season, and his health is something to keep a closer eye on as he enters his mid-30s. That said, the Phillies can still count on Wheeler for six innings per start and an ERA under 3.50. At his best, he's a Cy Young candidate.
Ranger Suárez is dealing with a setback this spring (as per usual). He will be on a pitch count early in the season, but thankfully he won't miss any time. Suárez solidified himself as a solid number three starter last year after an incredible breakout in 2021. If he can pitch another solid season, the Phillies' rotation will be in a strong place.
New addition Taijuan Walker brings some stability to the back of the rotation. The Phillies aren't counting on him to be an All-Star (like he was in 2021), but he should be able to pitch a ton of innings and give his team a regular chance to win. That's all you can ask for from a number four.
Finally, the last spot in the rotation will go to Bailey Falter. For a while there, it looked like top prospect Andrew Painter might earn the job, but some elbow soreness got in the way. In a best-case scenario, Falter will prove to be a solid number five; if not, he'll just have to keep the seat warm for Painter.
Cristopher Sánchez and Michael Plassmeyer are depth guys. Griff McGarry and Mick Abel are top prospects who could earn a midseason call-up.
Projected Bullpen
| | |
| --- | --- |
| Opening day bullpen | DEPTH |
| Seranthony Domínguez | Nick Nelson* |
| José Alvarado | Noah Song |
| Craig Kimbrel | Cristopher Sánchez* |
| Gregory Soto | Erich Uelmen |
| Andrew Bellatti | Francisco Morales |
| Matt Strahm | Griff McGarry |
| Connor Brogdon | Luis Ortiz |
| Yunior Marte | Andrew Vasquez |
| | Andrew Baker |
| | McKinley Moore |
*Injured
The Phillies don't have a superstar closer (sorry, Craig Kimbrel), but what they lack in top-end talent, they make up for with depth. Seranthony Domínguez and José Alvarado aren't in the same tier as the Josh Haders of the world, but they are electric arms, and they make a fearsome righty-lefty combo at the back of the bullpen. Kimbrel and Gregory Soto have prior experience closing, but they should be more successful in seventh-inning roles.
Andrew Bellatti is a name to watch. He came out of nowhere last season and struck out 78 batters in 54.1 IP. He could push past Kimbrel and Soto on the bullpen depth chart with another strong season. Connor Brogdon is another guy who could take a step forward in 2023; he looked especially strong in the postseason last October.
Matt Strahm signed a two-year, $15 million deal with the Phils this winter, so the team clearly sees some untapped potential in his arm. He's been stretching out this spring to work as a multi-inning weapon.
The final bullpen job is up for grabs after Nick Nelson injured his hamstring. The Phillies have plenty of options to fill the spot, but there's no clear favorite. My gut says it's going to be Yunior Marte, a hard-throwing righty the team targeted in January.
The final name I want to mention is Noah Song. The 25-year-old righty is a mystery wrapped up in an enigma. He was once a top prospect, but he hasn't pitched professionally since 2019 due to his military obligations. The Phillies took him in the Rule 5 draft this winter, but his status back then was still up in the air.
Song is officially eligible to pitch again, but in order for the Phillies to keep him, he needs to stay on the active roster all season. Can Philadelphia afford to roster a guy who hasn't pitched in more than three years and has never played above Single-A? It's unlikely, but Song is such a talented guy that they'll have to consider it. A back injury will buy them some time, but eventually, the team will have to make a decision.
Outlook
The Phillies are going to be good in 2023. Just how good? It's hard to say. Dave Dombrowski had a strong offseason, and he improved the lineup, the rotation, and the bullpen. However, this team is also counting on a lot of things to go right.
Bryce Harper could be back before May, but he could also be sidelined until the trade deadline. The Phillies could have the deepest lineup in the league, or they could be weighed down by four liabilities at the bottom of the order. Andrew Painter could be a major difference-maker, or the Phillies could suffer through several months of an ineffective Bailey Falter at the back of the rotation.
But that's enough hand-wringing for one day. Like I said, the Phillies are a good baseball team. They're the team of Trea Turner and J.T. Realmuto and Aaron Nola and Zack Wheeler. Can I guarantee the Phillies are going to win the World Series? Of course not. But winning the World Series isn't the only way for this team to succeed.
The 2023 Phillies are going to compete and they're going to be fun. Everything else? We'll just have to wait and see.