Analysis
Tampa Bay Rays 2023 Season Preview
The Tampa Bay Rays are running it back this year, hoping for healthier seasons from stars Wander Franco, Tyler Glasnow, and Brandon Lowe.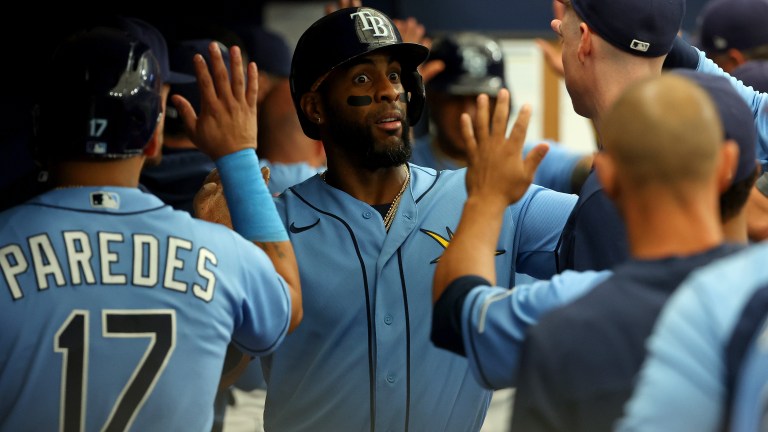 The 2022 season was hardly a rousing success in Tampa Bay. The Rays finished 86-76 (.531), their worst record since 2017. While they made the playoffs with the third and final Wild Card berth, they were swept in the first round. The offense managed to score just a single run in 24 innings of play.
Nevertheless, the Rays are running it back, for all intents and purposes. The Opening Day lineup will look almost identical to last year's. The pitching staff looks similar too, except Corey Kluber has been replaced with Zach Eflin, another soft-tossing, injury-prone right-hander.
Yet the Rays are planning to be better in 2023. Significantly better. So what's their plan? Simply put, they're hoping their stars can actually stay on the field. Wander Franco played just 83 games last season; Brandon Lowe played just 65. Tyler Glasnow missed almost the entire season, tossing just 6.2 innings at the end of the year. Franco, Lowe, and Glasnow are arguably the three most important players on this ballclub. If the Rays can get even three-quarters of a season from each of them, that's as meaningful an upgrade as signing some of the top free agents.
Projected Starting Lineup
PROJECTED LINEUP
1. Yandy Díaz – 1B
2. Wander Franco – SS
3. Randy Arozarena – LF
4. Harold Ramírez – DH
5. Brandon Lowe – 2B
6. Isaac Paredes – 3B
7. Manuel Margot – RF
8. Christian Bethancourt – C
9. Jose Siri – CF
The Rays have a fearsome top of the order. Each of the first six hitters in this lineup is a legitimate threat with the stick. Yandy Díaz has the best on-base skills, so he's a good bet to lead off. Franco, meanwhile, makes a ton of contact, so he's ideal for the two hole.
Lowe might be the best all-around hitter on the team, and I was tempted to pencil him in at number three, but he's the only lefty in the starting lineup, and I wanted to split him up from the switch-hitting Franco. Randy Arozarena and Harold Ramírez should do just fine in the middle of the order, and Isaac Paredes will provide good protection for Lowe.
The last three hitters aren't quite so intimidating, but as far as the bottom of the order goes, you could do a whole lot worse. Manuel Margot and Christian Bethancourt can be league-average contributors, and Jose Siri runs well enough to make up for his below-average bat.
Catcher
Christian Bethancourt and Francisco Mejía figure to split the reps behind the plate, much as they did in the second half of the 2022 season. Bethancourt played particularly well after a midseason trade to Tampa last July, while Mejía struggled down the stretch. Thus, I have Bethancourt penciled in as the official starter. However, I expect these two to receive a similar amount of playing time. Neither is a stud behind the dish, but they should make for a solid tandem.
Infield
The Rays will have one of the best infields in the sport if the two guys playing up the middle can stay healthy. Brandon Lowe led all second basemen in fWAR from 2020 to 2021, but he struggled with various injuries last season and played just 65 games.
Wander Franco, meanwhile, has the skills to be one of the best players of his generation, but he's yet to play a full season at the big league level. If Franco and Lowe can stay on the field and play up to their potential, this is the best double-play combo in the sport.
While Franco and Lowe are the main attraction, the guys on the corners deserve some love and attention too. With Ji-Man Choi's departure, last year's third baseman Yandy Díaz will slide over to first, while Isaac Parades takes over at third. Díaz was one of the most underrated players in the game last year, finishing with the fourth-highest wRC+ in the AL. Paredes can do some damage with the stick too, especially against left-handed pitching.
Outfield
Headlining the outfield is Randy Arozarena, who has been a consistent offensive threat since his debut. He's a safe bet for another 20-20 season.
Joining Arozarena are Manuel Margot in right field and Jose Siri in center. Margot doesn't have a standout skill, but he's a capable player in all respects. He's an average hitter, a quick runner, and a fine outfielder defender.
Siri, on the other hand, is all tools. He's an excellent defensive player, a fantastic baserunner, and he has more power than you'd expect from a glove-first center fielder. His glove and his legs give him a solid floor, while his power potential provides some intriguing upside.
Designated Hitter
Harold Ramírez can play first and a little bit of outfield, but he should get most of his playing time at DH. He broke out in the first half last year, batting .329 with a 142 wRC+, but he struggled following a mid-summer trip to the injured list. If he can regain his early-season form, he'll make for an excellent middle-of-the-order bat.
When Ramírez isn't playing, the Rays can use the DH spot to shuffle around some of their other hitters. I'd expect Diáz and Paredes to see some time at DH, and perhaps Jonathan Aranda too.
Projected Bench
Francisco Mejía (C), Taylor Walls (IF), Jonathan Aranda (OF/1B/DH), Josh Lowe (OF),
Whichever one of Bethancourt or Mejía isn't starting will be on the bench. It won't be a strict platoon, because both perform better against left-handed pitching. Kevin Cash will have to play the matchups.
Taylor Walls might be the best defensive player in Tampa Bay, and as such, he seems like a lock to make the Opening Day roster. He can't do much damage at the plate, but he'll be an excellent defensive replacement at second, short, or third.
Jonathan Aranda struggled in his brief debut last season, but the Rays could really use another left-handed hitter, and Aranda might be the best option. The 24-year-old has torn up the minors in each of the past two seasons, and his bat could make a tremendous difference against tough right-handed pitchers.
The last bench spot is still up for grabs, but I think Josh Lowe has the inside track. The Rays could use a backup center fielder, and Lowe can handle that role. He's also a lefty bat with a bit of power, and the Rays could use some more pop off the bench.
Position Player Depth
Vidal Bruján (UTIL), Luke Raley (OF)
Vidal Bruján is currently in competition with Walls for the utility infielder job. Walls' defense gives him the edge, but Bruján has a little more life in his bat. He'll certainly see time in the majors eventually.
Luke Raley, meanwhile, is in competition with Aranda and Lowe as another lefty bench bat. Raley has a little less positional versatility, so I think he starts the year in the minors.
Projected Rotation
Starting five
Rotation Depth
1. Tyler Glasnow (RHP)
Yonny Chirinos
2. Shane McClanahan (LHP)
Luis Patiño
3. Drew Rasmussen (RHP)
Josh Fleming
4. Jeffrey Springs (LHP)
Taj Bradley
5. Zach Eflin (RHP)
After missing nearly all of the 2022 season recovering from Tommy John surgery, Tyler Glasnow returned for two starts at the end of the schedule and one excellent postseason performance. An oblique injury has delayed his pre-season preparation, but as of right now, he's hoping to join the rotation before the end of April. He'll be the ace of the staff once he returns.
Until then, Shane McClanahan will do a fine job in his place. The southpaw established himself as an ace in his own right last season, tossing 166.1 IP with a 2.54 ERA and 3.00 FIP. He pairs his hard fastball with a devastating changeup and an equally nasty curve.
Drew Rasmussen and Jeffrey Springs were similarly impressive last year, each breaking out in his first full season as a starting pitcher. Rasmussen tossed 146 frames with a 2.84 ERA and 3.26 FIP, while Springs posted a 2.46 ERA and 3.04 FIP in 135.1 innings of work.
Zach Eflin was Tampa's big acquisition of the offseason. Indeed, he signed the largest free-agent contract in franchise history. He's been a solid mid-rotation starter throughout his career but has regularly struggled with injury. The Rays will aim to help him stay on the field and reach new heights.
Until Glasnow is ready to return to action, the final slot in the rotation is up for grabs. Yonny Chirinos, Luis Patiño, and Josh Fleming are competing for the job in camp. Patiño has had the most impressive spring thus far, but Chirinos has the most MLB experience. Fleming, meanwhile, looks to be the least likely choice – he's a left-hander, and the Rays already have two southpaws in the rotation.
The final name you'll notice listed under "Rotation Depth" is Taj Bradley. The 21-year-old Bradley is one of the top pitching prospects in baseball, and he's inching closer to his big league debut. The Rays have made it clear they won't rush him to the majors, but if Glasnow's injury keeps him out longer than expected, Bradley could earn the call this summer.
Projected Bullpen
| | |
| --- | --- |
| Opening day bullpen | DEPTH |
| Pete Fairbanks | Josh Fleming |
| Jason Adam | Shawn Armstrong |
| Jalen Beeks | Trevor Kelley |
| Garrett Cleavinger | Andrew Kittredge |
| Colin Poche | Colby White |
| Ryan Thompson | Heath Hembree |
| Kevin Kelly | Kyle Crick |
| Calvin Faucher | Colten Brewer |
The Rays leaned heavily on their bullpen last season – their relievers threw 682.2 innings, the most in baseball. Kevin Cash will be hoping to get a little more mileage out of his starting rotation this season, but he's got an impressive bullpen at his disposal all the same.
This arm barn is equal parts high-end talent and serviceable depth. Pete Fairbanks was phenomenal last season and should be so again. The same can be said for Jason Adam. Jalen Beeks, Garrett Cleavinger, Colin Poche, and Ryan Thompson are all talented arms who can give this pen plenty of quality innings.
Behind that crew is a great deal of depth. Kevin Kelly is a Rule 5 pick, and the Rays should give him a chance to stick it out on the 26-man roster. Calvin Faucher has great stuff and could become another weapon for this bullpen.
Shawn Armstrong is an experienced arm who will contribute once he recovers from injury. Josh Fleming could be another solid contributor if he misses out on the fifth starter job. Veterans like Andrew Kittredge and Heath Hembree are around to provide additional depth.
Top Prospects To Keep an Eye On
Curtis Mead (3B), Taj Bradley (SP), Kyle Manzardo (1B), Mason Montgomery (SP), Osleivis Basabe (3B)
The Rays have one of the best farm systems in baseball, and several of their top prospects could make an impact this coming season. Don't expect to see any of these guys on Opening Day, but as the season goes on and the need for depth arises, each of these prospects could earn their way to the show.
Curtis Mead could use a little more time at Triple-A, but he's tearing the cover off the ball in the minors and could force his way to the MLB club shortly. Taj Bradley could be this team's saving grace if Tyler Glasnow faces another setback.
Kyle Manzardo has a big bat and has been showing off in camp as an NRI. He's not on the 40-man roster, but his left-handed swing could help him earn a call-up if he continues to impress. Osleivis Basabe, meanwhile, is already on the 40-man, so he could earn a look if the Rays suffer an injury in the infield.
Mason Montgomery isn't ready for the show quite yet, but he's had a good run in the minors thus far. His fastball-slider combo is intriguing, and he could provide some rotation depth as the year goes on.
Outlook
The Rays are one of the better teams in baseball heading into the 2023 season. If their stars stay healthy, they can challenge the Yankees for the AL East. If not, they can still stick around in the Wild Card race.