Analysis
Seattle Mariners 2023 Season Preview
Featuring both one of the game's best rotations and top young players in Julio Rodriguez, the Mariners are primed to make a run in 2023.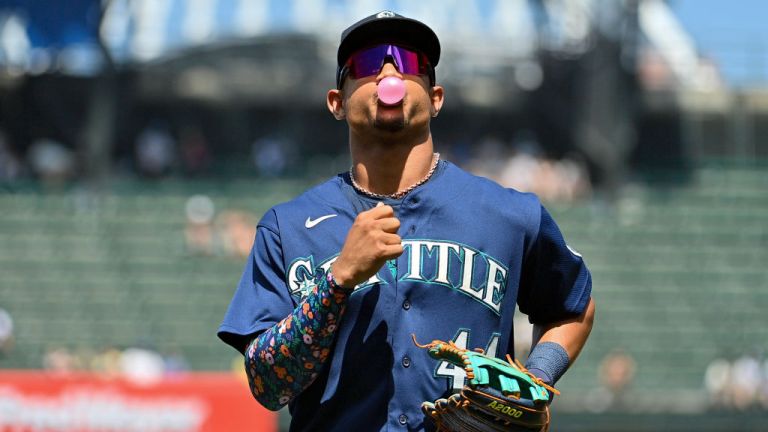 The days of the drought are gone. The constant wave of missed draft picks, failed flurries of free agent signings and toxic clubhouse culture seem to be a thing of the past. The Mariners you are witnessing now is a new age. And it has likely only just begun.
After getting past Toronto in the 2022 AL Wild Card Round, the Mariners faced off against the eventual champion Houston Astros in the ALDS. While they were ultimately swept, those games were all tight and showed how close the Mariners really are to competing in the AL West.
For the first time in a long time, Seattle is in a clear window to contend, making the mission of getting better even more imperative this offseason. They augmented their roster with the addition of a power-hitting right-handed bat in Teoscar Hernandez, acquired a borderline top-10 second baseman in Kolten Wong, and also signed free agent A.J. Pollock, who annihilates southpaws, to fill the left field platoon.
Combined with a fierce rotation and a stable of bullpen arms, who all throw whiffle balls, the Mariners shape up as one of the top teams in the American League.
Projected Starting Lineups
| | |
| --- | --- |
| PROJECTED LINEUP VS. RHP | PROJECTED LINEUP VS. LHP |
| C – Cal Raleigh | C – Cal Raleigh/Tom Murphy |
| 1B – Ty France | 1B – Ty France |
| 2B – Kolten Wong | 2B – Dylan Moore |
| SS – J.P. Crawford | SS – J.P. Crawford |
| 3B – Eugenio Suarez | 3B – Eugenio Suarez |
| LF Jarred Kelenic | LF – A.J. Pollock |
| CF – Julio Rodriguez | CF – Julio Rodriguez |
| RF – Teoscar Hernandez | RF – Sam Haggerty |
| DH – A.J. Pollock/Tom Murphy | DH – Teoscar Hernandez |
Cal Raleigh forever has his name etched in Mariners history after the majestic walk-off home run to put the capper on the 21-year playoff drought. Don't be fooled though, Seattle's backstop did a whole lot more than just that one swing in 2022. Raleigh was a top 10 catcher in baseball during his first full season, and he did so after some mighty early season struggles.
Raleigh slashed .083/.214/.208/.423 in April and .167/.217/.405/.622 in May, which included one demotion back to Triple-A in that time. From June on, he was off and running, finishing the year by leading all catchers in home runs with 27, finishing eighth at the position in WRC+ (121), and fourth in fWAR (4.2). He also placed third among catchers in DRS with 14, having a fantastic defensive season as well. All of this while battling through a broken thumb through the end of the year.
Tom Murphy missed nearly all of last season, playing in just 14 games. When healthy, he is a perfect second catcher who plays average defense and will see time in the lineup when a left-hander is on the mound. Murphy has a career .837 OPS against southpaws.
Ty France had a tale of two halves last year. For much of the first half he ranked in the top 10 in all of baseball in WRC+ with a first half OPS of .846. He parlayed those numbers into his first All-Star nod.
In late June he suffered a forearm/elbow injury reaching to his left on a wide throw to first base in Oakland and suffering a collision. That landed him a short stint on the IL, but when he returned he never seemed like the same player.
The injury seemed to linger, and he also got away from his approach, beginning to chase a lot more pitches out of the zone in addition to pitchers attacking him with a lot of fastballs under his hands, which he just wasn't catching up to. He slashed .233/.291/.394/.685 in the second half. He still put up a 126 WRC+ for the year, but the team could greatly benefit from a full year of something close to the France they saw in the first half.
Kolten Wong is one of the more underrated second baseman in the sport. Sure, he won't wow anyone with light-tower power or blazing speed, but he is by every definition an offensive threat and for most of his career he's been a plus defender.
Wong has a disciplined plate approach. His strikeout percentage of 17.7% ranked in the 72nd percentile last year, which is still considered well above-average. And that was a career-high strikeout rate that he posted last year. He has produced a 109 WRC+ or better in three of the last four seasons, only failing to reach that mark in 2020. 2022 was his highest mark at 117.
Wong has also racked up a pair of Gold Gloves in his career. Before 2022 he had recorded 14 career OAA. Last season he was by far at his worst in the field at -9 OAA, ranking in just the third percentile in MLB. Wong battled injuries throughout the majority of the year in Milwaukee and is now fully healthy, expecting an uptick back to his regular mean with the leather.
Dylan Moore may start the first couple weeks of the season on the IL due to an oblique injury, but once healthy he is expected to be the right-handed platoon option at second base, while also mixing in at other positions when needed. Moore does everything a club could want in a utility player. He can play pretty much every position, walks more than 13% of the time, and held a 126 WRC+ which was greater than players such as Matt Olson and Corey Seager (albeit Moore appeared in less games). He had an OPS of nearly .800 vs lefties in 2022 as well.
J.P. Crawford needs to give the Mariners a bounce back season, particularly with the glove, after a -11 OAA campaign where he ranked in the second percentile. Crawford was another culprit of nagging injuries for most of the year, but if him and Wong are both healthy, that tandem has the potential ceiling of the best defensive middle infield in the game.
Offensively, Crawford slashed .360/.449/.573/1.023 through the first month and then never even sniffed that level the rest of the way with an OPS of .675 for the year. He didn't make a lot of hard contact, despite not striking out often. He has made laborious efforts on some swing changes at Driveline this winter in hopes of revamping his profile at the plate.
Eugenio Suarez had a resurgent year once stepping foot on Pacific Northwest soil. After a rocky 2021 on both sides of the ball in Cincinnati, he returned to drawing more walks in Seattle, his strikeout percentage was cut down as the season went on (struck out just 26% of the time in September compared to 31% in total for the year) and with the help of Mariners infield guru Perry Hill, Suarez returned to playing league average defense at third base.
That all goes along with Suarez's immense power, depositing 31 home runs and a WRC+ of 131, the second-highest mark of his career and the second-best clip on the team. The Mariners moved on from longtime third baseman Kyle Seager before 2022, who's best offensive season was a 134 WRC+ in 2016. Suarez nearly mirrored that production in year one, and he ended 2022 with a 4.1 fWAR, just 0.2 wins shy of his season-high of 4.3 in 2018.
The X-factor for this team, and this season, is Jarred Kelenic. A consensus top-five prospect at the time of his debut, Kelenic has immensely struggled to find his footing in the big leagues thus far, slashing .181/.265/.350/.615 with a 71 WRC+ in 2021 and .141/.221/.313/.534 with a 55 WRC+ in 2022. He has been demoted to Triple-A three separate times across that span.
But in the final two weeks of 2022 he started to find his stride at the plate and he evidently made some real offseason adjustments, because he strutted into 2023 Spring Training looking like a completely new player. His swing is much cleaner and effortless, with less moving parts a quicker bat path.
It has resulted in Kelenic having, numbers-wise, just about the best spring of any player in the game with a .410/.439/.872/1.311 slash line, four home runs and eight total extra-base hits. He is also spitting on breaking balls off the plate much more regularly and making more conscious swing decisions. Take spring numbers with a grain of salt, but so far this is everything the Mariners could have hoped for and more.
Let's try and remember: Jarred Kelenic is entering his age-23 season. Aaron Judge put up a 62 WRC+ in his age-24 season. Jose Ramirez concluded his age-22 season with a 72 WRC+ before things began to turn his way at age 23 in 2016.
Is Kelenic guaranteed to end up like those two long term? Far from it. But the book is not written on him yet either. Development isn't linear. And to be fair to Kelenic, he took a big step forward defensively in 2022. This could be the year he does the same with the stick. If he does, this team could realistically make their case to win the AL West.
A.J. Pollock, much like Murphy and often Moore, will mostly get playing time when a lefty is throwing for the opposition. Pollock has mashed against lefties throughout his entire career. In 2022, he was able to OPS .935 with a whopping 161 WRC+ against left-handed arms and for his career has a .868 OPS and a 129 WRC+.
It is not often the "surest thing" on a roster is a player that just turned 22 years old in late December. But that is absolutely the case with the Mariners and Julio Rodriguez. How much needs to be said about him?
He was a top 20 player in baseball as a rookie, took on national superstardom by last year's All-Star break, signed a monstrous extension for as much as $470 million before his inaugural season was over, anchored the end of the playoff drought, and may win multiple MVP's in his career. Yeah, that just about sums it up.
Cutting down his strikeout rate and staying on the field a little bit more often are the only areas one can really even point to for areas of needed improvement for J-Rod, but that's just knit picking for the guy who will be the face of the franchise, and one of the faces of baseball, for the next decade-plus.
Teoscar Hernandez is such an underappreciated power hitter. The last three seasons he has posted a WRC+ of 142, 132 and 129, with the latter mark ranking third among Mariners bats in 2022. Another area where Hernandez shines (and maybe you're starting to sense a theme here) is he crushes lefties. And that might be an understatement. Over the last three seasons, Hernandez has 1.053 OPS against left-handers, ranking second among all hitters in the sport.
Hernandez does strike out a lot, seldomly walks, and is a slightly below average defender. That said, his raw power and sky-high exit velocities make up for a lot of that, and he will see some time at DH when needed.
Sam Haggerty, shocker, also dominates against lefties. He slashed .349/.449/.652/1.100 when facing southpaws. He also has borderline elite speed and can play quality defense in the corner outfield spots and second base. Haggerty should play some form of a utility role again in 2023 and will more often than not see left-handed pitching.
Starting Rotation Option
Luis Castillo, Robbie Ray, Logan Gilbert, George Kirby, Marco Gonzales, Chris Flexen
Luis Castillo was already a borderline ace before being traded to the Mariners. He may have taken another step once stepping foot in Seattle though. While his changeup has been his best offering for the majority of his playing days, it was his fastball results that jumped off the page in 2022. Opponents slugged less than .200 against it. He is hands down the ace of what is already a loaded pitching staff.
Robbie Ray had his season both start and end on a poor note, but he pitched valuably from the summertime through the end of the regular season after adding a sinker to his arsenal (2.97 ERA from June 8 and on). He will not bring that sinker back in 2023 and is instead opting to add a splitter in addition to his fastball and slider. Ray has had a lethal spring, consisting of an 0.75 ERA across four starts. He looks ramped up and ready to put a rollercoaster 2022 behind him.
Logan Gilbert on paper had about as good of a sophomore season as a team could hope for out of a young pitcher (3.20 ERA in 32 starts). But he got hit incredibly hard throughout that time (third percentile in Average Exit Velocity, fifth percentile in Hard Hit Rate) with his FIP and xERA ballooning much higher than his actual ERA, meaning there could be some regression in 2023.
Gilbert, much like Ray, also added a splitter this winter and ditching his changeup as he feels more confidence in his newfound pitch, which he has not been hesitant to show off in Spring Training. He also changed the shape of his curveball towards the end of 2022, where he threw it with less velocity and more break. He ended up having five of his six best starts of the season by Stuff+ in August and September, around the same time he altered his curveball. That pitch could end up resulting in a step forward for Gilbert in 2023 rather than a step back.
George Kirby has the upside of a legitimate ace. Some of the sharpest command you can find in a starter, combined with an upper 90's fastball that can touch triple digits, complemented by five different off-speed pitches. Oh, and the possibility of a seventh offering on the way.
Kirby also added a splitter this offseason, now possessing the opportunity to do what only Shoehi Ohtani did last year: toss seven different pitches. Kirby posted a 3.39 ERA and a 2.99 FIP in his rookie year and left quite the lasting impression with seven scoreless frames against the Astros in Game Three of the ALDS.
Marco Gonzales is an innings-eater, recording the third most frames in the AL since 2018, and put up 3.5 WAR seasons or better in 2018 and 2019. The storyline has changed since then as the last two years have not been friendly to him, with his underlying numbers continuing to dip. Unfriendly is all perspective though.
Gonzales all-in-all still ended 2022 with a 4.13 ERA which a team will take any day from a No. 5 starter. Gonzales added a slider to his repertoire for this year, making him the fourth of five Mariners starters to unveil a new pitch. Behind Gonzales the Mariners have even more depth, with Chris Flexen able to slid in the rotation any time, assuming he is not traded.
Bullpen Options
Andres Munoz, Matt Brash, Paul Sewald, Diego Castillo, Penn Murfee, Matt Festa, Trevor Gott, Chris Flexen
When it comes to their relievers, Jerry Dipoto and his crew certainly have a type. Right-handers with high spin rates on their fastballs and wipeout sliders. For the third-consecutive year that is the makeup of the club's bullpen. There is not a lefty reliever slated to make the roster, but that was also the case most of 2022. It didn't matter in the end as Erik Swanson, Andres Munoz and Paul Sewald all had eye-popping numbers against lefties.
Munoz is undoubtedly one of the best relievers in the game. His Baseball Savant page looks like a tall glass of Kool-Aid. He ranks towards the top of the league in nearly everything thanks to a fastball that gets up to as high as 103 MPH and a slider that graded as the third-best in baseball in 2022, behind only Edwin Diaz and Dylan Cease. He posted a 2.49 ERA, 1.84 xERA, 2.04 FIP and 2.04 xFIP.
Sewald has been dominant in back-to-back seasons but got the results in completely different forms in 2021 and 2022. In 2021 it was all about missing bats, as Sewald was averaging nearly 14.5 K/9 to help him motor his way to a 3.06 ERA and a 2.85 xERA. In 2022 the strikeout rate decreased to 10.1 K/9, but he was among the top-10 percent of the league in lowest Expected Bating Average (xBA) and xERA. He finished 2022 with a 2.67 ERA and a 2.64 xERA.
Sewald has worn down towards the end of the last two years, so how the Mariners manage both his total innings and frequency in high leverage outings to help him sustain a full season of dominance will be a narrative to keep up with.
Matt Brash transitioned from a starter's role to the bullpen midseason and seemed to have really found his calling, holding a 2.35 ERA in 34 outings. His upper 90's fastball helps, but that isn't even in the same area code as his signature pitch. The closest thing you can probably compare Brash's slider to is Waluigi's slider in Mario Superstar Baseball. With nearly 15 inches of sweep and thrown from 90-92 MPH, it is borderline unhittable. In fact, just by pure movement and velocity, it has been called the best pitch in the history of baseball. That's not a joke. It's that good.
Prospects Who Could Contribute in 2023
Bryce Miller (RHP) – The top pitching prospect in the system, Miller has been sensational all spring, showing the aggressive steps that he has taken in his development. He doesn't have the largest frame at just 6'2, 180 lbs. but he breathes a fastball that sits in the mid-to-high 90's and has reached 100 MPH.
His hard slider has played up this spring, and when he chooses, he can also mix in a curveball and changeup. Opponents hit .195 against Miller in 2022, while he punched out 11 per nine. Miller will almost definitely be in the majors in 2023. Question is: will it be as a starter, a reliever, or a mix of both? All are possible.
Emerson Hancock (RHP) – As Miller's ceiling has been muscled upwards, Hancock's has fallen since being selected No. 6 overall in 2020, when Dipoto and the Mariners graded him as the best pitcher in the draft. Hancock has battled injuries in each of his first two professional seasons between shoulder and latissimus issues.
As a result, his velocity has fallen a few ticks. Hancock still finished 2022 with a 3.75 ERA over in Double-A Arkansas, although his FIP was 5.31 which is not quite racking up the strikeout numbers Seattle had hoped for. A full healthy season will be crucial for Hancock this year, and if he performs well the Mariners may have the eventual the need for the former Georgia Bulldog who could still be a No. 3 or No. 4 level starter long-term with his four-pitch mix.
Taylor Dollard (RHP) – If Dollard gets the big league callup it will likely be in a starter's role. He doesn't have the electric stuff for a late inning bullpen role.
But as a starter in Double-A, Dollard dazzled with a 2.25 ERA, kept the ball in the park at nearly all times with a 0.56 home run per nine rate, and controlled the zone on command, allowing less than two walks per nine. Dollard's fastball only sits in the low 90's, but in total he has four pitches, is durable and simply knows how to get outs.
Outlook
This is the most imposing roster the Mariners have churned out in nearly 20 years. They could still benefit from one more impact bat long-term, but it may not be imperative. They barely lost each of the three ALDS games to Houston last year and that was with a lesser offense than they have now. For the most part, the pieces are in place, especially on the pitching side.
The Astros are still deservedly the AL West and American League favorites. But in that next tier of American League contenders, the Mariners are right there next to the Yankees and Blue Jays. As the postseason has shown over time, just get in and anything can happen. If Seattle inks their name into the dance for the second-consecutive year, they are poised to make a run. Perhaps an even deeper run than a year ago.