Analysis
Toronto Blue Jays 2023 Season Preview
The Toronto Blue Jays have a pretty deep roster heading into 2023, looking to improve upon their Wild Card exit from last season.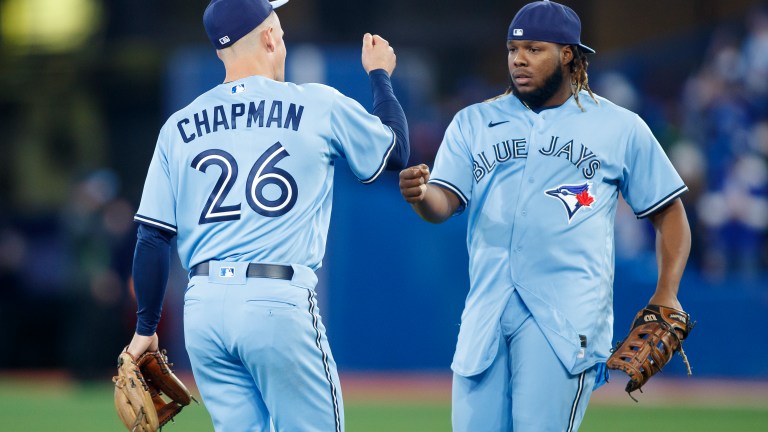 After a disappointing Wild Card exit last year, the Toronto Blue Jays front office got to work and addressed some areas of need heading into the 2023 season.
Fan favorites Teoscar Hernández and Lourdes Gurriel Jr. were traded away alongside top prospect Gabriel Moreno in exchange for Daulton Varsho, Erik Swanson, and prospect Adam Macko, providing the Jays with a lefty-batter with elite defensive abilities and a shutdown reliever to support the back end of the bullpen (with a prospect to boot).
While Ross Stripling, Raimel Tapia, Bradley Zimmer, and Jackie Bradley Jr. left via free agency, as well as right-hander David Phelps retiring, the front office bolstered the rotation by adding right-hander Chris Bassitt on a three-year deal, while also signing Kevin Kiermaier to a one-year contract.
General manager Ross Atkins wasn't done there, however, as longtime Giants first baseman Brandon Belt was also brought in on a one-year deal, adding another lefty-bat in the lineup who will spend some time in the DH spot.
On top of the roster overhaul, the Rogers Centre underwent some major upgrades, including entirely new seating in the 500 level, changes to the outfield wall dimensions, additional fan access to the bullpens, and additional social spaces for fans to hang out.
Overall, a busy offseason for the Blue Jays organization.
Projected Starting Lineup
| | |
| --- | --- |
| Position Chart – RHP | Position Chart – LHP |
| C – Alejandro Kirk / Danny Jansen | C – Alejandro Kirk / Danny Jansen |
| 1B – Vladimir Guerrero Jr. | 1B – Vladimir Guerrero Jr. |
| 2B – Santiago Espinal / Whit Merrifield | 2B – Santiago Espinal / Whit Merrifield |
| SS – Bo Bichette | SS – Bo Bichette |
| 3B – Matt Chapman | 3B – Matt Chapman |
| LF – Daulton Varsho | LF – Daulton Varsho / Whit Merrifield |
| CF – Kevin Kiermaier | CF – Kevin Kiermaier |
| RF – George Springer | RF – George Springer |
| DH – Brandon Belt | DH – Santiago Espinal / Alejandro Kirk |
When looking at the Blue Jays roster, there are a few players that will be pencilled in on a pretty regular basis – Vladimir Guerrero Jr. at first base, Bo Bichette at shortstop, Matt Chapman at third base, and George Springer in right field. Bichette has been getting a lot of reps in the two-hole this spring so it will be interesting to see if that translates into the regular season, with Guerrero Jr. slotting in right behind him and Springer continuing to lead off.
The Jays' lineup got a lot more left-handed this offseason with the additions of Belt, Kiermaier, and Varsho, something the roster was in need of after boasting a right-handed heavy lineup last season. With the addition of Varsho and Kiermaier, Springer gets pushed to right field where he will hopefully be able to stay healthy throughout the full season, although the former Rays center fielder has his own questionable injury history.
This is where Whit Merrifield will come in handy, as he and Espinal can split the reps at second base while Merrfield can play in the outfield when needed. One thing to keep an eye on will be how the Jays use Varsho when a southpaw is on the mound, as he struggled to a .533 OPS facing left-handers last season, but the club will likely want his elite defensive on the field whenever possible.
Depending who is on the mound will dictate whether Jansen or Kirk gets the start, with manager John Schneider able to use Kirk as the DH in select situations as the Mexican product had a great 2022 season at the plate. The addition of Belt will cut into his DH time when a right-hander is on the mound, which might not be a bad thing in terms of health/longevity, but the outfield walls moving is going to benefit this Jays squad next season and beyond and Belt appears to be healthy heading into the season.
At the hot corner is one of the top defensive third basemen in the league Matt Chapman, who is looking to cash in on his walk-year as a pending free agent following this season. It will be interesting to see whether the Jays will use Chapman around the four/five hole, depending on where the club decides to insert Varsho in the lineup.
Coming off an All-Star campaign in 2022, Espinal is having a fantastic Spring Training and will likely get a chance at some increased reps on the right side of second base to begin the season.
Blue Jays Bench
Kirk/Jansen, Belt, Espinal/Merrifield, Cavan Biggio, and Otto Lopez
With such a busy offseason, the Blue Jays bench does not have a lot of vacancies when it comes to internal options. While the players listed above are technically considered bench options, there will be quite a few instances this year where these players could be moved around depending on what side the pitcher is throwing from to start the game as well as utility players covering defensively and allowing regular players either DH or rest days when needed.
Kirk and Jansen will split their time behind the plate pretty evenly throughout the season while Belt will likely be on the bench when he is either not the designated hitter or covering for Guerrero Jr. at first base when needed.
Espinal and Merrifield will tandem at second base but could also both see time in the field as Espinal is the likely option to backup shortstop and third base while Merrifield can take reps in the outfield when needed. Overall, these two will split time at second but will also see some time on the bench depending on the game situation.
Cavan Biggio is also in the utility role for the Jays, with the lefty-batter able to take reps at first base, second base, and in the corner outfield spots when needed. After struggling last year with poor performance and injury/illness, Biggio is off to a strong start in Spring Training and has notified manager John Schneider that he wants to see more time in the outfield and will likely get that opportunity with the club looking to manage Springer and Kiermaier's workload given their injury history. The biggest question will be if his bat this spring can carry over into the regular season.
To cap it all off, there is the last remaining bench spot.
After the Jays made a flurry of internal moves to Minor League Spring Training yesterday, it appears that the competition is down to UTIL Otto Lopez, INF Addison Barger, and OF Nathan Lukes, although non-roster invitees C/OF Zach Britton, OF Wynton Bernard and OF Vinny Capra are looking to put their hat in the ring as well.
Barger has been one of the most-talked about prospects early this season but with only 31 at-bats in Triple-A last year, I wouldn't be surprised if the club sends him down to Buffalo to start the year and a midseason call-up is more likely.
If the Jays want to bring a dedicated fourth outfielder, Lukes likely has the inside track after a solid 2022 campaign in Buffalo that surprisingly did not amount to an MLB debut for the left-hander. Lukes has impressed on both sides of the game this past March and having him on the bench does make sense given the injury history of the Jays' core outfield options.
Overall, I think Lopez will get the nod for Opening Day, with the Montreal-born utility player being able to cover multiple positions when needed. While fans may rather have Barger in this spot, Lopez has more experience at the higher levels of the MiLB and was also having a strong spring campaign before heading to the World Baseball Classic.
This one is still a toss-up (and definitely not set in stone through the whole season) but I would put my money on Lopez to make the Opening Day roster at the end of the day.
Blue Jays Starting Rotation
Depth Chart
1. Alek Manoah
2. Kevin Gausman
3. Chris Bassitt
4. José Berríos
5. Yusei Kikuchi
6. Zach Thompson
7. Mitch White
8. Drew Hutchison (NRI)
9. Casey Lawerence (NRI)
10. Thomas Hatch
Heading into the 2023 season, the Blue Jays have a pretty set rotation through the first four spots in the lineup.
While the jury is still out on whether Alek Manoah or Kevin Gausman will get the ball on Opening Day, both are deserving of the honor in my opinion and one could argue for either pitcher to get the prestigious honor at the end of the day.
Manoah will be looking to continue off his Cy-Young runner-up campaign he posted last season (2.24 ERA through 196.2 innings) while Gausman will be one of the top arms in the Jays' rotation that will hopefully benefit more from the removal of the shift considering he was considered one of the unluckiest pitchers last season given his ERA compared to FIP at 3.35 and 2.38 respectively.
Slotting in third will be newcomer Chris Bassitt, who will likely get the ball to finish out the weekend against the St. Louis Cardinals, which will push José Berríos to make his 2023 debut in Kansas City. The Puerto Rican product is looking to bounce back from a disappointing campaign last year which saw him post the highest ERA amongst qualified pitchers (5.23 ERA with 199 hits allowed and 100 earned runs through 172.0 innings pitched).
While he made two strong starts this spring, he got hit around against Venezuela during the World Baseball Classic and this outing is hopefully not a sign of things to come for the 2023 season. The right-hander will likely get a few more outings with the Jays depending on how Puerto Rico does in the WBC but a few more starts in Dunedin might do a world of good for the former Twins starter.
Rounding out the rotation will be Yusei Kikuchi, who came into Spring Training looking to lock down the fifth rotation spot after struggling in 2022 and eventually being relegated to the bullpen toward the end of the year. With Mitch White dealing with a shoulder injury and Kikuchi absolutely dominating during his four outings in Dunedin, all signs are pointing to the Japanese product securing the last rotation spot. It should be noted that White is out of MiLB options, so he will likely head to the bullpen once healthy and be the long-man.
Depth-wise, alongside White, will be Zach Thompson, who was acquired from the Pittsburgh Pirates earlier this offseason to add some additional starting arms in the farm system when needed. The Jays also have a few veterans in camp on non-roster invites in Drew Hutchison and Casey Lawerence, who can start for the big league club alongside Matt Peacock, who fits the need for spot starts if required this year as well. Rounding out the group is Thomas Hatch, who struggled through his first two outings this spring but posted a clean two innings back on March 10th.
It will also be interesting to see how the Blue Jays plan to use Hyun Jin Ryu, as the left-hander is slated to be on track for a July return after undergoing Tommy John surgery last year. Having him healthy and rested heading into the latter portion of the season will be a big boost for the squad, with Ryu potentially taking over Kikuchi's spot in the rotation, the Jays moving to a six-man rotation (unlikely), or covering for an injured pitcher.
Blue Jays Bullpen
BUllpen
1. Jordan Romano – RHP
2. Yimi García – RHP
3. Erik Swanson – RHP
4. Anthony Bass – RHP
5. Adam Cimber – RHP
6. Tim Mayza – LHP
7. Trevor Richards – RHP
8* – Mitch White – RHP
8* – Nate Pearson – RHP
8* – Junior Fernández – RHP (NRI)
8* – Julian Fernández – RHP (NRI)
8* – Zach Pop – RHP
8* – Trent Thornton – RHP
The Blue Jays bullpen heading into this season is miles ahead of the 2022 relief corps, with some more established arms in the mix as well as a top-10 closer in Jordan Romano leading the charge.
Although they did struggle in the second game of the Wild Card series, the Jays' bullpen features some shut-down setup pitchers in Yimi García, Anthony Bass, and Erik Swanson, while featuring some veteran middle relievers in Tim Mayza, Trevor Richards, and Adam Cimber to compliment the high-pressure arms. Mayza is shaping up to be the only left-hander in the Jays' bullpen to begin the season.
Where things get interesting is the last spot in the bullpen, as White would likely slot in as the long-man in a normal scenario but it looks like he could begin the season on the injured list. This would open a spot for a handful of relievers looking for a shot on the active roster in Nate Pearson, Zach Pop, Trent Thornton, Junior Fernández (NRI), and Julian Fernández (NRI).
I would also think the Jays might consider Thompson for this spot as the long-man option with White on the IL but I also see the argument where he begins the season in Triple-A and continues being stretched out as a starter for depth purposes. Also in Spring Training and with an outside shot at cracking the bullpen includes Paul Fry, Jay Jackson, and Luke Bard.
Things could also get interesting should the Jays look to bring in a fireballer like Pop, Pearson, or one of the Fernández arms, as the Jays could DFA Richards who struggled at times in 2022.
Internally, the Blue Jays have a ton of relievers that are on the way up and could find themselves in the big leagues sometime this season in Jackson Rees, Jimmy Robbins, Jimmy Burnette, Yosver Zulueta, Adrian Hernandez, Hayden Juenger, Bowden Francis, Brandon Eisert, and Hagen Danner. Top prospect Ricky Tiedemann could also be called upon later this year depending on how he fares in Double-A/Triple-A to start the year.
Similar to the rotation, the Blue Jays will likely be getting Chad Green back into the fold later this year after he underwent Tommy John surgery, which will be a huge boost for the squad that will be looking to crack the postseason once again.