Analysis
2023 Boston Red Sox Season Preview
After a tumultuous offseason, the Red Sox are ready to put the noise behind them and make a push for a surprising playoff run in 2023.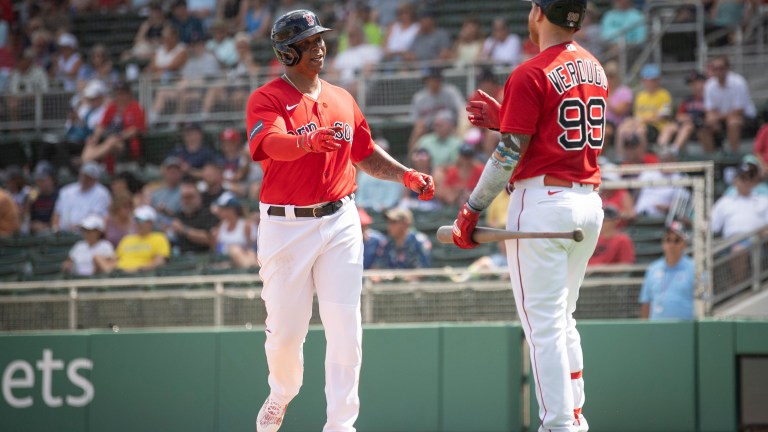 Written By: Matt Marasco
This past offseason has been one of the most eventful, and controversial, in recent memory for the Boston Red Sox. A disappointing 2022, which saw the Sox finish last in the AL East, was followed by the departure of long-time shortstop Xander Bogearts, a series of marginal veteran additions and seemingly lateral moves, and what many perceived to be an overpay for 29-year-old Masataka Yoshida, led many to believe the team lacked a plan.
The discontent reached a boiling point during Frozen Fenway, when fans booed John Henry as his Pittsburgh Penguins faced off against the Boston Bruins. While Red Sox Nation got good news several days later with the 11-year, $331 million Rafael Devers contract, ownership and chief baseball officer Chaim Bloom were again greeted by boos at Red Sox Winter Weekend.
However, as time has passed, there seems to be a general move toward optimism amongst Sox fans, as the team has galvanized against the pessimists, and gotten off to a torrid start in the Grapefruit League.
While they will likely not be in the running for a division title in the incredibly competitive AL East, if some of the many question marks break their way, they could certainly be in contention for a Wild Card spot.
Projected Opening Day Lineup
1. Masataka Yoshida- LF
2. Rafael Devers- 3B
3. Justin Turner- DH
4. Tristan Casas- 1B
5. Kiké Hernández- SS
6. Alex Verdugo- RF
7. Adam Duvall- CF
8. Christian Arroyo- 2B
9. Reese McGuire- C
The Infield
The Red Sox infield will be anchored by their corners. The new face of the franchise Rafael Devers, one of the best hitters in the game and a much-improved defensive player, will hold down third. Across the diamond 6'4" 252-pound Tristan Casas will look to build upon impressive minor league and international performances and develop into the middle-of-the-order bat the organization believes he will be. Up the middle, though, there are more questions.
Trevor Story's elbow injury and extended absence means that Kike Hernandez will likely be the Opening Day shortstop. Second base will likely be Christain Arroyo's spot for as long as he can stay healthy, as the former-first round draft pick has shown flashes of his incredibly high ceiling during his time in Boston, but needs to be able to stay on the field.
The Red Sox brought in Justin Turner, who will be able to spell Devers at third, DH, and provide a veteran presence in the clubhouse. Boston also brought in Adalberto Mondesi, who, like Arroyo, has been very productive when able to stay healthy. The speedster will be able to spell Arroyo and Hernandez in the infield, and allow Hernandez to head back to the outfield if need be. Lastly, Bobby Dalbac will be available to play first or third and provide a right-handed bat off the bench.
The Outfield
This group, like the starting rotation, has a high upside coupled with a series of question marks. The Red Sox biggest offseason signing, 29-year-old Masataka Yoshida, figures to slot in in left field and provide a top of the order bat. That said, opinions on Yoshida vary, as many rival executives believe the Sox significantly overpaid. His projections, though, are promising, as he is slotted for a 140 wRC+ and Fangraphs has him projected to hit over .300.
Alex Verdugo will start in right field, and there is hope that an offseason change he made to his approach at the plate will bring him back to his 2020 form, the year he finished top-10 in MVP voting. Still, there are many Sox fans who are hoping and expecting one of the key pieces of the Mookie Betts trade to become the player many thought he would be when he first broke into the big leagues.
Like so many other players on this team, Adam Duvall could have a huge year hitting in Fenway Park if he is able to stay on the field. He is slated to play on Opening Day, but will likely get some time in left and at DH, with the hope that he does not wear down. The Red Sox also signed Raimel Tapia, who figures to be a bench piece along with Rob Refsnyder and Jarren Duran, who some Red Sox fans still believe can be an impact player.
The Catchers
Boston plans to platoon Reese McGuire (acquired from the White Sox at the 2022 trade deadline) and Colton Wong (who graduated to the Major Leagues last season and was part of the return for Mookie Betts) behind the plate.
Both players impressed with the bat last season, and now that both have had a full offseason with the team they should be comfortable handling the pitching staff. While there will likely be some regression to the mean offensively, both players are solid defenders and have shown that they are capable Major Leaguers behind the dish.
The Starting Rotation
Corey Kluber- RHP
Chris Sale- LHP
Nick Pivetta- RHP
Brayan Bello- RHP
Garrett Whitlock- RHP
The Red Sox starting rotation, which will likely determine the fate of the team, is full of question marks. Chris Sale, who has thrown just 50.1 innings since 2019, is about as healthy as he has been since his dominant seasons in 2017-2018. If he is able to remain healthy, even if he does not return to his 2018 2.11 ERA form, it will be a major boost for the Sox.
Another starter with a high ceiling this season is James Paxton, who, like Sale, has battled injuries throughout his career and did not pitch at all last season. Paxton, seemingly out of gratitude to the organization for allowing him to rehab on their dime, decided to return this season. Like Sale, a healthy Paxton would be significant if the team hopes to compete for a Wild Card spot.
A third question mark is former Rule-5 draft pick Garrett Whitlock. Whitlock has been dominant out of the bullpen, but the Red Sox are trying to stretch him out with the hopes that he can be a starter. The experiment did not go well last season, as Whitlock wore down and eventually succumbed to injuries.
Now, though, with a full offseason and spring training under his belt, the Red Sox are hopeful that Whitlock will be able to sustain a starters workload. Offseason signing Corey Kluber, who is entering the 13th season of his illustrious career, will likely be the Opening Day starter for the Sox, and figures to be a stalwart in the rotation.
Another pitcher Boston can rely on to take the ball every fifth day is Nick Pivetta, who has been a consistent piece of their rotation over the last few years. Lastly, but certainly not least, is youngster Brayan Bello. The highly-touted prospect made his debut last season, and despite a few rough outings, had a stellar September.
Bello has an electric mix of pitches, and will be helped by the pitch clock, as he struggled when hitters stepped out to slow him down last season. If all goes according to plan, Bello will develop into a top of the rotation starter by season's end.
The Bullpen
Joely Rodriguez- LHP
Ryan Braiser- RHP
Tanner Houck- RHP
Richard Bleier- LHP
John Schreiber- RHP
Chris Martin- RHP
Kenley Jansen- RHP
This is one area in which the Red Sox made significant improvements this offseason. For the first time in several years, the team is entering the season with a set of proven relievers with clearly defined roles. Kenley Jansen will anchor the unit as the closer, as the 12-year veteran takes his career 0.94 WHIP to Boston for his first season in the American League.
The Red Sox also brought in seven-year veteran Chris Martin, who is slated to take over the eighth inning after having a career 2022 season. Boston also brought back breakout star John Schrieber, who will also see some high-leverage situations. Tanner Houck, the "right-handed Chris Sale," who may have the best pure stuff on the team, will be used in a multi-inning relief role as well.
With all of the questions in the starting rotation, the Sox will rely heavily on their bullpen after "five and dive" starts to close out wins.
Impact Prospects
While two of the Red Sox's most highly-regarded prospects, Brayan Bello and Tristan Casas, graduated to the majors last year, and the majority of the organization's most highly-ranked prospects are still in the lower minors (Miguel Blais, Marcello Mayer, and Mikey Romero), there are a few players who could make their debut this year and have a significant impact on the team. 
The first is utility infielder Emmanuel Valdez, who was acquired in the Christian Vazquez trade last season. He went viral during spring training as side-by-side videos of his swing next to Juan Soto's made Valdez a household name amongst Boston fans. 
Another prospect projected to graduate this season is right-hander Bryan Mata, who after coming off Tommy John surgery in 2021, has picked up where he left off riding his triple-digit fastball to a very good 2022 in Worcester. He will likely make his debut this season, but whether that is as a multi-inning reliever or a starter is yet to be seen. 
Another pitcher who could graduate this season is Brandon Walter, a left-hander who, like Mata, could either slot in as a starter or reliever.
The prospect who many Sox fans are most excited about, though, is Ceddanne Rafaela, who burst onto the scene last season. He has incredible defensive versatility; he is one of the most highly-regarded defensive outfielders in all of the minors, and also has the ability to step into the infield and play shortstop. His offensive production has taken off over the last two seasons, and many believe he is the center fielder of the future in Boston.
Final Thoughts
Despite the pessimism in Beantown, this is a Red Sox team that could certainly compete for a playoff spot if some things break their way. There is no question that the team is filled with question marks, and for a fan base that is just two years removed from an ALCS appearance, those question marks are a source of frustration. But if some of those question marks pay off with (Chris Sale and James Paxton staying healthy, Yoshida living up to his projections, and Adam Duvall returns to his 2021 form to name a few), the Sox will be playing meaningful baseball in September, and that is all you can ask for during a bridge season.