Analysis
New York Mets 2023 Season Preview
The New York Mets enter the 2023 with a star-studded roster and lofty expectations, as owner Steve Cohen continues to go all-in to win now.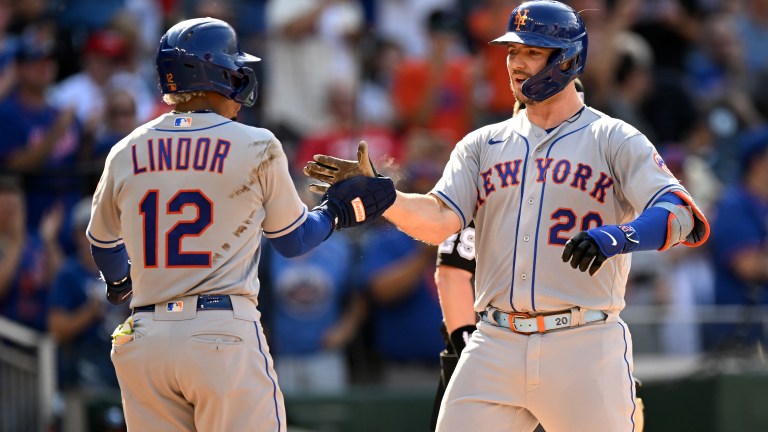 This offseason, the New York Mets signed nine free agents to MLB contracts, who's contracts totaled nearly half a billion dollars ($497.1 million). Steve Cohen is so excited about the team they have purchased this winter that he bought a damn Super Bowl commercial to advertise it.
The Mets are as star-studded of a team as you are going to find. Fresh off a 101-win season, the Mets replaced a two-time Cy Young with a reigning three-time Cy Young, adding an international star pitcher with a pitched dubbed the "Ghost Fork" and signed two of their own free agents to nine-figure long-term deal.
Throw in a team-friendly extension for a batting champ and the Mets offseason was clearly a rousing success. The question now though is if they did enough to be better than the Braves, making them the favorites to finally take this division from their rivals who have won it for the last five years.
Projected Starting Lineup
| | |
| --- | --- |
| Projected Lineup vs. RHP | Projected Lineup vs. LHP |
| 1. Brandon Nimmo – CF | 1. Brandon Nimmo – CF |
| 2. Starling Marte – RF | 2. Starling Marte – RF |
| 3. Francisco Lindor – SS | 3. Francisco Lindor – SS |
| 4. Pete Alonso – 1B | 4. Pete Alonso – 1B |
| 5. Jeff McNeil – 2B | 5. Jeff McNeil – 2B |
| 6. Daniel Vogelbach – DH | 6. Eduardo Escobar – 3B |
| 7. Mark Canha- LF | 7. Mark Canha- LF |
| 8. Eduardo Escobar – 3B | 8. Tommy Pham – DH |
| 9. Omar Narvaez- C | 9. Tomas Nido – C |
After switching Jeff McNeil and Starling Marte back and forth between the two and the five-hole of this starting lineup 10 times over, it became clear it was best to leave the lineup construction to Mr. Buck Showalter.
McNeil should be hitting atop any lineup, but the Mets may feel hesitant to abandon a starting lineup that served them well last year, producing the fifth-most runs in baseball and the second-best on-base percentage. Regardless of how you stack them, the top five of this lineup is where you see real strength with the Mets.
Brandon Nimmo and Marte set the table with great speed and Francisco Lindor and Pete Alonso cleaned up in all of those situations, becoming the best run producing tandem in the game (238 combined RBIs). Then you have McNeil and is NL-leading .326 average, filling in all the gaps in between.
Beyond that there are some questions for the Mets, with young prospects on the horizon who are looking to push veterans for at-bats. For now, the starting lineup returns veterans Mark Canha and Eduardo Escobar, with Daniel Vogelbach entrenched at DH against right-handed pitching.
Canha is as solid as they come, posting a .367 OBP and a 128 wRC+ in 2022, while Vogelbach got on base at a .393 clip with a 144 wRC+ in 55 games with the Mets after a midseason trade. A full season of Vogelbach should make the Mets lineup better, especially if they can find him the proper platoon partner they never had at the end of last season.
One name that could enter the starting lineup very soon and push one of these veterans for playing time is top prospect Brett Baty. Escobar finished last year with a fantastic September (176 wRC+) that has allowed him to keep his starting spot come Opening Day. But with the way Baty can swing the bat, and some reported defensive improvements, that position might not be Escobar's for long.
Lastly, at catcher the Mets begin the season with a platoon of defensive-minded backstops in newly-signed Omar Narvaez and incumbent Tomas Nido. Narvaez represents a slight upgrade over James McCann offensively, while his left-handed bat creates a more natural platoon with Nido.
Narvaez was signed to a one-year deal with a club option for 2024, but make no mistake about it, he was not brought in to be the next great starting catcher for the Mets. He was signed to mentor the next one, fellow Venezuelan native and No. 1 overall team prospect, Francisco Alvarez.
We will discuss Alvarez more later, but expect the 21-year-old to factor into the starting lineup at some point during the 2023 season.
Projected Bench
Luis Guillorme, Tommy Pham, Tomas Nido, Darin Ruf or Mark Vientos
The New York Mets are certainly a team that operates pretty heavily on platoons, so expect to see a lot of the bench find their way into the starting lineup. Last year, we saw a platoon of Luis Guillorme and Eduardo Escobar form at one point during the season, when Escobar was struggling with his left-handed swing.
Guillorme provides the Mets with a fantastic utility infielder, capable of providing excellent defense wherever you stick him on the diamond. Expect Buck Showalter to find a way to deplore his favorite infielder in the lineup any chance he gets, as he is even flirting with the idea of adding a first base glove into Guillorme's bag this season.
The 28-year-old may not be known for his bat, but he still hit .273 over 355 MLB plate appearances last season and has gotten on base at a .354 clip across his career. Guillorme walks (10.1% BB%) nearly as much as he strikes out (13.7% K%) and will see plenty of pitches each at-bat. He's the definition of a high-floor stopgap that can start whenever a regular goes down with an injury.
In the outfield, the Mets are looking towards Tommy Pham to provide some pop as a fourth outfielder. He figures to be an ideal platoon match for Daniel Vogelbach to start against left-handed pitching at DH, or could always be placed in the outfield those days to give one of the regulars a blow.
Then you have Tomas Nido who, as previously mentioned, will be platooning with Narvaez behind the plate. When it comes to the final bench spot, that is an open competition in camp right now.
Considering he is under contract for $3.5 million, Darin Ruf is the favorite to make the team, but after hitting .152/.216/.197 with the Mets in 29 games last year, his spot is far from guaranteed. This is were a top prospect could enter the picture and win a job come Opening Day.
Starting Rotation
2023 Starting Pitching Depth Chart
1. Max Scherzer – RHP
2. Justin Verlander – RHP
3. Kodai Senga – RHP
4. Jose Quintana – LHP
5. Carlos Carrasco – RHP
6. David Peterson – LHP
7. Tylor Megill – RHP
The importance of depth cannot be overstated when it comes to an MLB roster, particularly with the starting rotation. Teams need to have at least seven, if not closer to eight or nine viable starting pitchers if they want to get through the marathon that is a 162-game season.
This offseason, the Mets were set to lose three-fifths of their starting rotation, with Jacob deGrom, Chris Bassitt and Taijuan Walker all hitting free agency. The Mets responded however by signing Justin Verlander, Kodai Senga and Jose Quintana, while bringing back Carlos Carrasco on a club option.
With Scherzer and Verlander, the Mets have a one-two punch of aces that are both future first ballot Hall of Famers. This duo is only getting better too, each posting the best ERA's of their careers last season, with Scherzer pitching to a 2.29 ERA and Verlander an MLB-best 1.75 ERA.
Kodai Senga is a candidate to win the NL Rookie of the Year, as the Japanese star brings his "Ghost Fork" stateside. There is every chance he become another frontline starter for the Mets, giving this team a great three-headed monster atop their rotation.
Add in Quintana coming off a season where he pitched to a 2.93 ERA and Carrasco, who made 30 starts for New York last year, and the Mets have fantastic depth. David Peterson was solid last year as well, striking out 10.73 batters per nine, with a 3.83 ERA in 105 2/3 innings pitched.
Projected Bullpen
2023 Relief Options
1. Edwin Diaz – RHP
2. Adam Ottavino – RHP
3. David Robertson – RHP
4. Brooks Raley – LHP
5. Drew Smith – RHP
6. John Curtiss – RHP
7. Jeff Brigham – RHP
8. Zach Greene – RHP
9. Stephen Nogosek – RHP
10. Joey Lucchesi – LHP
11. Bryce Montes de Oca – RHP
12. Stephen Ridings – RHP
Bullpen depth is key for any contending team and the Mets have been busy this offseason trying to create that depth through trades and free agency. They now have four really solid high-leverage relievers they can count on, while also bringing plenty of promising arms to camp that are sure to factor in at some point this season.
Edwin Diaz is the best closer in baseball, coming off a season where he struck out 50.2% of the batters he faced, while pitching to a sparkling 1.31 ERA. Adam Ottavino was great for the Mets last year as well, pitching to a 2.06 ERA. The Mets re-signed each of their relief aces, while also bringing in a third late-inning option by signing David Robertson.
Robertson pitched to a 2.40 ERA across 63 2/3 innings pitched between the Cubs and Phillies last season and went on to pitch in the World Series. Trading for a new high-leverage left-handed reliever in Brooks Raley (2.68 ERA) complimented those big free agent signings well.
Drew Smith returns from last year's bullpen after pitching to a 3.33 ERA, headlining a long list of relief options that will fill out the back of the bullpen behind the Mets new core four of Diaz, Ottavino, Robertson and Raley.
Top Prospects Who Could Help in 2023
The New York Mets have not received significant contributions from a rookie position player since 2019, when Pete Alonso made his MLB debut and won NL Rookie of the Year. This year all of that could change though, as they have three top 100 prospects that debuted at the end of last season, who all figure to have bigger roles in 2023.
We will begin with the guy who might have the clearest path to making the Opening Day roster, the same one we alluded to that could supplant Darin Ruf on the bench.
Mark Vientos: Across 101 games played in Triple-A last season, Mark Vientos hit .280/.358/.519, with 24 home runs and a 129 wRC+. The 23-year-old former second round pick has proven all he needs to with the bat, but really profiles as a first baseman when it comes to the glove.
While there is no clear fit on the roster with Alonso playing the position everyday, Vientos does bring a skill-set this team needs. He mashes left-handed pitching.
Last year, Vientos hit .330/.408/.732, with a 1.138 OPS and 13 home runs in 112 plate appearances against left-handed pitching in Triple-A. If the Mets let him DH against every lefty they faced this year, Vientos might just hit 15 home runs. The only question is if he will be afforded the opportunity do so, because of his otherwise limited skill-set.
Brett Baty: In his first MLB at-bat last year, Brett Baty left the yard, homering against the Atlanta Braves. That first impression could only be the beginning for Baty, who looks to be the third baseman of the future for the New York Mets.
When it comes to wRC+, no prospect was better in the Eastern League of Double-A, where Baty led the league with his 160 wRC+. Baty got on base at a .406 clip and homered 19 times in 89 games. He now finds himself ranked No. 19 on our top 100.
The 23-year-old will become the starting third baseman for the Mets at some point, the only question is how early into this season before he grabs that position.
Francisco Alvarez: Speaking of top 20 prospects in baseball looking to start for the Mets, Francisco Alvarez checks in at No. 9 in our top 100, making him the second-highest ranked catching prospect in all of baseball. Alvarez needs the most seasoning of this trio, as he has the steepest learning curve defensively and the Mets aren't going to be keen on rushing his development.
Still, the offensive potential of the 21-year-old is going to become too tantalizing to pass up for the Mets, as he just hit 27 home runs in 495 plate appearances between Double-A and Triple-A in 2022. At some point this season, we are likely to see Alvarez back in Queens.
Ronny Mauricio: There is a very small chance we get to see Ronny Mauricio up with the big league club in 2023. He is blocked at shortstop with Francisco Lindor, and at third base with Escobar, Baty and even Vientos. Long flawed as a prospect, Mauricio is starting to come into his own at the right time and deserves some mention here, especially since he is on the 40-man roster.
Mauricio is coming off an MVP season in the Dominican Winter League, and just hit a ball 450 feet with an exit velocity of 110 mph in Spring Training.
Plate discipline has been issue for Mauricio, but if he improves his swing decisions and can get his on-base percentage up from the .296 mark he posted last season, there's a chance the 21-year-old could give Baty a run for his money at third base or could even find himself playing outfield in a corner.