Analysis
Milwaukee Brewers 2023 Season Preview
The Milwaukee Brewers enter 2023 with an intriguing mix of All-Star caliber talent and exciting prospects as they look to recapture a division title and make a run deep into October.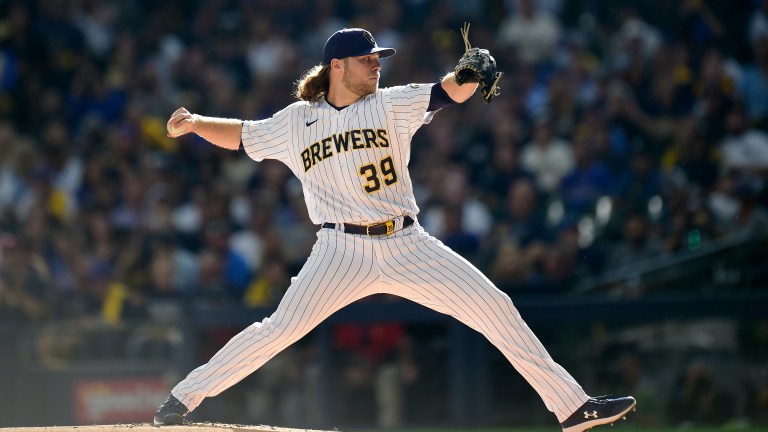 The 2022 season did not go as hoped for the Milwaukee Brewers. They missed the playoffs for the first time since 2017, after the St. Louis Cardinals beat them in the race for the NL Central division title, and they failed to beat out the Philadelphia Phillies for the final Wild Card spot.
However, the main storyline for the 2022 Milwaukee Brewers revolved around a perplexing move at the MLB trade deadline that ultimately altered the trajectory of their season. On August 1st, the Brewers traded their All-Star closer Josh Hader for closer Taylor Rogers, two prospects in outfielder Esteury Ruiz and starting pitcher Robert Gasser, as well as Dinelson Lamet – a player who was designated for assignment two days after the trade.
In a vacuum, the trade made sense to some degree. Milwaukee was going to have a hard time paying Hader with his impending arbitration in the offseason and upcoming free agency the year after.
The team was trying to capitalize on getting a return for Hader while they still could, but there were questions on if the value of the return was worth shaking up the clubhouse chemistry. The players felt they were good enough to compete for a World Series title, but the actions of the organization suggested otherwise.
Fast forward to March of 2023, and the Josh Hader drama is officially in the rearview mirror. Spring training is fully underway, and Opening Day is less than three weeks away. Milwaukee had a good amount of roster turnover this offseason. Yet, they still remain in contention to take home an NL Central division title.
Who were the key roster departures, and who was brought in to fill those holes? Let's take a look at their projected starting lineup.
Projected Starting Lineup
| 2023 Projected Lineup | 2023 Projected Bench |
| --- | --- |
| 1. Christian Yelich – LF | 1. Victor Caratini – C |
| 2. Willy Adames – SS | 2. Mike Brosseau – Utility |
| 3. Rowdy Tellez – 1B | 3. Brian Anderson – Utility |
| 4. William Contreras – C | 4. Keston Hiura/ Owen Miller – INF |
| 5. Jesse Winker – DH | |
| 6. Luis Urias – 3B | |
| 7. Garrett Mitchell – CF | |
| 8. Sal Frelick – RF | |
| 9. Brice Turang – 2B | |
The 2023 roster will look a bit different from last year's team, especially when it comes to the influx of youth the Brewers are anticipated to roll out this season. The goal of the offseason for the organization was to clear room for much-anticipated prospects who are ready to make an impact at the big league level while maintaining the foundation of their lineup to keep them in contention. This roster has an interesting balance of solid veterans and exciting prospects, and I do believe the roster is better than a season ago.
Outfield – Departures and Veterans
There were a few veterans that the team parted ways with this offseason. Milwaukee traded right fielder Hunter Renfroe to the Los Angeles Angels for a trio of pitching prospects, despite him being one of their most consistent hitters in 2022. Renfroe was scheduled to make roughly $11 million this season, and the team was ready to move on from his contract to ease their top prospects into significant outfield roles.
We all know what Christian Yelich is capable of. While I believe we won't see MVP Yelich again, 2023 could be Yelich's best offensive season since 2019. Last season, his peripheral stats still looked impressive. His hard hit rate and exit velocity statistics were some of the best in the league, despite only hitting 14 homers. Yelich still has the pop in the bat, he has just struggled to get the ball in the air.
His average launch angle in 2022 was 3.6 degrees, likely contributing to his brutal ground ball rate of 58.6%. Yelich's ground ball rate was the highest in the MLB by a significant margin. It's noteworthy that this is the first healthy offseason Yelich has had since fracturing his kneecap in September of 2019. Better days are ahead with Yelich as the full-time leadoff hitter for the Brewers- a change that suited him well last season.
The Brewers were ready to open the year with Tyrone Taylor as the starting right fielder. However, he is currently dealing with a sprained right elbow and is in danger of starting the year on the IL. While it is possible the team starts the year with newly acquired free agents Brian Anderson or Tyler Naquin in right field, Milwaukee could be turning the position over to anticipated prospects sooner rather than later.
Outfield – Prospects
Sal Frelick has produced at every level in the minors and simply knows how to hit. Brewers fans have become eager for his MLB debut, and for good reason. Frelick's batting average saw a bump with every promotion in the minors, and he shined in Triple-A last season. Slashing .365/.435/.508 with a wRC+ of 155, it can't be long before the team turns the outfield over to him.
Joey Wiemer is an electrifying prospect who should see some degree of playing time in 2023. He is a little bit more raw and has to iron out a few more areas of his game, specifically his bat-to-ball numbers. But he provides an explosive power bat with an excellent arm in right field. He'll most likely start the year in Triple-A, but it may not be long before he is called upon to take over right field for the Brewers.
Garrett Mitchell ended the year as the Brewers starting center fielder in 2022 and looks ready to thrive in that role this season. In his brief stint in the majors last year, the speedy outfielder stole eight bags, slashed .311/.373/.459, and had a wRC+ of 136 in 28 games. The X-factor for Mitchell will be if he can tap into his raw power. Mitchell has a good chance at securing the center field spot for the Brewers in 2023, especially if he continues to produce this spring.
Middle Infield
The Brewers also traded veteran second baseman Kolten Wong to the Seattle Mariners for outfielder Jesse Winker and infielder Abraham Toro. As was the case with Renfroe, it's anticipated the team turns over the second base position to one of their top prospects in Brice Turang – Milwaukee's first round draft choice from the 2018 MLB draft. Turang is continuing to improve at the plate in the minors, and he demonstrates excellent speed with a reliable glove. He should be a great complement to Willy Adames to man the middle infield for Milwaukee.
Willy Adames is coming off of his best power season to date. For the first time in his career, he hit over 30 home runs. He also posted an impressive .220 ISO and was one of the better defensive shortstops in the league. However, Adames' struggles boil down to his ability to put the bat on the ball. In 2022, he ranked in the 16th percentile in strikeout rate and the 24th percentile in whiff rate. Both are areas he has struggled with all throughout his young career.
Adames posted a career low BABIP number (.278) last season despite him posting a career-high in barrel rate (13%) and an impressive hard hit rate of 43.6%. One of the reasons the shift is being banned is to increase BABIP numbers leaguewide, and this could work right into Adames' favor. I believe Adames can post a BABIP number closer to his career average of .325, and I expect an even bigger step forward for him in 2023.
First Base And Utility Infielders
Rowdy Tellez will hold down first base in 2023. Tellez's 2022 campaign was better than his numbers suggest. He only hit .219 and had an OBP of .306, but his peripheral statistics and power numbers were impressive. He was above the 80th percentile in barrel rate, hard hit rate, average and max exit velocity, expected slugging, and expected wOBA. While he struggled to get on base, he still demonstrates a good approach at the plate. Posting an ISO of .242 and hitting 35 homers, Rowdy made impactful contact last season and will look to continue doing so in 2023.
Milwaukee parted ways with utility infielder Jace Peterson, who signed with the Athletics via free agency. There are several players the Brewers retained and/or added to fill that role in 2023. Aforementioned utility man Brian Anderson should find himself playing numerous positions this season, including some run at third base and second base. He and Mike Brosseau have been swinging a hot bat this spring and should provide reliable and much-needed depth throughout the season for Milwaukee.
The Brewers will also be without Andrew McCutchen, their primary designated hitter from last season, and Omar Narvaez, their starting catcher since 2020. Both elected for free agency and signed with other ball clubs this offseason. Yet, I believe the team did a great job in filling these positions via the trade market.
Catcher and DH
Jesse Winker should slot in as the primary designated hitter for the Brewers in 2023. Posting career-lows in OPS and wRC+ in 2022, Winker is a popular bounce back candidate and likely has better offensive days ahead of him at American Family Field.
While he has the ability to play in the outfield if needed, Winker is a liability defensively. Winker has never posted impressive defensive numbers in his six-year career. He has yet to rank higher than the sixth percentile in outs above average, according to Baseball Savant. Last season, Winker was in the first percentile in outfielder jump and in the third percentile in outs above average. Most of Winker's playing time should come in the designated hitter role for Milwaukee in 2023.
The most significant move for the Brewers was acquiring William Contreras from the Atlanta Braves. The team only parted with outfield prospect Esteury Ruiz and immediately got their starting catcher for the future. They received one of the best offensive catchers in the league while not taking a big hit to their big league roster or minor league system – a dream come true for any ball club.
Contreras' quality of contact numbers were impressive last season. His 13.4% barrel rate and 46.6% hard hit rate were some of the best in the league. He also finished 2022 with a wRC+ of 138 which was the highest among all catchers in the MLB (min 300 PA).
His offensive performance was the reason he was an All-Star in 2022. However, there is room for significant improvement when looking at his defensive numbers. Rating below average in pop time to second base and pitch framing in 2022, Contreras will turn to the excellent catching staff in Milwaukee to help improve his game behind the plate.
Biggest Roster Strength – Starting Rotation
Projected 2023 Starting Rotation
1. Corbin Burnes – RHP
2. Brandon Woodruff – RHP
3. Freddy Peralta – RHP
4. Eric Lauer – LHP
5. Wade Miley – LHP
Elite Top Of The Rotation
Needless to say, heading into the season with one of the best pitchers in the MLB is a major luxury. Corbin Burnes was an NL Cy Young winner in 2021, and he has finished in the top 10 in NL Cy Young voting three years in a row. Burnes is a walking Cy Young candidate and has been one of the most consistent starters since 2020. He features one of the best pitches in the sport with his cut-fastball and figures to be one of the most reliable starters in the league once again in 2023.
Milwaukee has one of the best duos atop their starting rotation in Corbin Burnes and Brandon Woodruff. Amongst all qualified pitchers in the MLB since the beginning of 2021, Corbin Burnes has the highest fWAR at 12.0 and Woodruff has the 11th highest fWAR at 8.3.
During that same time period, Burnes' K/9 of 11.63 and Woodruff's K/9 of 10.85 are the second and fifth-best, respectively, in the entire league.
Finishing fifth in Cy Young voting in 2021, Woodruff has been pivotal to the Brewers success over the past few seasons. He is elite at striking out batters and if he can remain healthy in 2023, he has the ability to finish in the top 10 in Cy Young voting once again. Burnes and Woodruff anchoring the top of the rotation should keep the Brewers in contention all season long.
Not to mention the potential that Freddy Peralta displays. Peralta had a stellar 2021 season, posting an ERA+ of 147, a K/9 of 12.16, and a 4.0 fWAR. He battled various injuries last season, throwing his 2022 campaign off. His peripheral stats, however, suggest it was still an a strong season for Peralta. He excelled at minimizing hard contact, ranking in the 93rd percentile in hard hit rate, 97th percentile in barrel rate, and was elite in generating swings and misses.
Bottom Of The Rotation
The top three in this rotation have as much potential as any in the entire league if they remain healthy. Moving to their fourth starter, Eric Lauer turned in an overall successful 2022 season. He pitched better in the first half of the season than in the second half, but still turned in an ERA of 3.69 and a WHIP of 1.22 on the year. Even if his numbers don't fly off the page, I believe Lauer can post similar-enough numbers in 2023 to be a sufficient number four for this Brewers rotation.
Wade Miley falls on the short list of players Milwaukee brought in via free agency this offseason. In 2021, Miley posted an ERA+ of 139. Unfortunately, last year he just couldn't stay on the mound due to injuries. While it wasn't the sexiest move, Miley has potential to be a solid back of the rotation starter if he can replicate those 2021 numbers.
This rotation should have a high floor and a high ceiling. The Brewers could be looking at another season of leaning on their starting pitching to carry them to a division title.
Biggest Roster Weakness – Bullpen
Projected 2023 Relief Options
1. Devin Williams – RHP
2. Matt Bush – RHP
3. Peter Strzelecki – RHP
4. Hoby Milner – LHP
5. Javy Guerra – RHP
6. Bryse Wilson – RHP
7. Joel Payamps – RHP
8. Adrian Houser – RHP
9. Aaron Ashby – LHP
10. Ethan Small – LHP
It feels strange to list their bullpen as the biggest weakness for 2023 considering it has been an area of strength for the past couple seasons. To be clear, there is not a lack of talent in Milwaukee's bullpen. They have a number of talented relievers who will be fighting for roster spots, along with exciting young players who should contribute in 2023. I am listing it as their biggest weakness because of the uncertainty surrounding the bullpen.
The Brewers lost a number of key bullpen pieces via free agency, including Brad Boxberger, Trevor Gott, Brent Suter, and Taylor Rogers. Those four pitchers combined for a total of 198 innings pitched out of the bullpen. That is a significant number of innings the Brewers will have to replace in 2023. With that being said, it helps the Brewers have one of the best closers in the sport to anchor the end of the bullpen.
Devin Williams had an unbelievable 2022 campaign. He features one of the best pitches in the sport in his air-bending changeup, and he has established himself as one of the best closers heading into 2023. In 1,068 total pitches thrown last season, Williams only allowed one barreled ball. He was practically un-hittable after the first month of the season. He didn't miss a beat once he became the full-time closer, following Josh Hader's departure, and I expect another elite season from Williams.
Setup Options
From there is where I start to have questions about how this bullpen will shake out. To start the season, it appears the setup role will belong to 37-year-old Matt Bush. Bush flashed potential in the second half of last season as he carries elite velocity on his fastball. Bush has the pitch arsenal to overpower batters. However, he was inconsistent in his outings for the Brewers and was susceptible to the long ball.  After August 2nd, the date he was acquired by the Brewers, his six home runs surrendered was the third-most among all relievers.
Peter Strzelecki is another player who could be poised for the setup job. He had a good showing in Triple-A last season posting an impressive strikeout rate of 41.7%, which was the best strikeout rate in the entire Triple-A (min 30 IP).
In his 30 outings for the Brewers last year, he posted an ERA of 2.83 and a WHIP of 1.23. He has an intriguing pitch arsenal, but he doesn't have significant big league experience and can struggle with command. For Strzelecki and Bush, a solidified role in the bullpen and a full offseason to prepare could help with consistency. While they have talent, we just don't know what to expect from them.
Left-Handed Relief Options
Adding a lefty bullpen arm was believed to be a top priority in the offseason for the Brewers. To open the year, Hoby Milner finds himself as the lone lefty in the Brewers bullpen. Milner may have been Milwaukee's under-the-radar MVP last season. He was constantly put into high-leverage situations, and continued to perform throughout the season.
Milwaukee did sign Justin Wilson to a one-year contract, who should give Milner company as an additional lefty in the bullpen. However, he will only be an addition for the second half of the season, as he underwent Tommy John surgery last June.
The Brewers have players within the system they may turn to as an alternative. One of those options is Aaron Ashby, a very enticing young pitcher in the Brewers system. Primarily a starter in 2022, injuries prevented Ashby from getting into a full-season groove. Even so, the Brewers signed him to a five-year contract extension last season. Ashby shows flashes of being the next great pitcher to come through the organization if he can remain healthy.
Unfortunately, Ashby is already battling injuries and set to miss the first couple months of the season with shoulder inflammation. Another option within the organization is Ethan Small, the team's first round draft pick from 2019. He projects as a long reliever in 2023 after coming up as a starter and finishing last season as a reliever with the Nashville Sounds.
There is talent up-and-down the Brewers bullpen. Yet, we simply don't know what roles guys are going to have and how they will produce in those roles. At the end of the season, I very well may look back and think it was foolish putting this as the team's biggest weakness. However, it is the area where I see the biggest question marks relative to the rest of the roster.
Final Thoughts
Overall, I am impressed with Milwaukee's offseason. I believe Matt Arnold improved this roster from a season ago. He paved a path for a number of anticipated prospects to make their debut in 2023, while retaining foundational pieces to keep the Brewers in contention.
This is an important season for Milwaukee. It is possible this is the final go with their three-headed monster at the top of the rotation. Peralta was recently extended and is under team control for a few more seasons. However, Burnes, Woodruff, and Lauer will all be eligible for free agency following the 2024 season.
Willy Adames will also be a free agent after 2024. Adames came into Milwaukee and immediately became a fan-favorite. He is not only a spark in Milwaukee's lineup, but he is a major contributor to the clubhouse camaraderie as well. He is arguably the ball club's most talented shortstop since Robin Yount and will demand significant financial commitment.
I'm not sure who the Brewers will retain out of that bunch, but that is a post-2023 problem for Brewers fans. Heading into this season, Milwaukee has the pieces to compete at an elite level while also grooming their prospects with valuable playing time and experience. Arguably their most talented roster in quite some time, Brewers fans should be optimistic and excited heading into the 2023 MLB season.