Analysis
Oakland Athletics 2023 Season Preview
A team squarely entrenched in a rebuild, the 2023 season is another chance to find a few future building blocks for the Oakland Athletics.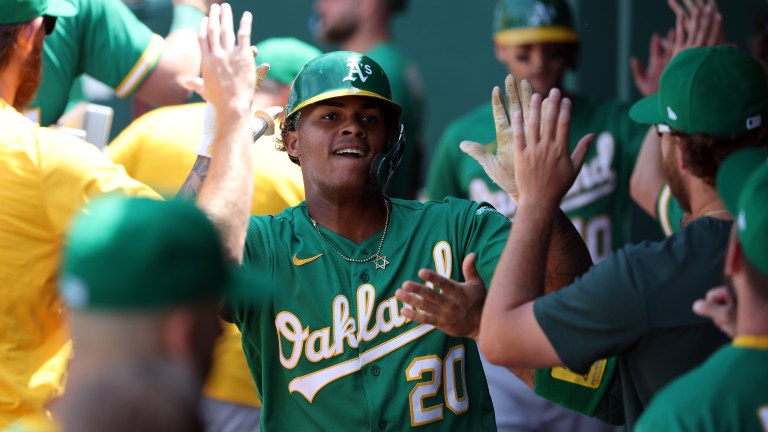 After a disappointing, yet expected, last place finish in 2022, the A's enter this season with similar expectations. Another year in their rebuild, and hopefully another year closer to competitive baseball. Although it may feel like Oakland is rarely competitive, this is a franchise with six postseason births since 2010. For a market like Oakland, that's not half bad. Not good, but not bad.
Oakland was not aggressive this offseason, making only a couple of moves that will factor into their big league roster. Trevor May, Kyle Mueller, Manny Pina, Jesus Aguliar, Jace Peterson, Aledmys Diaz, Esteury Ruiz and JJ Bleday will have a role in 2023. Shintaro Fujinami was brought over from Japan and will slot into the rotation as well.
Rotation Options
Paul Blackburn
James Kaprielian
Shintaro Fujinami
Kyle Muller
Ken Waldichuk
JP Sears
Drew Rucinski
Adrian Martinez
Luis Medina
A quick glance will show the A's do not have a true cce. Hell, you could argue you do not have even a true No. 3 starter for most teams. Paul Blackburn, a 2022 All-Star, broke out in a big way in the first half posting a 3.62 ERA with improved pitches across the board. The second half was not pretty, leaving more questions than answers on just how effective he can be.
Kaprielian does not have plus stuff, but a four-pitch mix that with reasonable success. Neither are long-term fixtures in the rotation.
Waldichuk, Mueller, and Sears are three lefties all recently acquired via trade with upside. Waldichuk (No. 60 prospect) debuted in 2022, pitching 34.2 innings to the tune of a 4.93 ERA. Not a 100 mph guy, as he relies on plus movement to get batters out. Throughout the minors he's shown the ability to strike batters out while also struggling with command at times.
Mueller, a former second-round pick by Atlanta, brings consistent minor league success and a few cups of coffee with the Braves. None of his pitches would grade out as elite yet they are still effective enough to get the job done. Oakland views each as a key piece of the rotation now, and well into the future.
Sears, 27, is a bit older for a prospect. He could not break into the Yankees rotation and was moved as part of the Montas trade to Oakland (along with Waldichuk, Medina, Bowman). Sears best pitch is his slider, that works off a fastball that sits 94. Less upside that the aforementioned lefties, Sears can still develop into a nice back of the rotation piece.
The wildcard here is 6'6″ Japanese rookie Shintaro Fujinami. The tall, lanky, righty has spent the past 10 seasons in Japan posting a 3.17 ERA with 1,357 strikeouts in 1,302.1 innings. Fujinami doesn't have the same buzz other predominant Japanese pitchers have had in the past, but a low-pressure situation in Oakland might be perfect for him. We will need to see him face more major league pitching before we really have an idea what he can become.
The last three on the list, Rucinski, Medina, and Martinez, will fill depth and back of the rotation roles. Rucinski returns to the states four years in the KBO with success. If the prospects are not quite ready, Rucinski could fill a rotation spot to start the season. Martinez is depth with an interesting changeup, but not much else. Medina is another prospect that will likely begin the season in the minors and could earn some innings.
Oakland should be focused on development this season. Finding innings, when ready, for their youngster should be priority number one. A few of these players could take major strides in 2023, and we havent even mentioned the non 40-man roster prospects. Even if the wins do not come, there's going to be intrigue around the rotation and a glimpse into the future.
Bullpen Options
Trevor May
Danny Jimenez
Sam Moll
Domingo Acevedo
Kirby Snead
Deolis Guerra
Zach Jackson
Chad Smith
Adam Oller
Drew Steckenrider
Adding Trevor May in the offseason flew under the radar. May brings eight years of experience to a bullpen that lacks a deep track record. In 2022 he posted a 5.04 ERA across 25 innings after having an ERA under 4.00 the four seasons before. Of course, ERA is not the best way to identify bullpen success. Regardless, May is a great add for a bullpen that needed a veteran.
Sam Moll and Danny Jimenez earned larger roles last season and both experienced success. Jimenez was trusted in high-leverage situations and I expect the same this season. Batters hit .095 with a 47.6% whiff rate off Jimenez's slider which led to most of his success.
Zach Jackson also had a sneaky good year in 2022. A 3.00 ERA and 2.78 FIP with a 12.56 strikeout per nine will play. Walks have always been the red flag with Jackson.
Adam Oller started 14 games for the A's last season, but trouble with control along with prospects coming up can see him moved to the bullpen. Filling the long reliver, spot starter role makes the most sense. Like Oller other rotation options could get bumped to the bullpen. Simply put, there's not enough high-end arms in the bullpen to be competitive in 2023, which is not surprising. Personally, I wouldn't worry too much about the bullpen at this point in the teams lifecycle.
Projected Lineup
C – Shea Langeliers
1B – Seth Brown
2B – Tony Kemp
3B – Jace Peterson / Kevin Smith
SS – Nick Allen
LF – JJ Bleday
CF – Esteury Ruiz
RF – Ramon Laureano
DH – Jesus Aguilar
Shea Langeliers impressed in his first season in the A's system. Across 92 games in Triple-A, Langeliers slashed .283/.366/.510 with 19 home runs earning him a late season call-up. I think the power will be there for Langeliers, but the swing-and-miss will determine his ceiling. With the departure of Sean Murphy, at-bats will be available. Manny Pina was added as a defensive-first back up. With a pitching staff as young and inexperienced as Oaklands, having a veteran in the room to help guide them, and teach Langeliers, was a smart move.
The infield consists of mostly stop-gap options as the new wave of prospects is just not quiet ready. Seth Brown has been an underrated power hitter the past two seasons. A player who also sees time in the outfield, Brown has back-to-back seasons of at least 20 home runs. Even at 30 years old he will not hit free agency until 2027. A player who could be a trade deadline candidate, although the fans in Oakland love him.
Another fan favorite, Tony Kemp is in his last season of team control. Kemp is a decent player but does not impact the baseball. Lower power, moderate speed, and an average to below average hit tool. Rookie Jordan Diaz is the next possibility at second. A contact hitter with a bit more power than Kemp who's had a wRC+ around 120 wRC+ at all levels.
Shortstop is the weakest position in my eyes. Nick Allen can flash some leather, but the bat does not look like it will allow him to stick at this level. Veteran Aledmys Diaz should see time all over the field, but especially at short. The once All-Star (!) profiles more as a utility player than a starter, which speaks to the lack of talent currently at short. Non-Roster invitee Tyler Wade could claim some innings. Yet another uninspiring option. Kevin Smith could fill innings at short but we will save him for the third base discussion.
A lot about Peterson is similar to Diaz. Can play all over, best served as a utility bench option. The hope is that Kevin Smith can come back healthy and take a major leap. His limited sample with the A's last season was disastrous. He has talent and showed that throughout the minors with the Blue Jays organization. I have hope he can be at least serviceable.
The last of the infield options are first base/DH candidates. Aging veteran Jesus Aguilar, Dermis Garcia, and Ryan Noda. We all know what Aguilar is (or was) but Noda and Garcia are worth keeping an eye on. Noda, the second overall pick in the Rule 5 Draft, will most likely stick on the roster. In the minors he's done nothing but hit homers, having 20 or more home runs in three different levels. If he can stick, it could make a Seth Brown trade more likely at some point. Garcia also has impressive minor league numbers including 31 home runs with the Yankees Double-A affiliate in 2021.
An overhaul of the outfield continues. Ramon Laureano is still out there, but who knows for how much longer. His trade value is difficult to read as his defense has taken a step back while his bat is around average. There's enough talent there for a bounce back and potentially a decent return if the A's decide to explore that option.
J.J. Bleday and Esteury Ruiz both come to Oakland with limited experience and very different skill sets. Bleday, acquired for A.J. Puk, finally flashed his ability in 2022 that once made him a top five selection. With the Marlins Triple-A affiliate, Bleday hit 20 home runs in 85 games while walking at a 16% clip. His bat is still far from proven, but everyday at-bats and a change of scenery is exactly what was needed.
Ruiz brings elite speed to center. We are talking 40-50 stolen base potential, especially with the rule and base changes. He has enough power to keep him in the lineup and very well could be the answer in center going forward. Of course, that would push Christina Pache to the bench or a new team. Pache has yet to live up to his prospect hype. A Gold Glove caliber outfielder who hits far too many groundballs. It's make or break time as he is out of options.
One outfielder that might surprise some people is Brent Rooker. Rooker has put up insane minor league numbers including 19 home runs in 61 games with the Padres Triple-A affiliate last season. He has yet to stick in the majors due to striking out around 30% of the time. A bat with this kind of pop should find a roster spot on a team like Oakland.
Oakland is doing exactly what they should be doing with the outfield. Bringing in young, talented players that either needed a change of scenery or were blocked by veterans. Not 19-year-old prospects either. Players who can start contributing right away and even if only one hits, they should be happy with it.
Prospects Who Could Contribute in 2023
Tyler Soderstrom (1B/C) – Soderstrom is one of my favorite prospects in baseball. The number 71 prospect on the 2022 list, expect a large jump on the 2023 list. Soderstom cruised through Single and Double-A before finishing the year in Triple. An advanced hitter for his age, Soderstrom will likely start in Triple-A but will be knocking at the door by mid-season.
Zack Gelof (3B/2B) – The A's 2021 second-round pick has had a fantastic start to his professional career. After finishing 2022 in Triple-A, he'll likely start there in 2023. I doubt the A's will rush him, but he has the bat to make it in the majors.
Lawrence Butler (OF) – An early spring training fan favorite, Butler brings a swagger and spunk that is refreshing to see. The 22-year-old has yet to play above High-A but is worth mentioning considering he is already on the 40-man roster. The flashes show Butlers potential, but he will need a lot of polishing before he's truly big league ready. Makes this list due to his roster position.
Conner Capel (OF) – Capel very well could be on the Opening Day roster. In fact, many are predicting exactly that. With two options left, they could start him in the minors. Capel came up in the Guardians and Cardinals organizations, two of the best for development. In a short stint in the major last season Capel put up a .308/.356/.519 slash line good for a 149 wRC+.
Outlook
Oakland is still a couple years away from being considered a contender. A tough division with several teams going all-in to compete for a World Series doesn't help. The roster turnover is not over, and some of their top hitting prospects are getting close.
If the rotation can see a couple young arms blossom, and the injured prospect arm have a healthy season, I will feel much better about their future. Rebuilds are never fun, but Oakland has shown they can do it pretty well in the past. We'll see how long it takes for them to turn it around this time.