Analysis
Ohtani Dethrones Trout With Momentous WBC Strikeout
As Shohei Ohtani shut down Mike Trout for the final out of the World Baseball Classic, the tides of baseball stardom shifted.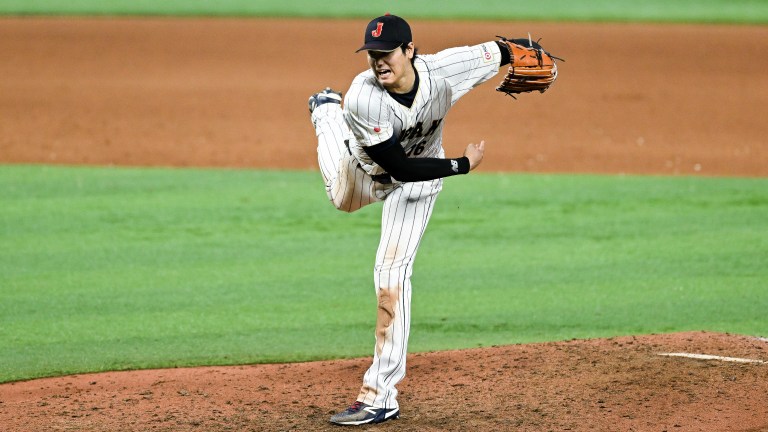 Shohei Ohtani is the greatest baseball player on the planet. That isn't exactly a controversial statement.
Ohtani was the unanimous AL MVP in 2021 and the runner-up the following season. He can throw the ball 100 mph and hit the ball 110 mph; most ballplayers can't do either. The 28-year-old Japanese phenom is often labeled the next Babe Ruth, and as he continues to dominate, the comparison only grows more apt.
FanGraphs has Ohtani projected to be the most valuable player in the sport next season (per their Depth Chart projections). The projections from MLB.com have reached the same conclusion.
The last man to hold the title of "greatest player on the planet" is a huge supporter of Ohtani's. I am referring, of course, to Angels superstar Mike Trout. The 10-time All-Star and three-time MVP has been a surefire Hall of Famer since his 26th birthday and has accumulated 82.1 fWAR thus far in his 12-year career. He is still just 31 years old and coming off a six-win season. He was never going to be easy to dethrone.
Indeed, had Trout remained healthy last season, he would have been on pace for 8.2 fWAR in 162 games. That's not so far off from Ohtani's 9.4 fWAR in 157 contests. FanGraphs Depth Charts have Trout projected for 6.6 WAR this season, not so far behind Ohtani's projection of 7.8 WAR. In other words, Trout didn't fall off a cliff or disappear. Thus, while Ohtani has claimed his title, it's not so clear when the transference took place. When did "greatest player on the planet" begin to refer to the younger Ohtani instead of his elder teammate?
You could say it happened when Ohtani won the 2021 AL MVP. He had finally proven he could hit and pitch at an elite level over a full, healthy season. But Trout was limited to just 36 games that year, and he very likely could have challenged for the MVP had he not suffered a debilitating calf injury in mid-May.
Perhaps, then, you might say Ohtani earned the title when he followed up his MVP campaign with an equally impressive season while Trout languished on the injured list for another year. That's a fair argument, but it still doesn't answer the question at hand: when was the precise moment Ohtani stole the crown? Was it when he finished as the MVP runner-up? That's an impressive accomplishment, don't get me wrong, but it's also a little anticlimactic. A second-place finish? Ohtani deserves a better moment than that.
And a better moment he would get.
It happened last night, in the World Baseball Classic final. With Team Japan leading Team USA 3-2 entering the ninth, Ohtani jogged out of the bullpen. He needed to set down three batters to seal the victory for his country. A seven-pitch walk and a double play later, and the only thing standing between Ohtani and glory was his longtime teammate. Trout entered the batter's box, and the face-off commenced.
Ball one, a sweeper down low.
Strike one, a swinging strike on a fastball down the middle.
Ball two, this one outside.
Strike two, another big whiff.
Ball three, way off the plate.
Full count. Trout has a career 191 wRC+ when the count is full. Ohtani has a career 6.25 FIP when the count is full. The odds weren't in Ohtani's favor.
But Ohtani pulled it off.
Strike three. Whiff. Ohtani switched up his speed and caught Trout completely off guard. The greatest player on the planet pumped his fist in delight, while the last man to hold that title grumbled all the way back to the dugout.
Shohei Ohtani is the greatest player on the planet. He doesn't hold that title because he struck out Mike Trout in the World Baseball Classic. No, it's an honor he has slowly earned throughout his professional career. Yet if we can pinpoint the exact moment Ohtani officially claimed the throne, it's that strikeout right there. It was both a major accomplishment and a symbol of an even bigger accomplishment.
You couldn't ask for a better story.