Analysis
St. Louis Cardinals 2023 Season Preview
After winning an NL Central crown, the Cardinals return with most of their core intact, ready to compete with the best of the best.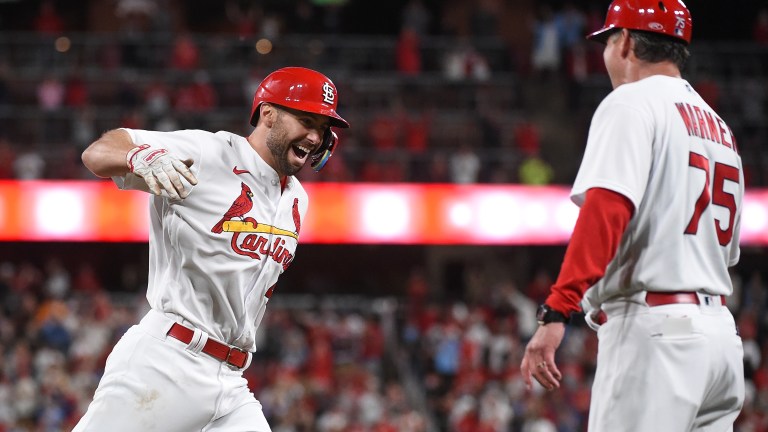 Coming off of an NL Central crown and an abrupt exit from the playoffs in 2022, the St. Louis Cardinals are back as the division favorites, albeit with a slightly altered roster.
Gone are franchise legends Yadier Molina and Albert Pujols as the Cardinals will look to $87.5-million man Willson Contreras to take over duties behind the plate and various young emerging players to fill the hole left by Pujols' departure.
While St. Louis was pretty quiet this offseason, outside of the Contreras addition, it brings back its two top-three MVP finishers in Paul Goldschmidt and Nolan Arenado, who will look to repeat their spectacular seasons and push for their first-career World Series win. 
Projected Starting Lineup
Tommy Edman – SS
Tyler O'Neill – CF
Paul Goldschmidt – 1B
Nolan Arenado – 3B
Willson Contreras – C
Lars Nootbaar – LF
Jordan Walker – Dh
Brendan Donovan – 2B
Dylan Carlson – RF
The Cardinals look to have one of the deepest lineups in MLB.
After finishing fifth league-wide in wRC+ in 2022, St. Louis could be turning in an even better offense in 2023.
While Arenado, Goldschmidt, Donovan and Nootbaar posted wRC+'s north of 120, no other player on last year's roster — other than Pujols — surpassed the 110 mark. 
With those four seemingly written in pen on the Opening Day lineup card, let's take a look at some of the players who are either looking to establish themselves as everyday players, take the next step or have a bounce-back season.
Leading the way in the bounce-back category is 2021 eighth-place MVP vote finisher O'Neill.
Fresh off a dominant showing for Team Canada at the World Baseball Classic, in which he slashed .615/.722/.769 and looked very comfortable in the heart of the order, O'Neill will try to reclaim his spot as one of baseball's emerging stars after a down 2022. 
Edman, meanwhile, is coming off the best season of his career, earning 5.6 fWAR despite his production at the plate wavering throughout the year.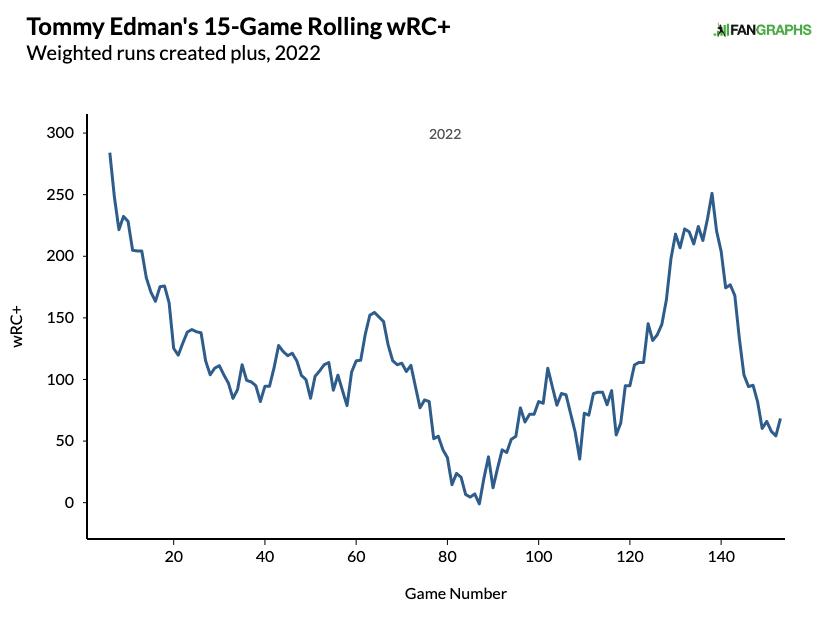 If he can find a way to level out his production over the course of an entire season, he could emerge as one of the top two-way shortstops in the game.
Joining that duo as an established big-league contributor is Contreras. One of MLB's top backstops since entering the majors in 2016, Contreras will take over a prime run-producing spot in the lineup — likely following Goldschmidt and Arenado.
Once you get to the bottom of the Cardinals' lineup, questions remain, and players are still fighting for playing time. 
While Walker has been one of the most impressive hitters this spring, slashing .321/.333./.571 with a pair of stolen bases, the question of his fit on the roster persists.
In her latest roster projection, Katie Woo of The Athletic said, "Walker would not make the Opening Day team to be a bench bat or to serve as a full-time designated hitter. If he makes the team, the internal preference is Walker will play every day as a starting outfielder."
It might make sense to rotate the four-man outfield group through the DH spot, but then that essentially takes away room for Donovan to move around — he played at least 19 games at four positions last year, including left and right field — which in turn takes opportunity away from Nolan Gorman, who has also been extremely impressive this spring with a .310/.408/.548 slash line.
Having too much talent is definitely a good problem to have, and no matter what lineup they decide to run out on a day-to-day basis, the Cardinals will feature one of the toughest groups for opposing pitchers to get through.
Projected Bench
Nolan Gorman, Juan Yepez, Andrew Knizner, Taylor Motter or Paul DeJong (once he returns from injury)
Depending on how you set up the starting nine, St. Louis' bench is going to have multiple starting-level options available off the bench each game.
Gorman, as discussed earlier, has impressed so far this spring and will look to build upon his rookie season, which saw him hit 14 home runs in 89 games and post a 107 wRC+. While his quality of contact numbers were solid, Gorman struck out in 32.9% of his plate appearances and played a well-below-average second base, losing him playing time throughout the year and eventually earning him a demotion to Triple-A. 
If Gorman can continue his solid spring and maintain his improved approach — walking 14.3% of the time — he could earn time at DH or across multiple infield spots if needed.
Yepez is also coming off a solid rookie season with the Cardinals, finishing with a 109 wRC+ over 76 games while spending time at all four corner positions and DH. He also had a huge go-ahead, pinch-hit home run in Game 1 of St. Louis' Wild Card Series with the Phillies. 
Walker's emergence will eat into Yepez's playing time, but the 25-year-old can still be a valuable multi-position bench bat over the course of 2023.
Knizner will be Contreras' backup. His familiarity with the pitching staff will likely earn him a spot on the roster, as he did appear in 90 games behind the plate in 2022.
DeJong has dealt with multiple injuries this spring, costing him a chance to solidify his spot on the roster, and he likely won't be ready for March 30th.  
This opens the door for the journeyman, Motter, to earn a place on the 2023 Cardinals. A non-roster invitee, Motter has put together a solid spring, slashing .239/.352/.435 with three home runs.
Projected Starting Rotation
Adam Wainwright – RHP
Miles Mikolas – RHP
Jordan Montgomery – LHP
Jack Flaherty – RHP
Steven Matz – LHP
Adam Wainwright, Miles Mikolas, Jordan Montgomery, Jack Flaherty, and Steven Matz.
The Cardinals' rotation enters the 2023 season fairly set in stone.
After St. Louis starters finished 15th in ERA a year ago, the group will look to improve behind a full season from Montgomery and return to form for Flaherty and Matz.
Wainwright and Mikolas will look to build upon solid outings with Team USA at the World Baseball Classic, where they both posted sub-2.50 ERAs in a combined 14 innings of work.
With both Molina and Pujols retiring, you have to wonder if this will also be the last go-round for Wainwright. Now 41 and entering year 18, the Cardinals legend has found a way to re-establish himself over the past three seasons.
Wainwright and Mikolas were two of the most effective pitchers to have a strikeout rate below 20% in 2022 — likely thanks to the Cardinals' outstanding defense — so it will be worth keeping an eye on how the shift restrictions influence the duo in 2023.
That sentiment can probably be shared across all of St. Louis' pitchers, as the staff outperformed its peripherals last season.
One example of this may come from Montgomery, whose ERA dropped once he joined the Cardinals, despite actually giving up more hard contact.
Even without knowing the overall impact of the shift restrictions, all three of Wainwright, Mikolas and Montgomery have track records of success, and they should be able to eat up innings and give St. Louis a chance to win when they take the mound.
The last two spots in the rotation may have a larger impact on the season as a whole.
While his 2019 peak may be an unrealistic expectation at this point, Flaherty will get his chance to prove that he can be a reliable rotation arm once again. In 2022, he posted a 4.25 ERA over 36 innings while battling shoulder pain.
Matz, meanwhile, fought through injuries of his own in 2022 and has responded with a strong spring so far. He has struck out 12 in 11.2 innings and posted a 1.54 ERA through his first three outings while allowing only seven hits and three walks.
After being forced to rely on mid-season acquisitions Montgomery and José Quintana to bolster the rotation down the stretch last season, the Cardinals are hoping that the in-house options will prove more than capable of helping them bounce back from last season's disappointing playoff exit.
Projected Bullpen Options
Ryan Helsley – RHP
Giovanny Gallegos – RHP
Andre Pallante – RHP
Jordan Hicks – RHP
Genésis Cabrera – LHP
Chris Stratton – RHP
Drew VerHagen – RHP
Jake Woodford – RHP
Wilking Rodríguez – RHP
Zack Thompson – LHP
Teams will go through more than 20 relievers during any given season, but these 10 are lined up to get the bulk of the work for St. Louis this year. 
Led by one of the best eighth and ninth-inning duos in MLB, Helsley and Gallegos, the Cardinals will look to get better production when they bridge to those two in 2023.
Pallante may have gone under the radar a year ago, posting a 3.17 ERA over 108 innings while filling in as a spot starter. While he did struggle with walks while away with Team Italy at the WBC, he hasn't allowed a run in three spring appearances for the Cardinals.
All three of Woodford, Stratton and Thompson finished with sub-3.00 ERAs in 2022, but only Woodford logged more than 35 innings. They will likely get expanded roles this year and, in the case of Woodford and Thompson, have only strengthened their cases with strong spring performances.
| | | | | | | |
| --- | --- | --- | --- | --- | --- | --- |
| Name | IP | H | SO | BB | ERA | WHIP |
| Jake Woodford | 17.2 | 13 | 18 | 5 | 2.04 | 1.02 |
| Zack Thompson | 9.1 | 5 | 9 | 3 | 0.00 | 0.86 |
As two of the harder throwers in the St. Louis 'pen, Hicks and Cabrera will look to deliver on the promise they've flashed to this point in their careers.
Top Prospects Who Could Help in 2023
While many Cardinals' top prospects have slowly graduated, there are still a few players with prospect eligibility that could help the team contend in 2023.
Jordan Walker: We already discussed Walker and his place on the roster, but it's clear that the 20-year-old is ready to contribute at the big-league level.
After tearing up AA to the tune of a 128 wRC+ in 2022 with 19 home runs and 22 stolen bases, Walker should be considered one of the NL Rookie of the Year favorites, even if he doesn't crack the Opening Day roster.
Alec Burleson: After debuting in 2022, Burleson could earn a spot on the Opening Day roster, but he struggled in his 53 plate appearances last season and would have to out-hit Yepez this spring to earn that spot — something he hasn't done so far.
But with any injuries, Burleson may be first in line to get the call. He slashed .331/.372/.532 with 20 home runs at Triple-A last year, and his ability to hit for contact and power could be a valuable addition to the lineup if he can improve in his second go-round in the big leagues.
Matthew Liberatore: Another prospect that debuted in 2022, Libaratore also struggled with the MLB club. He may be the first call-up in the case of injury/underperformance in the rotation, but he hasn't necessarily dominated throughout his years in the minors and may not profile as the type of arm that could be a real difference-maker in a postseason run.
Ivan Herrera: Like Liberatore and Burleson, Herrera struggled in his first trip to the majors in 2022. While he only got 22 plate appearances, he struck out in 36.4% of them and only recorded two hits. After being blocked by Molina, it appeared he may have had some opportunity coming into 2023, but the addition of Contreras will make it hard for him to get the lion's share of playing time behind the plate in St. Louis once again.