Analysis
Kansas City Royals 2023 Season Preview
The Kansas City Royals aren't playing for October, but they have an exciting crop of young players to keep an eye on this season.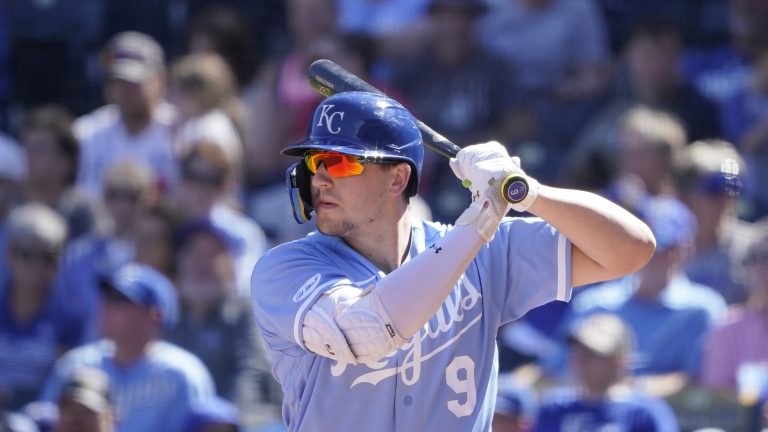 The Kansas City Royals weren't very good last season. They won't be good this season either. That may sound blunt, but it's the truth, and there's no point in dancing around the obvious.
I don't mean to be a jerk here. There's still a lot to like about this Royals team. Bobby Witt Jr. and MJ Melendez look like stars in the making. The rotation features some fascinating young arms and the most fascinating veteran in the sport. Vinnie Pasquantino has made his way into my heart with his big bat and even bigger personality.
All I'm trying to say is that if we're going to talk about the Royals' 2023 season, the number of games they win or lose doesn't matter. We can't judge this team's success on their win-loss record because we already know it won't be pretty.
So what are we looking for from the Royals this year? Witt and Melendez need to take another step forward. Brady Singer needs to prove his 2022 performance was no fluke. Top prospects like Maikel Garcia and Nick Loftin need to earn their spot on the big league roster.
Finally, the new coaching staff and front office must prove they were hired for a reason. The Royals fired veteran manager Mike Matheny and longtime GM Dayton Moore last fall. New skipper Matt Quatraro and new president of baseball operations J.J. Picollo are steering the ship now, and the 2023 season will be their first chance to make a good impression.
Projected Starting Lineup
PROJECTED LINEUP
1. MJ Melendez – LF
2. Bobby Witt Jr. – SS
3. Salvador Perez – C
4. Vinnie Pasquantino – 1B
5. Franmil Reyes – DH
6. Edward Olivares – RF
7. Kyle Isbel – CF
8. Hunter Dozier – 3B
9. Michael Massey – 2B
This lineup ain't great. Vinnie Pasquantino can really hit, and Salvador Perez is good for 20+ home runs, but Melendez and Witt have yet to prove they can pack a punch at the MLB level, and there's a steep drop-off after the top four batters in the order.
Franmil Reyes is looking to bounce back, but he struggled mightily at the dish last season. Hunter Dozier, meanwhile, is trying to return to form after two difficult years at the plate. Edward Olivares impressed in a small sample last season, but he's far from a sure thing. Kyle Isbel is a glove-first center fielder, while Michael Massey has yet to make consistent contact in the majors.
Catcher
Salvy will be catching for this team until his knees fall off, but Melendez can help shoulder the load. When Perez is catching, Melendez will play the outfield. When Melendez is catching, Perez will DH.
Infield
Vinnie Pasquantino earned the Opening Day first base job following his strong rookie campaign. He'll be firmly entrenched at first until Nick Pratto proves he's ready to hit major league pitching. When that day comes, I expect Pratto will take over at first and Pasquantino will become the regular DH. Pratto has demonstrated natural defensive acumen at first base.
Second base now belongs to Michael Massey, although Nicky Lopez will get his fair share of reps out there too. Lopez is a whiz with the glove, but he's failed to hit MLB pitching with any consistency. To be fair, Massey has yet to do much damage against MLB pitching either, but he deserves more time to develop his hit tool at the big league level.
Bobby Witt Jr. will get a full season to prove himself at shortstop, which the Royals confirmed when they shipped Adalberto Mondesi off to Boston. Witt has the skills to be an excellent hitter at short, but he needs to demonstrate he can handle the position defensively. If he continues to struggle, top prospect Maikel Garcia is an option to take over, with Witt sliding to third.
And speaking of the hot corner, the Opening Day third baseman for the Royals looks to be Hunter Dozier, but his grasp on the position is tenuous at best. Dozier has been one of the worst players in baseball for the last two seasons, with an 85 wRC+ and -2.0 fWAR in 273 games. The Royals are still hoping he can regain his 2019 form, but those days are getting further and further behind him. The leash should be short on Dozier this year.
Outfield
Melendez needs time to adjust to the outfield. After all, it's not often you see a catcher transition to the outfield, and Melendez did so on the fly. All the same, the Royals believe he can become a capable defensive outfielder with enough practice.
Thankfully, Kansas City has a talented center fielder to help Melendez cover ground. Kyle Isbel is an excellent defensive player with good speed and strong instincts. His offense was hard to watch last season, but even if he struggles at the plate, he can help the team with his glove.
The final piece of the outfield puzzle is Edward Olivares, who broke out last year in his third MLB season. Olivares isn't a spectacular player on either side of the ball, but he has the skills to be an above-average performer at the plate and the arm to be a capable defender in right.
Designated Hitter
I might be going out on a limb here, but I think Franmil Reyes can earn a spot in the Opening Day lineup. He's currently in camp on a minor league deal, but he's hitting well this spring. Reyes struggled last season, but he's just one year removed from a 30-homer season with the Guardians, and he's still just 27 years old. He's a great bounceback candidate.
Salvy will also see some time at DH, as could Pasquantino and Melendez.
Projected Bench
Freddy Fermin (C), Nicky Lopez (IF), Nate Eaton (OF), Matt Duffy (IF)
It's great for the Royals to have two starting catchers, because they won't lose a step when either needs a day off. However, putting both your catchers in the starting lineup every day is risky, so the Royals would be wise to carry a third-string catcher. That's where Freddy Fermin comes in. He's not a top prospect who needs regular playing time, but he can play capable defense behind the plate when called upon.
Lopez won't be a starter this season, but he should get plenty of playing time filling in around the infield. With a glove this good, he won't just waste away on the bench:
Nate Eaton will get some playing time in the outfield, especially when Melendez is behind the dish. He can also fill at third, where he spent most of his time in the minor leagues.
Finally, Matt Duffy is my guess to earn the last spot on the bench. He's in camp as an NRI, and he's playing well. Duffy is a veteran who can cover first, second, or third, and he offers a bit of offensive upside to boot.
Position Player Depth
Drew Waters (OF), Jackie Bradley Jr. (OF), Samad Taylor (UTIL), Maikel Garcia (IF), Nick Pratto (1B/DH)
Many in the know had Drew Waters penciled in for an Opening Day outfield gig before an oblique injury set him back. He'll enter the mix once he's healthy.
Jackie Bradley Jr. is in camp as an NRI, but I just don't see a place for him on the roster. He's a non-factor with the bat, and while his defense is excellent, the Royals already have a talented defensive center fielder. If he sticks around in the minors, he can probably make his way to Kansas City later in the year. The Royals are low on OF depth on the 40-man.
Samad Taylor could earn a bench role out of camp, but I think he starts the year in Triple-A. He's a versatile defender, and he'll earn a call-up eventually.
Garcia and Pratto won't be on the team right away, but both can make the majors with a strong start at Double-A. Garcia is a top prospect and Pratto is a former top prospect, and both could help the big league club at some point this season.
Projected Rotation
Starting five
Rotation Depth
1. Brady Singer (RHP)
Ryan Yarbrough (LHP)
2. Zack Greinke (RHP)
Kris Bubic (LHP)
3. Jordan Lyles (RHP)
Alec Marsh (RHP)
4. Daniel Lynch (LHP)
5. Brad Keller (RHP)
Zack Greinke may be the leader of this staff, but Brady Singer is the ace. Singer took a big step forward last season, tossing 153.1 IP with a 3.23 ERA and 2.9 FIP.
Greinke is Greinke, and I'd expect another solid season out of him. He's no longer a stud, but the Royals should be able to count on him for 120+ IP with an ERA in the mid-4s.
Jordan Lyles is on this team to eat innings. He has started 62 games over the last two years, and he's rarely ever injured. He won't be a star, but a team like the Royals will benefit from his durability.
The back of the rotation is a little less certain, but I think the final two spots go to Daniel Lynch and Brad Keller. The Royals need at least one lefty in the rotation, which means either Lynch, Kris Bubic, or Ryan Yarbrough. I think Yarbrough ends up in the bullpen, where the Royals could use a veteran arm, and Lynch has a little more upside than Bubic.
Then there's Brad Keller, who lost his rotation spot last year after some dreadful starts in the second half. Keller is a risk, but it wasn't so long ago that he looked like an above-average starting pitcher. He's been working on a new pitch this winter, and I think his track record warrants him another shot in the rotation.
Projected Bullpen
| | |
| --- | --- |
| Opening day bullpen | DEPTH |
| Scott Barlow | Richard Lovelady |
| Aroldis Chapman | Collin Snider |
| Ryan Yarbrough | Jose Cuas |
| Dylan Coleman | Nick Wittgren |
| Amir Garrett | Ryan Weiss |
| Taylor Clarke | Brooks Kriske |
| Josh Staumont | Evan Sisk |
| Carlos Hernández | Max Castillo |
If one thing is certain about the Royals bullpen, it's Scott Barlow. Barlow has been phenomenal over the past two seasons, making 140 appearances with 40 saves and a 2.30 ERA. Even with the arrival of veteran closer Aroldis Chapman, the ninth inning belongs to Barlow. I wouldn't be surprised if Barlow is an All-Star this season – after all, the Royals need someone to represent them in the game.
After Barlow, the questions start to pop up. Chapman has an incredible track record, but last season was a disaster for him, and I have to admit I was surprised he didn't retire this offseason after the way his 2022 season ended.
Dylan Coleman had a fine season last year, but his 4.38 xFIP was a whole lot higher than his 2.78 ERA, and his 4.90 BB/9 hardly inspires confidence. I expect he'll be a fine bullpen arm, but he's far from a fearsome option for the eighth inning of a close ballgame.
Amir Garrett is another name to watch. He's been a strong reliever in the past, but his 2022 season was bizarre. His strikeout rate plummeted and his walk rate was ugly, but he somehow managed to make 60 appearances without allowing a single home run.
Josh Staumont will look to bounce back to his 2020-21 form after an injury-riddles 2022 season. Taylor Clarke, meanwhile, took a step forward last season and will look to do so again in 2023.
Top Prospects To Keep an Eye On
Maikel Garcia, Alec Marsh, Nick Loftin, Tyler Gentry
Garcia is one of the most promising prospects in the system. He had a taste of the big leagues last year, but he could use a bit more seasoning at Triple-A. If he forces his way to the majors, expect him to split his time between shortstop and third base.
Alec Marsh earned a late-season promotion to Triple-A last September despite his poor performance for most of the year. With a better performance this season, he could be an option for the rotation by the summer.
Nick Loftin struggled to hit last year at Double-A and struggled even more after a promotion to Triple-A. Loftin is a shortstop, a position where the Royals already have plenty of options, but he's also a capable defender in center field, so he could earn a call-up if his offense improves and the Royals need depth in the outfield.
Finally, there's corner outfielder Tyler Gentry. He had a huge season with the bat last year, and if he keeps it up, he could force his way to the show.
Outlook
This Royals team isn't going to win a lot of games. Thus, their win-loss record cannot be the barometer for their success. Instead, the Royals will hope to see their young stars grow, their top prospects progress, and their coaching staff settle into place.