Analysis
Houston Astros 2023 Season Preview
The reigning World Series champs will be without Jose Altuve to start the season, but still open 2023 as the clear favorites to win it all.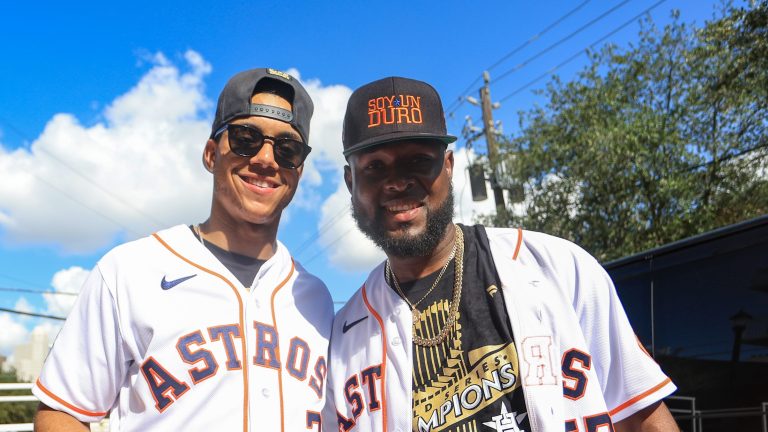 Written By: Tomas Romo
The Astros are on the midst of creating a dynasty in Houston. They won the American League pennant in 2021 and in 2022, capping it off with a World Series win over the Philadelphia Phillies.
Their window is far from closing, they have one of the deepest lineups in baseball and have some of the best young arms in the game. Houston isn't going anywhere and they are more than capable of going back to the World Series this season.
Even after winning the World Series the Astros decided to remain aggressive this offseason. They added two major leaguers to their roster in former White Sox first baseman Jose Abreu on a three-year deal and grabbed left-handed pitcher Matthew Gage from Toronto. Their biggest wins however came from their extensions and re-signings.
The team brought back outfielder Michael Brantley, signed Cristian Javier to a five-year extension, and re-signed Rafael Montero for another three years. All three of those players were pivotal to Houston's success over the last couple of years and the Astros are primed for another run.
Rotation Options
Framber Valdez, Christian Javier, Luis Gracia, Jose Urquidy, Hunter Brown, Lance McCullers Jr.*
Framber Valdez has become one of the best pitchers in baseball over the last two years and will now be the Astros No. 1 option in 2023 after the departure of Justin Verlander. Valdez made 31 starts last year, pitching to a 2.82 ERA across 201 1/3 innings pitched. He went on to win both of his starts in the World Series, allowing two runs over 12 1/3 innings pitched.
Lance McCullers Jr. will be sidelined to start the season and it's expected for rookie Hunter Brown to fill in for him in the rotation. Brown appeared in seven games last year, going 2-0 with a 0.89 ERA, 1.08 WHIP and 9.7 strikeouts per nine innings.
Fresh off his $64 million extension, Cristian Javier will be the No. 2 option going forward, he struck out 194 batters in 148 2/3 innings and he was lights out in the postseason as well. He allowed only one hit and no runs over his two playoff starts last year. Javier is expected to make an even bigger leap this season and solidify himself as a top 20 starter in the game.
Luis Garcia is one of the reliable No. 3 starters in the game. The 26-year old finished last season with a 3.72 ERA, eclipsing 155 innings pitched for the second season in a row.
Jose Urquidy on the other hand didn't make the postseason roster and could see himself bounced out of the rotation when McCullers comes back. If Hunter Brown pitches to his potential, Urquidy could find himself in the bullpen or with another team when the season ends. Urquidy is a dependable end of the rotation player, he managed to have a sub-4.00 ERA over the last two seasons but isn't a pitcher you expect to go deep into ballgames.
Bullpen Options
Ryan Pressly, Matthew Gage, Rafael Montero, Hector Neris, Bryan Abreu, Ryne Stanek, Phil Maton, Seth Martinez, Brandon Bielak
From top-to-bottom this is one of the best bullpens in baseball. They have one of MLB's best closers in Ryan Pressly, the 34-year-old right hander finished 2022 with 33 saves and a 2.98 ERA. Rafael Montero is a great setup man to Pressly and commanded the later innings, striking out 73 batters in 68 1/3 innings pitched last year.
You can't forget about Ryne Stanek and Phil Maton as well. Both of those pitchers have some of the dirtiest pitches in the game. Stanek's split-finger is thrown extremely hard and it generates a high-number of swing and misses. His fastball velocity was in the top three percent in the MLB last year and his splitter's break finished in the top eight percent.
Phil Maton became one of the Astros' more reliable pitchers since being acquired from Cleveland in 2021. He missed the postseason last year after breaking his hand but pitched well before his injury finishing with a 3.84 ERA.
Hector Neris and Bryan Abreu are both solid bullpen arms as well, with each playing a vital role in their World Series run.
Projected Lineup
C – Martin Maldonado
1B – Jose Abreu
2B – Jose Altuve
3B – Alex Bregman
SS – Jeremy Pena
LF – Michael Brantley
CF – Chas McCormick
RF – Kyle Tucker
DH – Yordan Alvarez
Opposing teams will fear this lineup in 2023. However, it will take a couple months for Houston to be fully healthy. Jose Altuve broke his hand in the World Baseball Classic and Michael Brantley is still recovering from his offseason shoulder surgery. It's expected for Jake Meyers to potentially man down left field and utility man David Hensley is expected to see a lot more playing time with Altuve sidelined.
Houston had five players make the All-Star team last season and all eyes will be on Yordan Alvarez this year. The Cuban slugger slashed .305/.542/.913 last year, smashing 37 homeruns and had 97 RBI's. The 25-year-old finished 2022 with 6.8 WAR, finishing third in the MVP conversation.
Alex Bregman has been inconsistent since his breakout season back in 2019. The two-time All-Star hasn't batted above .270 over the last three seasons and has dealt with injuries. In 2022 however, he was the healthiest he's been since hitting 41 home runs in 2019. Bregman was one of the best third basemen in baseball again, posting a 5.5 fWAR and a 136 wRC+.
Jose Abreu is the newest addition to the team. The 36-year-old first baseman notched a 137 wRC+ in 2022. Putting Abreu in instead of the now-Marlins non-roster-invitee Yuli Gurriel is one of the biggest positional upgrades across baseball. He fits in perfectly in this lineup and he makes a lot of contact with 20-plus homer potential.
Kyle Tucker had a breakout season in 2021, when he batted .294. Over the past two seasons Tucker has had back-to-back 30 home run seasons and at least 90 RBIs. Tucker has been playing for the United States in the World Baseball Classic and will rejoin the team as early as Wednesday. Tucker is another sneaky MVP candidate on this roster and is another lefty bat to compliment this lineup.
The weakest position for Houston continues to be the catcher position. Martin Maldonado is one of the best defensive catchers in the game but continues to be a liability on offense. The Astros don't seem to care about his offensive numbers, but he has both prospects Korey Lee and Yanier Diaz as his potential backups. Maldonado gets a lot of hate for his lack of offense but the entire pitching staff has raved about his abilities behind the plate over the last five years in an Astros uniform.
Prospects Who Could Contribute in 2023
Hunter Brown (SP) – Hunter Brown was one of the Astros' top prospects in 2022 and had a dominant season in the minor leagues. He was the 2022 Pacific Coast League Pitcher of the Year and was a late-season call-up for Houston. If Brown can be consistent in McCullers absence, he can solidify himself in the rotation for the rest of the season.
Korey Lee (C) – Lee's situation is a difficult one as Martín Maldonado is slated to be Houston's starting catcher in 2023, though even without a veteran platoon mate, Maldonado isn't expected to be an everyday player. Lee has one of the best pop times in baseball finishing second to J.T. Realmuto for the best in baseball at 1.84 seconds. Lee has yet to see consistent playing time and will have to take advantage of his situation this season.
Yanier Diaz (C/1B) – Diaz on the other hand is a much better offensive prospect than Lee. He is the team's No. 3 prospect according to MLB.com. He smacked 16 home runs in Triple-A last season and across 2022, he posted a .898 OPS. Diaz is more versatile being able to play first base and can slot in as a designated hitter as well.
Pedro Leon (OF/2B) – Leon is the Astros No. 4 prospect according to MLB.com and he has yet to see any Major League action. He is arguably one of the most-skilled players in the Astros' farm system. He has above-average bat speed and flashes raw power but has struggled to hit for average in the minors. He hit 17 home runs with 63 RBIs in Triple-A Sugar Land last year, but managed only a .228 average. He could see himself on the major league roster sooner rather than later because of Houston's injuries to Altuve and Brantley.
Outlook
`The Astros are the favorites to win the AL West. They have the deepest roster in baseball and are coming off a 106-win season. They boosted their lineup and re-signed valuable pieces to an already stacked roster. The injuries to Altuve and Brantley will be a setback in the beginning of the season but at full strength this team is the best in baseball. They have an elite bullpen, MVP-caliber players from top-to-bottom in their lineup, and are backed behind young starting pitching.
It doesn't matter what the New York Yankees do, they still can't beat the Astros.
The American League runs through Houston and they have the depth to make another run at a World Series. They will be at the top of the AL West when the season is over and will likely have the best record in the American League as well. If everything goes right for the Astros, they will be having another World Series parade in Houston come November.