Analysis
2023 Season Preview: Minnesota Twins
Can the Minnesota Twins improve upon a disappointing 2022 season and win the AL Central for the first time since 2020?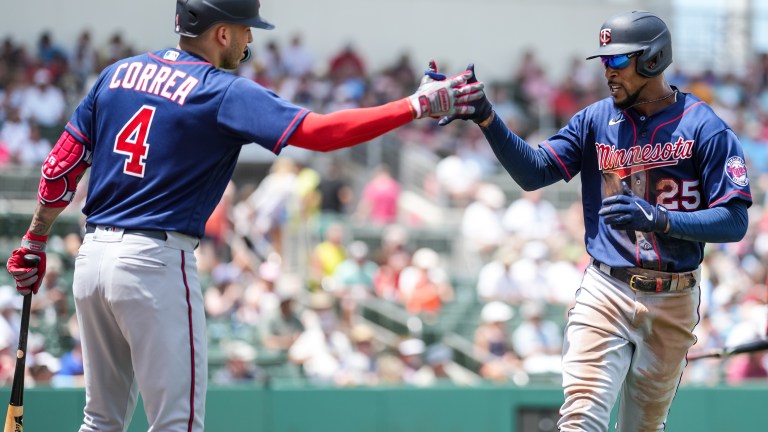 The Minnesota Twins were nothing short of disappointing in 2022. As a pre-season favorite to win the AL Central, the Twins disappointed their fans by finishing third in the division. However, if there is a silver lining for the fanbase, it is knowing that the front office wants to win now.
On August 1 last year, the Twins were clinging to a one-game lead over the Cleveland Guardians. They proceeded to trade for starter Tyler Mahle as well as relievers Jorge López and Michael Fulmer. These were moves that many thought would give the Twins enough of a boost to secure the division. However, the Twins would end up having the worst record in the division after August 1, going 24-36 to end the year.
As discouraging as the conclusion to the 2022 season was, the front office did not enter the offseason discouraged. They pressed hard for Carlos Correa out of the gate. It looked like Correa was going to the Bay Area and then potentially Queens before he finally ended up back with Minnesota. Fewer than 10 days later, the Twins completed a trade, sending Luis Arraez to Miami for the highly sought-after starting pitcher Pablo López. Other notable offseason acquisitions included outfielder Joey Gallo and catcher Christian Vázquez. It was an excellent offseason for general manager Thad Levine and company.
Heading into the 2023 season, anything less than a division title will be a disappointment in Minnesota. An upgraded rotation and a lineup with a lot of juice combined with a relatively weak AL Central bodes well for the Twins.
2023 Projected Opening Day Lineup
| | |
| --- | --- |
| Projected opening day lineup | Projected Bench |
| 1. Byron Buxton – CF | Ryan Jeffers – C |
| 2. Carlos Correa – SS | Kyle Farmer – INF |
| 3. Jorge Polanco – 2B | Trevor Larnach – OF |
| 4. Jose Miranda – 3B | Michael A. Taylor – OF |
| 5. Max Kepler – RF | *Royce Lewis – INF |
| 6. Nick Gordon – DH | |
| 7. Joey Gallo – LF | |
| 8. Christian Vázquez – C | |
| 9. Alex Kirilloff – 1B | |
*Starting season on the injured list
Catcher
With the departure of Gary Sanchez, Christian Vázquez is going to be the starting catcher for 2023. While Vasquez isn't the most exciting player in the world, he will play above-average defense and be around league average at the plate. The Twins will miss some of the thump that Sanchez provided at the plate, but fans can expect much better defense from Vasquez, as well as fewer strikeouts.
Ryan Jeffers served as the second half of the catching platoon last season and will be in a similar role this year. Jeffers is solid behind the dish and will bring some power when he is in the lineup; his max. exit velocity last season was 113 miles per hour. If he hits well, he could see some time at DH when Buxton is in center or needs a day off.
Middle Infield
With the return of Carlos Correa, the Twins' infield is going to be among the deeper units in baseball, especially so when Royce Lewis returns. This depth should allow for some flexibility, and we could see some movement throughout the season.
Second base is set to be manned by veteran Jorge Polanco. While his defense leaves a lot to be desired, he is going to be one of the best offensive second basemen in the game. He has the ability to hit 25 home runs and has one of the highest walk rates in baseball. His plate discipline will be welcomed in a lineup that is going to need it.
Minnesota could not be happier to have Carlos Correa back in the fold. This is one of the best players in the entire sport. He is a Platinum Glove winner, a guarantee for 20 home runs, and one of the best postseason performers of all time – and he is just 28 years old. He hit .291/.366/.467 last year and will be the best player on this Twins team.
Corner Infield
Alex Kirilloff was once the Twins' top prospect but has not lived up to the billing in his first two seasons. Part of the reason for that is Kirilloff has been dealing with wrist issues since 2019. What was once 60-grade power has fallen off steeply. Kirilloff appears to be behind schedule with his wrist this spring, but he should still be the first baseman on Opening Day.
Jose Miranda is the third baseman for now and a staple in this lineup for the foreseeable future. Miranda struggled after making his debut last season, but once he got settled, he began mashing baseballs just as he had in the minors. While the advanced stats do not jump off the page and he doesn't grade as a superb defender, those should both improve with experience in the majors.
It looks like Royce Lewis should be back around halfway through the season. Do not expect the Twins to put him back in the outfield after he tore his ACL out there last year. With shortstop and second taken, he could find a home at third base, resulting in Miranda moving to first. He only had 40 plate appearances in 2022 but posted a max exit velocity of 114 miles per hour. When he is back and fully healthy, do not expect him to be on the bench.
Outfield
This Twins' outfield has question marks all over it. Depending on how the questions are answered, this unit could be top five in baseball… or bottom ten.
In left field is going to be Joey Gallo, who is coming off the worst season of his career. While splitting time between the Dodgers and Yankees, he hit .160 with an 84 wRC+. However, in 2021, before he was traded to the Yankees, Gallo hit .223/.379/.490 with 25 home runs in 95 games. Hopefully, a change of scenery will unlock the pre-Yankees Gallo.
Byron Buxton is one of the 100 best players in baseball, but he would be top 20 if he could play at least 130 games. Buxton has only once in his career played more than 100 games in a season (2017). Last year he played 92, and in those 92, he accumulated 4.0 fWAR and hit 28 home runs. He hits the ball as hard as anyone, runs as fast as anyone, and is the best defensive center fielder in baseball when healthy. He only started 51 games in center last year, so expect him to split time between center field and DH pretty evenly.
Right field could offer some intrigue this season. Despite being a great defender, Max Kepler has declined at the plate and is well removed from his 36-homer season in 2019. Trevor Larnach could challenge for Kepler's spot in right field if his bat ticks up.
Bench
In the infield, Kyle Farmer and Nick Gordon will offer a lot of defensive versatility. With that being said, as long as everyone in the infield stays healthy, those two are going to have limited opportunities there.
Gordon should be a regular in the DH spot because the bat plays. He might not walk a lot, but he has some juice with a 111-mph max. exit velocity. With an expected slugging of .464 last year as well, he is going to be hard to leave on the bench. When Buxton is taking up the DH spot, Gordon has enough versatility to find a spot elsewhere.
Michael A. Taylor and Trevor Larnach will be the extra outfielders. Taylor should see time in center field when Buxton doesn't start. In addition, Gilberto Celestino will be a reserve in the minors and come up should someone go down with an injury.
Prospects
The three most notable prospects in the organization could all see time with the major league squad by season's end. However, with the infield pretty much locked up, it will be more difficult for some to make the major league roster without an injury or unexpected poor performance from a veteran. The prospect that will likely see the most time in the majors is Matt Wallner.
The Forest Lake product had a cup of coffee in the big leagues last year and should see some more time this year. Last year, Wallner crushed pitching in Double and Triple-A with 27 home runs and a .277/.412/.541 slash line. With more experience against major league pitching, he should be able to improve on his .228 batting average and 39% strikeout rate.
Edouard Julien hasn't played past Double-A yet, but he is currently putting on a show for Team Canada in the World Baseball Classic. Through three games, he is hitting .538 with five walks, and people are taking notice. He also offers a little versatility on defense, having seen limited time in the minors at first base, left field, and third base in addition to his primary position of second base.
Brooks Lee was the first player the Twins took in the 2021 draft and was viewed by many as the most MLB-ready bat in the class. He has continued to impress by hitting very well in 25 games at High-A. Lee will most likely start in Double-A, but if the Twins need an offensive boost, he could be up before the season ends.
Starting Pitching
| | |
| --- | --- |
| 2023 Projected Rotation | 2023 Starting Pitching Depth |
| 1. Joe Ryan – RHP | 1. Bailey Ober – RHP |
| 2. Sonny Gray – RHP | 2. Josh Winder – RHP |
| 3. Pablo López – RHP | 3. Simeon Woods-Richardson – RHP |
| 4. Tyler Mahle – RHP | 4. Louie Varland – RHP |
| 5. Kenta Maeda – RHP | 5. *Chris Paddack – RHP |
*Starting season on injured list
Top of the Rotation
Joe Ryan, Sonny Gray, and Pablo López all have a shot to be the best starting pitcher in this rotation come the end of the season. While none of them is a true ace, they all provide stability and consistency.
Joe Ryan, the rookie, was impressive last year. He posted a 3.55 ERA over 147 innings pitched in 2022. He throws his fastball 60% of the time and it sits around 92 miles per hour, so he isn't overwhelming by any means. Despite this, his fastball has become one of the best pitches in all of baseball – it had a -21 run value last year. That was good enough to make it the ninth-best pitch in the league last season by run value on Baseball Savant. He was also 23rd in strikeouts per nine among those with at least 130 IP. Expect Joe Ryan's success to continue into 2023.
Sonny Gray was impressive in 119.2 innings pitched in 2023. With a 3.08 ERA and 117 strikeouts, he was the best starter for the Twins last year despite limited work. After numerous stints on the injured list in 2022, Gray will hopefully be able to have a healthy 2023.
Pablo López was floated in trade talks for most of the offseason, and the Twins were able to land him for Luis Arraez. López has been solid the last three seasons, with an ERA under four in each. He has had some injury concerns in the past but threw 180 innings last year, quelling some of the concerns. The Twins expect him to complement Ryan and Gray at the top of the rotation.
Bottom of the Rotation
Tyler Mahle joined the rotation at the deadline last summer with the Twins in the midst of a playoff push. He would end up throwing only 16 innings after arriving in Minnesota. With that being said, Mahle is only a year removed from a career season in 2021 in which he started 33 games, threw 180 innings, and posted a 3.75 ERA. If he can return to that form, he will be one of the better number four starters in the majors.
Kenta Maeda is almost 35 years old and returning from Tommy John surgery. As of right now, it appears that Maeda will be in the rotation on Opening Day. With that being said, there is no knowing what version of Maeda we will get. He was less than impressive before getting hurt in 2021 but finished second in Cy Young voting in the shortened 2020 season. Should Maeda struggle mightily this year or deal with more injuries, the Twins will have options in the minors to replace him.
Depth and Prospects
In addition to the five arms listed above, there is a good chance Bailey Ober makes the 2023 Opening Day rotation. The Twins could opt for a six-man rotation to make room for Ober. He posted a 3.21 ERA in 11 starts last season. He is going to make it hard for the Twins to leave him out.
Josh Winder was less impressive than Ober last year. Winder posted a 4.70 ERA in 11 starts in 2022. Expect him to be either a bullpen arm or to start in the minors and be the next guy up for the rotation should someone go down.
Simeon Woods-Richardson is a top-10 prospect in the Twins organization and also one of the most MLB-ready arms in the system. He is only 22 years old and posted a 2.77 ERA between Double and Triple-A last year. It is going to be tough for Woods-Richardson to crack the Opening Day rotation, but if there is a starter who is struggling mid-season, keep an eye on him.
Homegrown prospect Louie Varland is knocking on the door and could be even closer to the majors than Woods-Richardson. Varland attended North St. Paul High School before being drafted by the Twins out of Concordia University, St. Paul. In a September call-up last year, Varland made five starts and had a 3.81 ERA. Being a local kid, Varland has generated some fanfare and could get some run this season.
The Twins signed Chris Paddack to a three-year contract this off-season, knowing he would miss the majority of the upcoming season. August 2023 is the reported target date for his return, but don't be surprised if we don't see Paddack at all this year.
Bullpen
2023 Relief options
1. Jhoan Duran – RHP
2. Jorge López – RHP
3. Griffin Jax – RHP
4. Caleb Thielbar – LHP
5. Emilio Pagan – RHP
6. Jorge Alcala – RHP
7. Jovani Moran – LHP
8. Dennis Santana – RHP
9. Jose De Leon – RHP
10. Trevor Megill – RHP
11. Ronnie Henriquez – RHP
The backend of this bullpen is no joke. The duo of Jhoan Duran and Jorge López was good enough to single-handedly land this bullpen on the Just Baseball top 10 list. There might not be a more exciting reliever to watch than Duran. His fastball averages over 100 miles per hour, and his splitter sits over 96. A 1.86 ERA and 33.8% strikeout rate made him one of the best relievers in baseball as a rookie. López, on the other hand, struggled after being traded from Baltimore to Minnesota. He still finished with a 2.54 ERA and will hopefully bounce back in 2023.
The middle of the bullpen features solid options with Griffin Jax, Caleb Thielbar, and Jovani Moran. All of those arms finished 2022 with ERAs under 3.50 and were excellent in the strikeout department. Expect them all to get significant work out of the 'pen.
There were times last year when it felt like Emilio Pagan would come into a game and the opposing team was guaranteed a home run. While Pagan is capable of being better than he was in 2022, he hasn't had a season with an ERA under 4.50 since 2019. Do not hold your breath expecting him to improve upon last year.
One of the more interesting relief options for 2023 will be Jose De Leon. He recently started a combined perfect game against Israel in the World Baseball Classic. De Leon has never excelled in the majors but definitely has some buzz.
Final Thoughts
Anything less than an AL Central division title for the Twins will be a disappointment in 2023. The front office could have gone in two directions this offseason: blow it up and rebuild or reload and try to contend. They went with the latter, and so far, it appears to be paying off.
The offense has plenty of firepower. The lineup features four players projected to hit over 20 home runs and at least two more who could surpass that benchmark. However, even though players like Joey Gallo and Byron Buxton could combine for 60 home runs, they could also combine for 300 strikeouts. If you are a Twins fan, be warned this offense has the makeup to be very streaky.
The pitching staff as a whole should be solid this season. Lacking a true ace in the rotation hurts, but having a plethora of solid starters is a good way to combat that. If Joe Ryan takes a step forward this year and Tyler Mahle gets back on track, this rotation could go from solid to very good. By accompanying a solid rotation with a top-10 bullpen, the Twins have put together a group that should win a lot of games.
With the moves made this offseason, along with the preexisting organizational depth, the Twins' front office has done what they needed to be competitive in the division. The White Sox and Guardians are going to hang around, but at the end of the day, the Twins should be the team to beat in the division.