Analysis
Chicago Cubs 2023 Season Preview
The Chicago Cubs added a new face of the franchise in Dansby Swanson, but need a lot to break right around him to contend in the NL Central.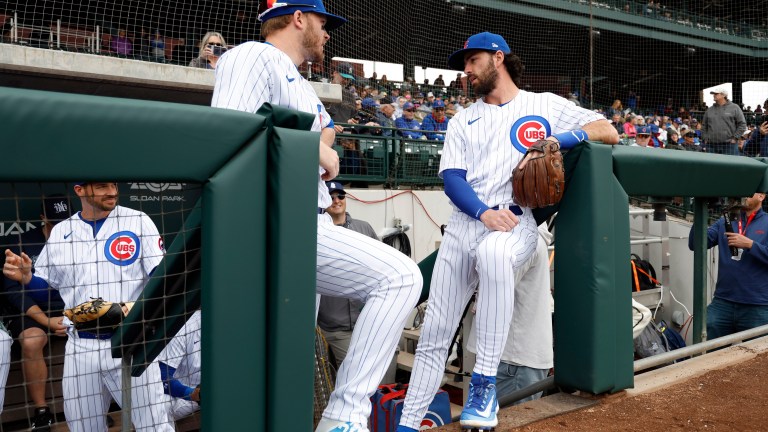 Chicago entered the 2022 season without their World Series core and a roster full of confusing fits. Not committed to a full rebuild, the Cubs added a few veterans, kept a few they could have traded, and put out a 74-win season.
This winter the Cubs made a splash signing bringing over Dansby Swanson from Atlanta to pair with Nico Hoerner creating one of the best defensive middle infield duos in the league. Other than Swanson, the additions to the offense were puzzling.
A team clearly unwilling to tear it down and start over. I respect that in a lot of ways. The farm system is getting closer to big league ready, but the 2023 roster once again looks like something I would do on MLB The Show. In a weak division the Cubs should finish third. Still not a playoff team.
Lineup Options
C- Tucker Barnhart/Yan Gomes
1B – Eric Hosmer
2B – Nico Hoerner
3B – Patrick Wisdom
SS – Dansby Swanson
LF – Ian Happ
CF – Cody Bellinger
RF – Seiya Suzuki
DH – Trey Mancini
Behind the plate the Cubs are obviously valuing defense over offense. Barnhart and Gomes are both veterans that should help the young pitchers in the rotation and offer very little at the plate. No questions this group is a massive step back from Contreras and what he provided for several years.
The Cubs are moving elite defender Nico Hoerner off short to make room for Dansby. Defensively, not much will get past those two. At the plate Hoerner brings a high contact rate, speed, and enough power to keep pitchers honest. Last season was the first time he's played over 100 games and I am interested to see what a full 162 could look like.
Swanson put up a career year in Atlanta. A .277/.329/.447 slash with 25 home runs and a career-best 18 stolen bases. A proven, middle of the order bat the Cubs needed. Swing and miss is a concern and his .348 BABIP and .257 xBA show Swanson was a bit lucky last year. Regardless, an upgrade in the infield.
A look at the corners will surely leave you with doubts. Eric Hosmer offers little power and no upside. If he's simply a stop-gap until Matt Mervis takes over, so be it. But a plan for the whole season? Yikes. I'm sure Trey Mancini will get time there as well though.
Another serviceable veteran who has not been the same since 2021. Perhaps a platoon is the best option. Hell, Edwin Rios might turn out to be the best option. Third base is uncertain, but Patrick Wisdom will most likely get the first try. The question becomes how much longer will the Cubs put out a player with a 35% strikeout rate and good, but not game-changing power?
David Bote is still hanging around. Christopher Morel showed versatility and the ability to play third and comes with his own struggles. Nick Madrigal has logged innings there this spring but offers nothing expect contact. An obvious hole in this lineup.
Right now the only sure thing in the outfield is Ian Happ. A career-year in 2022, Happ slashed .271/.342/.440 with 17 home runs, good for a 120 wRC+. Throughout his career he's shown to be a quality hitter and sneaky good defender. He's entering a contract year and is lining up for a big payday. In right Seiya Suzuki has yet to shown what he can be in this league.
Don't get me wrong, I fully believe in that bat. After injuries shortened his 2022 season the 2023 season is starting out the same. More injuries. When healthy he's a middle of the order bat with power he has yet to fully tap into.
The wild card of the lineup – Cody Bellinger. The former MVP has put up miserable numbers since 2019. After a 47 wRC+ in 2021, Belling slashed .210/.165/.389 with 19 home runs in 2022, while striking out 27% of the time. We've seen the talent before.
Maybe a change of scenery helps? At least you know his defense in center will be a plus.
If Suzuki is injured or Bellinger struggles, the bench options are limited. Morel can play outfield and Nelson Velazquez is on the 40-man. Non-Roster invitee Mike Tauchman has an inside track of making the roster. Tauchman did not play in the majors in 2022, mostly due to his inability to hit in 2020 and 2021. The 32 year-old slashed .289/.366/.430 in the KBO last year, so take that for what it's worth.
Rotation Options
Marcus Stroman
Jameson Taillon
Drew Smyly
Justin Steele
Hayden Wesneki
Kyle Hendricks
Adrian Sampson
All but Taillon are repeat options from last season. Taillon came over from the Yankees after a couple of average seasons. Like the other veterans on this list, he comes with a limited ceiling and profiles more as a middle to back of the rotation piece. Stroman has had the best success of the veterans, but is still a No. 3 or No. 4 on a good team. He won't strikeout many, but a ground ball rate over 50% helps him be productive.
Lefties Drew Smyly and Justin Steele return to the rotation after relatively good seasons in 2022. Smyly isn't going to work deep into games or rack up strikeouts, but induces enough weak contact to get by. He's in the rotation for now, and rightful so, but could get phased out if other options are pitching well. Steele started throwing his slider more in 2022 and it was a big reason he's in the rotation today. Batters his .136 off the pitch. Improving on the secondary pitches and not being so reliant his fastball and slider could help him take a step in his development.
Also on this list are Wesneski and Sampson. Wesneski probably is the guy fans are most excited about seeing. After coming over in a trade from the Yankess, Wesneski put up a 2.18 ERA and 3.20 FIP in 33 innings, giving a glimpse of what he has to offer. A strong spring has put him in the back of the projected rotation.
Sampson was able to give the Cubs 104 innings last year with a 3.11 ERA and 3.79 FIP. Not bad for a guy without overpowering stuff. At 31 years old and coming off a shaky spring, I see the Cubs leaning towards upside with Wesneski and putting Sampson in Triple-A or even the bullpen.
Oh yeah, I forgot a guy. The remaining piece of the World Series years, Kyle Henricks. Listen, I don't want to come off harsh, but Kyle Hendricks just isn't what he once was. Back-to-back years of a 4.70+ ERA and 4.80+ FIP with movement that just isn't getting it done. Injuries have not helped, but when you throw 86 mph you better have elite movement because there's not much room for error. We'll see how he looks once he comes back from injury. I'm not too optimistic.
Bullpen Options
Brad Boxberger
Michael Fulmer
Julian Merryweather
Keegan Thompson
Adbert Alzolay
Brandon Hughes
Mark Leiter Jr.
Rowan Wick
Ryan Borucki
Michael Rucker
Tyler Duffey
Jordon Holloway
It might sound crazy but I actually think this could turn out to be a pretty decent bullpen. You have enough options who have had success in the past, and we know how much of a coin flip relief pitchers can be year-to-year. Boxberger has been consistent and was used in high-leverage situations with Milwaukee.
Fulmer has put together back to back productive seasons. There's been a lot of buzz around spring training about how much the staff likes what Merryweather offers although we have yet to see him produce in the limited innings in the bigs.
Both Alzolay and Thompson have starter experience and are going to be in the bullpen for 2022. Thompson had a few fantastic stretches last season while Alzolay pitched only 13 1/3 innings due to injury. It was a tiny sample size but should be noted all six appearances were in relief.
A couple of long options that could just pan out. Rowan Wick and Mark Leiter Jr. are two veterans back in the mix with so-so success. I don't see a path for either to really have a huge role, but someone needs to pitch the sixth after Smyly exits.
Borucki, Duffey, and Holloway are all non-roster veterans with at least some intrigue. Duffey had a stretch with the Twins where he really looked dominate but a dip in strikeouts and more walks led to a brutal 2022 season. I would not be shocked if one of these three provided the Cubs with some useful innings in 2023.
There's two obvious holes in this bullpen. One, Hughes is the only lefty, unless Borucki makes the team. Two, who's the closer? Maybe a lefty starter moves into the bullpen or Borucki takes that spot, not a huge deal. Finding a guy on waivers isn't out of the question either. But the closer spot is uncertain.
Boxberger has two seasons as a primary closer and Fulmer racked up 14 saves in 2021. Lefty Brandon Hughes' name has been floated out there as well. Maybe the Cubs see if Boxberger can rack up some saves and flip him at the deadline like they did with David Robertson last season.
Prospects Who Could Contribute in 2023
Brennen Davis (OF) – The Cubs top prospect shot up charts after producing across three levels in 2021. An injury slowed him down in 2022 and he did not look like himself. A .191/.322/.319 slash with four home runs in 43 games in Triple-A was not the season anyone was hoping for. A major bounce back is need for Davis to get a look this season.
Jordan Wicks (P) – The 2021 first-rounder has pitched well in High-A before a brief stinit in Double-A to close out 2022. With so little pro experience, Wicks is headed back to the minors and can could move relatively quickly if he continues to develop. More of a strikeout pitcher that offers something different than what the Cubs currently have.
Matt Mervis (1B) – Anyone who hits over 35 home runs across three levels will catch the eyes of prospect evaluators. Mervis was unstoppable in 2022 and first base is hardly full of players who should block him. A quick start in the minors could bring him to Chicago before the weather starts to warm up.
Miguel Amaya (C) – Amaya has been in the system since 2016 and had his best season in 2022. A .278/.379/.485 slash in Double-A, although only a 28-game sample size, is promising. He's already on the 40-man roster and an injury could see him in Chicago quickly. Amaya already offers more offensively than the current options.
Caleb Killian (P) – Cubs fans saw three Killian starts last season that did not go particularly well. He's yet to find the same level of success he had in the Giants system, but still offers a talented depth piece for the rotation in 2023.
Outlook
Although the Cubs are not going into a full rebuild, they are bringing in pieces that factor into the future while filling out the roster with veterans to help them get by in the meantime. The lineup continues to improve, although the depth is still a major question, and that will limit just how good this team can be. Questions around the ceiling of this rotation leave me uninspired about the chances of Chicago winning 80 games.
I am sure the lineup will look very different by August. A new wave of prospects should earn an opportunity and a couple of veterans are on a short leash. Although the Swanson deal helps now and in the future, the Cubs are still several pieces away from contending for the division.