Analysis
New York Yankees 2023 Season Preview
The Yankees revamped their team around reigning MVP Aaron Judge this offseason, in hopes of finally making back to the World Series in 2023.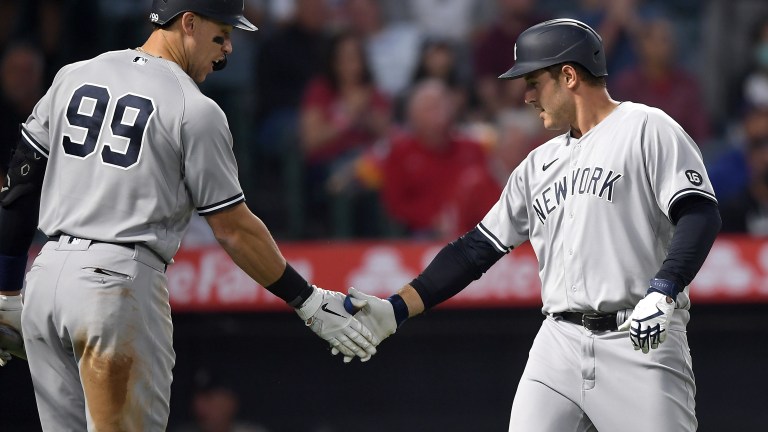 Rewind to July 31, 2022, the trade deadline. The New York Yankees couldn't be stopped; Aaron Judge was on a historic pace, the rotation and bullpen were superb, and Aaron Hicks had a .713 OPS. The Yankees held the best record in baseball at 69-34, but General Manager Brian Cashman still felt they were a few moves away. Frankie Montas, Scott Effross, Andrew Benintendi, and Harrison Bader were added, with Bader being the only one on the playoff roster.
The Yankees finished the 2022 season with 99 wins, beat the Guardians in the ALDS, then were swept by the Astros in the ALCS. By New York standards, it was a failure of a season. By normal baseball standards, they had a fantastic year.
The Yankees were aggressive this off-season. They ponied up and gave Aaron Judge the ninth year, brought back Anthony Rizzo, and gave star pitcher Carlos Rodon a six-year deal. The Yankees are primed to make another run, but the questions remain the same. Can they beat the Astros?
Rotation Options
Gerrit Cole
Carlos Rodon
Luis Severino
Nestor Cortes Jr
Frankie Montas
Domingo German
Clarke Schmidt
Will Warren
Deivi Garcia
Gerrit Cole remains one of the most dependable starting pitchers in Major League Baseball. Since 2019, Gerrit Cole is second in innings among all starters. He was one of eight starters to throw over 200 innings last year. While he had a down year by ERA standards, plenty of advanced numbers point to positive regression. He allowed the second-most home runs in baseball, but his HR/FB luck was terrible. He is a top-10 pitcher in baseball, at the very least. As a Yankee fan, keep the ball in the damn ballpark and prove those numbers right.
Over the past two seasons, Carlos Rodon is fourth in ERA and first in FIP among starters with at least 300 innings. He's one of the best pitchers in baseball… when healthy. He's dealing with a forearm strain and won't be on the Opening Day roster. Brian Cashman said that "in a perfect world," Rodon would return to the team "sometime in April."
Luis Severino has ace-level stuff; it's about staying on the field. He's thrown 120 innings since 2019, but 102 came in 2022, where he pitched to a 3.18 ERA. There is no doubting Severino when he's on the field; it's just about physically doing it over an entire season.
Nestor Cortes Jr was an All-Star last season. He was fantastic and his fastball graded as one of the best pitches in the game. He's a wizard with varying leg lifts and arm slots, which made him an instant fan favorite. He's a hard player to project because we don't have a large sample size of his success. Yet I have no reason to believe he can't replicate last year's performance.
Those four pitchers should shoulder the load for the Yankees in 2023. Frankie Montas is expected to miss most of the season after undergoing shoulder surgery. With him out, the battle for the fifth starter will be between Domingo German and Clarke Schmidt, who are both receiving rave reviews during spring training. German has a higher floor, but Schmidt has more upside.
Warren and Garcia are both prospects who could end up making an impact for the Yankees. When healthy, this is a fantastic group of starting pitchers. The upside is enormous, but the downside is gut-wrenching.
Bullpen Options
Clay Holmes
Jonathan Loáisiga
Michael King
Wandy Peralta
Ron Marinaccio
Greg Weissert
Tommy Khanle
Lou Trivino
Albert Abreu
Matt Krook
I'm a massive fan of this bullpen. From top to bottom, manager Aaron Boone has relievers he can depend on. That said, it's currently unclear who will close most games. The Yankees may opt for a "closer by committee," as only a few of these pitchers have recorded saves in their careers.
The battle should be between Clay Holmes and Jonathan Loisaga. They both had fascinating years in 2022. Holmes was possibly the best reliever in baseball before a rough second half. Jonathan Loisaga was terrible in the front half before turning up the heat in the second half. While this is a glass-half-full approach, I expect both to look like they did in their better halves.
Michael King was turning in an incredible season before he went down with an elbow injury. He figured out his sweeper, upping the usage to 30%, and it held opponents to a .130 batting average. He pairs that with an excellent sinker and four-seamer while sprinkling in a changeup. Having him in a seventh-inning role is elite.
Wandy Peralta is the definition of solid. He's a left-hander that can get both lefties and righties out and keeps the ball on the ground. Trivino will start the season on the IL, but should come back strong after a great first audition with the Yankees in 2022.
You'll find Ron Marinaccio and Greg Weissert on Pitching Ninja all season. They both feature electric sweepers with multiple feet of horizontal movement. Albert Abreu throws hard but hasn't put it all together. I'd like to see the Yankees add one more left-hander, but overall, this is one of the best bullpens in the game.
Projected Lineup
C – Jose Trevino
1B – Anthony Rizzo
2B – Gleyber Torres
3B – Josh Donaldson
SS – Oswald Peraza
LF – Aaron Hicks
CF – Harrison Bader
RF – Aaron Judge
DH – Giancarlo Stanton
This group is headlined by the $360 million dollar man, Aaron Judge. After putting up an 11.4 fWAR season, Judge solidified himself as one of the best players in Major League Baseball. He bet on himself in 2022 and hit 62 home runs on his way to one of the greatest seasons ever. He'll play right field and center this season and, barring health issues, should dominate again.
Jose Trevino was an All-Star in 2022. By the numbers, he was the best fielding catcher in Major League Baseball, and it wasn't all that close. Whatever he brings to the plate is worth it due to his all-world defense.
The Yankees brought back Anthony Rizzo to man first base after a great season in pinstripes. He tied his personal-best mark for home runs with 32 but hit .224, the lowest of his career. He's a prime candidate to benefit from the shift ban, so we should expect a great year out of the 33-year-old.
Harrison Bader was a postseason monster but will start the season on the IL with an oblique injury. He's projected to come back in May after being sidelined for the next six weeks. He's a free agent after this season, so he's even more incentivized to come back strong.
Left field is the Yankees' biggest weakness. Aaron Hicks struggled last year but is expected to start in left to open the year. The Yankees also have Oswaldo Cabrera, who put up a 111 wRC+ and 1.5 fWAR in his first 44 games. He can play left but is most valuable playing all over the diamond. Giancarlo Stanton should hold down most of the DH duties and is just 22 home runs away from 400 for his career.
As of now, it does appear that Josh Donaldson will get the start on Opening Day at third base. DJ Lemaheiu is my preferred starter, but DJ should get plenty of playing time at multiple positions. He should play five or six days a week, allowing Rizzo, Gleyber, and Donaldson their off days.
Gleyber Torres should be the everyday second baseman after bouncing back in 2022. He's still just 26 years old and coming off a 24-home run season with a 115 wRC+. He was much better defensively at second base than shortstop, allowing him to relax at the plate.
The biggest question for the Yankees is shortstop. Anthony Volpe, Oswald Peraza, and Isiah Kiner-Filefa are battling it out in spring training, and the Yankees haven't named a starter yet. Volpe has only played 22 games above Double-A, and it would be unlike the Yankees to start him on Opening Day. Peraza is farther along in his development and showed flashes of excellence in a brief cameo in the majors last season. IKF should play a bench role for the Yankees, filling in both the outfield and infield.
Prospects Who Could Contribute in 2023
This section is primarily from the Yankees Top 10 Prospects article by Aram Leighton.
Anthony Volpe (SS) – "Volpe brings just about everything you want from a baseball player to the table. With above-average tools across the board and the work ethic, instincts, and makeup to maximize those tools, it's no surprise that the 21-year-old has been able to fly through the minors.
Already reaching Triple-A by the end of the 2022 season, Volpe is eyeing a 2023 debut, after which point he may never look back. The Yankees feel like they have their shortstop of the future and have every reason to think so."
In spring training, he's rocking a 1.103 OPS in 28 AB with three stolen bases and two home runs. He's making the Opening Day shortstop competition extremely interesting.
Will Warren (SP) – "Yet another success story in the Yankees pitching development department, Warren has gone from 8th round pick out of Southeast Louisiana to the best pitching prospect the organization offers. Warren's intelligence and willingness to adapt have allowed the Yankees brass to help unlock the most out of him.
Warren's jump from mid-major competition in 2021 to Double-A success in his first pro season last year is a testament to his polish and ability to attack hitters and compete. As he continues to optimize his arsenal and sequencing, Warren could also start to rack up more swing-and-miss. His command and high ground ball rate give him the floor of swingman/innings eater, but he could generate enough swing-and-miss to be a solid No. 4 starter."
Will Warren has thrown two innings in spring training and is expected to start the year in AAA. He's 23 years old and has the stuff on the mound to make an impact this year for the Yankees.
Randy Vasquez (SP/RP) – "The combination of a mid-90s fastball and nasty sweeper give Vasquez the floor of a multi-inning reliever, but he has provided plenty of reason to believe that he can grab a back-end rotation spot with a bit more development. The 24-year-old has a unique delivery that almost looks like he's cutting off his stride toward home, but it has not seemed to impede his ability to maintain his velocity deep into starts or late in the season.
His fastball command improved down the stretch of the season, and with a solid final handful of starts in 2022, Vasquez will likely begin 2023 at the Triple-A level with a chance to reach the big leagues in some capacity this season."
Vasquez has thrown three innings in spring training, and it hasn't gone well, rocking a 12.00 ERA. That said, this is not indicative of the performance he could have this year. He's likely to make an impact in the bullpen with his electric stuff.
Oswald Peraza (SS) – "Peraza's sweet swing from the right side and plus defense at short make him a high-probability everyday shortstop. The Venezuela native has the upside of a fringe All-Star if he continues to develop offensively. If he can further refine his plate discipline and continue to tap into his above-average raw power, Peraza could be a 20/20 threat with an impact glove at short."
He's struggled offensively in Spring Training so far, rocking a .568 OPS, but his .833 OPS during the 2022 regular season is much closer to the performance we should expect next season. He's already got a great glove and room to grow offensively.
Outlook
The Yankees are the favorites to win the AL East for a reason. They have a fantastic roster and are coming off a 99-win season. They bolstered the pitching staff with Carlos Rodon but have plenty of replacements if he is to miss more time than projected. They brought back Judge and Rizzo, and plenty of excitement surrounds the young pieces. They have an elite bullpen, a deep array of starting pitchers, and a lineup that can hit with anyone.
That's all great and dandy, but all Yankee fans want one question answered.
"Are we good enough to beat the Astros?" The short answer is yes, but everything has to go right.
Carlos Rodon and Harrison Bader need to come back strong and healthy. Aaron Judge needs to replicate or be 90% of what he was last season. The Yankees need Oswald Peraza or Anthony Volpe to step up and hit the ground running at shortstop. The bullpen must stay healthy and thrive like last season. They need bounce-back seasons from Josh Donaldson and Aaron Hicks. The Yankees need to be at their best to beat the Astros, and it's already unraveling before the season has begun.
The Yankees have the prospects and capital to make major deadline moves if the team isn't strong enough. It'll be up to Brian Cashman and the Yankees' front office to make the moves to put them over the top.
The Yankees should sit atop the AL East when the 2023 season is over, but after looking at this roster, they are not at the Astros' level. If everything works out, they can beat them, but that's a tall task.