Analysis
Los Angeles Angels 2023 Season Preview
The Los Angeles Angels made plenty of moves this winter, but did they do enough to compete in the AL West and end their playoff drought?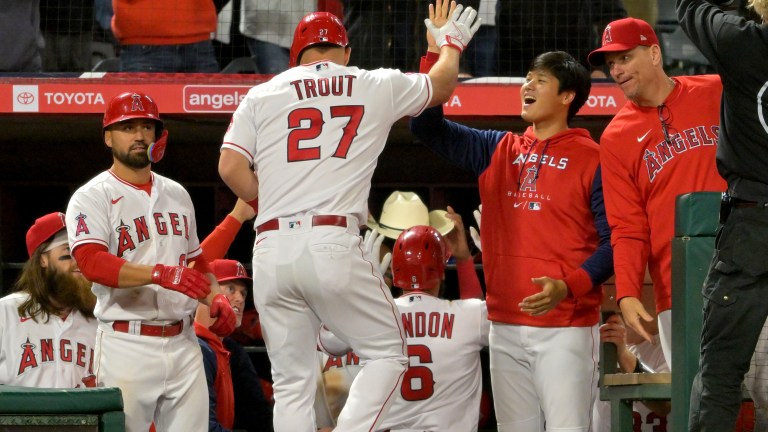 Mike Trout and his Angels teammates must be feeling like it's Groundhog Day. The 2022 campaign was another season of injuries, underperformances, and fewer than 80 wins. You have to go back to 2015 to find the last 80-plus win season for the franchise. Garrett Richards, Hector Santiago, and Albert Pujols led the charge to an 85-win, third-place finish *dramatic slow clap*. That was coming off the heels of a 98-win, AL West championship season. No one expected this long of a drought.
"Two of baseball's top stars are rotting away in…" yeah, yeah, yeah. We know the narrative. We also might not be able to spew it much longer, with Shohei Ohtani set to reach free agency after this season. A different story for a different day.
A lack of trying has not been the problem. The Halos have added big name free agents, expensive luxury pieces, and stopgap veterans to fill out a roster that always appears to be October bound. Year after year after year, the Angels have fallen flat.
Will 2023 be different?
Projected Lineup
C – Logan O'Hoppe/ Max Stassi
1B – Jared Walsh
2B – Brandon Drury
3B – Anthony Rendon
SS – David Fletcher
LF – Taylor Ward
CF – Mike Trout
RF – Hunter Renfroe
DH – Shohei Ohtani
Once Fletcher and Rendon went down with injuries last season, the Angels trotted out some pretty uninspiring options in the infield. Acquired this winter, Gio Urshela and Brandon Drury bring veteran bats with positional versatility. Urshela offers a high contact rate and enough power to not duplicate Fletcher. Drury had a monster start with the Reds before being shipped off to San Diego and seeing his numbers take a dip. He could start at second, play some third, short in a pinch, and the outfield.
Drury can also solve a glaring issue at first. After a strong 2021, Jared Walsh had a 2022 season he'd love to forget, posting a 30% strikeout rate while cutting his home runs in half. Walsh is a career .198/.235/.365 hitter against lefties, so a platoon might finally be in order. If Drury (.299/.329/.626 versus lefities in 2022) serves as that platoon partner, the Angels would be drastically more productive at first.
A dark cloud has hung over Angels third baseman Anthony Rendon since he signed his massive deal heading into the 2020 season. Since signing, Rendon has played 157 games across three seasons. Even when healthy, the production has not matched his numbers from Washington. Time will tell if he can return to his All-Star form; with each passing year, it looks less and less likely.
Los Angeles has infielders Luis Rengifo and Andrew Velazquez, both of whom played over 125 games last season. We know the book on Velazquez. He's a glove-first guy who offers little at the dish. Rengifo had his best season in 2022, slashing .264/.294/.429 with 17 home runs in his first expanded role. A depth role is a better fit for him.
The outfield has a new option in veteran Hunter Renfroe. After back-to-back extremely similar seasons, Renfroe comes to the Angels, his third team in as many years. A .255 hitter with 30 home run power is what you are going to get.
Mike Trout is back to full health, at least for now. Do we really need to spend time on Trout? He launched 40 home runs in 119 games last season. PLEASE STAY HEALTHY.
Another player who shined with a larger role was Taylor Ward. In his first season of over 65 games, Ward slashed .281/.360/.473 with 23 home runs, good for a 137 wRC+. After a brillant start to the season, Ward's second half numbers came back down to earth. Still, he's a productive player and will be given every opportunity to prove he can be a full-time major leaguer.
A player hoping for a similar breakout is former 10th overall pick, Jo Adell. Once a top prosect, Adell has struggled to start his career, striking out 35% of the time. His struggles have led to a few trips back to the minors. The power and production throughout his minor league career leaves hope for Adell, but time, and options, are running out. Rounding out the outfield options are former Phillies prospect Mickey Moniak and all-around good guy Brett Phillips.
Behind the plate you have veteran Max Stassi and newcomer Logan O'Hoppe. After putting up impressive numbers in 2020 and 2021, Stassi signed a three-year extension only to put up a whopping 63 wRC+ in 2022. The Angels then moved Brandon Marsh at the deadline and brought back top-100 prospect Logan O'Hoppe from the Phillies. After dominating Double-A, O'Hoppe is positioned to get the job and add some contact, and hopefully power, to the lineup.
Lastly, Shohei Ohtani. The guy filling the stands most nights. His power and run production was down a bit in 2022, which isn't a surprise considering the lineup. A .273/.356/.519 batter who's also your ace is a once in a lifetime opportunity. Due for a contract extension (or big free-agent payday), there's no doubt in my mind Ohtani will still be one of the most valuable baseball players this season.
Rotation Options
Shohei Ohtani
Patrick Sandoval
Tyler Anderson
Jose Suarez
Reid Detmers
Tucker Davidson
Chase Silseth
Chris Rodriguez
Griffin Canning
Ohtani put up the best pitching season of his career in 2022. He started 28 games, put up a 2.33 ERA, 2.40 FIP, and struck out 219 batters in 166 innings. Simply incredible. The batters he did not strike out, he limited to soft contact. He's the ace this team needs.
Following Ohtani, you have a stable of southpaws. Tyler Anderson came over from the Dodgers after turning his career around. His changeup held batters to a .179 average while his ability to produce soft contact — he ranked in the 98 percentile in average exit velocity — saved him from danger. The importance of adding a veteran to this rotation of mostly young pitchers cannot go understated.
Patrick Sandoval and Reid Detmers offer the most upside of those remaining on the list. Sandoval brings a diverse pitch mix with a nasty changeup. Batters swung through 44.2% of his changeups, helping him reach a career best 2.91 ERA and 3.09 FIP. Detmers struggled to start the year and found himself back in Triple-A. After returning, he looked like a much better pitcher. In the second half, his ERA dropped from 4.11 to 3.36 while his strikeouts per nine increased and his home run issues were tamed. At the time of writing this preview, Detmers has 17 strikeouts in 13 innings and a 0.77 WHIP this spring. He has the stuff to develop into a top-three option, and 2023 should be a big year ahead.
The last of the projected Opening Day rotation is Jose Suarez. A steady lefty with room to develop, he brought back his slider in 2022, limiting batters to a .153 average and earning a 31% whiff rate. His changeup improved as well. Seeing a theme with these Angels pitchers?
The rest of the options will serve as organizational depth. Davidson came over from Atlanta and has had success in the minors and some experience in the majors. Not only is he a pitcher, he's the host of Just Baseball's newest podcast, The Arm Barn. Canning has been injured but comes with experience, while Rodriguez last logged innings in 2021.

Chase Silseth, an Angels top-10 prospect, saw some time with the MLB club after 15 impressive starts in Double-A. With the depth where it currently stands, a return to the minors for more seasoning cannot hurt him or the team.
Bullpen Options
Jimmy Herget
Matt Moore
Aaron Loup
Jaime Barria
Ryan Tepera
Carlos Estevez
Jose Quijada
Andrew Wantz
Austin Warren
Jacob Webb
Jimmy Herget is one of my favorite types of pitchers: funky and effective. After bouncing around the league, Herget earned a role in Los Angeles in 2021. Last season, he pitched to a 2.48 ERA and 2.83 FIP with only 15 walks in 69 innings. Batters hit .200 or lower on all pitches but his sinker, with a 35% whiff rate on his slow, 75-mph curveball. I expect Herget to once again be a major piece of this bullpen.
Veterans Ryan Tepera and Aaron Loup came over on lucrative deals with moderate success that did not exactly reach expectations. Both have had plenty of success and we all know how volatile relief pitching can be. Let's add the new veteran Matt Moore to this list, another lefty who dominated last season with the Rangers. Moore posted a career best 1.95 ERA and 2.98 FIP in 2022. He more than doubled his usage of his curveball, which batters hit .217 off of. He only gave up three home runs, all off his fastball. The Angels now have two veteran lefty options in their 'pen, and Jose Quijada could be the odd man out.
Jaime Barria caught some eyes with his 2.61 ERA last season. I would be surprised if he was that effective again. He does not produce many strikeouts, and his stuff is just fine. I would expect regression.
The last few arms on the list, Austin Warren, Jacob Webb, and Andrew Wantz, will eat up some innings. Warren and Webb bring experience with limited success and serve as the type of veterans that always seem to find a role. Wantz came up through the organization with some up and down performances. There's some intrigue, but he has to find the strike zone first.
Overall, I think this bullpen can get the job done. I expect the Angeles to be aggresive this season and willing to add if need be. There's enough of a track record on this list to go into the season, but I would not say there's no room for upgrades.
Prospects Who Could Contribute in 2023
Ben Joyce (RP) – Joyce has frequented the famous "Pitching Ninja" Twitter account with a fastball clocked at 105 mph. The former Tennessee Volunteer was selected in the third round of the 2022 draft and could be a major boost for the bullpen this season.
Last season Joyce pitched 13 innings in Double-A with 13.85 strikeouts per nine and 2.77 walks per nine. His command has been a question, but his stuff is so nasty it might be tough to keep him in the minors.
Luke Murphy (RP) – With the starting depth on this team, I wanted to highlight another bullpen possibility. Murphy threw 44.2 innings in Double-A last season with a 2.62 ERA and 3.13 FIP. Another SEC product (Vanderbilt), Murphy brings a tall frame and fastball that could move him through the system quickly.
Jeremiah Jackson (2B/SS) – Jackson's prospect stock has taken a dip over the past year or so. He reached Double-A last season and struggled with a .215/.308/.404 slash line. A power hitter with a bit too much swing-and-miss, he did show improvements by cutting his strikeout rate to 21.9%, down from a rate above 30% at previous stops.
Jackson is one of the several middle infield options I'll list here. Although the Angels improved the depth on the major league roster, they are still only an injury away from Rengifo and/or Velasquez.
Zach Neto (SS) – The option most Angels fans would be most excited about is the 2022 first-rounder, Zach Neto. While I do not think he'll be rushed through the minors, there is an outside chance. Neto spent 30 games in Double-A last season and slashed .320/.382/.492, good for a 132 wRC+. A full season in the minors seems ideal, but I will not rule anything out. Again, this could be the last season the Angels have with Ohtani.
Livan Soto (INF) – Soto has been in the organization since 2017 without much production at any stop. The switch-hitting infielder experienced his best season in 2022 in Double-A and earned a cup of coffee with the big league club.
In 59 plate appearances, he slashed .400/.414/.582, which obviously has fans asking if he could blossom into a bigger contributor. He's only 22 years old and could still develop into an option for the Angels. He might have the inside track for the first call-up, as he's already on the 40-man roster.
Outlook
The Angeles will once again enter the season with hopes of a playoff berth. The fact is, their division foes are just better. Houston is coming off a World Series and is loaded for a repeat. Seattle has finally formed a team worthy of playoff consideration. And Texas has added big name players for the second season in row and seems urgent to host a playoff game in their new stadium.
I like this Angels roster and the moves they made this offseason. Convincing myself it was enough for this team to be considered more dangerous than Houston is impossible. Seattle? Ehhh I'm not there yet. Texas is worthy of a discussion.
Mike Trout is 31, and while that's still young, the hard miles and injuries could age him faster. Let's copy and paste the same old jokes about Trout's playoff appearances here: _____. The clock's ticking.