Analysis
Atlanta Braves 2023 Season Preview
With full seasons from Ozzie Albies, Spencer Strider, and Michael Harris II, the Braves could be even more dangerous in 2023.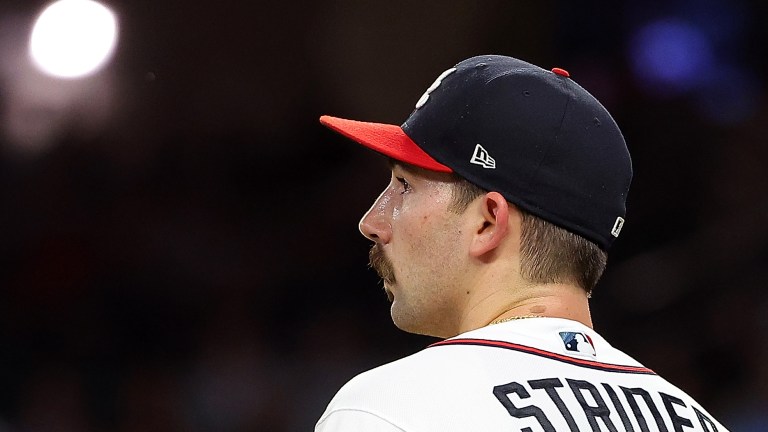 For the second straight season, the Atlanta Braves played phenomenal second-half baseball. They finished with 101 wins, their highest total in twenty years. The Braves entered the postseason with a first-round bye, and they were heavy favorites to challenge the Dodgers in the NLCS.
From that point on, things didn't exactly go according to plan. The Phillies, who were 8-11 against the Braves in the regular season, won the NLDS in four games. They outscored Atlanta 24-13. Max Fried, Charlie Morton, and Spencer Strider struggled to control Philadelphia's offense, while key bats like Austin Riley, Michael Harris II, and Dansby Swanson went silent.
Thus, the Braves enter the 2023 season with a fire lit underneath them. Anything less than another NL East title and a deep postseason run will be highly disappointing.
Atlanta Braves Projected Starting Lineup
PROJECTED LINEUP
1. Ronald Acuña Jr. – RF
2. Matt Olson – 1B
3. Austin Riley – 3B
4. Sean Murphy – C
5. Michael Harris II – CF
6. Ozzie Albies – 2B
7. Marcell Ozuna – DH
8. Eddie Rosario – LF
9. Orlando Arcia – SS
This is a powerhouse offense. Ronald Acuña Jr. and Austin Riley are potential MVP candidates. Acuña should be able to bounce back after a down year in 2022 (by his own standards), and Riley will look to improve for the third straight year. Simply put, these are two of the best players in the National League.
Sean Murphy, Ozzie Albies, Michael Harris II, and Matt Olson are potential All-Stars. Murphy was a huge acquisition for the Braves this winter, and he'll improve the team on both sides of the ball. Albies is strong, healthy, and ready to return to form after an injury-marred 2022 season.
Harris will look to build off of a strong rookie campaign, and if he does, he could join Acuña and Riley as an MVP contender. He was on pace for 6.8 fWAR in a full season. Finally, Olson is solid as a rock – he played all 162 games last season. The Braves can count on him for another 30-plus home runs and 100-plus RBI.
Altogether, Acuña, Olson, Riley, Murphy, Harris, and Albies could be the best 1-6 in baseball (although the Padres, Blue Jays, and Astros might beg to differ). FanGraphs has the Braves projected to lead the majors in runs scored, and those six are the reason why.
As for the bottom of the lineup? It's less impressive, yet there's still reason for optimism. Marcell Ozuna has been dreadful for the past two seasons, but there's always the possibility of a bounceback. If he continues to struggle, the Braves have other options to fill his spot in the lineup (Travis d'Arnaud or Sean Murphy can DH when they aren't catching).
Eddie Rosario was awful last season too, but he played much better in August and September after recovering from a laser eye procedure. The Braves seem confident he can play more like his 2021 self this year. If he can't, you can bet Alex Anthopoulos will look for a new left fielder on the trade market.
At the bottom of the order, there's Orlando Arcia. Arcia isn't a threat at the plate, but he's a solid defensive player. More importantly, he's just keeping the position warm until Vaughn Grissom or Braden Shewmake is ready to take the shortstop job and run with it. Grissom hit well in 41 MLB games last season, but he needs to work on his defense at shortstop. Shewmake, on the other hand, has yet to prove he can hit at the big league level.
Projected Bench
Travis d'Arnaud (C), Kevin Pillar (OF), Ehire Adrianza (IF), Sam Hilliard (OF)
How often does a player become a backup the year after making his first All-Star team? Travis d'Arnaud is coming off a season with a 120 wRC+ and 3.9 fWAR. He'll be one of the best backups in the league, and I wouldn't be surprised if the Braves give him plenty of starts at DH to get his bat in the lineup.
Kevin Pillar is a non-roster invitee to spring training, but the Braves need a fourth outfielder, and they don't have many bona fide center fielders on the 40-man. Pillar is a veteran big leaguer with experience in all three outfield positions.
Orlando Arcia won the starting shortstop gig in camp, which means Atlanta needs a new utility infielder. Yet with Grissom and Shewmake starting the season at Triple-A, the Braves don't have any options on the 40-man. Enter Ehire Adrianza. Like Pillar, Adrianza is an experienced and versatile defender who is currently in camp as an NRI. He'll fill a role on the bench until Grissom or Shewmake is ready.
The Braves have some options to fill the final spot on the bench, but Sam Hilliard has no options remaining. I think that's enough to give him the edge over guys like Jordan Luplow and Eli White. Hilliard is also left-handed, and the Braves could use a lefty for the bench.
Atlanta Braves Projected Rotation
| | |
| --- | --- |
| PROJECTED STARTING FIVE | ROTATION DEPTH |
| 1. Max Fried (LHP) | Michael Soroka* |
| 2. Kyle Wright (RHP) | Ian Anderson |
| 3. Spencer Strider (RHP) | Bryce Elder |
| 4. Charlie Morton (RHP) | Darius Vines |
| 5. Jared Shuster (LHP) / Dylan Dodd (LHP) | Kolby Allard* |
*Injured
The offense will get more attention, but the Braves have an excellent pitching staff too. Max Fried is a genuine ace, and Spencer Strider looks like he can be one as well. Fried has a 3.06 ERA and 3.21 FIP in 99 starts over the past four seasons. Strider struck out 13.81 batters per nine in his rookie season, amassing 4.9 fWAR in just 131.2 IP.
Kyle Wright looks like a dependable mid-rotation arm after his breakout last season. He's not quite as dominant as his 21-5 record would have you believe, but he averaged 6 IP per start and did a good job keeping the ball in the yard. Charlie Morton is another reliable arm, as long as he can continue defying the aging curve in his age-39 season. He began to show some signs of decline last year but still made 31 starts and finished with the third-highest strikeout rate in the National League.
A few weeks ago, no one would have believed you if you suggested Jared Shuster would make the Opening Day rotation. But after Michael Soroka suffered a hamstring strain and Ian Anderson continued to flail, an opportunity opened, and Shuster has done everything he can to secure it. In 12.2 IP this spring, he has struck out 16 batters and allowed just one earned run.
Now, the only thing standing between Shuster and a spot on the big league roster is another 24-year-old left-handed pitching prospect: Dylan Dodd. Dodd has been equally fantastic this spring, and the Braves will have a difficult decision choosing between the two. I'm leaning toward Shuster because he has more experience at Triple-A, but it could still go either way.
Rotation Depth
As you might have guessed from all the names I've already mentioned, the Braves have a great deal of rotation depth. Whichever one of Shuster or Dodd doesn't win the fifth starter job out of camp will be waiting in the wings. Darius Vines is another 24-year-old prospect who is nearing the majors. He's already on the 40-man roster, which should work in his favor.
Other starters on the 40-man include Anderson and Bryce Elder. Anderson's future is up in the air after his poor 2022 season, but he's still a serviceable arm with big league experience. Even if he never reaches his former heights, he's a good depth piece to have around. Elder was solid in ten games for the Braves last year, and while he isn't an exciting name, he's another capable arm to have around. He can eat innings if necessary.
Soroka has dealt with various injuries throughout his career, and he hasn't made a start in over two years. His hamstring injury is the latest in a long line of setbacks, and it's impossible to know what to expect from him in 2022. Still, he's hoping to get back on the mound soon, and the Braves will give him every chance to return to his All-Star form.
Atlanta Braves Projected Bullpen
| | |
| --- | --- |
| PROJECTED BULLPEN | BULLPEN DEPTH |
| Raisel Iglesias | Nick Anderson |
| A.J. Minter | Seth Elledge |
| Collin McHugh | Michael Tonkin |
| Joe Jiménez | Roddery Munoz |
| Dylan Lee | Kolby Allard |
| Lucas Luetge | |
| Kirby Yates | |
| Jesse Chavez | |
At the risk of sounding like a broken record, the Braves have put together a really, really good bullpen. Raisel Iglesias is a shutdown closer, and he's as much of a sure thing as you're going to get out of the bullpen. I'd keep an eye on his velocity, which was down last season, but then again, it didn't seem to affect his performance at all. He was lights out for the Braves after his arrival at the trade deadline.
A.J. Minter doesn't have the long track record of a guy like Iglesias, but he was every bit as dominant last season. If Minter can pitch like he did year, the Braves will have a left-handed closer to pair with the right Iglesias. That's a deadly combination.
Collin McHugh has grown into a fantastic reliever in his thirties, unsurprising for a pitcher who spent the 2021 season in the Rays organization. His age is a little worrisome (he turns 36 this year), but he didn't show any signs of slowing down in 2022.
Joe Jiménez flew under the radar last season because he played in Detroit, but he had an excellent season, posting a 3.49 ERA and 2.00 FIP in 62 appearances. He's still recovering from offseason back surgery, so the Braves have been taking it slow with him this spring.
Dylan Lee exceeded rookie limits last year during his age-27 season. He was terrific all year long, finishing with a 2.13 ERA and 2.66 FIP in 50.2 IP. He still needs to prove himself over a larger sample of innings, but hopes are high.
Finally, Atlanta has a plethora of veterans to fill out the bullpen, including Lucas Luetge, Jesse Chavez, and Kirby Yates.
Outlook
The Braves won a World Series in 2021, and they were arguably an even better team the following year. The 2023 iteration of the squad looks stronger still, thanks to the addition of catcher Sean Murphy. They'll be even better if they can get a full season out of stars like Ozzie Albies, Spencer Strider, Raisel Iglesias, and Michael Harris II.
This Braves team is going to cause trouble for everyone in their path as they look to win a sixth straight NL East title. Don't be surprised if there's another World Series parade in Atlanta this October.