Analysis
2023 Season Preview: Baltimore Orioles
The Baltimore Orioles arrived earlier than expected last year, going from the doldrums to over .500. Could they take another leap in 2023?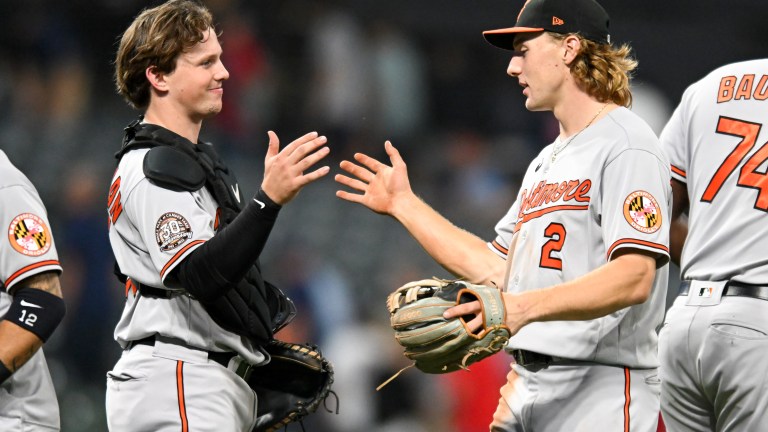 At the start of the 2022 season, Vegas had the Orioles win total at 62.5 games and most analyst had them slated to be one of the worst teams in the Majors. By the season's conclusion the Orioles had blown past their projected win total by 20 games and found themselves only three games back of the Tampa Bay Rays for the final playoff spot.
The biggest reason for their surprising 2022 performance was the promotion of top prospect Adley Rutschman. The O's went 67-54 following Rutschman's debut on May 21st, en route to his second place finish for AL ROY. They could see a similar boost provided in 2023 from their plethora of MLB-ready prospects as Mike Elias and company doubled down in their belief of the farm system by staying fairly quiet this offseason.
Despite the season that they managed to put together last year, the Orioles front office opted not to sign any of the many big name free agents that were available this offseason. While there is no telling if the Orioles pursued some of these names and were simply out bid or were not an attractive enough destination, the point stands.
Baltimore's offseason spending was highlighted by signing veteran starter Kyle Gibson and utility man Adam Frazier. On the trade market, the Orioles added another starter in lefty Cole Irvin and then traded for Rutschman's new backup in James McCann. This capped a rather uneventful offseason.
Despite a disappointing winter, the Orioles are still going to put an exciting product on the field this summer and should compete for a Wild Card spot.
Projected 2023 Opening Day Lineup
| | |
| --- | --- |
| Projected Opening Day Lineup | Projected Bench |
| 1. Cedric Mullins – CF | 1. James McCann – C |
| 2. Adley Rutschman – C | 2. Ryan McKenna – OF |
| 3. Gunnar Henderson – 3B | 3. Ramon Urias – 3B/SS/2B |
| 4. Anthony Santander – DH | 4. Terrin Vavra – 3B/2B/LF |
| 5. Ryan Mountcastle – 1B | |
| 6. Kyle Stowers – RF | |
| 7. Austin Hays – LF | |
| 8. Adam Frazier – 2B | |
| 9. Jorge Mateo – SS | |
Catcher
Adley Rutschman is coming off a very impressive rookie year and is already viewed by many as a top-three catcher in all of baseball. On top of providing solid defense behind the dish, Rutschman is already a very polished hitter. Posting 20 HRs, 40 2Bs, and walking as much as he strikes out is not out of the question in 2023.
McCann was one of the big offseason acquisitions for the Orioles. In a move that made a lot of sense, they add a solid veteran backstop. McCann is certainly an upgrade over Robinson Chirinos and should be an excellent backup to Rustchman.
Infield
The biggest difference in this lineup compared to last year is having Gunnar Henderson for a full season. In his September cameo last year, Henderson hit .257/.335./.440 with four HRs in 34 games. He should slot in at third base, with Mateo providing Gold Glove defense at shortstop. The Orioles will certainly expect an Adley Rutschman type performance out of Henderson this year, which is certainly not out of the question.
Outside of Gunnar Henderson, Ryan Mountcastle is the most exciting player in this Baltimore infield. While the home runs dropped last year from 33 to 22, he improved in a lot of advanced metrics including average exit velocity, hard hit rate, and barrel rate. He also cut down on strikeouts by 2.3% last season and upped the walk rate a hair. Expect a big bounce back for Mountcastle in 2023.
Adam Frazier will likely be average across the board at second base but that is still absolutely an upgrade from Rougned Odor in 2022. It is also possible the Orioles could eventually add even more production by simply promoting Jordan Westburg. The best possible lineup for the Orioles would likely feature Jordan Westburg at second, but as of right now that is unlikely.
Ramon Urias and Terrin Vavra are the most interesting bench pieces for the Orioles. Urias has been floated in trade rumors most of the offseason. The validity of those rumors remains unknown, but at the moment he is one player holding up some of the teams best prospects. He could be moved this season to make room for an Joey Ortiz, Westburgh, or Connor Norby.
Vavra on the other hand was a rookie last year and could slot in as the Orioles "super utility" guy. He will likely see time off the bench at second, third, and the corner outfield spots. He lacks power, but Vavra has great plate discipline getting on base at a .340 clip last year, while hitting .258.
Outfield
Anthony Santander is coming off an impressive 2022 where he served as the Orioles best power threat pumping out a career high 33 home runs. With there being better defensive options, Santander should slot in as the regular DH and will likely make appearances in right field and potentially first base throughout the season.
Kyle Stowers played in spurts during 2022, but should see more consistent action this year in a corner outfield spot. Despite debuting in June, Stowers only saw 91 at-bats. In that small sample size he hit .253/.306/.418, showing enough promise to earn a spot in the Opening Day lineup.
It was a tale of two halves for Austin Hays last year. After posting a .779 OPS with 12 home runs before the all-star break, his performance fell in the second half where he had a .626 OPS with only four home runs. If he can get back to where he was in the first half of 2022 he will be one of the more productive bats in this lineup.
However, if the struggles continue into 2023 it isn't out of the question for a prospect to come up and take Hays' place. Keep an eye on Colton Cowser, Heston Kjerstad, and Connor Norby.
Ryan McKenna slots in as the fourth outfielder. He is the Orioles best defender in the outfield not named Cedric Mullins, and can play all three outfield spots. The bat will keep him in a back-up role, but he will have numerous opportunities to relieve the three starters.
Starting Rotation
Starting pitching depth
1. Grayson Rodriguez – RHP
2. Cole Irvin – LHP
3. Dean Kremer – RHP
4. Kyle Gibson – RHP
5. Kyle Bradish – RHP
6. Spenser Watkins – RHP
7. DL Hall – LHP
8. John Means – LHP
The Good
Garyson Rodriguez and Cole Irvin will hopefully bring some fire power and consistency, respectively, to a rotation that desperately needs it.
A starting pitcher has not debuted on Opening Day since 1943 but if there is someone to do it, Rodriguez is that someone. He is either the number one or two ranked pitching prospect in all of baseball, depending on who you ask, and has dominated at every level in the minors. Rodriguez finished last year with 70 innings and a 2.20 ERA in Triple-A. While he more than likely won't start Opening Day, he could easily be this year's version of George Kirby or Spencer Strider.
Irvin has been solid and consistent through his first two full seasons in the majors. He throws a lot of strikes finishing 11th in BB/9 last season, while also finishing 25th in innings pitched. Irvin is not very exciting on paper but he is going to provide a level of consistency that this rotation desperately needs. While he was in a pitcher friendly park the last two years, he should fare well as a lefty in the newly modified Camden Yards. The Orioles should expect an ERA in the low fours and about 180 innings of work.
The Bad
Kyle Gibson was one of the big offseason acquisitions but it is hard to say he brings a ton of value. Gibson has as many seasons with an ERA over 5.00 as he does under 5.00. At 35 years old, hopefully he looks like he did in 2021 (3.71 ERA) and not 2022 (5.05 ERA).
Spenser Watkins is an interesting case. After being drafted by Detroit in the 30th round in 2014, he would spend six years in the minors before debuting in 2021 with Baltimore. He has never been particularly impressive in the upper levels of the minors, nor has he been very good in the majors. He posted a 4.70 ERA in 20 starts last year and will probably be the Orioles sixth starter on Opening Day.
The Unknown
The last four guys, Dean Kremer, Kyle Bradish, DL Hall, and John Means fall into this category. They are all here for their own unique reasons and the 2023 season will be a critical year for all of them.
Kremer was a delightful surprise in last year's rotation. In 2022 Kremer posted a 3.23 ERA, but he only threw 125 innings and was less than great at striking guys out. The advanced metrics on Kremer are not promising with an xERA and xFIP around 4.40 last season. The Orioles need a similar performance in 2023 from Kremer to push for a playoff spot.
Similar to Kremer, Bradish has limited MLB experience but he struggled in 2022. Bradish made his MLB debut last year and in 117 innings he struck out 111 and had a 4.90 ERA. On the bright side, his xERA, FIP, and xFIP were below 4.50 which could indicate some bad luck on the mound. It is hard to say that Bradish will be a stud, but if he can get the ERA down to 4.50, the Orioles will be grateful. He should slot into the back of the rotation but his spot is not guaranteed.
The Orioles have to be praying for a breakout year from DL Hall. There is no doubt how talented DL Hall is and if you listen to the Just Baseball Show, you are aware of how nasty his stuff is. Reports say that Hall will not be ramped up enough to be a starter on Opening Day. There also seems to be some reluctancy to put him in the bullpen so he will most likely start the year in Triple-A and work on building up his stamina.
John Means underwent Tommy John surgery on April 27th of last year. He has been the closest thing to an ace that the Orioles have had the last couple of years. Expect him to return mid-season and hopefully he looks like his old self.
Bullpen
2023 Relief options
1. Felix Bautista – RHP
2. Cionel Perez – LHP
3. Dillon Tate – RHP
4. Mychal Givens – RHP
5. Bryan Baker – RHP
6. Keegan Akin – LHP
7. Tyler Wells – RHP
8. Andrew Politi – RHP
9. Austin Voth – RHP
10. Nick Vespi – LHP
11. Joey Krehbiel – RHP
12. Logan Gillaspie – RHP
Orioles fans are no strangers to a strong bullpen. The last time that the Orioles made the playoffs in 2016, they had one of the best bullpens in the league. That bullpen was highlighted by Zach Britton, who put together one of the best reliever seasons in MLB history. In 2023, second-year closer Felix Bautista is going to do his best to replicate it.
Bautista came out of nowhere last season and quickly became exciting to watch. He posted a 2.19 ERA last season and paired it with 35% strikeout rate. Standing six-foot-eight and 285 pounds, Bautista is terrifying on the mound. Pair that with a fastball that averages 99 MPH and you have a guy who should be one of the best closers in the league this season.
The next two guys up are Cionel Perez and Dillon Tate, who is currently recovering from an injury. Perez may have saved his career last year by posting a 1.40 ERA in 57 innings. If you look at his pitch mix, the biggest difference in 2022 was that he cut back on the fastball and ramped up the slider usage. So far the results show that he may have unlocked something. Tate didn't have the year that Bautista or Perez had but he still posted a 3.05 ERA in 73 innings.
With their three-headed monster, plus some depth with guys like Givens, Vespi, and Baker, the Orioles should have one of the better bullpens in the league. Having to face Tate in the seventh, Perez in the eighth, and Bautista in the ninth is going to give even the best lineups fits. If the Orioles are leading games after the sixth, they are going to be hard to beat.
Prospects That Could Debut in 2023
As many are aware, the Orioles have one of the best farm systems in baseball and a plethora of prospects on the cusp of the Majors. As of now there is no guarantee of who will make it up in 2023 but there will be opportunities.
The Orioles have five prospects that could make some noise in the majors during 2023, and even if they don't they are still worth paying attention to.
Jordan Westburg (2B/SS/3B)
In 2022 Jordan Westburg was incredibly solid over 91 games in Triple-A. Westburg hit .273/.361/.508, which was good for a 129 wRC+ in those 91 games. He also logged significant time at second base, third base and shortstop showing off some defensive versatility.
Westburg should be starting at second base on Opening Day, but with the signing of Adam Frazier that will not be the case. Should Frazier struggle, there is a good chance that we see Westburg before the September call-up date.
Joey Ortiz (SS)
If you want to talk about announcing yourself with authority, that is exactly what Joey Ortiz did in his Triple-A cameo at the end of last year. While it was just 26 games, Ortiz hit .346/.400/.567 and put the Orioles on notice. On top of his offensive performance last year, Ortiz has always provided very solid defense at shortstop, while also possessing some versatility.
With only 26 Triple-A games under his belt, it is likely that Ortiz is going to remain in the minors for the majority of 2023. With that being said, in this game you never know what will happen and should an opportunity present itself Ortiz will be ready.
Colton Cowser (OF)
The Orioles No. 1 pick in the 2021 draft has climbed through the minors quickly. In 2022 he played at three different levels and finished the year in Triple-A. He only played 27 games there, but his strikeout rate jumped over 5% and his walk rate dropped by over 5%.
On the other hand, the defense is good enough for the majors right now. While the glove is not as flashy as some of the best center fielders including current Orioles outfielder Cedric Mullins, it is solid.
Obviously Cowser could use some more time in the minors to figure things out at the plate. If he can get closer to his Double-A numbers where he hit 10 home runs in 49 games, with a 184 wRC+. He will be knocking on the door.
Connor Norby (2B/LF)
Connor Norby is probably the least likely of this group to get a call up at any point this season. However, his 29 home runs last year between High-A, Double-A, and Triple-A certainly makes things interesting. He spent the majority of last year in Double-A where he hit .298/.389/.571 with a 157 wRC+. If he can keep that up in Triple-A this year, it is going to be really hard to justify leaving him in the minors if a major leaguer is struggling.
The one other thing that gives Norby the best chance of making the big leagues is his ability to play the outfield. While Norby played the vast majority of last year at second base, he did see 59 innings in left field. He is also further along offensively than any outfield prospect that the Orioles have. Expect Norby to continue to play some outfield and if Hays or Stowers struggles, he could get the bump up.
Heston Kjerstad
The No. 2 overall pick in the 2020 draft, Kjerstad is one of the most polarizing prospects in this loaded Orioles farm system. Since Kjerstad was drafted, he has been rather unlucky. After the cancelation of the 2020 minor league season, Kjerstad would miss all of 2021 while dealing with myocarditis. After getting a taste of the minors in 2022, he went to the AFL and absolutely raked. He posted an OPS over 1.000 and hit five home runs in just 22 games.
This spring Kjerstad has already gotten off to a hot start with two home runs in his first eight at-bats. Expect him to go straight to Double-A following spring training. If he hits well, we could potentially see him climb the minors quickly and maybe even a long shot at a major league debut this year.
Final Thoughts
The Orioles shocked everyone last year but have made marginal improvements at best for the 2023 season. However, Orioles fans should not hang their heads yet. While the offseason moves may have been disappointing, there is a lot to be excited about in 2023.
Grayson Rodriguez is going to make his debut this season. They are going get a full year of Gunnar Henderson. There is going to be a lot of movement in a very talented farm system.
It looks like the days of 100-loss Orioles teams are officially in the rearview mirror. This Baltimore team is going to win some games and put a solid product on the field. If they achieve their 100th percentile outcome, or even come close, it will be electric in Camden Yards all season.
However, the reality of this season is that the Orioles are in a division with three strong teams in the Yankees, Blue Jays, and Rays. They might make the playoffs, they might finish the season around .500 again, but regardless they are going to be an exciting team to follow.