Analysis
Washington Nationals 2023 Season Preview
With one of the weakest rosters in baseball, the Washington Nationals are squarely in a rebuild and could lose over 100 games again in 2023.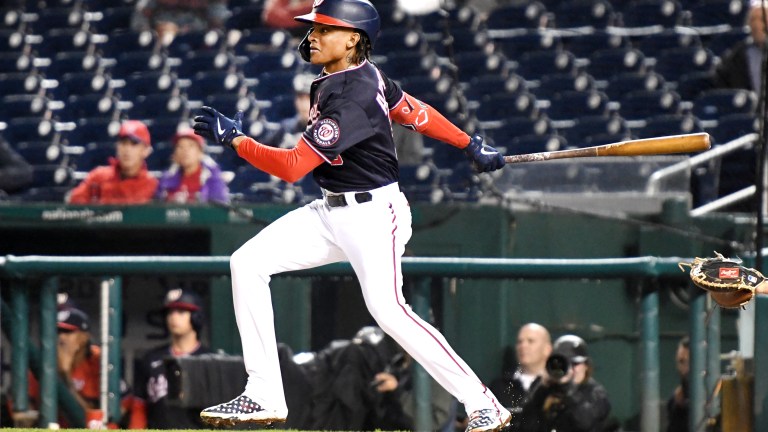 It has never been more obvious that an organization was hitting the recent button than the Washington Nationals, who spammed it after shipping out Max Scherzer, Trea Turner and Juan Soto in consecutive seasons. Not contending for a championship, the Nationals are simply building from the ground up, which may not be what fans are excited to hear, especially when losing multiple faces of the franchise.
For now it's watching young stars experience growing pains, platoon signings in free agency and dumping valuable veterans for prospects by late July.
On the bright side Nationals fans, you got haul of future studs such as Kiebert Ruiz, CJ Abrams, Robert Hassell, James Wood, Elijiah Green and more. All freak athletes that make jaw-dropping plays on the field, that will slowly get you more and more excited for Nationals baseball. If these guys even scratch the surface of their full potential, this team will be viewed extremely different in five years.
The Nationals had an expected quiet offseason by acquiring Dominic Smith, Corey Dickerson, Alex Colomé and Michael Chavis. Simply just adding role players to both the rotation and starting lineups as well as bench depth.
| | |
| --- | --- |
| Starting Lineup | Bench |
| 1. CJ Abrams – SS | 1. Ildemaro Vargas – UT |
| 2. Dominic Smith – 1B | 2. Michael Chavis – UT |
| 3. Joey Meneses – DH | 3. Riley Adams – C |
| 4. Kiebert Ruiz – C | 4. Alex Call – OF |
| 5. Corey Dickerson – LF | |
| 6. Lane Thomas – RF | |
| 7. Jeimer Candelario – 3B | |
| 8. Luis Garcia – 2B | |
| 9. Victor Robles – CF | |
Catcher
Arguably the biggest piece in their return from the Trea Turner and Max Scherzer trade back in 2021, Kiebert Ruiz has showcased his cannon behind the dish and glimpses of his plus power. The Nationals are happy with what they see from the switch-hitting backstop, signing the Venezuela native to an eight-year, $50 million contract with less than 500 MLB at-bats under his belt.
However, Ruiz is already one of the better defensive catchers in the league throwing out 18 base stealers (second in MLB) and picking off four baserunners, tying for first.
Infield
The future of this infield adds blazing speed to the lineup as CJ Abrams brings excitement to the ballpark. His lateral quickness makes him that much better on the defensive-end, while stealing bases on the offensive side.
Abrams is a spray hitter who finished his rookie year with a .246/.280/.324 slash line in 288 at-bats, but isn't a threat to leave the yard, with just two homers last season. Abrams could make a big leap this year for the Nationals by increasing his on-base percentage, and drawing more walks would be a good place to start. He only walked five times in 90 games last year.
Adjacent to Abrams you'll find the 22-year-old Luis Garcia, who has a similar good defense and small ball style to Abrams. Garcia hit .275/.295/.408 with seven home runs and 45 RBIs in 93 games last season. Spending the last three years in and out of the Majors and on the injured list, Garcia may still have some surprises to show baseball.
Dominic Smith and Jeimer Candelario are the new kids on the block, who were both acquired from free agency looking for a comeback after rough 2022 seasons. Smith spent most of his season with the New York Mets Triple-A affiliate, Syracuse Mets. In just 134 at-bats, Smith hit below the Mendoza line and failed to leave the yard once.
Candelario was the starting third baseman for the Detroit Tigers in 2022, producing an underwhelming .217/.272/.361 slash line, with just 12 home runs and a 80 wRC+ in 467 plate appearances. Candelario has nothing to lose this season, other than advertise himself to teams as a piece that could be moved at the deadline.
Outfield
Joey Meneses found himself in the headlines frequently during the 2023 World Baseball Classic, helping team Mexico reach their first-ever semifinals. He led his team in hits and home runs and was second in RBIs, Slugging, and OPS only behind Randy Arozarena. The 30-year-old, who spent the last nine years working to make his major league debut, finally was able to live his dream last year.
In his first at-bat, Meneses cracked one over the right field wall, making the best early impression a player can. Despite Meneses making his debut at 30, his quick transition from the minors to the majors and his instant success in the World Baseball Classic shows there's promise in his swing that can help the National's offense. With below-average defense, it's more likely Meneses will make appearances penciled in at designated hitter.
A fantastic glove in center field with terrific speed, Victor Robles covers tremendous ground with a cannon on his right arm. However, his hitting never fully developed with a career of .233 average and slugging just .311 last year. Robles' speed transitions well when on base, swiping 33 bags in 48 attempts, which we could see plenty more of with expanded bases in this season. Robles's defense has kept him in the Nationals lineup since 2017, but at some point, he will need to display a little more than tracking down flyballs.
Washington brought in veteran outfielder Corey Dickerson, who isn't the 15+ home runs a year player he once was. After trading away all their stars for young talent and their captain Ryan Zimmerman hanging up the cleats in February of last year, Washington brought in some veteran help.
Dickerson, although not a game changer, hit a respectful .267/.300/.399 with just a 16.2% strikeout rate on the Cardinals last season. A good veteran presence in the locker room for the younger players, Dickerson is truly squeezing out the last couple of years baseball has left for him.
Projected Rotation
1. Josiah Gray – RHP
2. Patrick Corbin – LHP
3. Trevor Williams – RHP
4. McKenzie Gore – LHP
The talented 25-year-old, Josiah Gray, was another big piece received in the Trea Turner and Max Scherzer trade and had a love-hate relationship with Nationals fans. Gray punched out 154 over 148.2 IP, however, allowed a league-leading 38 home runs resulting in a 5.02 ERA.
With only completing his second season in the majors, there are still a lot of growing pains with Gray, however his upside could help the Nationals in the future with a fastball averaging mid-90s. He can also attack hitters with a sinker that runs inside to right-handed hitters at 95 MPH, followed by a slider and a changeup. There's no doubt Gray has arm talent, the question remains can he control it and keep the ball in the yard?
MacKenzie Gore was received in the historic Juan Soto trade during the trade deadline last year, sending one of the better players in the league to San Diego in return for a handful of the Padres' future stars. Gore was the front-runner for National League Rookie of the Year until an elbow injury began to linger causing consecutive poor outings. This bounced Gore from the award and forced the Nationals to shut the youngster down for the year. In Gore's first nine starts, he posted a 1.50 ERA and struck out 57 over just 48 innings.
The 2017 third-overall pick should be expected to dominate in 2023, with no elbow problems affecting his performance. Especially with Stephen Strasburg's future in the air, Gore has a good shot at becoming the new de facto ace of the Washington Nationals.
In 2019, the Nationals had a big three in their rotation consisting of Max Scherzer, Stephen Strasburg, and Patrick Corbin. Corbin has declined since playing a pivotal role in the 2019 World Series win over the Houston Astros. He's led the majors in earned runs the last two seasons and hits last season by 11, while throwing 20 fewer innings than Jose Berrios who was second. Corbin's expectations for the season are to not break the 7.00 ERA barrier.
Mike Rizzo, Nationals general manager, decided the rotation could use some help with Gray and Gore still adapting to the majors, Corbin being a mess and Strasburg not even guaranteed for the 2023 season. Rizzo acquired Trevor Williams who served as a swingman for the Mets last year.
Despite his utility arm, Williams had a solid season finishing with a 3.88 FIP and 3.21 ERA in 89.2 IP. Williams could be a huge help in the rotation and if needed out of the bullpen having experience in both scenarios.
Bullpen
1. Kyle Finnegan – RHP
2. Victor Arano – RHP
3. Carl Edwards Jr. – RHP
4. Paolo Espino – RHP
5. Erasmo Ramirez – RHP
6. Alex Colomé – RHP
7. Tanner Rainey – RHP
8. Mason Thompson – RHP
The Good
Despite the 107-loss season, the bullpen couldn't take much of the blame placing 11th in bullpen ERA with a 4.21. This can be thanks to great seasons from Erasmo Ramirez and Carl Edwards Jr. who both posted sub 3.00 ERAs in 57+ appearances.
The strikeout numbers for Ramirez won't blow you away, however, his efficiency and production will. Despite posting a team-leading 2.46 ERA in 80 1/3 innings pitched, it apparently wasn't enough for the league to take notice. However it was enough for team Nicaragua, earning him a spot on their World Baseball Classic team.
Mr. Clean of the bullpen, Carl Edwards Jr. who stranded 83% of his base runners, allowing him to maintain a 2.76 ERA over 62 innings pitched in his first season with the Nationals. Edwards had 13 holds, making him a valuable reliever in crunch time late in games. Not a long-term piece for the Nationals, but a reliable arm in the bullpen will always allow a manager to breathe a little easier late in games.
The projected closer for the Nationals is Kyle Finnegan who shared the ninth-inning role with Tanner Rainey, who very much could steal the job from Finnegan. Eleven saves in 15 attempts, with 14 holds wasn't bad for the 31-year-old, who throws a violent fastball at 97 MPH. Rainey only threw 30 innings in 29 appearances, but held his ground with 36 strikeouts and a 3.30 ERA in his time on the bump. Neither Rainey nor Finnegan are part of the Nationals major rebuild but can still prove themselves and be dealt come the deadline.
The Bad
Victor Arano has been fairly disappointing in his time with the Nationals, however spending lots of time on the injured list hasn't made it any easier for him. With a 4.50 ERA and 1.40 WHIP, Arano has some work to do in order to stay a National or get a bag in the offseason. Arano is very capable of dominating out of relief with a 2.65 ERA, 3.20 FIP and 1.14 WHIP through 2017 and 2019 with the Phillies.
With relievers only throwing anywhere between 40 and 70 innings, it's a very small sample size compared to starters who throw between 100 and even 200 innings. It's understandable for relievers to have down years especially with an injury history.
In the game today, sabermetrics and advanced analytics have nearly taken over the sport, to where rule changes were implemented this year to stop teams from shifting and encouraging more stolen bases. Matchups grew more and more favorable for managers over the last decade to resulting in Rob Manfred forcing a three-batter minimum rule.
This brings up the problem that the Nationals have no left-handed pitcher to match up against left-handed hitters. This will be a challenge and easier for opposing managers to build their lineups around the Nationals pitching staff.
Help From the Farm
With most of the farm system being built in return of trading away Trea Turner, Max Scherzer and Juan Soto, the Nationals big-name prospects aren't expected to make their appearance in Washington for a few seasons. This excludes the young former top prospects who are already up, such as Kiebert Ruiz and CJ Abrams. With that being said, here are a few guys that could make their MLB debuts and excite some Nationals fans:
Cole Henry – RHP
The 6-foot-4, 195-pound 23-year-old is the No. 8 prospect in Just Baseball's top 10 Nationals prospects. The former 2020 second round pick has been fighting injuries ever since his name was called on draft day.
Injuries and an awkward delivery could result in Henry being a bullpen arm in the future. However, Henry has a strong three-pitch mix with his fastball, curve and changeup. His fastball, changeup combo have a significant 10 MPH change of speed, at times being a nightmare for hitters. There's no doubt Henry has talent, but he has to prove he can stay healthy and productive before getting his shot in the big leagues.
Robert Hassell – OF
Although expected to spend all of this year in the minors, Hassell will be an exciting piece to add to the lineup in 2024. The No. 3 prospect in the organization and No. 49 prospect in Just Baseballs top 100 prospects, there is no concern Hassell will produce for the club when his number is called.
With an above-average hitting ability, Hassell should hit around .300, while being an above-average contributor in the outfield defensively with his elite speed.