News
2022 MLB Trade Deadline Tracker: News and Rumors
Juan Soto, Josh Bell, and Frankie Montas are just some of the names who could be dealt at the deadline. Follow here for all the latest news.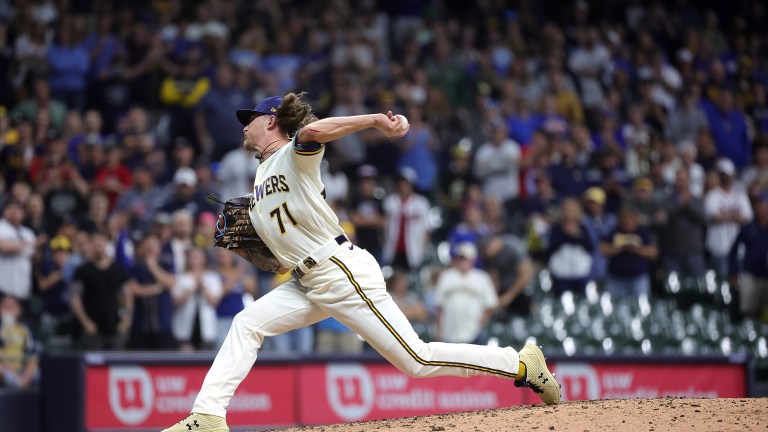 Update 6:20 p.m. August 2nd
The deadline has passed, but many storylines are still coming out.
Multiple Teams Hold Onto Their Stars
Many teams appeared to be ready to tear it down this deadline, yet very few went through with it. The Cubs, Giants, and Red Sox all appear to have held on to their star players.
The Cubs especially seemed like a surefire seller, but they decided to not move franchise star Willson Contreras or All-Star Ian Happ. Furthermore, the Giants also held onto valuable pieces like Carlos Rodon and Joc Pederson. The Red Sox did not seem to have a clear direction, but after moving Christian Vazquez yesterday it seemed they might be ready to sell. However, this was not the case as they brought in Eric Hosmer and held onto their stars.
We'll talk much more about these decisions in our post-deadline analysis.
Mets Continue Adding
While they haven't brought in any of the huge fish, the Mets have brought in a plethora of quality help. They finished it off by snagging reliever Mychal Givens from the Cubs.
Givens has had a quality year in the Cubs bullpen and should provide the Mets with another trusted arm in the bullpen. He's got another year of control and should be a nice add.
The Jays Add Another Arm
The Jays started slow but made numerous quality moves as the day continued. They finished off their deadline by bringing in pitch Mitch White from the Dodgers.
White adds another arm to a Toronto staff that needed some reinforcements. White has a 3.70 ERA this season for the Dodgers while being a part-time starter. He'll slot in as either a back of the rotation arm or a long reliever for the Jays.
Update 6:00 p.m. August 2nd
We've got a few last-minute updates as the deadline has now officially passed.
Jays Add a Versatile Bat
The Jays have made a last-minute move to bring in longtime Royal Whit Merrifield.
The Jays have struck again late as they bring in veteran Whit Merrifield from Kansas City. The Royals have been reluctant to move him for years, but they finally do so by sending Whit to the Blue Jays. He's in the midst of his worst career season offensively but history shows he should improve. Furthermore, his defensive versatility will help Toronto as he can slide in just about anywhere they ask.
Braves Strike at the Buzzer
The Braves have made a huge splash at the very last minute to add an elite closer in Raisel Iglesias.
The Braves are just really good at this whole deadline thing. They swoop in at the last minute and bring in Iglesias to round out their bullpen. He's had a rough season for his standards, pitching to a 4.04 ERA, but has a proven track record that made him very desirable.
The Angels are getting back RHP Jesse Chavez in addition to high-upside arm Tucker Davidson. More details on this deal are available here.
Update 5:55 p.m. August 2nd
We are down to the last few minutes and we've got deals coming in hot.
The Phillies Want Playoffs
The Phillies have won the Syndergaard sweepstakes as they've traded for the Angels pitcher at the last minute.
The Phillies have now made moves all over the diamond as they bring in a high-caliber starting pitcher in Syndergaard. He's had an up-and-down year with the Angels, but has had some great starts and has pitched to a 3.83 ERA on the year. He'll slot in nicely for the Phillies behind Zach Wheeler and Aaron Nola.
Mickey Moniak and others appear to be heading to the Angels in this deal. Our breakdown of the deal is now available.
Yankees and Cardinals Swap Major-Leaguers
These two contenders have swapped players to fit their needs as starter Jordan Montgomery will head to St. Louis in exchange for CF Harrison Bader.
With their recent acquisition of Frankie Montas, the Yankees no longer felt the need to hold onto Montgomery. The Cardinals have been searching for pitching and after adding Jose Quintana last night, they bring in another arm today. Montgomery has pitched to a 3.69 ERA and should have a spot in the Cardinals rotation down the stretch.
Bader has been on the shelf with an injury since June but could potentially be a nice piece for the Yankees down the stretch. He's an elite fielder and could slot into centerfield for New York.
Update 5:45 p.m. August 2nd
The Twins are separating from the pack in the AL Central.
Fulmer Stays in the Division
The Twins have made another move by adding Michael Fulmer from the Tigers for right-hander Sawyer Gipson-Long.
The Twins continue to add arms today as they bring in another quality reliever. Fulmer has found his niche in the bullpen the last two seasons and has a 3.20 ERA over 41 games this year. The Twins have now added multiple bullpen pieces to go along with their big acquisition of Tyler Mahle.
The Tigers get back a young arm in Gipson-Long. He excelled in High-A earlier in the season, but has struggled to maintain that performance in Double-A.
Update 5:30 p.m. August 2nd
The Dodgers appear to be clearing a roster spot. They might be up to something.
Mariners Pick Up Lamb
The Dodgers have sent Jake Lamb to the Mariners for cash considerations. This seems like a move intended to open a spot on the 40-man for the Dodgers.
The Mariners add a depth bat that can play numerous positions. Lamb has bounced around the last few years and is no more than a bench bat at this point in his career.
The Dodgers have been quiet for their standards so far, but might just be preparing for a big splash.
Update 5:20 p.m. August 2nd
Things are slowing down but we still expect some big moves within the next forty minutes.
Brewers Continue to Revamp the Bullpen
The Brewers traded Josh Hader, but have done nothing but build the bullpen since that move. They just added right-hander Trevor Rosenthal from the Giants.
Rosenthal has not appeared in a game since 2020, but could potentially return from injury to help the Brewers. It's hard to tell what he can provide at this point in his career, but he was likely a very inexpensive move for the Brewers.
Update 4:45 p.m. August 2nd
The stove is hot right now and the moves keep coming.
Seattle Adds a Catcher
The Mariners have strengthened their catching rotation by adding Curt Casali from the Giants for pitching prospect Michael Stryffeler.
The Mariners made their big splash by adding Luis Castillo earlier this week, but they're not quite done adding to the roster. They've brought in Casali to likely share the catching duties with Cal Raleigh going forward. Casali is a steady veteran catcher that should be a nice to piece to have around in Seattle.
The Giants get an intriguing young arm in Stryffeler who has pitched to a 2.27 ERA as a reliever in Double-A. He should have a chance in the Giants bullpen in the coming years.
Update 4:30 p.m. August 2nd
The San Diego Padres mean business.
The Padres are Going All-In
The Padres already made the two biggest moves of the deadline and aren't done yet! They've added Brandon Drury from the Reds to an already loaded lineup.
Just when you thought he may be done, A.J. Preller strikes again. The Padres have added a guy in the middle of a career year that will add even more pop to a lethal lineup. Drury has a slash line of .274/.335/.520 this year and will further compliment what may be the best lineup in baseball after today.
Drury has played mostly third base for the Reds but has the ability to play all over the infield. This will allow the Padres flexibility to figure out what their best lineup looks like down the stretch. Read up on the Drury trade here.
Update 4:10 p.m. August 2nd
The big names are flying off the board now. An AL Central team is looking to pull away from the pack and the Phillies are alive.
The Twins Get Their Guy
The Twins have finally made the move for a starter as they've traded for SP Tyler Mahle from the Reds in exchange for a package of prospects.
It's no secret that the Twins needed pitching in order to separate from the Guardians and White Sox in the AL Central. And they have done just that. Mahle has not been quite as sharp as in his previous two seasons, but he has a proven track record and should provide Minnesota with quality starts.
The package heading back to Cincinnati is not entirely known but appears to include prospects Spencer Steer, Christian Encarnacion-Strand, and others. Read our full breakdown on the Mahle trade.
Phillies Improve the Bullpen
The Phillies made a move for one of the remaining premium relievers on the market as they acquired David Robertson from the Chicago Cubs.
The Phillies bullpen has been up and down throughout the season and they decided it was time to address that. Robertson has had a major resurgence with the Cubs this season after appearing to reach his end the last few years. He's got a 2.23 ERA with 14 saves over 36 games with the Cubs. He will instantly become one of the Phillies' top options in late innings.
We've got a write-up on this move here.
Update 4:00 p.m. August 2nd
The madness is happening. After a slow period following the Soto blockbuster, we have a bunch of moves trickling in now.
Phillies Improve Their Outfield
The Phillies have made a move to improve centerfield as they've brought in OF Brandon Marsh from the Angels in exchange for prospect catcher Logan O'Hoppe.
This move bolsters the Phillies outfield that has struggled at times throughout the year. Marsh isn't having a great year as he's slashed .226/.284/.353 this season but should help a Phillies team that has lacked true defensive outfielders all year. Marsh is in just his second season with the Angels and will look to carve out a long-term role with the Phillies.
O'Hoppe has had a solid season in Double-A and has the potential to reach the bigs for the Angels eventually.
Mets Bring in Another Bat
The Mets continue to stockpile bats as they've acquired Darin Ruf from the Giants in exchange for JD Davis and more to come.
The Mets are certainly going for it on the offensive end. They have brought in another bat in the form of Giants slugger Darin Ruf. He's regressed significantly from last year, but can still provide pop to the Mets lineup, especially against left-handers.
Davis has also had somewhat of a down year but figures to get solid playing time for a struggling Giants team.
Update 3:45 p.m. August 2nd
After a quiet hour, we finally have word on the final package heading to Washington in the Juan Soto deal.
Voit is Heading to Washington
After Eric Hosmer refused the deal, Luke Voit will round out the package of players going back to Washington in return for Juan Soto and Josh Bell.
The full package for this deal now involves 5 young players in addition to veteran Luke Voit. This deal will go down as one of the biggest in MLB history. Check out our updated story about the entire trade.
Update 2:45 p.m. August 2nd
The unlikely story of the day has come to an end. Eric Hosmer is on his way out of San Diego.
Hosmer is Finally Moved
After sparking controversy earlier today for declining his no-trade clause and preventing the completion of the Soto deal, Eric Hosmer is heading to Boston.
The Padres were unable to attach him to the Soto deal, but have now found a new home for Hosmer. With Josh Bell coming to town and Luke Voit already in the mix, there was no room for Hosmer to remain with the Padres.
The Padres will be paying a large portion of his remaining contract, but he will officially become a member of the Red Sox soon. Here is a breakdown of Hosmer's wild day in a new article for Just Baseball.
Update 2:30 p.m. August 2nd
The Joey Gallo era has officially ended in New York.
Dodgers Take a Chance on Gallo
The Dodgers have brought in veteran OF Joey Gallo from the Yankees in exchange for young right-hander Clayton Beeter.
This one is certainly interesting. The Yankees have given up on trying to get any production from Gallo and have shipped him to the Dodgers for a young pitching prospect.
Gallo has been atrocious this year and no longer had a role in New York following the Benintendi deal. The Dodgers will hope that Gallo can revive his career in a new setting and provide them some added power. Read about the Gallo deal here.
Update 1:45 p.m. August 2nd
The Blue Jays have finally joined the trade deadline after being silent thus far.
Jays Address the Bullpen
After watching their AL competitors make huge moves, the Blue Jays have addressed one of their weak spots. They've acquired relief pitchers Anthony Bass and Zach Pop from the Marlins in exchange for prospect Jordan Groshans.
The Jays have brought in two arms to help strengthen their bullpen for the playoffs. Bass is the big return here as he's been excellent in the Marlins pen this year, pitching to a 1.41 ERA over 45 appearances. Pop is a young arm with many years of control and should provide quality mid-relief to Toronto.
The Marlins bring back a top 100 prospect in Groshans (Just Baseball's pre-season No. 94 ranked prospect). While he hasn't had the best season, he's a young bat with a high ceiling and the Marlins cash in on Bass at the peak of his value.
The Blue Jays might not be done yet, but they've definitely improved their bullpen today with this move.
Update 1:00 p.m. August 2nd
This has already been one of the craziest trade deadlines in history. The Juan Soto blockbuster trade is seemingly nearing completion after an hour of news slowly coming through.
Eric Hosmer is the villain of the day as his decision regarding his no-trade clause delayed this deal. However, numerous reports are confirming that the deal is happening with or without Hosmer in it. We've got a full breakdown here of the biggest deadline deal in the history of baseball.
Update 12:00 p.m. August 2nd
It has happened folks. The Nationals have traded Juan Soto and Josh Bell is going out in the same trade as well.
San Diego Padres Add Soto and Bell
A.J. Preller is out here making moves!
The Padres traded for the best closer in baseball yesterday and today they added the best young player in the game. Juan Soto will be sharing a lineup with Manny Machado and Fernando Tatis Jr. and he is even bringing Josh Bell along for the ride.
We will have a full article breaking down this trade soon, giving you a look into the return for the Nationals, but let's just focus on the here and now.
This Padres team currently sits 12 games behind the Dodgers in NL West, but they have a two game lead over the Phillies for the second Wild Card seed and are three games ahead of the Cardinals. Last year, the Padres collapsed in the second half and missed the playoffs.
This year, they have now formed a quartet in the middle of the lineup that rivals anyone's in the game with Soto, Tatis, Machado and Bell. They landed arguably the best two bats available at the deadline in one trade. It's absolutely playoffs-or-bust for this Padres team, but you don't make a deal like this if your aim isn't a bit higher. The Padres are now legit World Series contenders.
Update 10:45 a.m. August 2nd
The Twins have finally joined the mix of buying teams.
Twins Bring in an All-Star Closer
The Twins have gotten the day going by bringing in closer Jorge Lopez from the Baltimore Orioles in exchange for a package of four prospects.
After missing out on the big starters, the Twins shifted gears to their bullpen. Jorge Lopez was one of the top relievers available as he's been elite this season and has two more years of control. He's pitched to a 1.68 ERA with Baltimore and instantly becomes a key part of Minnesota's pen.
It was unclear whether the Orioles were going to be selling due to their surprisingly good season, but they've moved Trey Mancini and now Lopez. They get back a group of four young arms from the Twins headlined by left-hander Cade Povich, who is listed as the 22nd Twins prospect. Read all about this deal here.
Update 10:30 a.m. DEADLINE DAY August 2nd
The trade deadline is upon us and we are currently experiencing the calm before the storm. But according to Jon Morosi's reporting, things are about to get real interesting.
Check out our latest story on the Juan Soto sweepstakes and get ready for a wild trade deadline. We will be posting updates on this tracker when anything goes down and will also be providing individual article breakdowns of the trades and the prospect returns they are receiving as well.
Follow along at @JustBBMedia on Twitter for full deadline coverage.
Update 11:30 p.m. August 1st
We've got another arm heading to the NL Central and the reigning champs are making moves. There have been plenty of trades today and more are on the horizon.
The Brewers Bolster the Bullpen
The Brewers have brought in relief pitcher Matt Bush from the Rangers to help their bullpen after trading away superstar closer Josh Hader earlier today.
The Brewers shook up the baseball world earlier today by moving their All-Star closer. However, they acquired Taylor Rogers in the Hader deal and now strike a deal for an underrated arm from the Rangers. Bush has a 2.95 ERA across 40 games this season and should be a very solid option in the Brewers bullpen.
The Rangers received IF Mark Mathias in addition to LHP Antoine Kelly. Mathias appeared in a few games for the Brewers and didn't do much, but has been very productive at the Triple-A level this season. Kelly is a young arm that has shown flashes in High-A throughout the season.
The Braves are Trying to Run it Back
The Braves might have done it again. They've added two pretty under-the-radar players in Jake Odorizzi and Robbie Grossman as they prepare to defend their title.
The Braves decided to get in on the fun after other major contenders added pieces throughout the day. They started with a swap of veteran arms as they snagged RHP Jake Odorizzi from the Astros in exchange for left-handed reliever Will Smith.
Neither has had the best season but both figure to play important roles for these two contenders. The Braves get a starter for the back-end of their rotation and the Astros add a lefty to the pen.
The second move from the Braves within just a few minutes was bringing in OF Robbie Grossman from the Tigers for left-handed pitcher Kris Anglin.
Grossman has definitely had a down year offensively as he's slashed .205/.313/.282 on the year. However, as seen by his on-base percentage, he has an excellent eye and works deep into counts. Furthermore, he excels against lefties and should thrive in a possible platoon role in Atlanta. The Braves essentially add an affordable rental outfielder just like last year…and we all know how that went.
Anglin, a 2021 draft pick, heads back to Detroit and gives them a young left-handed arm. He's got a 4.64 ERA across 17 games in the minor leagues this year.
Update 9:45 p.m. August 1st
Things have calmed down as tonight's games have got going, but that didn't stop the Cardinals from adding an arm.
The Cardinals Finally Add a Starter
The Cardinals have made a move for a starter tonight as they've brought in left-hander Jose Quintana from the Pittsburgh Pirates.
The Pirates took a flier on Quintana this past offseason in hopes he could return to his younger self. That turned out to be a great decision as he's been one of the better arms on their roster this season. He struggled a bit in a few of his recent starts but he still has a 3.50 ERA on the season.
The Cardinals have lacked some depth in their rotation for a while and they have now added a veteran to the mix. Many fans in St. Louis were seeking arms like Montas or Castillo, but they still add a quality starter to help the rotation down the stretch.
Update 7:30 p.m. August 1st
More small deals are coming in as the stove remains very hot the day prior to the deadline.
Red Sox Bring In Pham
Right after they traded away their starting catcher, the Red Sox added veteran outfielder Tommy Pham.
It's becoming a bit unclear what the Red Sox direction is at this deadline as they add a veteran hitter after just trading one away. Pham has put together a decent season with Cincinnati as he's got a .238/.320/.374 slash line on the year. He's still a productive veteran and can help the Red Sox outfield issues, but Boston's plan remains unclear.
Diamondbacks and Royals Swap Veterans
These two rebuilding teams adjusted to their needs tonight with a straight swap of veterans.
Rivera has been an average outfielder in his second season in the majors. He's also spent some time in Triple-A, where he has hit very well. He should get reps at third base for the Diamondbacks down the stretch.
Weaver has dealt with arm injuries the last few seasons and has yet to refind his groove since a breakout 2019 season. He's struggled a bit when on the field this year, but the Royals will try to tap into his potential and add some depth to their bullpen.
Double Sox Exchange
The White Sox and Red Sox have swapped depth players to better fit their needs. Catcher Reese McGuire is heading to Boston in exchange for left-handed reliever Jake Diekman.
After trading away their long-term catcher, the Red Sox have brought it a veteran that no longer had a spot in Chicago. McGuire has not hit very well this year in Chicago to the tune of a .225/.261/.285 slash line, but is known for his defense and will fill in behind the plate for the Red Sox for the time being.
Diekman provides the White Sox with a much-needed left-hander in the bullpen. He has not had his best year, but should still give the White Sox another veteran option out of the pen. He's pitched to a 4.23 ERA in 44 appearances this season.
Update 6:30 p.m. August 1st
We've got the first catcher trade of the deadline and what appears to be the beginning of the Red Sox fire sale. We also have another massive extension.
Astros Add Another Backstop
The Astros have taken advantage of the Red Sox struggles as they've acquired catcher Christian Vázquez to add to their production from behind the plate.
This is the first move Boston has made and likely indicates them being ready to sell. Vázquez has quietly put together one of his personal best seasons and should be a big addition to Houston's catching rotation. He's slashing .282/.327/.432 across 84 games this season for the Red Sox.
The return going back to Boston is not known yet but should be available soon. Houston has now added two quality veteran bats to an already loaded lineup.
Riley Signs a Massive Extension with Atlanta
Austin Riley has become one of the best hitters in the league over the last few seasons and Atlanta has decided to pay him like that. The Braves signed him to a 10-year, $212 million deal to keep him at the hot corner in Atlanta for a long time.
Riley has been phenomenal in 2022 as he's slashed .301/.360/.604 this season to go along with the second most home runs in the National League. He will now continue to be in the heart of Atlanta's order for the next decade. Here's our full breakdown of Riley's extension.
Update 5:30 p.m. August 1st
We finally know the full details of the Trey Mancini trade, which turned out to be a three-teamer between the Astros, Orioles, and Rays.
For a full breakdown of the Mancini trade check out our new article we just posted. Also, check out the breakdown of the Frankie Montas trade here.
Update: 4:30 p.m. August 1st
The big trades are starting to trickle in, as we have a pair of huge deals to report.
New York Yankees Land Frankie Montas
The New York Yankees have acquired a frontline starting pitcher and they also nabbed another reliever to boot.
Montas was the top widely available starting pitcher left on the board after Luis Castillo was dealt to the Mariners this weekend and now he finds himself heading to the Bronx. The 29-year-old has a 3.18 ERA this season across 19 starts.
Along with Montas, the Yankees acquired Lou Trivino, who is in the midst of a terrible season but could bounce back with a change of scenery. Trivino has a 6.47 ERA this year, but a 2.92 xFIP points to better times ahead for the 30-year-old.
Once the full package of prospects is announced, we will be posting a full article on this trade.
Trey Mancini Heading to Houston
Another trade that we will have an article written on once the full details are announced, the Orioles have sent longtime fan favorite Trey Mancini to the Astros, where he will have a chance to win a World Series this season.
Mancini is hitting .268/.347/.404 this year, with 10 home runs, 41 RBIs, and a 114 wRC+. He will be a big upgrade over the struggling Yuli Gurriel over at first base.
Update: 3:30 p.m. August 1st
Things have settled down since the massive Hader blockbuster earlier, but we've got some minor deals coming through still.
The Rays Add a Depth Arm
The Dodgers have cleared a roster spot on their 40-man by moving LHP Garrett Cleavinger to the Tampa Bay Rays in exchange for prospect OF German Tapia.
Cleavinger has only appeared in four games with the Dodgers this year and allowed five earned runs over 4.1 innings pitched. However, he's pitched to a 2.79 ERA over 22 games with Triple-A Oklahoma City. He gives the Rays another potential depth arm as they look to figure out their bullpen situation heading into the final playoff push.
For the Dodgers, they take a flier on a young outfielder that's hitting .329 in rookie ball this year. But their primary goal was certainly clearing a spot on their 40-man for any incoming players they look to acquire in the next 27 hours.
Mariners Clear a Roster Spot
The Mariners also made a roster move with the intention likely relating to opening a roster spot as well. They sent LHP Anthony Misiewicz to the Royals for cash this afternoon.
Misiewicz has been a serviceable arm in the limited time he's spent in Seattle this year as he's got a 4.61 ERA across 17 appearances this season. He's been very solid in Triple-A as well in the time he's spent there. The Royals add a fairly young bullpen arm without giving up anything significant.
Update: 1:50 p.m. August 1st
BLOCKBUSTER TRADE ALERT!!!!!!
The Milwaukee Brewers, who are currently in first place in the NL Central, have decided to trade their four-time All-Star closer to the San Diego Padres.
The Brewers are receiving a haul for Hader that includes Padres closer Taylor Rogers, newly promoted outfielder Esteury Ruiz, right-handed pitcher Dinelson Lamet and left-handed pitching prospect Robert Gasser.
We will soon post a full article that will go into greater detail about this trade and what the Brewers are receiving in return, but for the Padres this is a clear indication that they are going all-in on this season.
Hader has been the best closer in baseball since his debut in 2017 and is under control through next season. The left-hander's stats have ballooned over the past month, as Hader has pitched to a 12.54 ERA in July, with 13 runs allowed in 9 1/3 innings. After going about 11 months without allowing a home run, Hader has given up seven since June 7th, including five this month.
Clearly, the Padres feel this little skid is just a bump in the road for Hader, as they hope he can return to form and be a great weapon coming out of their bullpen.
Update 1:15 p.m. August 1st
It is finally starting to feel like the trade deadline. A reliever is on the move and an All-Star has signed a nine-figure extension.
Joe Musgrove Extended By the Padres
We will begin with the higher-profile player, as Joe Musgrove is staying in San Diego long-term. According to Jon Heyman, who first tweeted the extension was with the Cubs, Musgrove will remain in San Diego on a five-year, $100 million deal.
Since coming over to the Padres in a trade last season, Musgrove has pitched to a 2.97 ERA across nearly 300 innings pitched. This season, Musgrove made the All-Star team for the first time and currently is sporting a 2.65 ERA across his first 18 starts. Had he not signed this extension, there is a good chance Musgrove would have been the top starter available in free agency.
New York Yankees Trade for a Reliever
The New York Yankees have swung their second trade of the deadline, this time acquiring side-armer Scott Effross from the Chicago Cubs.
The 28-year-old reliever made his debut with the Cubs last year and pitched to a 3.68 ERA with 18 strikeouts across 14 2/3 innings pitched. This season, Effross has only gotten better, pitching to a 2.66 ERA across 44 innings with a 10.2 K/9.
Effross ranks in the 95th percentile or higher in xERA, xSLG, xwOBA, Barrel% and Chase Rate. He is under team control until 2028, which is why the Yankees had to a deal a prospect more significant than anything they traded when acquiring All-Star Andrew Benintendi (who is a rental).
In exchange for Effross, the Cubs receive right-handed pitching prospect Hayden Wesneski. The 24-year-old was drafted by the Yankees in the sixth round back in 2019 and was currently ranked as their No. 7 overall prospect.
Wesneski pitched at three different levels in 2021, starting in High-A and finishing the year in Triple-A. Altogether he pitched to a 3.25 ERA across 25 games (24 starts) and 130 1/3 innings pitched. This season, Wesneski has continued his success, pitching to a 3.51 ERA in 19 Triple-A starts.
The Cubs essentially deal a cost-controlled reliever who was thriving at the big league level for a guy who they hope can be a cost-controlled starting pitcher for years to come.
Update 12:30 p.m. August 1st
We finally have another trade!
The Atlanta Braves have made a trade to acquire some infield help, adding Ehire Adrianza in a deal with the Washington Nationals.
Adrianza is hitting just .179/.255/.202 this season across 31 games played. The 32-year-old was on the Braves last year, winning the World Series with the club. Adrianza hit .247/.327/.401 in the regular season in 2021.
To make room for Adrianza on the roster, the Braves designated Robinson Cano for assignment. In nine games with the Braves, Cano went just 4-for-26 (.154) with just one walk.
Update 11:00 a.m. August 1st
Since we first published this tracker for all your trade deadline news there has only been a single trade that we can report on. The San Francisco Giants acquired 30-year-old middle infielder Dixon Machado from the Chicago Cubs in exchange for minor league pitcher Raynel Espinal.
Machado had not played in the majors since 2018, but was hitting .312/.402/.394 across 86 games for the Cubs in Triple-A this season. Machado actually started for the Giants against the Cubs last night and went 1-for-3, was hit by a pitch and scored a run.
Rumor Roundup
While we currently sit just 31 hours from the trade deadline, we are getting crickets when it comes to trade news at the moment. Big names are still on the market, with the Juan Soto sweepstakes still in full swing, amidst other high-profile players who could be moved at the deadline.
Here are some of the other league-wide rumors that have been reported over the last 24 hours.
Brandon Drury is expected to be moved at the deadline with the Mariners, Dodgers and Braves all having checked in with the Reds on making a deal for the breakout star.
Frankie Montas is the next big domino to fall in the starting pitcher market and there has been reported interest from countless teams, including the Blue Jays, Yankees and Cardinals.
The Phillies are looking for a center fielder and Ramon Laureno from the Oakland Athletics is high atop their list.
The Marlins are currently shopping some of the key arms from their bullpen, with Tanner Scott, Dylan Floro, Steven Okert and Anthony Bass all being of interest to contending teams.
Original Post:
We have reached the pinnacle of the 2022 MLB season. After play yesterday, every team in baseball has crossed the century-mark in games played and we are less than 72 hours removed from the trade deadline. This is baseball euphoria!
Sure the All-Star Game was fun, but any die-hard baseball fan appreciates the trade deadline way more. There is enough of a sample size now to know which teams should be buying, which should be selling and which teams are caught in the middle. The deadline let's us all understand what each teams goals will be this year.
Some teams will sell big and focus on rebuilding for the future and other teams will go for it in hopes of winning big now. We have already seen massive news over the past week heading into the deadline, from Andrew Benintendi getting traded to the Yankees and a massive blockbuster with Luis Castillo going to the Mariners for an absolute haul of prospects.
Over at Just Baseball, we have written the most comprehensive trade deadline preview you will find anywhere, with 30 written outlooks on all 30 teams, each coming with an accompanied podcast and video. We are prepared for any and everything, but according to some reporters, we could be in for one wild ride.
This article post will be your official resource to stay up-to-date with everything going on during this deadline. Check back often, as we will continuously update the post with every trade and major rumor that could effect your favorite team at the deadline.
Before we look ahead though, here is a recap of everything that has happened thus far, ahead of the August 2nd 6:00 p.m. MLB Trade Deadline.
New York Mets Add a Pair of Left-handed Bats
The first trade of deadline season took place on July 23rd, when the New York Mets traded rookie reliever Collin Holderman to the Pittsburgh Pirates Daniel Vogelbach. Holderman was having a strong season, with a 2.04 ERA in 15 appearances, but was dealt so the Mets could add a new DH bat to face right-handed pitching.
The Mets later decided they weren't done adding lefties to the lineup, as they swung a deal for Tyler Naquin, who replaced Travis Jankowski as the fourth outfielder on the Mets roster.
New York is still reportedly looking for a right-handed bat and some bullpen help at the deadline.
New York Yankees Trade for Andrew Benintedni
While Vogelbach was the first trade, it was not until Wednesday that the first major deal was struck, taking one of the our to 20 trade targets off the board. The New York Yankees sent three prospects to Kanas City to acquire Andrew Benintendi.
Benintendi will be a free agent after this season, making it a great time to have a career year. The 28-year-old hit .320/.387/.398, with a 126 wRC+ in 93 games played with the Royals prior to being traded. He made the All-Star team for the first time in his career this season.
Now the rumor is that the Yankees are shopping Joey Gallo, hoping to rid themselves of one of the players they landed at last year's deadline.
Reds Deal Luis Castillo to Seattle for Massive Haul
Andrew Benintendi was big news, but even that paled in comparison to the splash that was made on Friday night, when the Seattle Mariners swung a trade for Luis Castillo.
Castillo is one of the biggest names that is expected to move at this year's deadline, and could very well be the difference in helping the Mariners break their nearly 20-year playoff drought.
The former Reds starter has pitched to a career-best 2.86 ERA across 14 starts this season. He too was an All-Star, making his second appearance in the Midsummer Classic. In exchange for Castillo, the Reds landed an impressive haul of prospects, which included Just Baseball's No. 21 overall prospect, shortstop Noelvi Marte.
Cardinals and Phillies Make Minor Swap
On Saturday, we saw the Cardinals and Phillies make a trade that does not seem too significant now, but could change if one of these players pops in a new situation. St. Louis sent struggling infielder Edmundo Sosa to the Phillies in exchange for left-handed reliever JoJo Romero.
Sosa is hitting just .189/.244/.270 this season and was relegated to a bench role with the Cardinals. In Philadelphia, maybe his glove alone will be enough to warrant some playing time for a Phillies team that has its fair share of struggles defensively.
Meanwhile the Cardinals receive a reliever in Romero who has a career 7.89 ERA across 21 2/3 career innings pitched at the big league level.
Colorado Rockies Extend Closer Daniel Bard
The Rockies top trade asset at this year's deadline was taken off the table yesterday, as the Rockies extended closer Daniel Bard.
The 37-year-old has enjoyed a career renaissance in Colorado, pitching to a 1.86 ERA this season with 22 saves. The Rockies could have received a solid prospect return for Bard, but instead opted to keep their closer in hopes of contending in the short-term.
This likely shows their hand with what they will do regarding their All-Star, CJ Cron, as recent reports indicate that he could be staying put in Colorado.
Dodgers Land Bullpen Help with Chris Martin
The Los Angeles Dodgers were the first team to make a move to bolster their bullpen at this year's deadline, as they made a trade with the Chicago Cubs to acquire veteran Chris Martin.
Martin, 36, is pitching to a 4.31 ERA this season across 34 appearances. Last year, Martin won the World Series with the Atlanta Braves, after pitching to a 3.95 ERA across 46 regular season appearances. In the World Series, Martin gave the Braves 2 1/3 scoreless innings.
In exchange for Martin, the Cubs receive utilityman Zach McKinstry. The 27-year-old doesn't have much of a track record at the big league level (career .669 OPS), but Chicago has recently found some success unearthing valuable players out of journeyman like Patrick Wisdom and Frank Schwindel.
Rays Acquire David Peralta From Arizona
The Tampa Bay Rays are currently dealing with a plethora of injuries to their position player core, so they made a deal to bolster their outfield depth on Saturday. David Peralta is heading to Tampa in a trade that sends catching prospect Christian Cerda.
Peralta has spent his entire nine-year career playing in Arizona, where he won a Silver Slugger in 2018 and a Gold Glove in 2019. A career .283/.340/.463, Peralta has been as solid as any outfielder in the National League, providing the Diamondbacks with solid pop and a strong glove for years.
Now he will be traded to the American League, where he will get the chance to play with a contender again. This season, the 34-year-old is hitting .248/.316/.460, with 12 home runs and a 110 wRC+.
Cerda heads back to the D-Backs in this trade, giving Arizona a solid 19-year-old catching prospect. In 20 games of Rookie Ball this year, Cerda is hitting .315/.464/.519, five doubles and five stolen bases.