Analysis
Unlikely All-Star: Andrew Benintendi's Having Best Season in Years
Andrew Benintendi is making his case to represent the Kansas City Royals at the 2022 MLB All-Star Game.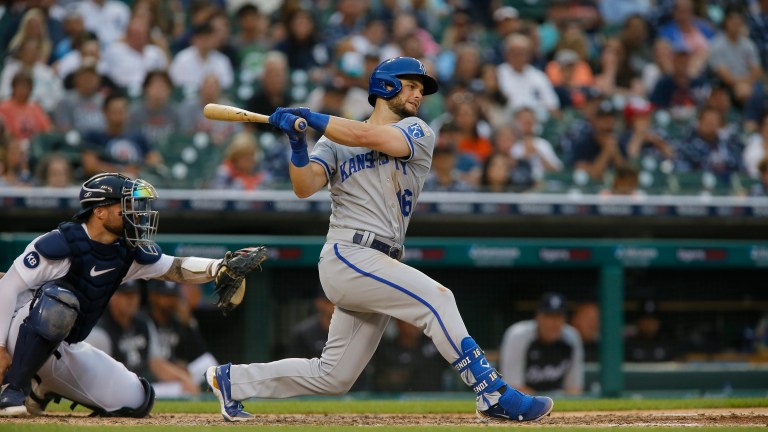 The Kansas City Royals have not been very good this year. Among American League teams, only the Oakland Athletics have a worse record. And while the Royals have a farm system full of promising young players, the talent at the Major League level isn't so plentiful.
Nevertheless, one player must be chosen to represent Kansas City in the All-Star Game this summer. The most talented players on the roster are the young guys, like Bobby Witt Jr. and MJ Melendez. Both were top prospects heading into the year and both have played well in their rookie seasons. However, Witt and Melendez are still very young, and neither is living up to his All-Star potential quite yet.
Instead, the Royals representative at the Midsummer Classic is likely to be a veteran, and no veteran has played better in Kansas City than left fielder Andrew Benintendi.
Benintendi was traded from Boston to Kansas City prior to the 2021 season. The Royals bought low on the outfielder, and their investment paid off. He had struggled with injury and ineffectiveness in 2020, but he bounced back in 2021, posting above average offensive numbers and winning a Gold Glove for his efforts in left field.
In 2022, Benintendi has been even better. His .316 batting average is a career high, as is his .387 on-base percentage. His slugging percentage is a little lower than usual, but it's important to remember that slugging is down around the entire league this year.
Therefore, this might very well be the best season of the 27-year-old's career. According to several metrics that adjust for league-average performance — OPS+, wRC+, and DRC+ — Benintendi has never before hit this well compared to his peers.
Considering his hot hitting, the team he plays for, and his contract status (he's a free agent after this season), Benintendi is a prime candidate to be traded this summer. Before that happens, however, there is a very good chance he'll be representing Kansas City at the 2022 MLB All-Star Game.
Andrew Benintendi's All-Star Case
Traditional Stats: .319/.388/.405, 3 HR, 34 R, 33 RBI, 47 K, 35 BB, 2 SB
Advanced Stats: 13.8% K%, 10.3% BB%, .352 wOBA, 129 wRC+, 1.8 fWAR
Andrew Benintendi has never made an All-Star team before.
His breakout season came in 2018, when he hit .290 with 16 home runs and an .830 OPS while playing both left and center field. He was particularly good in the first half, batting .297 with a 139 wRC+.
Based on those numbers, the Red Sox outfielder probably deserved to make the All-Star team that season. Unfortunately, competition was stiff — the starting spots went to three guys named Mike Trout, Mookie Betts, and Aaron Judge — so Benintendi was left off the roster.
This season, he has an advantage he did not have back then. Benintendi no longer plays on the Boston Red Sox with superstars like Betts, J.D. Martinez, and Chris Sale. He plays on the Kansas City Royals, a ball club on pace to lose 100 games.
Because every team is guaranteed one representative at the All-Star Game, Benintendi has a better chance to make the team this year than he ever did in Boston.
The seven-year veteran leads his team in batting average, OBP, wRC+, and fWAR. He is third in runs scored and fourth in RBI. No other Royals player stacks up as well against the competition at his position.
Bobby Witt Jr. is having a strong rookie season, but his All-Star chance are slim considering the pool of talent at shortstop in the American League. Meanwhile, former All-Stars on the Royals, such as Salvador Pérez and Whit Merrifield, have struggled at the plate.
On the pitching side, there really isn't anyone in Kansas City deserving of an All-Star nod. None of their starting pitchers have an ERA under four, and while they have a few talented relievers, the Royals don't have a dominant closer who matches up to the likes of Emmanuel Clase, Jordan Romano, Liam Hendriks, or Clay Holmes.
Thus, by process of elimination, Andrew Benintendi looks like the only option this team has for an All-Star. It's not the most glamorous way for him to make the squad, but an All-Star nod is an honor nonetheless.
Indeed, this is not to diminish Benintendi's performance thus far. He has played good baseball this season, and he has been one of the better outfielders in the American League, even if he is not quite All-Star worthy on his own merit.
His .319 batting average leads all AL outfielders, and his 1.8 fWAR ranks eleventh. His strikeout rate is fourth lowest among that group, and while his defensive stats are not outstanding, they rank right around the middle of the pack.
Benintendi probably wouldn't make the All-Star roster if he played on a better team, but that doesn't mean he is entirely undeserving of a spot. Besides, if he is an All-Star this year, it makes up for his snub in 2018.
Benintendi Will Be a Hot Commodity at the Trade Deadline
While Andrew Benintendi will likely represent the Royals at this year's All-Star Game, he isn't long for Kansas City. The Royals have no chance of making the postseason, and trading him will bring back a solid prospect or two for the farm system.
Teams that have been linked to the left fielder in recent weeks include the New York Yankees, Boston Red Sox, Toronto Blue Jays, Philadelphia Phillies, and the San Diego Padres. Expect some smaller market contenders to show interest as well, considering his relatively low salary.
There is no shortage of teams looking for a left-handed impact bat, so Royals President of Baseball Operations Dayton Moore will have his choice of suitors.
While it remains to be seen where Benintendi will find himself after the trade deadline, it's all but certain it won't be Kansas City. His time with the Royals will have been short, but memorable, especially if he is the team's lone All-Star this season.
What the Future Has in Store for Andrew Benintendi
Andrew Benintendi is set to become a free agent at the end of the 2022 season. If he continues to play like he has been, he'll be in line for a substantial payday. After all, he'll be just 28 years old and coming off the best season of his career.
This raises the question: can Benintendi continue to play this well for the rest of the year?
His first half performance has been great, no doubt about it. In particular, his low strikeout rate is very promising. Benintendi is striking out just 13.8% of the time, which is noticeably lower than his 18.2% career rate. Reducing his strikeouts is a big reason why he has put up such an impressive batting average this season.
However, a skeptical observer might bring up Benintendi's batting average on balls in play (BAPIP), which is currently .366 — a career high. Typically, hitters will regress towards their career BABIP over a full season, so it is unlikely he will maintain such a high BABIP for the rest of the year. If his BABIP falls, so will his batting average.
That is a valid argument, but there are certain changes a hitter can make to increase his BABIP, and with such changes, a hitter can maintain a much higher BABIP long-term.
In Benintendi's case, he is pulling the ball to the right side far less often. From 2016 to 2021, he pulled 37% of his balls in play. This year, he's pulling just 27% of the time. BABIP is negatively correlated with pull rate, so hitters with a low pull rate are more likely to maintain a high BABIP.
In other words, Benintendi's high BABIP can't just be chalked up to "good luck." Instead, he has made a meaningful change to his approach at the plate. His BABIP probably won't stay quite this high all season (.366 is very high), but he shouldn't be expected to regress to his career average either.
Reducing his strikeout rate and increasing his pull rate helped Benintendi become a better hitter than ever in his seventh Major League season. As such, he'll be highly sought after the trade deadline, and at season's end, he'll be a valuable commodity on the free agent market too.
Andrew Benintendi may be an unlikely All-Star, but he couldn't have picked a better year to finally make his first All-Star Game.