Analysis
New York Mets Trade for Slugger Daniel Vogelbach
Looking to add some pop to the lineup, the Mets hope that acquiring Daniel Vogelbach will fill the left-handed half of a revamped DH platoon.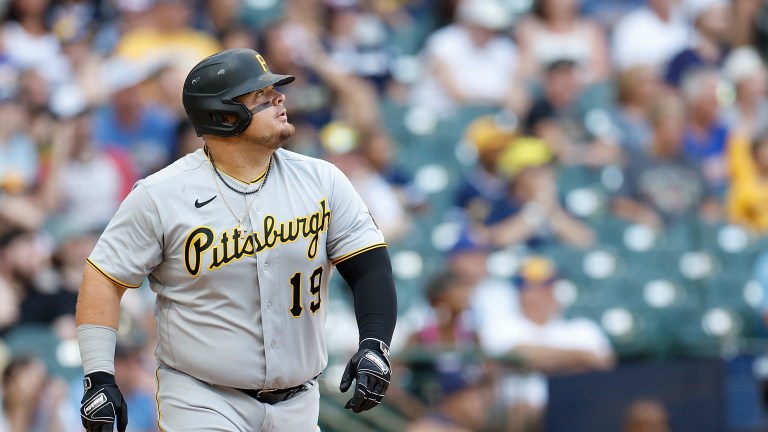 The New York Mets have made their first move of what is expected to be a very active deadline for the first place team in the NL East, acquiring a big bat they hope can fill their void at the DH spot.
The Mets sent reliever Colin Holderman to the Pittsburgh Pirates in exchange for Daniel Vogelbach, who will likely fill the right-handed half of a new DH platoon.
So far this season, the Mets have gotten almost no production from the DH, unless Pete Alonso is filling that spot to get a day off from playing first base. Dom Smith and JD Davis have both struggled mightily and Vogelbach is the first move to replace them on the active roster.
Never Let Vogelbach Face a Lefty
On the surface, Daniel Vogelbach does not boast the most impressive statistics. The 29-year-old is hitting .228/.338/.430 this season, with 12 home runs, 34 RBIs and a 118 wRC+. With that said, if we remove his numbers against left-handed pitching, Vogelbach becomes a much more attractive player.
The left-handed slugger is hitting just .141/.267/.156, with no home runs and a 33 wRC+ against southpaws. Compare that to what he does against righties, and it starts to make sense why the Mets made this move.
Across 203 plate appearances against righties, Vogelbach is hitting .260/.365/.532, with all 12 of his home runs and a 149 wRC+. Dom Smith has been serving the role that Vogelbach is about to assume, and this year, he has a paltry 66 wRC+ against righties.
Vogelbach has great plate discipline for a hitter with pop, walking at a 14.4% clip which has him ranked among the top three percent of hitters in the league. Vogelbach's discipline is evident in his chase rate as well, where he ranks in the top five percent of the league.
The advanced metrics like Vogelbach as well this season, as he is in the 74th percentile or higher in Average Exit Velocity, HardHit%, xSLG, xwOBA, Barrel% and Whiff%.
New York gets some control with Vogelbach as well, as he can be retained and won't hit free agency until 2025, giving them two years beyond this season if they want to hang onto the first baseman/DH.
With this move, Smith's days with the Mets are likely all but behind him. There has long been reports that the Mets would like to find a new home for their former top prospect, who just went on the Injured List with a sprained ankle.
Expect Dom to be sent out as a throw-in piece of a larger trade at the deadline, or to another team for low-level prospects to clear a roster spot and allow him to try to resurrect his career elsewhere.
Who Are the Pirates Getting Back in Return?
After a down-season with the Milwaukee Brewers last year, the Pittsburgh Pirates signed Daniel Vogelbach of the scrap heap this offseason and have now netted a quality relief pitcher in return for a few months of his service.
Colin Holderman was drafted by the Mets in the ninth round of the 2016 MLB Draft, but injuries (Tommy John) curtailed his career and it was not until this season that the 26-year-old made his MLB debut.
So far the results have been great for Holderman, who was pitching to a 2.04 ERA with the Mets prior to being traded. Featuring a fastball that averaged close to 96 MPH, but can touch 99, Holderman has been able to strike out batters at a solid 26.9% clips this season.
Holderman pairs the fastball with a cutter/slider that is generating whiffs at over a 42% clip. While the 6-foot-7 hurler was awfully impressive with the Mets, his place on the roster was likely in jeopardy soon as Trevor May has begun his rehab assignment and New York is expected to add another arm or two at the deadline.
The Pirates were able to nab a nice bullpen piece, while the Mets get a guy who will help them more this season then someone who would have been far down the pecking order of their bullpen, if not optioned back down to Triple-A. Seems like a fairly straight-forward win-win trade at this stage.