Analysis
Eric Hosmer Finally Traded, Dealt to the Boston Red Sox
After using his no-trade clause to avoid getting sent to the Nationals, the Padres have traded Eric Hosmer to the Boston Red Sox.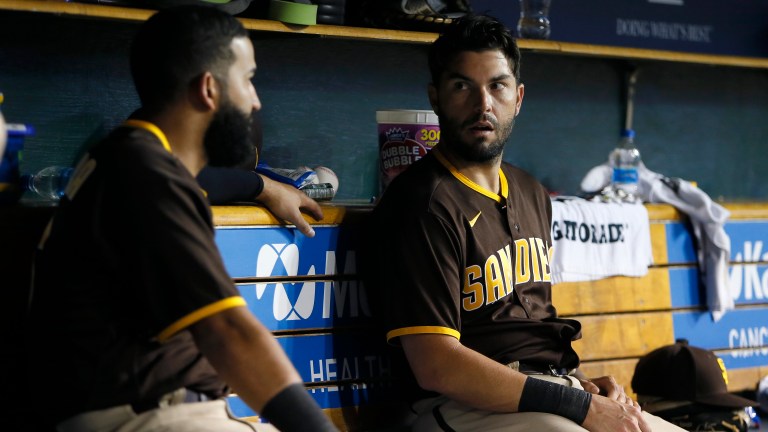 Update 5:15 p.m. August 2nd
When the Red Sox acquired Eric Hosmer from the Padres, they were obviously set to absorb a fair bit of long-term salary. In exchange for providing that relief to San Diego, the Red Sox are receiving a pair of prospects along with Hosmer.
Ferguson was ranked as the Padres No. 11 prospect according to MLB.com and Rosier was 26th.
Ferguson is a 22-year-old second baseman who was drafted in the fifth round back in 2021. This season, Ferguson hit .247/.403/.364 in 64 games in Low-A, but has struggled since a promotion to High-A, producing just a .613 OPS in 27 games.
Rosier, on the other hand, has fared well in High-A, hitting .263/.381/.396 at the level this season. The 22-year-old outfielder was drafted in the 12th round by the Mariners in 2021 and was traded to San Diego in the deal that sent Adam Frazier to Seattle.
Original Post:
Let's be honest, it would have been pretty awkward for Eric Hosmer to continue to play for the San Diego Padres.
After having already tried to deal him once this offseason, Hosmer was originally included in the package that sent Juan Soto to San Diego, but the first baseman had the right to decline the trade as the Nationals were on his limited 10-team no-trade list.
The Padres ended up making that trade without Hosmer in it, but it was only a matter of time before they found him a new home and that is exactly what they did with reports now indicating he will be traded to the Red Sox.
With Josh Bell added in the trade for Soto, there would have been no place for Hosmer on the roster, even putting the money aside. San Diego is looking to get under the $230 luxury tax threshold, which could be important for them to avoid future repeater tax penalties if they were to extend Soto after the season.
Dealing Hosmer and Wil Myers is their ticket to the financial flexibility ownership likely desires, so this move goes a long way to accomplishing that. Expect the Red Sox to eat a large portion, if not all, of his 2022 salary, with the Padres taking on some of the salary over the next three years.
Meanwhile, the Red Sox take a flier on getting a little more out of Hosmer with a return to the American League.
Both Bobby Dalbec and Franchy Cordero produced sub .700 OPS's at first base for the Red Sox this season, with Cordero's .660 mark being just slightly better than Dalbec at .642. As a .272/.336/.391 hitter, Hosmer is actually an upgrade for Boston, bringing a .727 OPS to the table.
We will update this story once the financial aspects of the trade are official, as well as if there are any other players included in this trade.