News
Superstar Juan Soto and Josh Bell Traded to San Diego Padres
Arguably the game's best hitter is on the move in the largest trade in recent memory.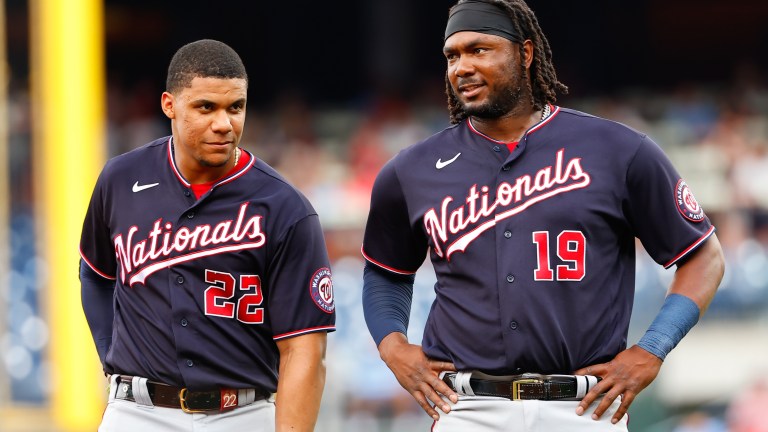 Update 4:15 p.m. August 2nd
After the Eric Hosmer saga, we now know the final piece in the Juan Soto trade, as the San Diego Padres are sending the Washington Nationals another first baseman instead.
Voit was traded to the Padres this offseason and had an uneven first season in San Diego prior to this trade. Overall, the 31-year-old is hitting .225/.317/.416 this season with 13 home runs, 48 RBIs and a 113 OPS+. With Josh Bell heading back to the Padres in this trade as well, there might not have been much playing time available to Voit post-deadline.
The Nationals hold team control on Voit for the next two years beyond this season.
Original Post:
The San Diego Padres on Tuesday afternoon acquired superstar outfielder Juan Soto and first baseman Josh Bell from the Washington Nationals in exchange for one of the biggest returns in Major League history, according to ESPN's Jeff Passan.
The Nationals will receive left-hander MacKenzie Gore, first baseman Eric Hosmer, shortstop CJ Abrams, top prospect outfielders Robert Hassell III and James Wood, and 18-year-old right-hander Jarlin Susana.
Juan Soto
Soto, 23, is already a two-time All-Star and two-time Silver Slugger winner. He has finished top-five in National League MVP voting in each of the past two seasons, including a runner-up finish in 2021 after leading all of baseball with a .465 on-base percentage.
While Soto may be having an "underwhelming" season by his standards, hitting just .246 with an .894 OPS, he leads all of Major League Baseball in walks drawn (91) and has accumulated 2.6 fWAR, better than All-Stars Willson Contreras, Vladimir Guerrero Jr., and Tim Anderson.
Soto is earning $17.1 million this season, and still has two more years of arbitration left before hitting free agency after 2024 ahead of his age-26 season. Soto, who's represented by the Boras Corporation, declined a 15-year, $440 million extension last month from the Washington Nationals.
The extension would have made the young phenom on a Hall of Fame trajectory the highest-paid player in MLB history and the second-highest paid athlete in the history of North American sports, only behind Kansas City Chiefs quarterback Patrick Mahomes' 10-year, $450 million deal.
For San Diego, President of Baseball Operations and General Manager A.J. Preller has now paired Soto with fellow Dominicans Manny Machado and Fernando Tatis Jr. for at least the next two seasons. Machado, 30, signed a 10-year, $300 million deal with San Diego ahead of the 2019 season, while Tatis, also 23 years old, signed a 14-year, $340 million extension prior to the 2021 season. On Monday, Preller and the Padres also extended right-hander Joe Musgrove on a five-year, $100 million deal.
Over the course of the last two trade deadlines, Nationals President of Baseball Operations and General Manager Mike Rizzo has now traded three stars who will have a legitimate Hall of Fame case at the end of their careers in Soto, right-hander Max Scherzer, and shortstop Trea Turner. Scherzer signed a three-year, $130 million deal ahead of this season with the New York Mets; Turner is well-positioned to sign a deal in excess of $250 million this offseason, while Soto will likely surpass Mahomes for the largest contract in North American sports history when he does choose to sign.
Josh Bell
Bell, 29, is enjoying perhaps the best year of his seven-year Major League career. In 103 games for the Nationals this season, Bell is slashing .301/.384/.493 with 14 home runs and 57 RBI's. His .877 OPS is the second-best mark of his career, only behind his .936 OPS during his All-Star campaign with the Pirates in 2019. His .301 batting average and .384 on-base percentage are both career-bests.
Bell, a switch-hitter, provides immediate impact at first base or as the designated hitter as a "rental" option. Bell is earning $10 million this year before hitting free agency at season's end. Bell has been effective from both sides of the plate this year, logging an .890 OPS against right-handed pitching and an .855 OPS against southpaws.
The Return for the Nationals
Gore, 23, is the main Major Leaguer coming back in the deal. The former third overall pick in 2017 was once regarded as the best pitching prospect in all of baseball, and after a mysterious 2021 season, looked the part to start the year.
In his rookie year, Gore has logged a 4.50 ERA across 70 innings, striking out 72 and walking 37. He is currently on the 15-Day Injured List with inflammation in his left elbow. He is tentatively slated for a September return, per Kevin Acee of the San Deigo Union-Tribune.
Abrams, 21, was a consensus top-10 prospect entering the season. After an aggressive promotion within the Padres organization, Abrams has struggled over the first 46 games of his MLB career. Abrams is slashing .232/.285/.320 with two home runs and just one stolen base.
He has excelled in Triple-A, however, slashing .314/.364/.507 with seven home runs and 10 stolen bases in 30 games this season.
Hassell, 20, is regarded as a top-30 prospect in all of baseball by Just Baseball. The former eighth overall pick in 2020 has slashed .299/.379/.467 in 75 games with High-A Fort Wayne this season with 19 doubles, 10 home runs, and is 20-23 in stolen bases.
Wood, 19, was the Padres' second round pick in last year's MLB Draft out of IMG Academy in Florida. In his first full season of professional baseball, Wood has been unstoppable. In 50 games with Low-A Lake Elsinore, Wood is slashing .337/.453/.601 (1.054 OPS) with 10 home runs, 45 RBI's, and 15 stolen bases.
Despite his massive frame at 6'7″, 240 pounds, Wood has walked 37 times and struck out just 42 times in his 50 games in Low-A.
Susana, 18, has been solid for the Padres in the Arizona Complex League. The right-hander has allowed just 15 hits and eight earned runs in eight appearances. In 29.1 innings, Susana has struck out 44 and walked 11.
Hosmer Hang-Up
The one last hurdle to this deal getting done was Eric Hosmer, who was included in the package so the Padres could cut salary, but the first baseman has no-trade clause list that features the Nationals.
Hosmer, 32, is hitting .272 with a .727 OPS in 90 games with the Padres this season. He signed an eight-year, $144 million deal with the Padres ahead of the 2018 season. After this season, he has player options at $13 million across each of the next three years.
Now reports indicate that Hosmer is staying in San Diego for now, as the Padres will complete the trade without him in it.
San Diego can look for another team to offload the salaries of Hosmer and even Wil Myers, for luxury tax purposes, but they are wise to not let that stand in the way of what is a monumental day for their franchise. Juan Soto is a Padre now. That is all that matters.