Analysis
Can Esteury Ruiz Save the San Diego Padres Outfield?
One step in combatting the San Diego Padres outfield problem could be promoting breakout prospect Esteury Ruiz to the MLB club.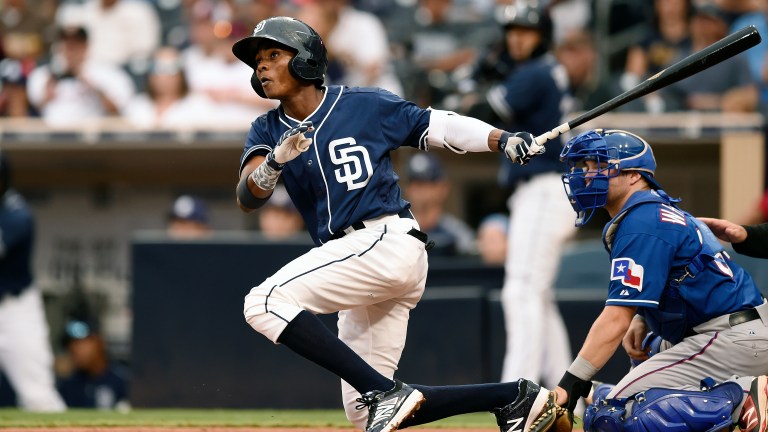 The Major League Baseball season is a marathon. Just because a team gets out to a hot start, does not guarantee they will still be standing by October, as so many things can happen over the course of a full 162-game slate.
There are some teams that got off to fast starts, who have slowed down entirely, and others who stumbled out of the gate and are suddenly right back at the top of the standings. With the All-Star break set to begin next week, everyone will soon have a chance to collectively take their breath and get ready for a second half push which will determine who is playing come playoff time.
I can't pretend that I know which team is going to break out in the second half, but I can tell you I'm worried that the San Diego Padres may be in danger of another collapse.
Why is that? Because, despite the presence of some top-level talent, the Padres have an outfield problem. Not an "I have a crush on Emily from biology but she doesn't seem interested" kind of problem, but a "Uhhhhh…what if Superman was a bad guy?" kind of problem.
One step in combatting this problem — the Padres hope — is promoting breakout outfield prospect Esteury Ruiz to the major league club.
Breakout might even be an understatement in the case of Ruiz. The 23-year-old was hardly a name mentioned when it came to pre-season prospect hype. In fact, he was left off of most top-100 lists entirely. But in 77 games across Double and Triple-A this season, Ruiz is slashing an impressive .333/.467/.560 with 13 homers and an OPS of 1.027. That's pretty good!
But even better — and the main reason he's been making headlines — is his 60 (!) stolen bases in 2022. Ruiz was on pace to swipe over a hundred bags, a feat that hasn't been achieved since Billy Hamilton in 2012.
While it's true that the Padres biggest need for not just this season, but also the epic collapse of the 2021 team, is a power bat, Ruiz could still help tremendously. This year, the Padres outfield is in some truly unsavory company. They've combined for the third-fewest home runs (19), rank 28th in OPS (.649), and they're in a four-way tie for the third-worst wRC+ (88) in all of baseball with only the Reds and A's fairing worse.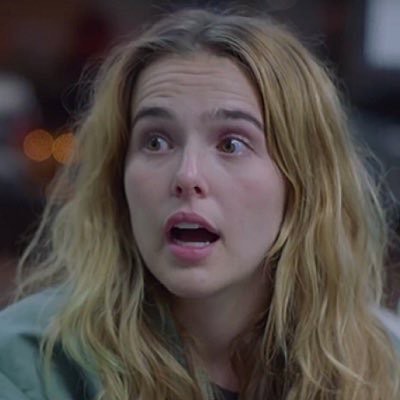 That's right, Zoey Deutch, I had the same reaction.
It's even worse when you consider that the team's lone bright spot in the outfield, Jurickson Profar, suffered a scary injury last week. Even with him, the Padres have a huge problem as evidenced by the aforementioned numbers. Trent Grisham, who seemed like a potential star in the making after his 2020 season, has been one of the biggest busts for the team this season.
The Padres have long had issues with their depth in the outfield, but Grisham was a player the team was counting on for a bounceback season. Instead, he's slashing a horrid .191/.287/.329 across 84 games and his defense, while certainly good, isn't enough to bolster his value for a team that so desperately needs it. It might be as simple as the league figuring Grisham out at the plate, as he's had the fourth-worst wOBA among all outfielders since the second half of 2021.
So yeah, Esteury Ruiz doesn't need to do much to be an upgrade.
Even if power isn't his strongest suit, the speed on the basepaths should, at the very least, been an exciting factor to add to the Padres lineup. If Ruiz can be just a decent bat until, hopefully, Jurickson Profar returns to full strength, then it'd be huge for a team that's lacking some serious depth.
Plus, whenever Fernando Tatis Jr. returns to the lineup, he may very well be placed in the outfield considering the team's need on top of Ha-Seong Kim being a capable enough defender at shortstop.
Of course, Ruiz is still just a prospect, and it'd behoove the Padres to take a look at acquiring some talent proven at the major league level, too. The most popular name will be Andrew Benintendi, while some others like Austin Hays would also fit the bill perfectly. You'll of course get more rumors of Bryan Reynolds being a target, too, although it's hard to count on that. But even more hard to count on is the Padres' trade capital, with much being rightfully made of just how many assets the team has dealt over the last few seasons.
In a competitive market, do they have enough pieces to make a move for an impact outfielder?
Can they afford to deplete their farm system even further?
There isn't an easy answer, so Ruiz providing some value would be a welcome smidge of aid, to say the least.
The Padres' success thus far has largely been dependent on Manny Machado performing at an MVP-level and an absolutely dynamite starting rotation. But with the rotation having its own set of questions (e.g. if Yu Darvish can hold up for the rest of the season, if rookie MacKenzie Gore needs to be sent down to the minors), and it generally being a poor strategy to bet on one player carrying your offense, the Padres are in a weird spot.
Those are problems that might work themselves out, while the Padres outfield, in its current state, doesn't have nearly the same level of optimism.
Unless Esteury Ruiz can make an immediate impact — something recent Padres prospects (CJ Abrams, Luis Campusano), with what are believed to be higher ceilings, haven't been able to do — or major trade happens, it wouldn't be surprising to see history repeat itself.