Analysis
Breaking Down the Luis Castillo Trade Return For the Reds
The Cincinnati Reds received a haul for Luis Castillo, landing a package of four prospects from the Mariners headlined by Noelvi Marte.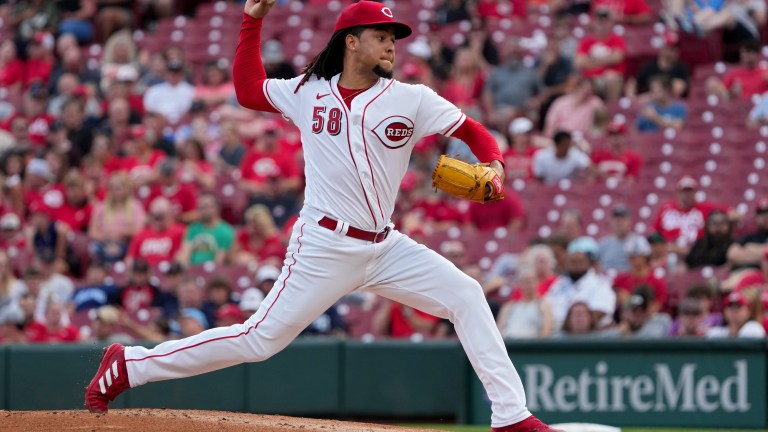 Keen on putting an end to a two-decade playoff drought, the Seattle Mariners pushed the chips forward on Friday night by acquiring Cincinnati Reds ace Luis Castillo.
Going to Cincinnati is a package of four prospects: SS Noelvi Marte, SS Edwin Arroyo, RHP Levi Stoudt and RHP Andrew Moore.
The headliner in the package is our No. 21 prospect in baseball, Noelvi Marte, the Mariners top prospect following the graduation of Julio Rodriguez and George Kirby.
The willingness of Mariners President of Baseball Operations Jerry DiPoto to part with the team's top overall prospect caught me by surprise, but after 20 years of not making the playoffs, the Mariners are ready to give it their best shot.
Marte is one of the most exciting offensive prospects in baseball. Plus raw power paired with an above-average feel to hit have helped him produce strong numbers at each level so far. While he is a bit pull-happy, Marte has a good feel for the strike zone and is capable of going the other way when he needs to.
The 20-year-old is enjoying a strong season in High-A, posting an .825 OPS with 15 homers, 13 stolen bases and an impressive .50 BB/K ratio. There's more room for Marte to fill out and with his natural ability to generate backspin and carry, 30+ homers fits the profile.
An above-average runner, Marte is not the most efficient base stealer, but should be able to rack up 15 or so bags a year while being an overall plus on the base paths. Marte's above-average contact rates and solid approach paired with above-average exit velocities give his bat a solid floor with still plenty to dream on.
The main question with Marte has been what his long-term defensive home will be. Twenty-four errors in 81 games so far this season at shortstop has not done much to quell those concerns.
A mixture of some inconsistent throws and choppy actions have Marte potentially projecting as a third baseman, but his offensive production would accommodate such move easily; Marte could likely play a good second base as well.
The Mariners exclusively played Marte at shortstop, however the Reds could look to start trying him at other spots soon with Elly De La Cruz, Jose Barrero, Matt McLain and now Edwin Arroyo all vying for reps at the same spot.
In regards to Marte's ceiling, it would not be ridiculous to dream on a relatively high on-base percentage with 30+ homers and around 20 stolen bases.
The second infielder in the deal, Edwin Arroyo, is a teenager who is much more likely to stick at shortstop. A second round pick in the 2021 draft by the Mariners, Arroyo has proven to be an extremely advanced prospect for his age.
Still 18 years old and already in Low-A, Arroyo has hit to a .316/.385/.514 line with 13 homers and 21 stolen bases. Arroyo is a switch-hitter with a good feel to hit from both sides of the plate. While he has a bit more juice from the right side, Arroyo's contact rates are better from the left side.
Arroyo has more wiry strength than many expected, lending to the belief that there could be above-average power in the tank for the 5-foot-11, 170 pound teenager.
While the offensive upside is lighter than Marte's, Arroyo has the ingredients of a plus defensive shortstop thanks to his smooth actions, plus arm and solid range. For only 108 professional games under his belt, Arroyo's instincts at short are extremely impressive and he could easily be the best defensive infielder in the Reds system before long.
Due for a promotion to High-A before season's end, Arroyo will likely be one of the younger players at each of his stops thanks to his polish and well-rounded game. He is actually so skilled that he can throw with both arms as well, for whatever that's worth.
Along with the pair of shortstop prospects came a pair of right-handed pitching prospects for the Reds in Levi Stoudt and Andrew Moore.
After a really impressive pro debut last year, Stoudt has taken a bit of a step back in 2022, but is still a solid pitching prospect with plenty of intrigue. A third round pick in 2019, Stoudt pitched to a 3.31 ERA in 81 2/3 innings between High-A and Double-A last season.
In 87 Double-A innings this year, Stoudt's ERA has inflated to 5.28, however he has nearly halved his walk rate from last season. Living inside of the strike zone a bit more has left Stoudt more susceptible to loud contact because of his average stuff, but the right-hander's slider is an above-average pitch and he continues to work on his changeup.
A pretty flat fastball has left Stoudt in a spot where he has to rely on his slider a bit too much, throwing it 46% of the time. If Stoudt can develop a sinker or improve the feel for his changeup, he should induce enough weak contact to project as a back-end of the rotation starter.
A 14th rounder in 2021, Moore has been used exclusively as a reliever as a pro, but has seen his stuff improve drastically this season. After struggling through 14 appearances last year, Moore has seen his average fastball velocity jump by two ticks to 96.7 mph and has mixed in a curveball with solid depth.
The result has been a spike in whiffs from just 17.4% last season to a ridiculous 43.6% in his 32 1/3 innings of work this year. Already 22 years old, it is possible that the Reds will look to bump Moore to High-A either right away or relatively soon.