Analysis
Baltimore Orioles Trade Trey Mancini to Houston in Three-Team Deal
The Houston Astros bolstered their lineup by acquiring Trey Mancini in a three-team trade to become their new starting first baseman.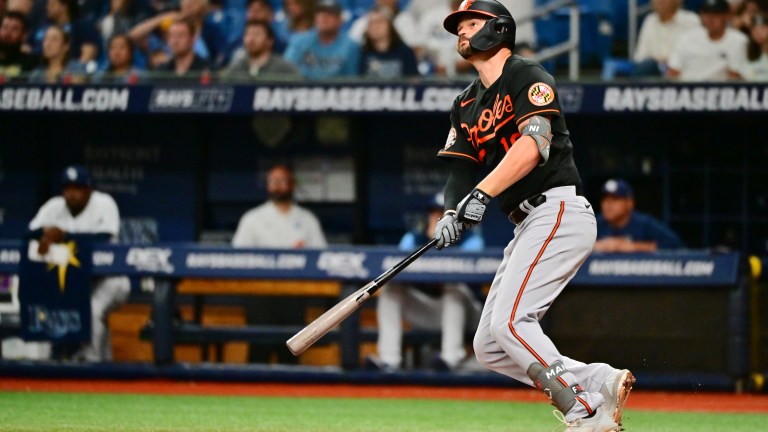 The Houston Astros have traded for a big bat ahead of the deadline, as they have acquired first baseman Trey Mancini in three-team trade with the Orioles and Rays.
The Astros were reportedly eyeing Josh Bell, among other first base targets and now land on Mancini to fill that area of need. Mancini is under contract this season for $7.5 million and has a mutual option for next season at $10 million with a $250,000 buyout.
Yuli Gurriel has once again been the primary first baseman for the Astros this season, but age may finally be catching up to the 38-year-old. A year after winning the batting title, Gurriel is hitting just .243/.293/.392, with seven home runs and a 97 wRC+. Mancini figures to eat into Gurriel's playing time pretty significantly.
Mancini's Fit in the Astros Lineup
Trey Mancini's surface numbers alone are a big upgrade from Yuli Gurriel, as he is hitting .268/.347/.404, with 10 home runs, 41 RBIs and a 114 wRC+. Mancini can play first base everyday, DH some and even play a corner outfield spot in a pinch, giving the Astros some versatility here.
Where Houston can really begin to salivate though is by bringing Mancini's pull-happy swing to the friendly confines of Minute Maid Park.
Pulling the ball 43.5% of the time, Mancini has seen a lot of his production robbed by the new left field wall at Camden Yards. If you take Mancini's spray chart and place him in Minute Maid Park for every game this season, you would add over 10 more home runs to his total just looking at left field alone.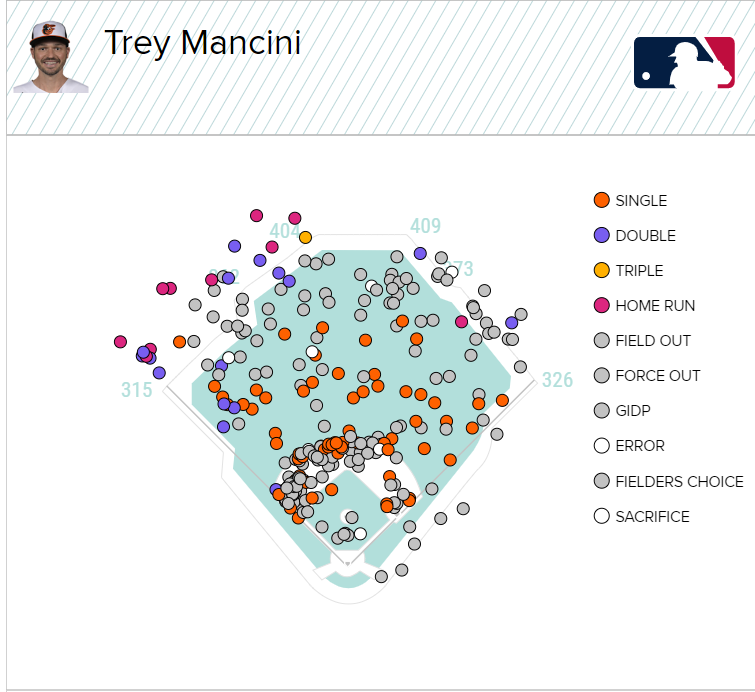 Mancini's swing profiles beautifully in Houston, giving them another potent bat to stick in the middle of their lineup.
Full Details of Three-Team Trade
It took awhile for the full details after the trade was first announced, but now we know why as this was a complicated three-team trade that included the Tampa Bay Rays. Tampa receives center fielder Jose Siri in the trade, while prospects get sent to Baltimore and Houston.
Along with Mancini, the Astros are acquiring right-handed pitching prospect Jayden Murray from the Rays in the trade. Murray is a 25-year-old who was just recently promoted to Triple-A after pitching to a 2.83 ERA across 76 1/3 innings in Double-A this season.
The Rays acquire center fielder Jose Siri from Houston in the trade, giving them 27-year-old they clearly valued greatly to enter the picture on this deal. After a successful cup of coffee in 2021 (.542 OPS), Siri struggled offensively this year, hitting just .178/.238/.304.
In exchange for Mancini, the Orioles receive two prospects in this deal, one from each club. They got right-handed pitching prospect Seth Johnson from the Rays, who has a career 2.81 ERA in the minors but is set to undergo Tommy John surgery. If he makes a healthy return, Johnson is the best prospect in this deal.
Finally, the Orioles get right-handed pitcher Chayce McDermott from the Astros. McDermott was Houston's fourth round pick in 2021. This year, he has pitched to 5.50 ERA in High-A, but has struck out an impressive 14.3 batter per nine.