List
Top 20 Trade Targets: Impact Arms Could Move As Deadline Looms
Juan Soto and Pablo Lopez being made available puts a new top two on our list of the top trade targets available at the deadline.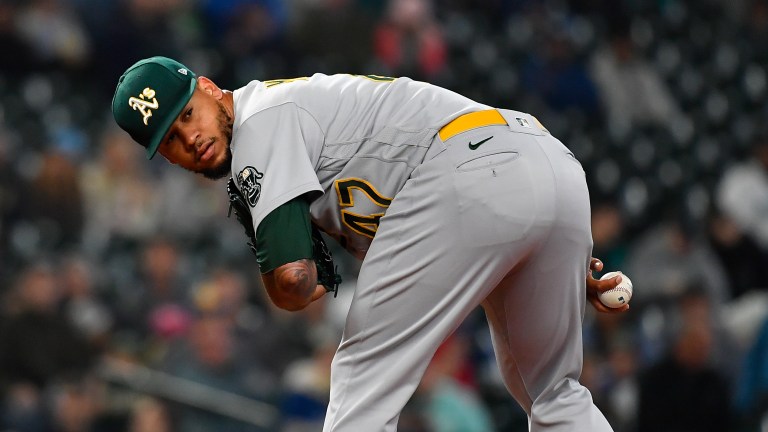 Update: July 26th 2:00 p.m.
Just about two weeks ago, we released our top 20 trade targets that we could see moved at the August 2nd MLB Trade Deadline. Now we are a week away from the deadline and there are some new names that could be on the move that would completely shift the tides of the pennant race.
A New Top Two?
When we first published this list, there were a few names absent that have come to light that would be massive adds to any playoff team. The main one is the biggest story in the sport right now, as a 23-year-old superstar has hit the trade block with the Nationals listening to offers on Juan Soto.
New No. 1: Juan Soto – RF – Washington Nationals
2022 Stats: .248/.404/.491, 20 HR, 45 RBI, 14.4% K%, 20.2% BB%, 151 wRC+
This does not need to much explaining. Juan Soto is not just the most valuable trade chip that could be on the move at this deadline, he is arguably the most valuable trade chip in MLB history.
Soto is having a "down-year"' and still has a 151 wRC+ which sits just outside the top-10, as the 11th-highest mark in the sport. He is in a lineup where fellow trade chip Josh Bell is the only other bat an opposing pitcher has to fear, yet continues to be one of the most elite offensive forces in the game.
Any team that acquires Soto will not only give up an incredible haul to get him, but will also sign him to the largest contract in MLB history. All of which will be worth it to add a guy that will likely go into Cooperstown with whatever team acquires him.
Ask the Detroit Tigers if it was worth it to trade for Miguel Cabrera. That's essentially what we are talking about with Soto on the move.
Potential Suitors: Cardinals, Padres, Yankees, Giants, Mariners and Mets
New No. 2: Pablo Lopez – SP – Miami Marlins
2022 Stats: 19 GS, 109 IP, 3.14 ERA, 1.09 WHIP, 107 K, 35 BB
Putting Pablo Lopez ahead of Frankie Montas and Luis Castillo on this list simply comes down to one thing. Control.
Lopez is under team control for two years beyond this season, so any team acquiring him would receive an extra year of control than if they were to deal for Montas or Castillo.
The 26-year-old has quietly been one of the best pitchers in baseball over the past three seasons, pitching to 3.21 ERA across 50 starts. The Marlins may not want to deal their No. 2, but considering the depth of pitching in their system, it may be wise to capitalize on his value now and turn Lopez into a proven MLB bat, or at least a haul of prospects.
Potential Suitors: Orioles, Twins, Dodgers, Blue Jays and Cardinals
Original Article:
The next two weeks on the MLB calendar will decide which direction organizations are heading over the next several seasons. "Buyers" on the trade market could look to bolster with rentals on expiring contracts or by adding controllable pieces for a steeper price. For "sellers", we're going to find out who's really untouchable. Buckle up.
3. Frankie Montas – RHP – Oakland A's
2022 Stats: 17 GS, 96.2 IP, 3.26 ERA, 1.09 WHIP, 100 K, 24 BB
Coming off of a 2021 season that saw him lead the American League in starts and finish sixth in Cy Young voting, Montas hasn't broken stride. In 17 starts, the Athletics' ace has punched out 100 hitters in just under 100 innings and has a better ERA than last season's 3.37. Next year will be Montas' final year of arbitration and his age-30 season, which means this is much more than a rental. Oakland can command a big return (the deeper the system, the better), and the buyer will be getting a front-line starter for the next year and a half.
Potential Suitors: Red Sox, Blue Jays, Twins, Cardinals, Dodgers
4. Luis Castillo – RHP – Cincinnati Reds
2022 Stats: 12 GS, 71.0 IP, 2.92 ERA, 1.10 WHIP, 74 K, 23 BB
Arguably the most talented pitcher that should be available at the deadline, Castillo has overcome an early injury to log a sub-3.00 ERA in 12 starts so far this season. He has had a knack for losing his command over extended periods of time (leading the National League in walks issued last year), but he's as overpowering as they come on the mound when he's dialed in. Much like Montas, Castillo enters both his final year of arbitration and his age-30 season in 2023.
Potential Suitors: Red Sox, Blue Jays, Twins, Cardinals, Dodgers
5. Willson Contreras – C – Chicago Cubs
2022 Stats: 73 G, .266/.384/.483, 13 HR, 35 RBI, 21% K%, 11% BB%, 145 wRC+
In a contract year, Contreras is enjoying his best offensive season of his career. Despite his rental status, Contreras should command a solid return for the Cubs as the National League's most productive catcher. On pace for career highs in nearly every offensive category with already the best fWAR of his seven-year career (2.7), whoever acquires Contreras likely won't be able to extend him, but his bat could help put a contender over the top at an offensively-starved position.
Potential Suitors: Mets, Padres, Giants, Cardinals, Rays
6. Sean Murphy – C – Oakland A's
2022 Stats: 77 G, .230/.297/.399, 9 HR, 34 RBI, 22% K%, 7% BB%, 101 wRC+
A well-rounded catcher who continues to improve each season, Murphy may not be the sexiest on paper, but could help solve a team's catching situation for the next three and a half seasons. At 27 years old, Murphy has solidified himself as one of the game's best defensive catchers and has shown flashes of valuable offense.
Catchers with several years of control are rarely available on the trade market and for that reason Murphy should command a haul. For the rebuilding A's, the acquisition of one of baseball's best catching prospects Shea Langeliers could help push them to make the move. For a team adding Murphy, there's plenty of reason to hope for more offense in the future. The Coliseum is one of MLB's least hitter friendly environments and Murphy is a .267/.327/.440 hitter away from Oakland.
Potential Suitors: Guardians, Giants, Cardinals, Padres
7. Andrew Benintendi – OF – Kansas City Royals
2022 Stats: 83 G, .317/.389/.401, 3 HR, 35 RBI, 14% K%, 11% BB%, 128 wRC+
Andrew Benintendi is an entirely different hitter than what he was when the Red Sox selected him seventh overall in 2015 after a Golden Spikes Award-winning season at Arkansas. The power has evaporated, but what he's lost in thump, he's made up more in hit accumulation. Benintendi is a career .278 hitter that has transformed into a .320 hitter with a gluttony of singles. Despite the lack of literal impact on the ball, Benintendi should be the most sought-after rental outfielder at the deadline.
Potential Suitors: Yankees, Red Sox, Guardians, Brewers, Padres
8. Tyler Mahle – RHP – Cincinnati Reds
2022 Stats: 17 GS, 92.1 IP, 4.48 ERA, 1.30 WHIP, 102 K, 36 BB
Surely, the Reds were hoping that Mahle's trade value would be much higher than it currently stands. Mahle had a league-leading 33 starts in 2021 with a 3.75 ERA, but struggled mightily out of the gates this year. Still, Mahle has punched out over 100 hitters in 92.1 innings and provides a middle-of-the-rotation presence that will be available for a contending team. While Mahle is sidelined with a shoulder strain, it shouldn't be long before he's back and throwing. Mahle will entire his final year of arbitration as a 28-year-old next season.
Potential Suitors: Red Sox, Twins, Dodgers, Giants
9. Josh Bell – 1B – Washington Nationals
2022 Stats: 87 G, .304/.386/.491, 12 HR, 47 RBI, 14% K%, 11% BB%, 143 wRC+
Just as it was starting to look unlikely that Bell would ever recapture his 2019 All-Star form, the switch-hitting first baseman has seemed to find it this year. Another player putting up numbers in his contract year, Bell is one of the few intriguing pieces the Nationals can unload at the deadline and the universal DH should foster a large market. A career low K-rate along with his best OPS since 2019 should have prospective teams feeling confident that Bell can continue his offensive impact with them.
Potential Suitors: Red Sox, Brewers, Rays, Mets, Guardians
10. Martín Pérez – LHP – Texas Rangers
2022 Stats: 17 GS, 106.0 IP, 2.72 ERA, 1.18 WHIP, 86 K, 26 BB
Where the heck did this come from? At 31 years of age, something has clicked for Perez who is out-pitching his career figures by a wide margin. Given the fact that Perez entered this year with a 4.71 career ERA and has only posted a sub-4.00 ERA in one other season in his 11-year career, teams may be a bit weary of buying high on the southpaw. That said, Perez is another rental whose price should be reasonable enough for many teams to be in on him.
Potential Suitors: Blue Jays, Cardinals, Rays, Twins, Giants
11. José Quintana – LHP – Pittsburgh Pirates
2022 Stats: 17 GS, 85.1 IP, 3.59 ERA, 1.31 WHIP, 78 K, 27 BB
Quintana signed a one year, two million dollar deal with the Pirates before the 2022 season in what was hopefully going to become an easily "flippable" deal for both sides at the deadline. That's exactly what it's turned into, as Quintana has put together his best season since he was an All-Star with the White Sox in 2016. At 33 years old on an expiring contract, the veteran left-hander shouldn't cost much more than a single top-30 prospect.
Potential Suitors: Rays, Red Sox, Blue Jays, Twins, Mariners, Mets, Dodgers, Giants
12. Christian Walker – 1B – Arizona Diamondbacks
2022 Stats: 84 G, .208/.319/.471, 21 HR, 43 RBI, 19% K%, 13% BB%, 117 wRC+
Another player who is in the midst of his best season, Walker is tapping into more power than he ever has while producing the highest walk rate and lowest walk rate of his career. Despite the high-end production, Walker has actually been unlucky with a .198 BABIP and an expected batting average nearly 70 points higher than his current figure.
Walker is not a free agent until 2025, so the Diamondbacks could just opt to hold onto their cheap, productive first baseman. That said, a strong offer from a contender could pry Walker away from the rebuilding D-Backs.
Potential Suitors: Guardians, Red Sox, Mets, Rays, Brewers
13. Ian Happ – OF – Chicago Cubs
2022 Stats: 84 G, .276/.370/.448, 8 HR, 40 RBI, 21% K%, 12% BB%, 128 wRC+
What a time for Ian Happ to put together the best season of his career. Across any sample size, Happ has set career marks in batting average and on-base percentage. Happ's power has ticked up in recent years, and the marriage of power and bat-to-ball has resulted in Happ's first All-Star nod. Happ has one more year of arbitration left before hitting the open market after the 2023 season.
Potential Suitors: Yankees, Rays, Guardians, Astros, Padres
14. Merrill Kelly – RHP – Arizona Diamondbacks
2022 Stats: 17 GS, 97.1 IP, 3.42 ERA, 1.23 WHIP, 80 K, 34 BB
The former SK Wyverns star in the KBO had looked like a formidable Major League starter for the Diamondbacks from 2019-2021. Then came a torrid start to 2022 that saw Kelly's trade value skyrocket. A recent dip in production has his ERA at a still-solid 3.42, but his contract may be a difficult one to move. Kelly is owed eight million dollars next year and in 2024, with a seven million dollar club option at 36 years old in 2025.
Potential Suitors: Twins, Mets, Phillies, Brewers, Cardinals
15. Jorge López – RHP – Baltimore Orioles
2022 Stats: 39 G, 42.1 IP, 1.70 ERA, 0.97 WHIP, 48 K, 15 BB, 17 SV
All of the sudden the Orioles are in the midst of a nine game win streak and sit just 2 games out of the final playoff spot in the American League. While we don't expect the Orioles to be insanely active in the trade market unless they are acquiring a controllable piece, it is very possible that the O's will not sell.
If Baltimore decides to hold onto everyone, the reliever market will be much thinner, starting with the team's closer Jorge Lopez. After making 25 starts last year, Lopez made the move to the bullpen full-time and has seen his stuff tick up across the board. Virtually every team should be interested in López and if the Orioles hit a wall after the All-Star Break, maybe they could sell high.
Potential Suitors: Everyone or Nobody
16. Ramón Laureano – OF – Oakland A's
2022 Stats: 56 G, .237/.332/.389, 6 HR, 15 RBI, 8 SB, 23% K%, 9% BB%, 114 wRC+
Arguably the most likely candidate to be dealt from Oakland not named Frankie Montas, Laureano is an above average hitter who is capable of playing all three outfield spots at a high level. A PED suspension that carried into the first 26 games of this season clouded Laureano's value, but he has produced a 128 wRC+ and .781 OPS since June 1st.
Given Laureano's three years of control after this season, the A's should be able to command a solid return for their 27-year-old outfielder.
Potential Suitors: Padres, Marlins, Yankees, Phillies
17. Patrick Wisdom – 1B/3B – Chicago Cubs
2022 Stats: 82 G, .228/.319/.459, 17 HR, 45 RBI, 35% K%, 10% BB%, 116 wRC+
The Cubs are as without a direction as they've been in recent memory, and several hitters should be on the move if they decide that the direction they want to head in is rebuilding. While certainly not to the level that Willson Contreras or Ian Happ have performed, Wisdom has pieced together an OPS right around .780. The 30-year-old is still under team control next season before hitting the first of his three arbitration years in 2024 at 32.
Potential Suitors: Rays, Mariners, Phillies, Padres
18. Whit Merrifield – UTIL – Kansas City Royals
2022 Stats: 84 G, .240/.292/.343, 5 HR, 36 RBI, 14 SB, 25% K%, 8% BB%, 78 wRC+
I'm sure that Dayton Moore and the Royals brass are kicking themselves that they didn't ship Whit Merrifield off when his value was as high as it once was. After leading all of Major League Baseball in stolen bases, doubles, and games played in 2021, Merrifield's batting average has dropped 37 points and his OPS 76 points from last season to this season. Merrifield has $2.75 million committed to him next season, along with an 18 million dollar mutual option in 2024 in his age-35 season.
Potential Suitors: Rays, Astros, Mariners, Braves, Phillies, Brewers, Padres
19. Brandon Drury – INF – Cincinnati Reds
2022 Stats: 76 G, .277/.333/.540, 18 HR, 50 RBI, 22% K%, 7% BB%, 136 wRC+
Drury was productive in his 51 games with the Mets last season, but the 29-year-old has figured things out with the Reds. Sure, playing at the launch pad that is Great American Ballpark helps and teams will be aware of that. Even acknowledging the aid of one of baseball's most hitter-friendly parks, Drury has been an above average hitter on the road (118 wRC+) and comes with coveted positional versatility.
Drury has made starts at third base, second base, first base and even shortstop for the Reds. Set to be a free agent after this season, it makes all of the sense in the world for the rebuilding Reds to cash in on their nice find.
Potential Suitors: Rays, Brewers, Giants, Phillies
20. Joey Gallo – OF – New York Yankees
2022 Stats: 70 G, .166/.288/.341, 10 HR, 21 RBI, 38% K%, 15% BB%, 84 wRC+
What a fascinating situation. What value does Joey Gallo still hold for the Yankees? Is he a player that needs to be "dumped" and is a hindrance to a deal? Could he be flipped for another big leaguer in a change-of-scenery deal? Gallo is 28 years old and will hit the open market after this year. He may be immovable.
Potential Suitors: Bueller? Bueller?
21. Michael A. Taylor – OF – Kansas City Royals
2022 Stats: 63 G, .264/.340/.382, 5 HR, 24 RBI, 24% K%, 10% BB%, 107 wRC+
One of baseball's best defensive centerfielders, Taylor is getting on base at the highest clip of his career while striking out less than ever. Taylor agreed to a 2-year, $9 million deal prior to this season though the struggling Royals may look to move any vets for prospect capital.
Potential Suitors: Phillies, Marlins, Brewers, Padres
22. Daniel Bard – RHP – Colorado Rockies
2022 Stats: 32 G, 32.2 IP, 2.20 ERA, 1.07 WHIP, 40 K, 17 BB, 18 SV
While Bard is a great story of a valiant and successful comeback effort, he has also been a really solid closer for the Rockies. This year, Bard is tied for sixth in all of baseball in saves. If a team wants a veteran bullpen arm with ample high-leverage experience, they should be giving Colorado a call.
Potential Suitors: Everyone!