Rankings
Top 50 MLB 2023 Free Agents
Aaron Judge, Jacob deGrom, Trea Turner and Carlos Correa headline a star-studded free agent class that is looking to cash in this winter.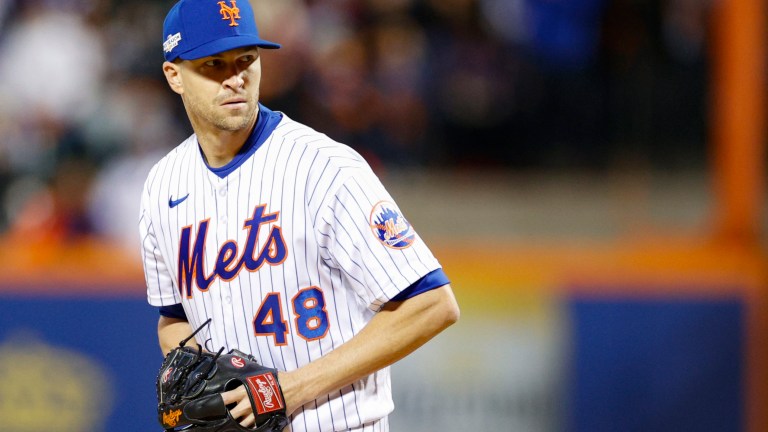 The stove is hot and free agency is in full swing, as teams looks to improve their rosters ahead of the 2023 season. Over the coming weeks and months, we will see some of the best players in baseball trade jerseys and had to greener pastures on new contracts.
Last week, we released our top 20 MLB free agents, with full profiles written on each player.
Since the release of our top 20, we have seen players like Anthony Rizzo and Clayton Kershaw return to their former teams on new deals, while Joc Pederson and Martin Perez both accepted the qualifying offer.
Below you will find a list of the top 50 free agents heading into the 2022-2023 MLB offseason. Throughout the winter, we will be updating this post every time one of these free agents signs, allowing you to follow along with all the movement throughout the league.
Click the players whose names are hyperlinked to see their free agent profiles!
| | | | |
| --- | --- | --- | --- |
| Free Agent | Position | 2022 fWAR | Contract |
| 1. Aaron Judge | RF/CF | 11.4 | Signed with NYY on 9-year, $360 million contract |
| 2. Jacob deGrom | SP | 2.2 | Signed with the Rangers, 5-year, $185 million |
| 3. Trea Turner | SS | 6.3 | Signed with the Phillies, 11-year, $300 million |
| 4. Carlos Correa | SS | 4.4 | Signed with the Mets, 12-year, $315 million |
| 5. Xander Bogaerts | SS | 6.1 | Signed with the Padres, 11-year, $280 million |
| 6. Carlos Rodon | SP | 6.2 | Signed with the Yankees, 6-year, $162 million |
| 7. Dansby Swanson | SS | 6.4 | Signed with the Cubs, 7-year, $177 million |
| 8. Justin Verlander | SP | 6.1 | Signed with the Mets, 2-year, $86 million |
| 9. Willson Contreras | C | 3.3 | Signed five-year, $87.5 million deal with STL |
| 10. Edwin Diaz | CP | 3.0 | Signed with the Mets, 5-year, $102 million |
| 11. Brandon Nimmo | CF | 5.4 | Signed with the Mets, 8-year, $162 million |
| 12. Clayton Kershaw | SP | 3.8 | Signed a one-year deal to return to the Dodgers |
| 13. Jose Abreu | 1B/DH | 3.9 | Signed a three-year, $58.5 million with HOU |
| 14. Anthony Rizzo | 1B/DH | 2.4 | Signed a two-year, $40 million deal with NYY |
| 15. Josh Bell | 1B/DH | 2.0 | Signed a two-year, $33 million deal with CLE |
| 16. Tyler Anderson | SP | 4.0 | Signed three-year, $39 million deal with LAA |
| 17. Joc Pederson | OF | 2.1 | Accepted $19.56M qualifying offer from SFG |
| 18. Chris Bassitt | SP | 2.7 | Signed three-year, $63 million deal with TOR |
| 19. Andrew Benintendi | OF | 2.8 | Signed with the White Sox, five-year, $75 million deal |
| 20. Jose Quintana | SP | 4.0 | Signed two-year, $26 million deal with Mets |
| 21. Kodai Senga | SP | N/A | Signed five-year, $75 million deal with Mets |
| 22. Jean Segura | 2B/UTL | 1.7 | Signed two-year, $17 million deal with the Marlins |
| 23. Michael Wacha | SP | 1.5 | |
| 24. Martin Perez | SP | 3.8 | Accepted $19.56M qualifying offer from TEX |
| 25. Nathan Eovaldi | SP | 1.0 | Signed two-year, $34 million deal with TEX |
| 26. Ross Stripling | SP | 3.1 | Signed a two-year, $25 million deal with SF |
| 27. JD Martinez | DH | 1.0 | Signed a one-year, $10 million with LAD |
| 28. Michael Conforto | OF | N/A | Signed two-year, $36 million deal with SF |
| 29. Justin Turner | 3B | 2.4 | Signed a two-year, $22 million deal with the Red Sox |
| 30. Masataka Yoshida | OF | N/A | Signed five-year, $90 million with the Red Sox |
| 31. Trey Mancini | 1B/OF | 0.9 | |
| 32. Mitch Haniger | OF | 0.8 | Signed three-year, $43.5 million with the Giants |
| 33. Rafael Montero | RP | 1.5 | Signed three-year, $34.5 million deal with HOU |
| 34. Robert Suarez | RP | 0.7 | Signed five-year, $46 million deal with SDP |
| 35. Taijuan Walker | SP | 2.5 | Signed four-year, $72 million with PHI |
| 36. Michael Brantley | OF | 1.2 | Signed a one-year, $12 million deal to return to HOU |
| 37. Jameson Taillon | SP | 2.3 | Signed four-year, $68 million deal with the Cubs |
| 38. Chris Martin | RP | 1.6 | Signed with the Red Sox on a two-year, $17.5 million deal |
| 39. Kenley Jansen | CP | 1.1 | Signed two-year, $32 million deal with Red Sox |
| 40. Adam Ottavino | RP | 1.1 | Signed two-year, $14.5 million deal with Mets |
| 41. Zach Eflin | SP/RP | 1.4 | Signed a three-year, $40 million deal with Tampa |
| 42. Joey Gallo | OF | 0.6 | Signed a one-year, $11 million deal with the Twins |
| 43. Michael Fulmer | RP | 0.7 | |
| 44. Mike Zunino | C | 0.0 | Signed a one-year, $6 million deal with Guardians |
| 45. Elvis Andrus | SS | 3.5 | |
| 46. Taylor Rogers | RP | 1.0 | Signed three-year, $33 million deal with the Giants |
| 47. David Robertson | RP | 0.7 | Signed one-year, $10 million deal with the Mets |
| 48. Brandon Drury | 2B/3B | 3.0 | Signed a two-year, $17 million deal with the Angels |
| 49. Andrew Heaney | SP | 1.1 | Signed a two-year, $25 million deal with TEX |
| 50. Christian Vazquez | C | 1.6 | Signed a three-year, $30 million deal with MIN |
Be sure to check out our Top 10 Outfield Free Agents and Top Five Shortstop Free Agents