Analysis
2023 Free Agent Profile: Andrew Benintendi
While he may never tap into the power we saw early in his career, Andrew Benintendi has returned to being one of the best outfielders in MLB.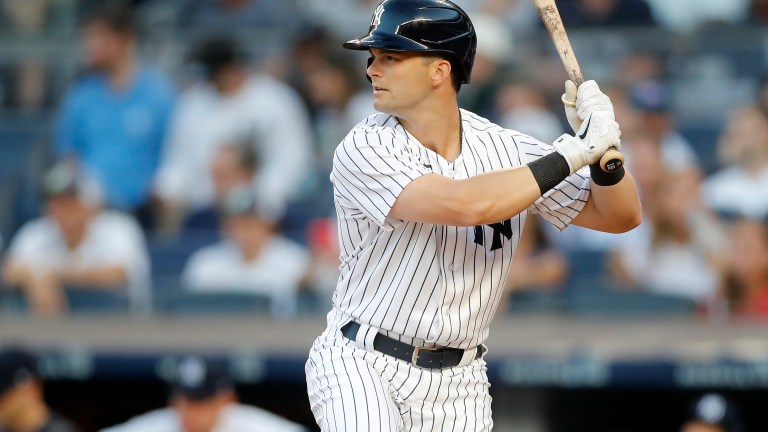 Position: LF
Bats/Throws: L/L
Age: July 6th, 1994 (28 years old)
2022 Traditional Stats: .304/.373/.399, 5 HR, 31 XBH, 31 RBI, 54 R, 521 PA's
2022: Advanced Stats: 10% BB%, 14.8% K%, 122 wRC+, .342 wOBA, 2.8 fWAR
Outfielder Andrew Benintendi will hit the free agent market for the first time in his career this winter. His new and refined contact-centric approach at the plate and his sweet glove could be vital for any one of his suitors. Benintendi finished the 2022 season with the New York Yankees after being traded from the Kansas City Royals at the deadline. He was seen as a key pickup for a team that desperately needed a player of his caliber.
Benny Blanco's 2022 in the Bronx was cut short due to a hand injury, but he still made an impact. His home run numbers have begun to dip over the years, but it's been for his benefit. He's now relying on his elite on-base percentage and an array of hits to provide impact to his team. He'd succeed in pretty much any lineup in MLB.
With the outfielder hitting the open market for the first time, who could his possible suitors be? Let's take a dive into Andrew Benintendi's impending free agency.
Path to Free Agency
At a position that is relatively weak in the modern age, Andrew Benintendi will be a prized asset on the open market. Benintendi was drafted by the Boston Red Sox with the seventh overall pick in the 2015 MLB Draft. He was accelerated through the minor leagues, playing in Low-A and A the same year he was drafted. He made even more progress in 2016, playing in High-A, Double-A, and eventually being called up to the majors.
The outfielder played 32 regular season games with the Red Sox in 2016 and started in the playoffs. His first home run came in his first ever playoff series against the Cleveland Indians. This was only the beginning, as he became beloved by the Boston faithful.
He finished second in Rookie of the Year voting in 2017, right behind future teammate Aaron Judge. Fast forward to 2018, where he helped the Red Sox lift yet another World Series trophy. Benintendi was almost a 5 fWAR player that season, cementing himself as an integral part of the Red Sox.
Unfortunately, 2019 and 2020 were lackluster for the once beloved player. Benintendi had begun to fall flat and was barley a league average hitter by the time he left Boston. He was dealt to the Kansas City Royals that offseason and produced at a decent level in 2021. He secured his first career Gold Glove in Kansas City, with the best still yet to come.
Benintendi exploded in 2022. His slash line of .320/.387/.398 in the first half immediately had the New York Yankees calling. And so, he was dealt to New York for a handful of prospects. A hand injury in late August limited his playing time with his new squad, but the team severely missed him in this year's playoffs.
Contract Projection
Andrew Benintendi has made roughly $22 million during his MLB career. This will be his first time hitting the open market past the arbitration stage.
Benintendi made around $9 million in his final year of arbitration. Outfielders are some of the highest grossers in the sport, so I would expect a serious pay increase for him this winter. What he was able to do in a contract year might pay its dividends in the coming weeks.
While it's hard to project Benintendi making Bryce Harper or Aaron Judge money, he will most likely be one of the 20 highest paid outfielders in the game after he signs. Because of the lack of consistency, he probably won't see a 6-to-7 year deal come his way. Somewhere in the 3-to-4-year range makes the most sense, with an AAV increase. $8 million towards a player accounts for 1 point of fWAR. Benintendi posted a 2.8 fWAR in 126 games this season. By that metric, we're looking at about $16 million a year.
I believe Andrew Benintendi will sign a 4-year, $70 million contract with whichever team he desires. We're upgrading his pay a tad bit here but sticking with the four years.
Top Landing Spots
New York Yankees
New York desperately needed a player of Benintendi's caliber back when they traded for him in late July. In a lineup filled with sluggers, the left fielder was brought in to balance out the lineup with his intense contact rate. He slotted in perfectly in left and was a great refresher after watching Joey Gallo struggle in the Bronx. The Yankees couldn't put the ball in play to save their lives in the ALCS. Benintendi would be a serious difference-maker in this team yet again, and his left-handed swing only makes it better.
Chicago White Sox
Chicago endured a brutal season from their corner outfielders, as the pair of Gavin Sheets and Andrew Vaughn were two of the worst defensive outfielders in baseball this season. You know who could help with that? Benintendi.
Benny would improve this team's defensive prowess massively, and the move would see him paired with another elite contact hitter in Tim Anderson. Having two top-tier leadoff guys at the top of your order is scary. And with the Sox looking to slingshot themselves back into playoff contention, this could seriously help the squad.
Houston Astros
This one is a bit out there but hear me out. Longtime Astros left fielder Michael Brantley is out of contract this winter. Say Houston doesn't want to stick to the 35-year-old, but instead they opt for the 28-year-old Benintendi, who gives you better defense and about the same offensive production at the same price.
This move would allow Yordan Alvarez to go back to being the full-time designated hitter and would improve their elite outfield defense even more. If Houston loses yet another World Series, they could go ballistic and decide to bring in fresh faces. This is a long shot, but is totally possible.