Analysis
2023 Free Agent Profile: Brandon Nimmo
Brandon Nimmo proved to be one of the best center fielders in baseball in 2022 and now hits free agency as the top one on the market.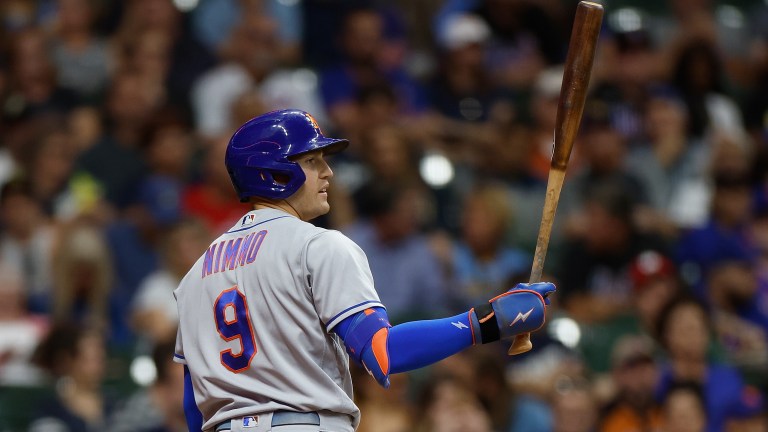 Position: CF
Bats/Throws: L/R
Age: March 27th, 1993 (29 years old)
Traditional Stats: .274/.367/.433, 16 HR, 53 XBH, 64 RBI, 71 R, 116 K, 673 PA
Advanced Stats: 17.2% K%, 10.5% BB%, 134 wRC+, .353 wOBA, 5.4 fWAR
Outside of Aaron Judge, Brandon Nimmo just might be the most valuable outfielder available in free agency this offseason. Nimmo has worked hard to turn himself into an above-average defensive center fielder. Pair the defense with his great on-base prowess, and you have one of the best all-around talents in baseball.
Nimmo is the top center fielder on the free agent market, as he is sure to become one of the most sought-after players in baseball in a few weeks once free agency begins.
Brandon Nimmo's Path to Free Agency
Brandon Nimmo's unlikely to path to MLB stardom began in Cheyenne, Wyoming, one of three states that does not offer high school baseball.
Nimmo played American Legion Baseball instead, where he drew interest from MLB scouts and was eventually drafted with the 13th overall pick in the 2011 MLB Draft, making him the highest-drafted player to ever come out of Wyoming.
After spending hist first five years of professional baseball playing exclusively in the minor leagues, Nimmo finally earned a promotion to the big league club on June 26th, 2016, replacing a slumping Michael Conforto on the MLB roster. The 23-year-old split the season going back and forth between the majors and Triple-A, but appeared in his first 32 big league games. Nimmo fared well enough, hitting .274/.338/.329, with a 89 wRC+.
While Nimmo dealt with injuries and inconsistency in his sophomore season, he still posted a .379 on-base percentage, taking plenty of free bases on walks and sprinting to first base every time. After walking in just 7.5% of his at-bats in 2016, Nimmo doubled his walked rate to 15.3%. That same rate continued into 2018, when Nimmo posted a career-year.
Finally healthy for the first time, Nimmo played in 140 games for the Mets in 2018 and led the team with his 4.8 fWAR. Nimmo hit .263/.404/.483, with 17 home runs, 77 runs scored and a 148 wRC+.
After solidifying himself in 2018, the Mets were expecting a lot from Nimmo in 2019, but injuries once again derailed him. Nimmo got off to a dreadful start offensively, hardly looking like himself with a .200/.344/.323 slash line across 46 games played in April and May. He would eventually go on the Injured List with a neck injury, which kept him sidelined until September.
When Nimmo did get back on the field, he reminded everyone of the type of hitter he could be when right, posting .261/.430/.565 line over the final month with five home runs and 15 RBIs. Nimmo returned an even better player in 2020, refining his approach to become one of the game's best hitters.
From 2016 through 2019, Nimmo was hardly a bad offensive player, as he produced a 130 wRC+ and got on baes at a .387 clip. Still, there was more to his game and that began to show in 2020 when his strikeout rate plummeted.
Across those first four seasons, Nimmo was set down on strikes in nearly 27% of his plate appearances. In 2020, Nimmo slashed that rate all the way down to 19.1%, all while blasting eight home runs in 55 games played. Obviously it was the shortened season, but Nimmo stayed healthy and finished the year with a .404 OBP and a 149 wRC+.
The 2021 season brought more injuries for Nimmo, as he played less than 100 games for the fifth time since making his MLB debut. On the field Nimmo remained consistent, hitting .292/.401/.437, with a 137 wRC+.
He also improved defensively, grading out as an above-average center fielder (4 DRS, 3 OAA) for the first time in his career. That defensive prowess only continued in 2022, when Nimmo had a career-year just ahead of free agency.
Best Center Fielder in Baseball?
There is not a single baseball fan outside of Wyoming that thinks Brandon Nimmo is the best center fielder in baseball right now. He just happened to play like it in 2022.
Batting atop the lineup for the 101-win New York Mets, Nimmo set a career-high with 151 games played. Finally able to stay on the field over a full 162, Nimmo was the Mets primary table-setter leading the team with 102 runs scored.
Among all outfielders in baseball, only two finished the 2022 campaign with a high fWAR than Brandon Nimmo: Aaron Judge (11.5) and Mookie Betts (6.6).
Nimmo's 5.4 fWAR was then tied with Julio Rodriguez for the third-best mark and the top mark among center fielders. Nimmo hit .274/.367/.433, with 16 home runs and a 134 wRC+. He also ranked in the 91st percentile in Outs Above Average, putting up 6 OAA in center field.
This is the right time to hit free agency for Nimmo, who now hits the open market as the top center fielder available. Outside of Nimmo, you would be hard-pressed to find another starting-caliber center fielder in free agency, with Kevin Kiermaier representing the next-best option.
Brandon Nimmo Contract Projection
There is no question that Brandon Nimmo is about to get PAID. The question is, for how long?
If you watched Nimmo play baseball this season, there would be no question about his durability moving forward. In the prime of his career at 29 years old, Nimmo is a great athlete who is strong enough to get through the beating that takes place across a full season.
With that said, there is still Nimmo's past injures to think about. While none of them where too concerning long-term, other than the neck injury in 2019, teams may still be hesitant to give Nimmo a six or seven year deal with a high salary.
The best comp for Nimmo's contract can be found a two years ago when George Springer hit the open market as the top center fielder available.
| | | | | |
| --- | --- | --- | --- | --- |
| Free Agents | Slashline | wRC+ | fWAR | Contract |
| George Springer (2014-2020) | .270/.361/.491 | 134 | 26.1 | 6-year, $150 million |
| Brandon Nimmo (2016-current) | .269/.385/.441 | 134 | 17.9 | ??????? |
Springer was a higher-profile star than Nimmo, with four All-Star appearances, two Silver Sluggers and a World Series MVP on his resume. He also brought more juice, hitting 174 home runs before free agency, compared to Nimmo's 63.
Still, that won't stop Nimmo's new agent Scott Boras from asking for that same contract based on the precedent it set. As team's only option to move the needle at the premium position of center field through free agency, Boras is in the driver's seat with Nimmo.
Teams may be hesitant to give Nimmo a six-year deal based on his injury history, but he should be able to make close to $25 million per year, especially if the contract is four or five years.
Top Five Landing Spots for Brandon Nimmo
New York Mets
The New York Mets have a lot of free agent decisions to make this offseason, with Nimmo, Jacob deGrom and Edwin Diaz all hitting the open market as the top available players at their respective positions. If Steve Cohen wants to bring the band back together he is going to have to reach really far into those deep pockets of his.
With that said, it is really hard to replace a five-win center fielder. Unless the Mets have some hopes of stealing Aaron Judge away from the Yankees, Nimmo is their best option in free agency.
New York Yankees
If Steve Cohen gives Judge an offer he can't refuse, could Nimmo end up taking his vacant place in the Yankees outfield?
Nimmo would be an ideal fit in center field for the Yankees, even if they retained Judge for that matter. His power comes pull-side, making him the perfect fit for that short porch at Yankee Stadium. Considering some of the bat at-bats we saw from this Yankees lineup down the stretch, they would surely welcome a hitter with a career .385 OBP, who struck out just 17.2% of the time this season.
San Francisco Giants
Another team that plans to be squarely in the mix for Aaron Judge, the San Francisco Giants could look to Nimmo as a fallback option if they don't land their man.
Chicago White Sox
The White Sox have a very talented center fielder currently in Luis Robert, but the problem has been keeping him on the field. The 22-year-old has played 166 games over the last two seasons and could benefit from moving into a corner where they can protect his body a little more. Signing Nimmo would allow the White Sox to do that.
Colorado Rockies
Last but certainly not least, the most ideal landing spot for Brandon Nimmo might just be the Colorado Rockies. Growing up in Wyoming, the Rockies were Nimmo's designated hometown team, so he would likely welcome a contract from the team he grew up rooting for.
With Charlie Blackmon on the final year of his contract, the Rockies need to bring some life into their outfield and Nimmo would be the perfect fit. The Rockies showed a willingness to spend last offseason, signing Kris Bryant to a seven-year, $182 million contract. Boras could now send another client to join him in Colorado.
Final Prediction for Brandon Nimmo
Brandon Nimmo signs a six-year, $144 million deal with the Colorado Rockies
A return to the New York Mets should not be ruled out at this stage, but something about Nimmo to Colorado makes too much sense to pass up. Maybe it's the fact that they would have no qualms about giving him a six-year contract at $24 million per year.