Analysis
2023 Free Agent Profile: Aaron Judge
The soon-to-be AL MVP is clearly the top free agent on the market, where is set to become one of, if not the highest paid player in Major League Baseball.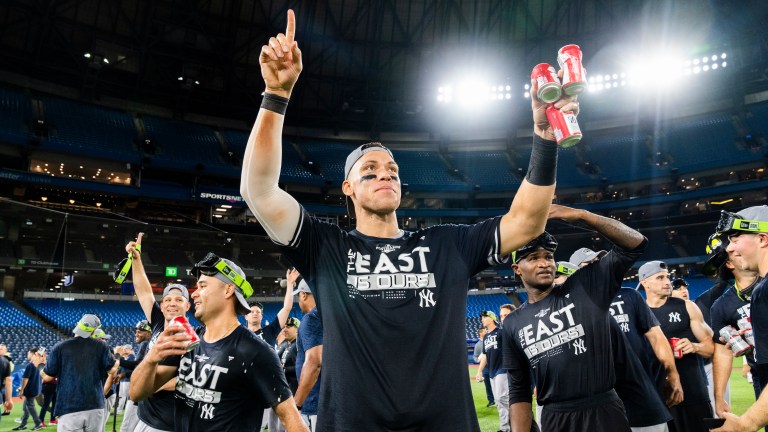 Position: RF/CF
Bats/Throws: R/R
Age: April 26, 1992 (30 years old)
Traditional Stats: 157 G, .311/.425/.686, 62 HR, 131 RBI, 133 R, 175 K, 696 PA
Advanced Stats: 207 wRC+, 15.9% BB%, 25.1% K%, .458 wOBA, 11.4 fWAR

The most feared hitter in baseball will test free agency for the first time in his career this winter. Yankees outfielder Aaron Judge had a historic 2022, and could be in line for one of the largest paydays EVER because of it.
Judge rejected multiple contract extensions before his insane 2022. He bet on himself, and it worked wonders for his chances in free agency. The outfielder will join a group of the highest earners in MLB. The Yankees clearly have the best shot at retaining their best player, but a number of teams will be lining up to sign the soon-to-be AL MVP.
Path to Free Agency
Aaron Judge was drafted with the third overall pick in the 2013 MLB Draft. The player went on to play the next three seasons in the Minor Leagues, running through A, Double-A, and Triple-A in the span of three years. He raked through the subsidiary leagues, making his Major League debut in 2016.
Following his debut in 2016, Judge finished second in MVP voting during the 2017 season and won Rookie of the Year honors. His 52 home runs was a rookie record at the time and helped lead the Yankees to the ALCS. He became an instant fan favorite and was seen as one of the best players in the entire league.
The next three years, Judge struggled with injuries. He was incredibly productive when he was on the field, but his availability became an issue with him clocking around 110 games a season up until 2020. This could've been a reason as to why he didn't get the long-term extension much earlier.
The 2021 campaign was a healthy year for Judge, as he mashed 39 home runs and drove in 98 in 148 games. His walk-off single in the last game of the season against Tampa Bay pushed the Yankees into the playoffs.
Enough has been said about Judge's 2022 season already, as he broke the American League single season home run record with 62. His 207 wRC+ for the season led the league by an entire 20 points. Because of what he did this year, the Yankees have to regret allowing their superstar to hit free agency.
Contract Projections
To date, Aaron Judge has made around $37 million during his seven seasons in MLB. Now, that could be a number that he will be receiving on a year-to-year basis.
We've seen a multitude of top tier outfielders receive big pay days over the past few years including Mike Trout, Mookie Betts and Bryce Harper. The argument is there for Judge to be among that group of players as far as pay goes.
The highest earner among outfielders is Trout, as he rakes in a whopping $37 million a year. Bryce Harper received a massive contract in 2019 that now sees him make $27 million a season. There's a good chance that Judge could be right in the middle of that pay-wise.
Judge is 30 years old. It's unlikely he will receive a 10-year deal due to his age but he could earn more on a year-to-year basis because of that. An eight-year deal seems perfect for the outfielder, which would take him into his age-38 season. Its likely that he will land in the middle of both Harper and Trout, so let's call it around $35 million a year.
I believe Aaron Judge will sign an eight-year, $280 million contract wherever he decides to sign. Because of the recent success, we bumped the AAV up to become closer to Trout but stuck with the perfect number of years.
Top Landing Spots
New York Yankees
This just makes the most sense. Seeing their franchise player go would be a gut-wrencher for Yankees fans across the globe. Given their recent success and what Judge truly means to the New York faithful, he's fully deserved the money coming his way. The outfielder straight up carried the Yankees throughout certain points in his career. Judge is the face of the most storied franchise in the game, and it would be unacceptable to see the Yankees front office let another star walk.
San Francisco Giants
If Judge does decide to leave the Yankees, the Giants seem like an ideal spot for the star. The player grew up as a Giants fan and his family still lives in the area, which means a lot to him. San Francisco's front office has been adamant that they will spend money this offseason to significantly improve the team after a disappointing 2022. There's a ton of ground to make up on both the Dodgers and San Diego, but this would be the perfect first step in the right direction.
New York Mets
Owner Steve Cohen has never been afraid to spend the big money to improve the Mets, as he flexed on the entire league last year by signing a 37-year-old Max Scherzer to a three-year, $130 million deal. Cohen could make it rain this winter, and that would be a hell of an acquisition.
Dark Horse: Los Angeles Dodgers
The Dodgers have made significant commitments to both Mookie Betts and Freddie Freeman in recent years and have a ton amount of money coming off the books this winter. Betts has discussed a possibility of moving to second base to accommodate another star caliber player like Judge. Andrew Friedman is one of the most calculated GMs in the league and could make another splash for Judge. It's highly unlikely, but is still a possibility.