Analysis
2023 Free Agent Profile: Joc Pederson
Third time's the charm for Joc Pederson, who hits free agency again, but this time off of one of the better offensive seasons of his career.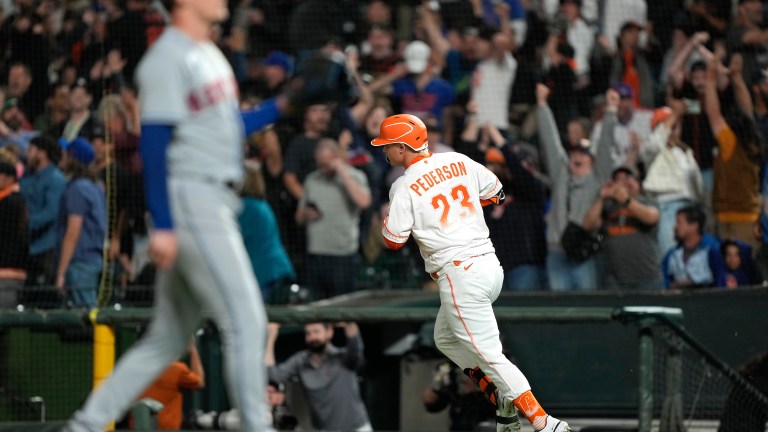 Position: OF
Bats/Throws: L/L
Age: April 21st, 1992 (30 years old)
2022 Traditional Stats: .274/.353/.521, 23 HR, 45 XBH, 70 RBI, 57 R, 433 PA's
2022: Advanced Stats: 9.7% BB%, 23.1% K%, 144 wRC+, .373 wOBA, 2.1 fWAR
Joc Pederson entered free agency last season as a two-time reigning World Series champion, having won in 2020 with the Los Angeles Dodgers and in 2021 with the Atlanta Braves. Despite the success of his team's though, Pederson was not a highly-coveted free agent.
After failing to be signed prior to the lockout, Pederson settled on a one-year, $6 million pact with the San Francisco Giants in the middle of March. The 30-year-old was hoping to bet on himself to try to get a long-term contract this offseason and he certainly succeeded in that mission, posting arguably the best season of his MLB career.
Now Pederson is again a free agent, where is he is set to become the top slugging outfielder available, not named Aaron Judge.
Path to Free Agency
Drafted out of high school in the 11th round of the 2010 MLB Draft, Joc Pederson quickly rose through the ranks of the Dodgers farm system and was eventually considered their top overall prospect by Baseball America following the 2013 season.
After posting a 30-30 season in Triple-A that earned him Pacific Coast League MVP honors, Pederson would make his MLB debut as a September call-up in 2014. In his rookie campaign in 2015, Pederson got off to a fast start, blasting 20 home runs before the All-Star break.
Pederson became the first Dodgers rookie position player to ever start in the All-Star Game, as he shined bright on the national stage, also making it to the final round of the Home Run Derby. Pederson struggled down the stretch though, eventually losing his starting job by the end of August.
Still, Pederson hit 26 home runs as a rookie, the first of four seasons in which he eclipsed 25 home runs with the Dodgers. Across seven seasons with the Dodgers, Pederson hit .230/.336/.470, with 130 home runs and a 116 OPS+.
After the Dodgers won the World Series in the shortened 2020 season, Pederson would become a free agent for the first time, where he signed a one-year, $7 million deal with the Chicago Cubs. Pederson spent first half of the season with Chicago, before being traded to the Atlanta Braves, where he won the 2021 World Series.
This season, Pederson spent the entire year playing for the San Francisco Giants. In a lot of different respects, Pederson turned in a career-year. He posted the best batting average of his career at .274, as well as the best OBP at .353. His 70 RBIs were a career-high, as was his 144 wRC+.
Now Pederson will again become a free agent, where he will either be looking for a raise in salary, or will look to sign the first multi-year contract of his career.
Contract Projection
Joc Pederson is hitting free agency for the third season in a row. In each of the first two trips, the slugger landed on a one-year deal worth $6-7 million. Is it finally time for Pederson to get PAID?
The first time he hit free agency after the 2020 season, Pederson graded out as a below-average player both in terms of fWAR (-0.2) and wRC+ (86). Over the full campaign in 2021, Pederson's numbers weren't much better (0.4 fWAR and 96 wRC+). Now he is finally hitting free agency after a strong season, more reminiscent of what we saw from him early in his career with the Dodgers.
Pederson has had four seasons with at least 25 home runs and three with a wRC+ over 126. When looking at some of the free agent outfielders who got paid well last offseason, we cannot say the same thing.
Avisail Garcia signed a four-year, $53 million deal with the Miami Marlins last offseason. He had just one season with a wRC+ over 126, but got paid after hitting a career-high 29 homers in 2021. Mark Canha signed a two-year, $26.5 million deal with the Mets, while only having two seasons with a wRC+ over 126 and one season with more than 25 homers.
Both of those free agents were able to make at least $13 million per season and there is no reason to expect Pederson to make any less, if not slightly more.
Top Five Landing Spots
San Francisco Giants
After posting one of the best seasons of his career in San Francisco, why would Joc Pederson play anywhere else?
Pederson should have interest in returning to the Bay, but with their sights set on Aaron Judge, it is fair to wonder how much they are prioritizing re-signing Pederson at this stage.
Tampa Bay Rays
The Rays really need to juice up their offense this offseason, particularly with left-handed bats. Pederson fits their needs perfectly and should come at a price tag that is reasonable for the small market Rays.
Cleveland Guardians
Outside of rookies Oscar Gonzalez and Steven Kwan, the Cleveland Guardians got next to no production from their outfielders this season. Pederson would immediately become their top home run threat, outside of Jose Ramirez, slotting really nicely into a run-producing spot in the middle of their order.
Los Angeles Angels
All eyes are on Shohei Ohtani this offseason, as the Angels could be looking to trade their two-way superstar before he hits free agency, or could be looking to build a contender around him to try to get him to stay long-term.
Joc Pederson would be an ideal fit, not only with his production but also his leadership. Pederson has been on nothing but winning ballclubs for a majority of his career and could bring some of that pedigree to the Angels lineup.
Texas Rangers
If the Rangers are still looking to spend this offseason, Joc Pederson is certainly a name that should be high on their priority list. Pederson would add another slugger to the middle of the Rangers lineup, without really having to break the bank. If finding an ace is the No. 1 priority for the Rangers in free agency, Pederson would be the perfect second tier free agent to go after that could help the lineup, while still allocating most of their resources on a top arm.
Prediction
Joc Pederson signs a four-year, $54 million deal with the Los Angeles Angels
My favorite fit for Pederson is probably the Cleveland Guardians, but I have very little confidence that they will actually spend. The Angels however always spend in free agency and Pederson could be the ideal fit to compliment Mike Trout and Taylor Ward in their outfield next season.