Analysis
2023 Free Agent Profile: Anthony Rizzo
Suddenly one of the Yankees most important players, Anthony Rizzo hits free agency again looking for a bump in pay after a strong 2022 season.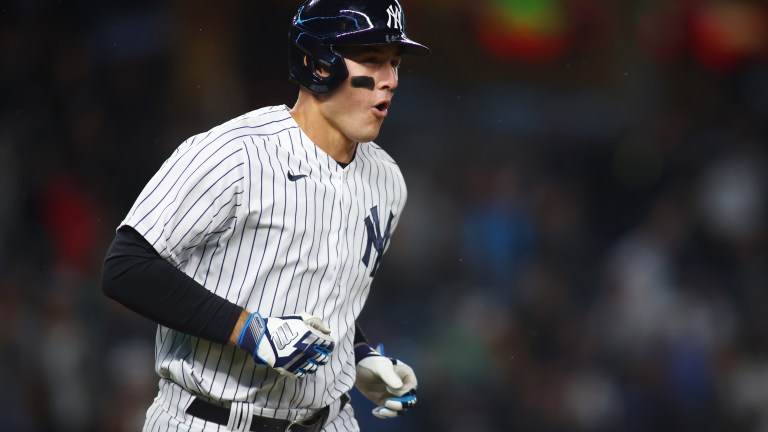 Position: 1B/DH
Bats/Throws: L/L
Age: August 8th, 1989 (33 years old)
2022 Traditional Stats: .224/.338/.480, 32 HR, 54 XBH, 75 RBI, 77 R, 101 K, 548 PA
2022 Advanced Stats: 18.4% K%, 10.6% BB%, 132 wRC+, .352 wOBA, 2.4 fWAR
Fresh off another 32-home run season, first baseman Anthony Rizzo will decline the second year of his two-year, $32 million contract with the New York Yankees and will test free agency once more. Along with his extreme power and elite defensive capabilities, he's become a true leader in the Yankee clubhouse. Rizzo is a true force on and off the field.
The infielder posted his best full season since 2019 with New York. Rizzo has transformed his offensive game into a full power approach and relying on walks more than ever. He is the definition of a winner and would be a great addition to any clubhouse. And after another great year in the bigs, he could be looking for his last payday in the majors.
Will Rizzo leave a solid spot in New York to play elsewhere? His player option gave him the option to test the market for the second-consecutive year. Let's take a dive into what this market holds for the four-time Gold Glove winner.
Path to Free Agency
Anthony Rizzo was selected by the Boston Red Sox in the sixth round of the 2007 Major League draft. The first baseman spent time in Low-A, High-A, and Double-A over the next three seasons.
In 2010, he was dealt to the San Diego Padres in a deal which involved Adrian Gonzalez. He spent time in the Padres Triple-A system before making his Major League debut in 2011, tallying 49 games with the club.
Just like that, Rizzo was sent packing yet again. This time to the Chicago Cubs. Little did he know it, that trade would change his life forever. He became a cornerstone piece of the franchise, spending the next nine years with the organization. In that time, he became one of the best first basemen in the entire sport.
The player has a long list of career accolades including four Gold Glove awards, a Platinum Glove award, he's a three-time All Star, and even brought home a Silver Slugger. His most prized accomplishment has to be winning the 2016 World Series with Chicago, ending the infamous Billy Goat drought. It was a special run for a special group of players.
Rizzo would spend the next five years with the team before being dealt to the New York Yankees at the 2021 trade deadline. He became an integral piece of the Yankees second half run to help them towards the playoffs, and signed a two-year, $32 million contract the following offseason.
Contract Projection
Over his 12 seasons in Major League baseball, Anthony Rizzo has made a grand total of about $78 million. The first baseman made an even $16 million in 2022.
This past season Anthony Rizzo was the eighth-highest earning first baseman in the league. The opt-out suggests that he would want a tick up in both the value and length of the contract. When we look around the league, he made less than Eric Hosmer, Brandon Belt, and Jose Abreu over the past calendar year. You could make the argument that he deserves a step up from $16 million to $18 million with the way players at his position are currently paid.
Like we mentioned before, Rizzo will most likely be looking for an increase in years as well. It seems likely that he will receive his one last final payday before his eventual retirement. A two-year deal wasn't enough.
I project that Anthony Rizzo will most likely sign a four-year, $72 million contract with a player option after the third year this offseason. This will take the player up until his age 36 season, and will see him make $18 million a year.
It seems likely that the Italian Stallion will stay in the Bronx. But let's explore some other options for the veteran.
Top Landing Spots
New York Yankees
The Yankees just make the most sense for Rizzo. He had yet another successful season with his newest ballclub. Why leave? If he decided to leave, the Yankees would have a gaping hole at the position. He's become very close with Aaron Judge, who is also set to test free agency this offseason. Perhaps bringing back Judge would help in this case for the Yankees front office. The short porch is built for Rizzo, and he abused it this past season. This has to be the most likely landing spot for him. Besides, he'll be well worth his money.
Houston Astros
While he has looked better in the postseason, Yuli Gurriel produced just a .647 OPS and eight home runs as the Astros starting first baseman this year. Houston could use an upgrade at the position and Rizzo would be one of the best options on the market to do just that. The Astros may prefer Josh Bell's switch-hitting versatility, but Rizzo is a proven winner that could be counted on.
Milwaukee Brewers
The Brewers are a club that are always in constant need of offensive reinforcements, and Rizzo could be the solution. The team received decent production from Rowdy Tellez this year, but he would gladly move back to the DH spot to bring in the veteran. Milwaukee will be hungry to hop back into playoff contention after missing out on the dance this year. It would be odd seeing Rizzo playing for an NL Central team not named the Chicago Cubs, but it's always a possibility.
San Diego Padres
This is another move that is contingent on what this team decides to do at first base. The recently acquired Josh Bell is set to hit free agency this offseason, and it could be the perfect opportunity for Rizzo to reunite with his former team. General manager AJ Preller has to re-sign Juan Soto this offseason to a monster extension, but he's one of the most aggressive executives in the game. Rizzo is certainly a possibility. San Diego will continue their chase at a World Series title this season. And maybe a homecoming for Rizzo could help them in their pursuit.
Darkhorse: Chicago Cubs
Speaking of homecomings, this would be the ultimate homecoming for Anthony Rizzo. While the Cubs are a struggling team that is continuing to rebuild, they have shelled out some serious money in the past year. The Chicago front office signed both Marcus Stroman and Seiya Suzuki last winter, why not once more? It is highly unlikely this would happen, but imagine the reaction.