Analysis
2023 Free Agent Profile: Carlos Rodón
Carlos Rodón bet on himself and won, posting a career-year with the Giants, where he now hits free agency as a proven and healthy ace.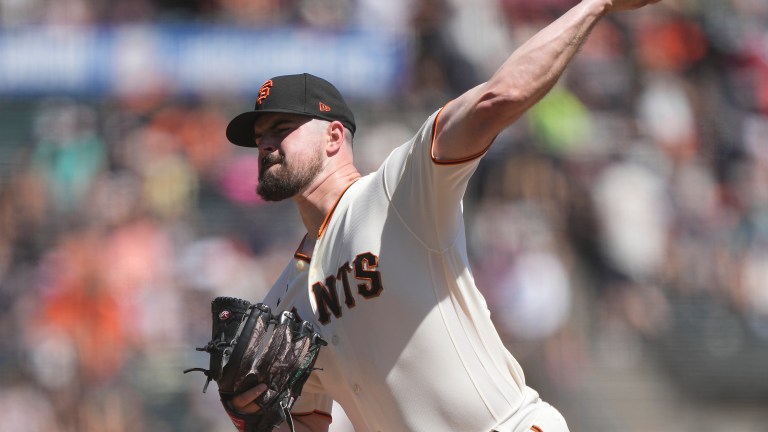 Position: SP
Throws: LHP
Age: December 10th, 1992 (29 years old)
2022 Traditional Stats: 31 G, 14-8, 178.0 IP, 2.88 ERA, 237 K, 1.028 WHIP, 6.2 fWAR
2022 Advanced Stats: 33.4 K%, 7.3 BB%, 2.64 xERA, 2.91 xFIP, 0.61 HR/9
A year after being considered the biggest risk-reward free agent, Carlos Rodón will hit the market as simply one of the best players available. The Giants took a chance on him last year, knowing there was a severe injury risk, and all he did was carve the entire season to lead their pitching staff.
Rodón proved the doubters wrong and stayed healthy nearly the entire year while proving he's one of the top arms in the league in 2022. He now enters his age-30 season searching for a significant long-term contract coming off two excellent seasons.
While the Giants would certainly love to keep Rodón around, his market is much larger than it was at this point last year. Any competitive team that needs pitching help will be in on Rodón after seeing his full potential on display over the last few years.
Carlos is hands down one of the top three arms available this winter and is going to get paid as such this year.
Path to Free Agency
This is a guy who was always destined to be great. While his career certainly hasn't gone fully as expected, there was always a reason to believe in him reaching the level he has now.
Rodón was electric from a young age as he lead his high school to a state championship and threw numerous shutouts and even a no-hitter during his years there. He was drafted in the 16th round but decided to stay in his home state and attend NC State.
He proceeded to dominate in every aspect during his tenure there as he was named Freshman Pitcher of the Year and proceeded to break numerous school records over his three years while leading NC State to their first College World Series appearance since 1968 in his sophomore season.
He was about as good as a pitcher can possibly be at the collegiate level, which led to him being drafted third overall by the Chicago White Sox in 2014. The expectations were sky-high and he instantly became one of the most highly-touted pitching prospects the White Sox had ever seen.
Unfortunately for Carlos, his career definitely didn't get going fully until much further down the road. He quickly moved through the minor leagues and debuted in late April of 2015. The early expectation is that he would soon become co-aces with Chris Sale and lead the new era of White Sox pitching.
He pitched well for a rookie as he put up a 3.75 ERA across 26 appearances and seemed likely to improve as he continued to develop.
Things didn't trend upwards however as he declined to some degree in 2016 by putting up a 4.04 ERA in 165 innings. There were still good signs though as his strikeout rate was high and the pure stuff was approaching an elite level.
The injury woes began to strike in his third season in the league. He was out for many long stints that year and was only able to appear in 12 games. He then began the 2018 season on the injured list as well and only threw in 20 games while struggling when available.
He finally reached a point of full health heading into the 2019 year and was even named the Opening Day starter with the Sox in full rebuild mode. He struggled out of the gate and then opted to have Tommy John Surgery in May. He missed the rest of the season and the start of the shortened 2020 year.
In limited appearances in 2020, he was downright awful and many Sox fans started to lose hope of him ever reaching his high ceiling. After four seasons of nothing but injury and struggle, his future seemed fairly bleak and the White Sox decided to non-tender him in the offseason.
With his market very limited, he wound up returning to Chicago on a one-year $3 million prove-it type of deal. He proceeded to show the White Sox and the entire world what he was always capable of doing.
He threw a no-hitter (barely missed a perfect game) early in the season against Cleveland and never looked back. While the team remained very cautious with his usage, he was excellent when on the field. There were times when his arm fatigue became an issue, but he undoubtedly put together an incredible season. He finished the season with an impressive 2.37 ERA and finished fifth in AL Cy Young voting.
The biggest downside of his career year was that he seemed to get weaker towards the last month of the year and into the playoffs. His arm issues started to become a source of concern once again, even after flashing ace-level stuff throughout the year.
The White Sox ultimately opted to not even offer him a qualifying offer and he proceeded to hit the market as a free agent.
Due to the injury risk, his market didn't seem too hot following the lockout. He ended up signing a high-value short-term deal with the San Francisco Giants.
In his lone year in San Francisco, all he did was absolutely dominant while staying healthy essentially the whole year. Whoever was still doubting him before 2022, definitely isn't now. He became arguably the most valuable player on the Giants' roster this past season, and by staying healthy, earned himself an opt-out to hit the market and seek a long-term deal.
The road has not been easy, but Rodón deserves every penny of what he's going to earn this winter. He's fought every step of the way to get his career where he wants it to be and has finally reached that point after eight seasons.
Contract Projection
While his market was even harder to asses last year, Rodón's projection is still a bit tricky. Last year there was nobody ready to offer him more than one guaranteed year as he eventually signed a 1+1 style deal with the Giants where he earned a player option by pitching more than 110 innings in 2022. After this past year, he definitely will receive numerous multi-year deals.
Possible recent comparisons could be guys last year like Kevin Gausman or Robbie Ray who both inked five-year deals after career years in 2021. While Rodón comes with the risk of injury, I'd argue his potential and impact are significantly higher than either of those arms.
His dominant pitches and strikeout ability are something that led to him being one of the best arms in the National League and should earn him a deal over $100 million this year. I expect him to field multiple 4-to-5 years deals with an AVV in the range of $20-$25 million.
I think he's actually going to exceed the deals signed by Ray and Gausman and sign a deal around five years, worth $125 million. His electric stuff and top-end of the rotation potential will encourage teams to spend big on one of the best arms available.
Top Landing Spots
San Francisco Giants
Yes, the Giants want him back. How could a team not want their ace back after an incredible season?
Rodón has seemed to enjoy his time spent in the Bay Area and I don't think he would be opposed to staying with the Giants. However, the market for him is much more competitive than it was a year ago when he initially signed with the club.
The team appears ready to make big moves and work towards contending once again, but are they really close to contention? With the Dodgers and Padres in their division and an aging roster on their hands, it may be tough for San Francisco to compete.
Even given all this, the Giants still appear to be one of the top options for Carlos given his comfort there and the money they have available to utilize.
St. Louis Cardinals
Please get pitching to St. Louis!!!
The Cardinals have a window right now that they need to act on this winter. Nolan Arenado and Paul Goldschmidt aren't getting younger and Adam Wainwright is about to embark on his final season in the league. This team is ready to win and needs pitching to do so in 2023.
This makes all too much sense, but will the Cardinals be able to match offers from premium market teams that would love to have Rodon atop their rotations?
This seems like a perfect fit, but it remains to be seen if the Cardinals will go all-in to win soon with their current core.
Texas Rangers
The Rangers spent over half a billion dollars last offseason to begin the process of building a championship core. While they still weren't good, they seem to be making their way.
Even though they spent big on hitting, they drastically need arms. They need pitching. Badly.
They don't match up in terms of talent quite yet with most of the clubs on this list, but they seem ready to spend big once again and push their way into the AL playoff picture. Rodón would immediately change the entire outlook of this pitching staff. This move would need to be accompanied by other additions but would push the Rangers in the right direction heading into next season.
New York Yankees
When it comes to top free agents, can you ever really count the Yankees out?
The New York Yankees fell flat once again in the playoffs this year after an incredible start to their season. It seems like they just can't get over the hump with this current roster and in order to do so they're going to need reinforcements through free agency and/or trades.
Behind Gerrit Cole and Nestor Cortes Jr., the Yankees' pitching was largely inconsistent down the stretch and into the playoffs. Adding another bonafide stud to their rotation would greatly improve their chances of more playoff success. They've always got money available and will be even more able to spend should they lose out on Aaron Judge.
New York Mets
Speaking of teams willing to spend whatever it may take to win…
Steve Cohen is going to spend in one way or another this offseason to hopefully get the Mets ready to overtake the Braves after failing to do so this year. While the top arm on the market, Jacob deGrom, could still resign, the Mets could also shift their eyes to Rodón.
While Carlos has his fair share of injury problems, he's actually been much more available than deGrom over the past two seasons.
This move might not move the needle for the Mets but would make a lot of sense if they don't end up re-signing their current ace. If the Mets are in on him and it comes down to a bidding war, let's just say they might have the upper hand.
Final Projection
Carlos Rodón signs a five-year, $125 million deal with either the Texas Rangers or St. Louis Cardinals.
For some reason, I just don't see one of the top-tier markets going all-in for a guy like Rodón. He could easily sign with one of those other clubs and it wouldn't surprise me at all, but something about these two teams just feels like the right fit.
Rodón's presence in either of these rotations would instantly shift the dynamic of their outlook. He would become their ace and get paid deservingly after back-to-back superb years. He gets his money and gets to lead a pitching staff for the foreseeable future.
Wherever he ends up, I for one am extremely happy for Carlos as someone that has watched him go through years of struggle leading up to this point. He has more than earned the deal he's going to sign.