Analysis
Top 10 MLB 2023 Outfield Free Agents
In a rather thin class of free agent outfielders most of the talent exists at the top, but teams can still find some great upgrades on the market.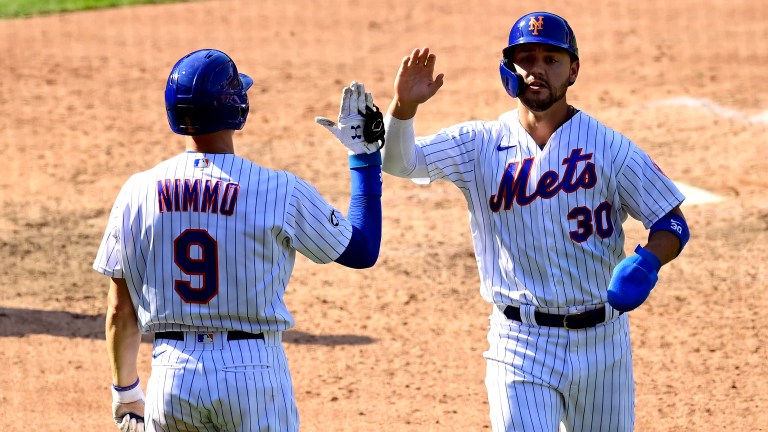 This year's crop of free agent outfielders isn't very deep, but there is still a lot of talent that can be had, especially at the top of the market with Aaron Judge, Brandon Nimmo, Joc Pederson and Andrew Benintendi.
Team's looking for starting-level outfielders will have to jump on the market quick, as things really drop off after that top-four and even more so as we get beyond this list of the top 10 outfielders in the 2023 MLB free agent class.
10. Adam Duvall – 0.9 fWAR
Position: LF/RF/CF
Bats/Throws: R/R
Age: September 4, 1988 (34 years old)
2022 Traditional Stats: .213/.276/.401 12 HR, 29 XBH, 36 RBI, 39 R, 315 PA's
2022: Advanced Stats: 6.7% BB%, 32.1% K%, 87 wRC+, .290 wOBA, 0.9 fWAR
The Braves acquired Duvall from the Marlins at the 2021 trade deadline and he would end up playing a big part in Atlanta's World Series run. With a year of control still left on his deal, Duvall returned to the Braves for the 2022 season where he was in the process of shaking off a slow start before going down with a wrist injury for the remainder of the season.
Prior to the promotion of Michael Harris II, Duvall was starting most games in center field for the Braves where he was solid. As Duvall heads into the latter stages of his career, he profiles more as a left fielder, but has the ability to play all three outfield spots if needed.
Duvall is going to strike out a lot and hit a lot of home runs. Whoever signs him knows that. The value he provides defensively is an incredibly underrated aspect of his game, helping him accumulate 3.8 fWAR over his last 232 games.
9. David Peralta – 1.7 fWAR
Position: LF
Bats/Throws: L/L
Age: August 14, 1987 (35 years old)
2022 Traditional Stats: .251/.316/.415 12 HR, 45 XBH, 59 RBI, 39 R, 490 PA's
2022: Advanced Stats: 8.4% BB%, 23.3% K%, 104 wRC+, .315 wOBA, 1.7 fWAR
A model of consistency throughout his career, Peralta has only had one full season of below average production since he debuted in 2014. Peralta's .731 OPS last season is down from his .796 career figure, but still slightly above league average (104 wRC+).
Much like his offense, Peralta has steadily been above-average on the defensive side of things, even as he pushes towards his mid-30s. Back to back years with five Outs Above Average in left field has helped Peralta provide just above league average value on both sides of the ball.
At 35 years old, it is likely that we see a one or two year deal for the longtime Diamondback. Much like the Rays who acquired Peralta at the deadline last season, there should be several teams interested in the veteran left-handed hitter.
8. Jurickson Profar – 2.5 fWAR
Position: LF/RF
Bats/Throws: S/R
Age: February 20th, 1993 (29 years old)
2022 Traditional Stats: .243/.331/.391, 15 HR, 53 XBH, 58 RBI, 82 R, 658 PA's
2022: Advanced Stats: 11% BB%, 15.6% K%, 110 wRC+, .320 wOBA, 2.5 fWAR
Profar signed a three-year deal with the Padres following his impressive 2020 season. The deal included two opt outs, the first of which he did not exercise after a disappointing 2021 season. Profar bounced back last season, producing above-average offensive numbers while playing passable defense in left. The 29-year-old played at a high enough level to opt out of his $8.33 million for next year and hit the open market.
Once more of a super-utility player, Profar has not strayed much from left field as a Padre aside from the occasional cameo in center or right when the team was in a pinch. Profar's inconsistent career makes him a tough read but there's plenty of teams that would improve by adding the nine-year vet to their roster.
7. Mitch Haniger – 0.8 fWAR
Position: RF
Bats/Throws: R/R
Age: December 12th, 1990 (31 years old)
2022 Traditional Stats: .246/.308/.429, 11 HR, 19 XBH, 34 RBI, 31 R, 247 PA's
2022: Advanced Stats: 8% BB%, 26.8% K%, 113 wRC+, .319 wOBA, 0.8 fWAR
Injuries have held Haniger back throughout much of his career, but when he is on the field, he is an offensive force. Since debuting in 2016, Haniger has only played two full seasons and in each of those campaigns he was fantastic. In 2021, Haniger launched 39 homers and drove in 100 runs while producing a 121 wRC+.
When Haniger was on the field this season, he produced. He was on pace for a second-consecutive 30 homer, 100 RBI season, however he was only able to appear in 57 games. An average defender at best, Haniger could see more time at DH with his new club in an effort to preserve his health. Although he is still capable in right field with his plus arm.
6. Masataka Yoshida – N/A
Position: LF
Bats/Throws: L/R
Age: December 12th, 1990 (29 years old)
2022 Stats (JPPL): .336/.449/.559, 21 HR, 50 XBH, 89 RBI, 57 R, 515 PA's
Yoshida technically has not been posted, but with widespread interest from Major League teams, it seems increasingly likely that Yoshida could make the jump stateside. The Japanese star has consistently been one of the best hitters in Nippon Professional Baseball, boasting a .419 career on base percentage with 135 homers in 781 games.
Though small in stature (5-foot-8, 175 pounds), Yoshida generates an impressive amount of bat speed. The 29-year-old hit several balls over 110 mph last season including several homers over 440 feet. Yoshida has mostly played left field and DH with the bat being his main source of value.
5. Michael Conforto – N/A
Position: LF/RF
Bats/Throws: L/R
Age: March 1st, 1993 (29 years old)
Did not play in 2022
Conforto rejected a qualifying offer from the Mets prior to last season, but a shoulder injury sidelined him for the entirety of 2022 and the Scott Boras client opted to wait until the subsequent free agency period to explore signing with a team.
Presumably healthy, Conforto should be a very popular target with a potentially unique contract structure. Boras reportedly cited Carlos Rodon's Giants contract, who similarly needed to prove that he was healthy and capable. Rodon signed a two-year deal with the Giants last offseason with an opt out for year two if he reached 100 innings (which he did).
There should be a slew of team's interested in a similar deal for Conforto and his .824 career OPS. The 2021 campaign was Conforto's most diminished offensive output since his first full season in 2016, but again, the larger sample size of Conforto's seven year career should be enough for countless teams to take a chance on a Rodon-like contract.
Click here to read our full free agent profile on Michael Conforto.
4. Andrew Benintendi – 2.8 fWAR
Position: LF
Bats/Throws: L/L
Age: July 6th, 1994 (28 years old)
2022 Traditional Stats: .304/.373/.399, 5 HR, 31 XBH, 31 RBI, 54 R, 521 PA's
2022: Advanced Stats: 10% BB%, 14.8% K%, 122 wRC+, .342 wOBA, 2.8 fWAR
It's been a fascinating career arc for Andrew Benintendi. Selected seventh overall by the Red Sox in the 2015 MLB Draft out of the University of Arkansas, Benintendi flew through the minors and finished as the American League Rookie of the Year runner-up to Aaron Judge in 2017.
Benintendi followed up his impressive rookie season with an even better 2018, posting a career-best .830 OPS and helping the Red Sox win the World Series. Benintendi was quickly becoming one of baseball's most exciting young stars, but took a step back in 2019, with just a .774 OPS.
After a disastrous start to 2020, the Red Sox decided to move on from their left fielder, sending him to Kansas City in a three-team deal. Benintendi bounced back with a solid 2021 campaign and then followed things up with an even hotter start to 2022, earning his way to an All-Star appearance. With his impending free agent status, the struggling Royals shipped Benintendi to New York as the Yankees bulked up for their postseason run.
A hand injury unfortunately cut Benintendi's time in pinstripes short, but he finished the season with a .772 OPS while registering the highest batting average of his career (.304). Benintendi may not be the sexiest name on the market, but he is easily one of the safest. Aside from his lost 2020 season, the 28-year-old has consistently been an above-average hitter.
Benintendi should have a large number of potential suitors from the big market teams to mid-market as well. Given his age and overall consistency, he should easily command a multi-year deal.
Click here to read our full free agent profile on Andrew Benintendi.
3. Joc Pederson – 2.1 fWAR
Position: OF
Bats/Throws: L/L
Age: April 21st, 1992 (30 years old)
2022 Traditional Stats: .274/.353/.521, 23 HR, 45 XBH, 70 RBI, 57 R, 433 PA's
2022: Advanced Stats: 9.7% BB%, 23.1% K%, 144 wRC+, .373 wOBA, 2.1 fWAR
Last season was easily Joc Pederson's most impressive offensive campaign. His .874 OPS was the best of his career while putting up his best BB/K ratio since 2019. Pederson credited the great Barry Bonds for some of his success after the two shared a conversation prior to his three homer performance in late May.
We've seen Pederson have stretches of greatness, but his streakiness and dramatic splits against lefties had held him back a bit. Last season was Pederson's best example to combat that narrative as he heads into free agency. A career-year combined with his postseason experience and success should make him an extremely popular target.
Click here to read our full free agent profile on Joc Pederson.
2. Brandon Nimmo – 5.4 fWAR
Position: CF
Bats/Throws: L/R
Age: March 27th, 1993 (29 years old)
2022 Traditional Stats: .274/.367/.433, 16 HR, 53 XBH, 64 RBI, 71 R, 116 K, 673 PA
2022 Advanced Stats: 17.2% K%, 10.5% BB%, 134 wRC+, .353 wOBA, 5.4 fWAR
Nimmo set a career-high in fWAR (5.4) thanks to a strong offensive season paired with his best defensive output as a pro. The 29-year-old's 53 extra base hits was the most in a season since he debuted in 2016, while his six Outs Above Average was easily his best mark.
Previously receiving mixed reviews up the middle throughout his career, Nimmo has solidified himself as a true center fielder. Set to turn 30 years old prior to Opening Day, it is expected that Nimmo will command a five or six year deal.
It will remain to be seen if Nimmo can duplicate his defensive performance next season and into his 30s, but it's hard to argue against his 134 wRC+ for his career, boosted by his elite ability to walk. It is worth noting that Nimmo has only played more than 100 games in two different seasons, one of which being last year. Still, it seems inevitable that a team or multiple teams will step up and give Nimmo a six year offer.
Click here to read our full free agent profile on Brandon Nimmo.
Position: CF (78 games) RF (72 games)
Bats/Throws: R/R
Age: April 26, 1992 (30 years old)
Traditional Stats: 157 G, .311/.425/.686, 62 HR, 131 RBI, 133 R, 175 K, 696 PA
Advanced Stats: 207 wRC+, 15.9% BB%, 25.1% K%, .458 wOBA, 11.4 fWAR
There's not much to say about Judge's 2022 season that has not already been said. The 30-year-old had the greatest contract season ever. After reportedly turning down a contract that would have paid $213.5 million prior to the year, Judge went on to set the American League home run record while playing a majority of his games in center field.
It is all-but-certain that we will see a record contract for Judge in some fashion, but the fact that he is already 30 years old makes the length of contract discussion an interesting one. Ultimately, team's have to risk a rough back-end of a mega deal in order to lock down a superstar. At 6-foot-7, 280 pounds with a bit of an injury history himself, the questions and concerns as to what Judge will look like from age 35 onward are valid.
That said, this is a, "what are you doing for me now?" league and right now Judge is the best player in Major League Baseball. The fact that Judge can play all three outfield spots at a high level makes him a fit for any team with a few hundred million dollars burning a hole in their pocket.
Click here to read our full free agent profile on Aaron Judge.