Analysis
2023 Free Agent Profile: Tyler Anderson
Coming off the best season of his career, Tyler Anderson is looking to parlay his first All-Star campaign into a lucrative long-term deal.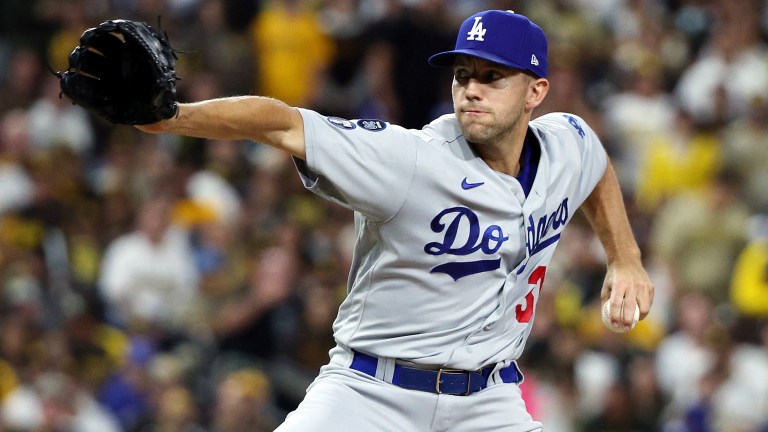 Position: SP
Throws: LHP
Age: December 30th, 1989 (32 years old)
2022 Traditional Stats: 30 G, 28 GS, 178.2 IP, 2.57 ERA, 138 K, 1.00 WHIP, 4.0 fWAR
2022 Advanced Stats: 19.5% K%, 4.8% BB%, 3.31 FIP, 3.10 xERA, 4.11 xFIP, 0.71 HR/9
Pitching on a one-year, $8 million contract, Tyler Anderson was an absolute revelation for the Los Angeles Dodgers in 2022. He posted by far the best season of his career and was rewarded by being named an All-Star for the first time.
Now the 32-year-old left-hander hits the open market as one of the top starting pitchers available in free agency, where he should look to cash in on the first significant multi-year contract of his career.
Path to Free Agency
Tyler Anderson was drafted in the first round of the 2011 MLB Draft by the Colorado Rockies out of the University of Oregon. Anderson's minor league career was derailed in 2014, when he was dealt with a stress fracture to his pitching elbow. The injury ended his 2014 season early, and kept him off the mound entirely in 2015.
Anderson returned in 2016, making six starts in the minors, before finally making his MLB debut on June 12th, in a start against the Los Angeles Dodgers. The left-hander would remain in the Rockies rotation for the rest of the season, pitching to a 3.54 ERA across 19 starts and 114 1/3 innings pitched.
His rookie campaign was by far the best in Anderson's career with the Rockies, as knee injuries limited him significantly in 2017 and 2019, while he also dealt with ineffectiveness in 2018. All told, Anderson made 71 starts across four seasons with the Rockies and pitched to a 4.69 ERA.
Anderson was claimed off waivers by the San Francisco Giants at the end of the 2019 season and was later signed to a one-year, $3 million deal for the 2020 campaign. He was finally able to stay healthy that year, albeit over the course of 60-game season.
After pitching to a 4.37 ERA across 59 2/3 innings pitched with the Giants, Anderson hit free agency prior to the 2021 season and landed with the Pittsburgh Pirates on a one-year deal. Anderson pitched to a 4.35 ERA in 18 starts with Pittsburgh, before being traded to the Seattle Mariners at the deadline.
Anderson pitched to a 4.81 ERA in 13 starts with Seattle, ending the year on a bit of sour note. Still, he made 31 starts overall and pitched 167 innings, which was a huge accomplishment considering his injury history. Anderson then signed on with the Dodgers for the 2022 season and would go on to have a career-year.
What Finally Clicked with the Dodgers?
Dominant is a word that would hardly ever be used to describe Tyler Anderson, yet that is exactly what we can say about his season pitching with the Los Angeles Dodgers. The left-hander figured something out this year, pitching to a sparkling 2.57 ERA, the 10th-best mark in all of baseball.
Looking at his Baseball Savant, Anderson checks in at the 98th percentile in Average Exit Velocity and HardHit%, illustrating his mastership of inducing soft contact. With a chase rate that ranks among the top five percent of pitchers in the league as well, Anderson was getting batters to swing outside of the zone consistently, forcing bad swings that led to easy outs.
His best pitch was by far his changeup, which Anderson used more frequently than ever before this season. Going from 24.6% usage in 2021, to 31.6% this year, Anderson got swings-and-misses 37% of the time on his changeup. Batters hit just .179 on the pitch, with a .262 slugging percentage.
When pitching to right-handed batters, Anderson can effectively pound the lower outside part of the zone with his changeup, working off a fastball he throws up in the zone and a cutter he works inside. Primarily using a three-pitch mix, with the occasional curveball mixed in, Anderson throws strikes and keeps the ball in the yard. If he can continue to maintain his health and command of his repertoire, Anderson should be one of the most dependable starters in baseball for years to come.
Contract Projection
Tyler Anderson enters free agency off a 4.0 fWAR season, where he remained healthy and pitched to a 2.57 ERA. Yet at the same time, he entered this season with a 4.62 career ERA.
Interested teams will have to try to distinguish whether Anderson's success was a flash in the pan that came from pitching on the best regular season team in baseball, or if he can sustain this success moving forward and actually be a frontline pitcher.
When it mattered most in the playoffs, Anderson went up against the Padres and hurled five shutout innings with six strikeouts, two hits and two walks allowed. Teams who fail to land their top free agent targets like Jacob deGrom, Carlos Rodon, or Justin Verlander may circle the wagon on Anderson to provide quality starting pitching.
Last season, left-handed starter Eduardo Rodriguez signed a five-year, $77 million deal with the Detroit Tigers. That would appear to be a pretty fair comp for what Anderson could command this year, although he may not be able to get that many years since he is four years older than Rodriguez was.
Prediction
It really is anyone's guess where Tyler Anderson will land in free agency this year. While he is sure to get paid well, Anderson likely won't price himself out of many places and every team is looking to add starting pitching depth this time of year.
Really the only thing we could project a bit is the type of deal that he would sign and this feels like a free agent that will land on a higher AAV over a shorter term deal based on his uneven track record.
At the end of the day, I could see Anderson signing a two-to-three year deal where is making at least $16 million a season. Imagine a three-year, $48 million deal, with a $2 million buyout on a fourth-year option that would take him to $50 million guaranteed.
Anderson could be a free agent that let's the market come to him a bit, and depending on how the Carlos Rodon sweepstakes go, there is a chance teams who miss out on their top left-handed option will end up overpaying for the second tier option in Anderson.