Analysis
2023 Free Agent Profile: Jacob DeGrom
For the first time in his career, the most dominant pitcher of the last decade will become a free agent, as Jacob deGrom hits the open market.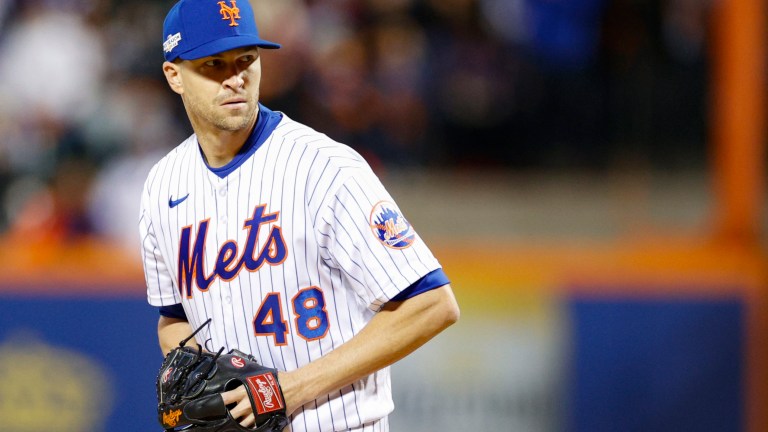 Position: SP
Throws: RHP
Age: June 19th, 1988 (34 years old)
2022 Traditional Stats: 11 GS, 64.1 IP, 3.08 ERA, 102 K, 0.75 WHIP, 2.2 fWAR
2022 Advanced Stats: 42.7 K%, 3.3 BB%, 2.13 FIP, 2.24 xERA, 1.54 xFIP, 1.26 HR/9
When Jacob deGrom is healthy, he is the best pitcher on the planet. That first caveat has become tough to predict though over the last two seasons.
DeGrom had remained rather healthy through the first seven seasons of his career, only missing a little bit of time at the end of the 2016 season due to injury. Over the last two seasons though, deGrom has made a total of 27 starts for the Mets.
DeGrom now hits free agency for the first time, where he is looking to get paid commensurate to his pedigree of being the game's best pitcher. While he comes with injury risk, teams are going to have no problem looking past it because no player on the market can have a bigger impact come next October than deGrom.
Path to Free Agency
A college shortstop who was drafted by the New York Mets as a pitcher in the ninth round of the 2010 MLB Draft, Jacob deGrom was never expected to become one of the greatest pitchers of a generation. Yet over the course of his big league career, that is exactly what has happened.
DeGrom tore his UCL early in his minor league career and would not return to the mound until 2012. A
It was at this time where deGrom began to turn some heads, as he really learned how to pitch when recovering from Tommy John and suddenly had a great feel on the mound.
Spending time with both the Low-A and High-A teams, deGrom made 19 starts in 2012 and pitched to a 2.43 ERA across 111 1/3 innings pitched. DeGrom posted a down-year in 2013, but still was added to the 40-man roster after the season to protect him from the Rule 5 Draft.
In 2014, deGrom made just seven starts in Triple-A before getting the call to join the Mets on May 12th. Originally slated to pitch out of the bullpen, an injury-ravaged rotation forced deGrom into making a spot start on May 15th, going up against the New York Yankees in his MLB debut.
In a game that would foreshadow running themes from his eventual Mets career, deGrom allowed just one run over seven strong innings pitched, yet lost the game by a 1-0 score. DeGrom recorded a hit in his first big league at-bat, ending what was a 0-for-64 streak Mets pitchers had to start the season.
DeGrom went on to win the NL Rookie of the Year in 2014, pitching to a 2.69 ERA across 22 starts. He became an All-Star for the first time in 2015, striking out the side on 10 pitches in his first Midsummer Classic appearance and went on to help lead the Mets to the World Series.
The 2016 season brought the first injury of deGrom's MLB career, as he needed surgery on an ulnar nerve that had been giving his arm some discomfort. DeGrom still made 24 starts, but was shut down for the surgery in September.
In 2017, deGrom eclipsed 200 innings pitched for the first time in his career, racking up 201 1/3 innings across 31 starts. He pitched to a 3.53 ERA and struck out a career-high 239 batters. The following season he would improve that mark by 30 strikeouts and cut that ERA in half.
The 2018 season was his first Cy Young campaign, where deGrom was the lone attraction on a terrible Mets team. Despite pitching to an MLB-best 1.70 ERA, it was not until his final start of the season where he was able to earn his 10th win, completing a 10-9 year.
DeGrom went on to win back-to-back Cy Young Award in 2019, pitching to a 2.43 ERA with a league-leading 255 strikeouts in 204 innings pitched. He then narrowly missed a third-consecutive Cy Young in 2020, when he pitched to a 2.38 ERA while again leading the league in strikeouts.
The 2021 season brought a new stratosphere for deGrom, who was throwing harder than ever before at 32 years old. Across 15 starts in the first half, deGrom pitched to a sparkling 1.08 ERA, with 146 strikeouts in 92 innings pitched. DeGrom finished ninth in the Cy Young despite not throwing a pitch in the second half.
Unfortunately this season brought more injuries for deGrom, who did not make his first start until August. Down the stretch, deGrom made 11 starts and pitched to a 3.08 ERA with 102 strikeouts across 64 1/3 innings.
While he did get knocked around a bit in his last few regular season starts, deGrom stepped up when it counted in the Wild Card Series against the Padres. Pitching in an elimination game, deGrom led the Mets to their first playoff win since 2015, allowing just two runs over six innings pitched.
Now at 34 years old, deGrom hits the open market as a free agent for the first time. Was that his last start in a Mets uniform or will he return alongside Max Scherzer again in 2023?
Contract Projection
How can we possibly project a contract when there is no precedent for Jacob deGrom?
Since 2018, deGrom has made 102 starts for the Mets. He has pitched to a 2.05 ERA, with 876 strikeouts in 645 1/3 innings pitched. DeGrom leads MLB in the following categories during that span: ERA, FIP (2.14), xFIP (2.50) and fWAR (25.6).
No one has been better than deGrom over the last five seasons.
Now he hits the open market where he is looking right at the $43.3 million his teammate Scherzer is making and expects to receive at least as much. If we are looking for a baseline for deGrom, $40 million a season is probably a good starting point.
The real question with deGrom is how many years is he going to get, because that will significantly impact the AAV of the deal. Steve Cohen could offer deGrom $90 million for the next two seasons and it wouldn't be an insane deal compared to what Scherzer got. If deGrom wants one last long-term deal to take him through most of his 30s, the AAV is likely going to come down with it.
A safe projection for deGrom is somewhere between $35-45 million a season, depending on how many years he signs for.
Top Five Landing Spots
New York Mets
A return to the New York Mets still has to be viewed as the most likely at this stage, as Steve Cohen has the money to keep deGrom in Queens for the rest of his career. With that said, no one knows his medicals better and there is a chance the Mets don't want to risk tying up so much payroll on two pitchers in their mid-to-late 30s. There is also a chance that deGrom doesn't want to remain with the Mets either, and is looking for a change of scenery to close out his career.
Los Angeles Dodgers
The Los Angeles Dodgers are always in the market for the top tier talent, so there is no doubting that they will throw their hat in the ring when it comes to the Jacob deGrom sweepstakes. With Clayton Kershaw set to hit free agency as well, and Walker Buehler set to miss the upcoming surgery as he recovers from Tommy John, the Dodgers could use a new running mate for Julio Urias.
Atlanta Braves
The rumors between Jacob deGrom and the Atlanta Braves have been boiling under the surface for some time now and we will now see how real that was this offseason. DeGrom was born and raised in central Florida and still lives in Florida to this day. Atlanta's proximity to home would be a draw, as would their status as a perennial contender that could put him in line to try to win a World Series.
Texas Rangers
The Texas Rangers were the big spenders last offseason, shelling out $500 million for Corey Seager and Marcus Semien. They also signed Jon Gray, nabbing the former Rockies starter on a four-year, $56 million deal. While Gray is a fine pitcher, the Rangers still need a real ace and deGrom could be the ideal candidate to go after this offseason.
Houston Astros
If Jacob deGrom is going to pitch in Texas, why not sign with Houston, where he could pitch for one of the best teams in baseball. When Justin Verlander opts out of his contract after the season, the Astros have to decide if they want to retain him into his 40s, or try to find another high-priced ace. They might seem like a dark horse now, but don't be surprised if deGrom finds his way to Houston on a big-money short-term deal.
Prediction
Jacob deGrom signs a five-year, $200 million contract with the New York Mets
Jacob deGrom has reiterated time and again that he would love to play his entire career with the New York Mets. Steve Cohen is the richest owner in sports. It seems like a no-brainer, and yet I'd still put the odds on his return at about a coinflip right now. With that said, the Mets are still the favorites at this juncture, especially if they give him a five-year deal.