Analysis
2023 Free Agent Profile: Trea Turner
Arguably the top shortstop on the free agent market, Trea Turner is going to enjoy a healthy market for his services this offseason.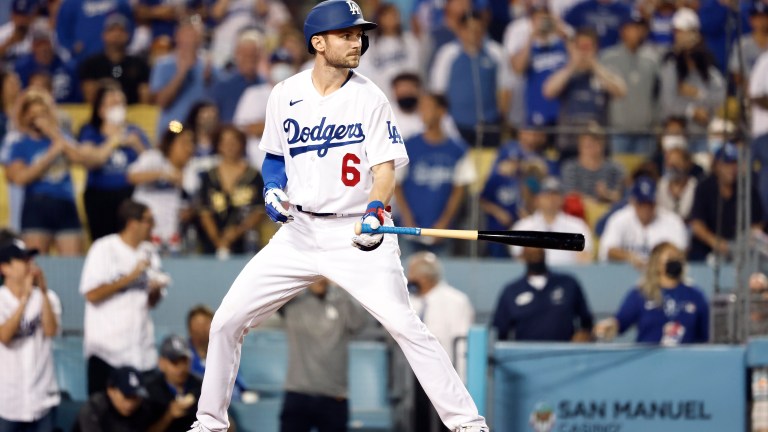 Position: SS
Bats/Throws: R/R
Age: June 30th, 1993 (Current Age: 29)
Traditional Stats: .298/.343/.466, 21HR, 43 XBH, 100 RBI, 101 R, 131 Ks, 708 PAs
Advanced Stats: 18.5 K%, 6.4% BB%, 128 wRC+, .335 wOBA, 6.3 fWAR
Arguably the top shortstop on the market, Trea Turner is looking to sign his first big contract this winter, and could have a lot of suitors should the Dodgers decide not to pay up.
The Dodgers made a huge trade at the 2021 deadline to bring in Max Scherzer and Trea Turner in anticipation for a deep postseason run. While Scherzer was one-and-done, Turner was still under control for one more season. For a team like the Dodgers, it's almost guaranteed they're going to open up the checkbook for Turner, right?
Path to Free Agency
Trea Turner is the headline piece for what is another class of All-Star shortstops heading into free agency. Throughout his career, Turner has been the epitome of consistency. His ability to lead off, or hit in the middle of an order, will leave him in a prime spot to be able to have his pick of the litter of offers thrown at him from teams around the league.
Drafted13th overall by the San Diego Padres in 2014, Turner was quickly traded in a three-team deal as the player to be named later. The deal was headlined around getting Wil Myers to San Diego.
In 2015, Turner was a Non-roster invitee to Nationals spring training, where Nats fans were first able to see what they had in store for them. He made his major league debut on August 21st of that same season.
The 2016 Rookie of the Year runner-up went through his ups and downs as many other players do during their time in the majors. Between injuries and a short-term position change to center field, Turner was just trying to find himself. But he was quick to adjust and became the NL stolen base leader in 2018 and a World Series champion in 2019.
As previously mentioned, he was then traded to the Dodgers, with Max Scherzer, at the 2021 MLB Trade Deadline.
Contract Projection
To date, Trea Turner has earned just over $45 million in his career. In 2022, he made $22 million in his last year of arbitration.
If you look at the recent FA shortstop contracts signed, you can refer to Corey Seager's 10-year, $325 million contract. Right now, it might be tough to see Turner signing something to that magnitude. At the time, Seager had entered free agency two years younger than Turner will be. Carlos Correa's contract with the Twins is something that I do not see being replicated. The one-year deal with multiple player options never seem to work for the teams handing out those contracts.
Turner's contract could be something closer to an Average Annual Value (AAV) of around $33 million. At 30 years old, a contract length of seven seasons would probably be what he is looking at.
In the end, Turner will sign a contract for around seven years, $230 million.
Based off of all of the recent reports, he's looking to get that contract from a team on the East Coast.
Top Landing Spots
Philadelphia Phillies
The Phillies have been in the market for an everyday shortstop for quite some time now. Didi Gregorious didn't pan out with his inability to stay on the field and limited range at the position. Bryson Stott struggled out of the gate but has really started coming into his own recently. While payroll would be an issue, the Phillies have shown no qualms in the past when it comes to handing out big-money contracts. They could look to do so again here with Turner.
St. Louis Cardinals
Like the Phillies, the Cardinals have not been able to find their long-term shortstop. The revolving door of Paul DeJong, Edmundo Sosa, and Tommy Edman was a fine quick fix but, if they are going to get over the hump, Trea Turner would be the player to open up the checkbook for. Not only would he solidify the top of an already strong order, but he would seemingly slide right in.
Atlanta Braves
They didn't seem willing to make Dansby Swanson one of the beneficiaries of all the extensions they have given out recently, but that doesn't mean they won't spend up to replace him. The Braves find themselves in a perfect situation with having all of their young stars locked up for the foreseeable future. This will allow them to go out and spend on a big-ticket free agent this winter.
Some speculate they might do it for a starting pitcher. However, Turner's addition to this lineup would make them early-season favorites to return back to the World Series after a quick exit this past season.
Dark Horse: Miami Marlins
Hear me out…
The Marlins are going to find themselves in a brand-new situation heading into this offseason. With Kim Ng entering her first offseason under full control, she might be looking to make a splash.
Once they solidify the Manager, a big offseason signing could follow. Why not bring the Palm Beach native back home?
The Marlins need for a shortstop has been well-noted for a few seasons now. Trea Turner could be the piece to finally lock down the position for years to come.