Analysis
2023 Free Agent Profile: Edwin Diaz
Coming off a historically dominate season with the New York Mets, Edwin Diaz could become the first $100 million reliever in MLB history.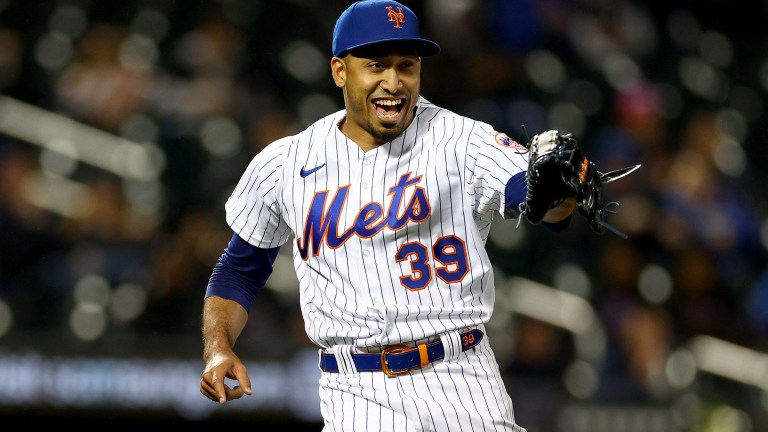 Position: Closer
Throws: RHP
Age: March 22nd, 1994 (28 years old)
2022 Traditional Stats: 61 G, 62 IP, 1.31 ERA, 118 K, 0.84 WHIP, 3.0 fWAR
2022 Advanced Stats: 50.2 K%, 7.7 BB%, 0.90 FIP, 1.69 xERA, 1.04 xFIP, 0.44 HR/9
After the season he just put up, Edwin Diaz gets to enter free agency with a distinction that is sure to get him paid in a big way. He's once again considered the best closer in basball.
Diaz was flat-out untouchable in 2022, striking out over half of the batters he faced. You can count the number of earned runs he allowed on both hands (9) and he led all MLB relievers in just about every advanced metric you can find.
The New York Mets are rumored to be heavily interested in retaining their All-Star closer, who they may not even let hit the open market at all, looking to lock him up before he even reaches free agency.
It will take a hefty contract from Steve Cohen to get Diaz signed though, as he could certainly become the first reliever in MLB history to receive a contract north of $100 million.
Path to Free Agency
Selected in the third round of the 2012 MLB Draft by the Seattle Mariners, Diaz was a starting pitcher throughout most of his minor league career, but debuted in 2016 as a relief pitcher.
A few weeks into his big league career, Diaz began to show his dominance when he set a franchise record by recording 11 consecutive outs via strikeouts. Those consecutive strikeouts took place over a nine-day span, across five different appearances.
After earning 13 holds, Diaz assumed the closer role for the Mariners in August of his rookie season and would go on to notch 18 saves over the final two months. All told, Diaz pitched to a 2.79 ERA with 88 strikeouts in 51 2/3 innings pitched.
In 2017, Diaz pitched to a 3.27 ERA and struck out 89 batters in 66 innings. He saved 34 games. Then in 2018, Diaz put together a remarkable season that gave him the same title he just assumed again in 2022, "The Best Closer in Baseball".
Diaz led the majors with 57 saves, which tied Bobby Thigpen (1990) for the second-most saves in a single season in MLB history. Francisco Rodriguez still holds the record with his 62-save season back in 2008.
Across 73 1/3 innings pitched that season, Diaz struck out 124 batters, setting down 44.3% of the batters he faced. After the season, Diaz became one of the best trade chips in the game and was packaged in a deal with Robinson Cano that sent him to the New York Mets in exchange for top prospects Jarred Kelenic and Justin Dunn, amongst others.
Diaz did not fare well in his first season in Queens, as he was tagged for 15 home runs and pitched to an awful 5.59 ERA. The trade looked like a bust at the time, but Diaz spent the next three seasons doing everything in his power to make up for it.
The 2020 season brought a shortened 60-game campaign, where Diaz quietly returned to being one of the most dominant pitchers in baseball. He pitched to a 1.75 ERA, allowing just two home runs in 25 2/3 innings pitched. Diaz posted an absurd 17.53 K/9, setting 45.5% of the batters he faced down on strikes.
Diaz wasn't quite as dominant in 2021, pitching to a 3.45 ERA, but still was solid. He notched 32 saves and struck out 89 batters across 62 2/3 innings pitched. Diaz would save his best act for last though, putting together a season to remember in 2022.
Hitting Free Agency on a Strong Note
Edwin Diaz just put together one of the greatest seasons for a reliever in MLB history. Literally.
Diaz took part in the second no-hitter in franchise history for the New York Mets, closing out a combined no-no on April 29th against the Philadelphia Phillies by striking out the side. Diaz actually struck out the side eight times in 2022.
By season's end, Diaz led all MLB relievers in fWAR (3.0), strikeouts (118), K/9 (17.13), FIP (0.90) and xFIP (1.04). His 1.31 ERA was the fourth-best mark among MLB relievers, but his 1.04 xFIP was nearly a full run better than everyone else (Chris Martin came in second at 2.01).
Diaz faced 235 batters in 2022 and struck out 118 of them, good for an absurd 50.2% strikeout rate. Go to his Baseball Savant page and it is bleeding with dark red bubbles.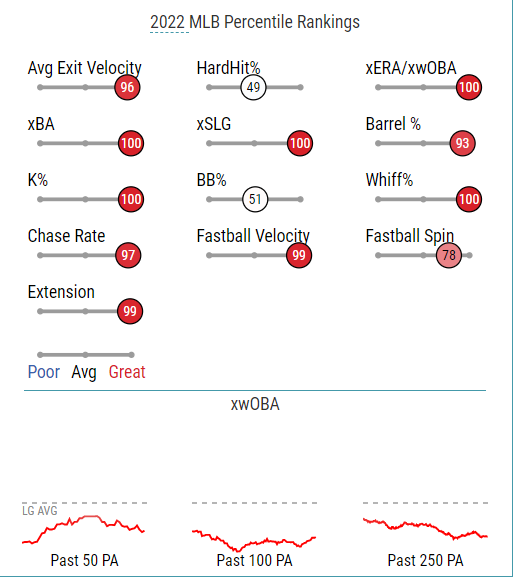 For a pitcher who routinely touches 101 mph on his fastball, which averages 99.1 mph, Diaz's best pitch is by far his slider. The flamethrower has perfected the pitch, which averages 90.8 mph with a tight break that makes it indistinguishable from his fastball.
Diaz's slider had a Whiff% this year of 54.7%, which is why he threw the pitch 58.1% of the time. Batters hit just .114 with a .134 slugging percentage against the pitch, recording 88 of his 118 strikeouts with it.
With a run value of -22 on just 539 pitches, an argument can be made that Edwin Diaz's slider was the best pitch in baseball in 2022.
Edwin Diaz Contract Projection
One thing is certain when it comes to Edwin Diaz's upcoming contract. It is going to be the richest in MLB history for a relief pitcher.
Here are the biggest contracts in MLB history for relief pitchers, both in terms of total and average annual value:
| | | | |
| --- | --- | --- | --- |
| Pitcher | Years | Total Value | AAV |
| Aroldis Chapman | Five years (2017-2021) | $86 million | $17.2 million |
| Kenley Jansen | Five years (2017-2021) | $80 million | $16 million |
| Raisel Iglesias | Four years (2022-2025) | $58 million | $14.5 million |
| Mark Melancon | Four years (2017-2020) | $62 million | $15.5 million |
| Liam Hendriks | Three years (2021-2024) | $54 million | $ 18 million |
Based on the numbers above, we can get a pretty good sense of how much money Edwin Diaz will make in free agency.
The starting point on the total value of Diaz's contract is likely to exceed the $86 million Aroldis Chapman signed for back in 2017, with an average annual value of at least $18 million, tying Liam Hendriks for highest ever. A five-year, $90 million deal would accomplish both feats.
Still, there is a chance that Diaz makes even more money this offseason. If he wants to become the first $100 million closer in MLB history, Diaz can likely reach that amount with Mets owner Steve Cohen's deep pockets.
Prediction
For this one, I am not even listing any other landing spot than the New York Mets.
Whenever asked about his free agency, Diaz always reiterated that he wanted to remain with the Mets. The Mets view Diaz as more than just an elite closer, as his Narco entrance music has become folk lore to the fan base and is seen as a marketing tool and attraction that will get fans into the seats.
There has been too much buzz between these two sides to think Diaz lands anywhere else, although every team that plans to contend would love to add him as their closer.
When it comes to the actual contract, my prediction is that Edwin Diaz signs a five-year, $100 million contract. I could see this being structured as five-year deal where he would get paid $19 million a season, setting a new record for AAV, with club option for a sixth year.
The total value of the contract could be a six-year deal worth $110 million, with the Mets retaining a $15 million option on the final year, with a $5 million buyout that guarantees that the total value reaches nine figures.